Ahhhhh, the humble mince pie! The appearance of deep filled mine pies on the shelves of your local supermarket, not two minutes after you've arrived home from your summer holiday is the first sign that Christmas is back in business.
During the festive season, mince pies can be served warm and fragrant at home with a dollop of rich cream or plonked, cold and forlorn, in front of you at the end of your work's Christmas do.
Maybe you recently found out that a friend of yours always turns her nose up at them because she 'doesn't get sweet minced beef' (Yes, really!)
Whatever your relationship with this Christmas staple, it cannot be denied that there appear to be a thousand different versions available to buy.
Which is your favourite mince pie?! Boozy and bold, sweet and fruity or with a twist?
Now, just for you, we've eaten A LOT of mince pies and we would proudly like to present, for your pleasure and delight …. the best, the rest and the ones to avoid.
Costa Coffee's All Butter Mince Pie – café mince pie
It costs £2 and is only available in store.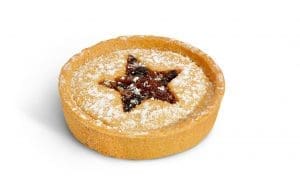 This year's winner of the prestigious Good House Keeping Award is Costa Coffee's All Butter Mince Pies and we think that it is a very worthy winner.
Costa is a place that many a weary Christmas shopper will end up at some point in December, and this tempting pie will make for the perfect treat.
It's the spicy and fruity jammy filling that draws the 'ooohs' and 'aaaahs!' There is something super comforting and lovely about the sticky, but not too sweet feel and flavour of it.
This pie looks gorgeous too! It has a star-shaped window carved out of the buttery, golden lid.
The aroma is quintessentially festive with notes of cinnamon, lemon and orange tickling your nose as you bite into the crisp, icing sugar dusted pastry.
Morrison's 'The Best' Mince Pies – supermarket mince pie
£2 for a box of six and available in all Morrison's supermarkets.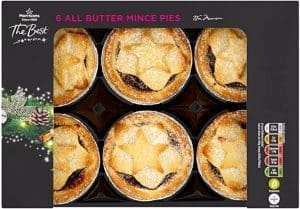 Morrison's have got an impressive pedigree when it comes to mince pies, and this year is no different. The star decorated lid is generously sprinkled with snow-like icing sugar, they almost look home-made.
The flavours of seasonal booze are what makes these pies special. The Morrisons Best deep filled mince pies have mulled cider and deep, warming brandy are matched perfectly with juicy fruits and tangy mixed peel.
The pastry is soft, slightly crumbly and the subtle taste of creamy butter balances the bolder flavours of the filling.
Co-op 'Free From' Mince Pies – both vegan and gluten free
£2 for a pack of four (a good price for a 'Free From' product) and they are available in most Co-op supermarkets.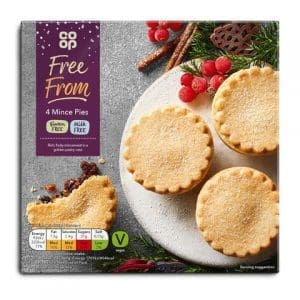 Free-From cakes do not have a reputation for being delightful. As more is understood about this specialised way of cooking, we hope that this will change.
Happily, Co-op seems to be ahead of the game.
These mince pies look plain which is a shame, but the generous, not-too-sweet filling is a wonderful surprise. Try them slightly warm to bring out the layers of taste.
Vine fruit is the star flavour in these gluten-free and vegan delights. The sweetness is just enough and that is seriously dangerous as it tempted me to eat many more than one.
I adored the pastry! A mince pie crust is traditionally soft and will crumble away in your eager hands. These, however, have an unusual but exceedingly pleasant crunch.
Asda 'Extra Special All Butter Crumble' Mince Pie – crumble topped
£2 for a pack of six and available in all Asda supermarkets.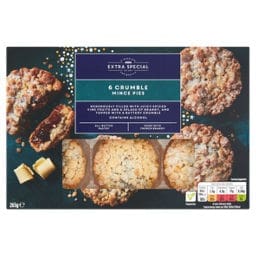 Winter spices are the star of this culinary show. They are bold and vibrant, a festive feast for the senses.
The second hit of flavour is booze! Warming brandy is there and so is a hint of mulled wine. They taste luxurious and decadent, which is an amazing thing for a supermarket mince pie.
And the pastry? There is a satisfying resistance when you bite into one which feels almost biscuity. I would even say that these should be served cold to appreciate the quirky texture.
Aldi 'Specially Selected Salted Caramel Mince Pies' – alternative flavour
£1.79 for a pack of six, one of the cheapest we tried and available from all Aldi supermarkets.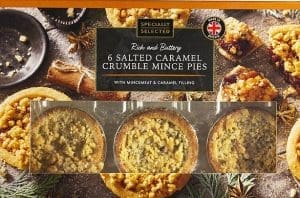 If I'm being honest, I chose these simply because I'm obsessed with the flavour of salted caramel. I get that not everyone is, so please forgive my self-indulgence and give these awesome pies a chance. You won't regret it!
The salted caramel adds a dreamy richness to the fruit and the salt cuts through the sweetness in a wonderful way.
'Flavoured' mince pies often suffer from having the traditional fruit flavour overwhelmed. That's not so with Aldi's offering. All the expected and loved aromas and tastes are robustly represented.
The pastry has a lovely texture and brings the gentle essence of butter to the party.
M&S Collection Mince Pies – Worthy Mince Pie Mention
£2.50 for 6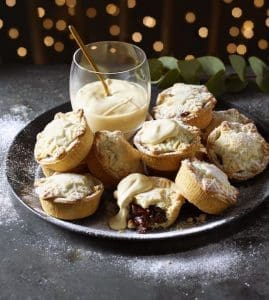 At this time of year, the mince pies from Marks and Spencer's are usually worth looking forward to but this year that's not the case.
That's unfortunate since the Marks & Spencer's mince pies offered in 2019 were an excellent creation.
This year, M&S has created its Collection mince pies with an all butter shortcrust pastry and filled them with a sweet mixture of mixed peel, vine fruits and glace cherries. There are also cranberries in the mix.
There's a lot to like about these mince pies with the lemon from the mixed peel delivering a tartness that really stands out.
The Christmas.co.uk team also liked the icing sugar dusting on the pastry lid that has an embossed star with a snowflake design sitting on it.
However, having tasted most of the mince pie rivals, the M&S Collection mince pies were found to be a tad too sweet and the pastry a little bland.
There's no doubt that for those who love Marks & Spencer products – and their Christmas food range for 2020 is impressive – this offering of six mince pies at £2.50 just misses the mark.
The Best of the Rest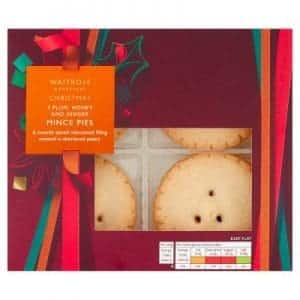 Aldi's Sloe Gin Mince Tarts are £2.49 for a box of six and had a beautifully boozy flavour with a delicious crispy pastry.
Waitrose Plum, Honey and Ginger Mince Pies will delight the foodies in your family. The fruitiness combined with the quirky twist of spice made them stand out from the crowd for all the right reasons. They are £2 for a box of four.
Asda's Mince Pies are an incredible 87p for a pack of six. They taste as though they are much more expensive than that with a pleasant tartness coming from the filling and a sweet and crumbly pastry case.
We loved Iceland's 'Luxury Mince Pies' as the unusual addition of yuzu juice gave them a real citrus kick and a wonderful aroma. The pastry is slightly savoury which isn't for everyone, but we felt this is suited the spiciness of the filling. These juicy pies are £1.89 for a box of six.
The Slightly Disappointing Ones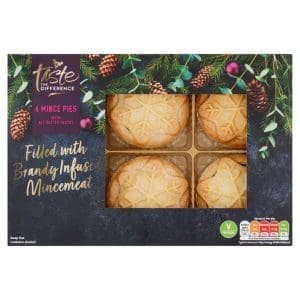 Sainsbury's 'Taste the Difference' Mince Pies (£2 for six) were delicious and had a great texture, but we were disappointed with the amount of filling. They aren't the cheapest so we felt that the portion controller at Sainsbury's Mince Pie HQ must be feeling Scrooge-like this year.
Tesco 'Finest' Mince Pies (£1.75 for six). Too sweet with a hit of strong alcohol that feels very different to the enhancing essence of brandy, cognac or cider. The balance of filling-to-flavour was also off, they need work!
Waitrose and Partners No.1 Mince Pies (£2.50 for six). We had high hopes for these as the apricot and cherry flavours sounded intriguing, sadly, these notes were lost in a generic sweetness. The pastry was a bit weird too, it was thicker than needed and almost cake-like.