Christmas is here and it's time to bring some festive cheer into the home! As shoppers flock to buy their perfect tree, they're faced with a range of options. – so, which are the UK's most popular Christmas trees in the UK?
We'll be uncovering the nation's favourite Xmas trees and exploring why they make such an ideal choice.
From popular Norway spruce to the stunning Noble fir, this article from the elves at Christmas.co.uk will help you choose the ideal tree for your home for the festivities.
So, get ready for some festive fun as we dive into the top Christmas trees of Britain!
An overview of the UK's Christmas tree shopping scene
Christmas tree shopping in the UK is an exciting and colourful affair. From traditional local markets to large retailers, there's a festive feast of trees to choose from.
Whether you're partial to a classic Norway spruce or looking for something more unusual like a Nordmann fir, you can find a selection of beautiful trees available in the UK in addition to supermarkets and garden centres, many towns will have festive pop-up stalls or shops dedicated to selling Christmas trees.
Here you'll find an array of sizes and styles, ensuring there's a tree for every home.
No matter where you decide to shop for your special festive companion, it promises to be an exciting experience.
Let's explore some of Britain's most popular Christmas trees
From spruces to firs, there is a range of trees to choose from in the UK. In this section, we'll take a look at some of Britain's most popular Christmas trees and discover why they are so popular.
Nordmann fir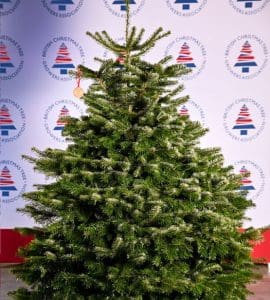 The number one bestselling Christmas tree in the UK – according to the British Christmas Tree Growers Association (BCTGA) – is the Nordmann fir. This tree is renowned for its needle retention. Also, its thick, soft needles are perfect for hanging decorations without the worry of them dropping off. Additionally, its strong branches make it an ideal choice for heavier decorations and lights. It's also incredibly fragrant – filling your home with a pleasant pine scent that will last throughout the festive season. Nordmann fir trees are the priciest of the Christmas tree varieties in the UK. Prices vary depending on size, but in general you can expect to pay between £35-£100 for one.
OUR TOP TIP: The Nordmann fir is an excellent choice for those who suffer from allergies because the needles have a thick waxy coating.
Norway spruce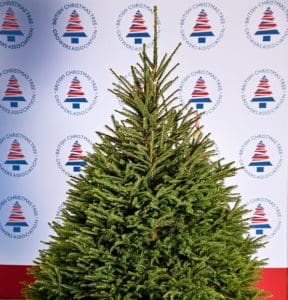 The Norway spruce is another popular choice when buying a Christmas tree in the UK. This classic tree is an iconic part of British Christmastime. With its signature pyramid shape and sharp needles, it's the perfect evergreen to bring a traditional festive look to the home. It's easy to care for and has a delightful pine aroma, making it an ideal choice. Norway spruce trees vary in price, but you can generally expect to pay between £20-£50 for a tree.
OUR TOP TIP: You will get the most out of your Norway spruce if you buy the cut tree closer to Christmas as it can rapidly lose its needles once indoors. Prevent your spruce from shedding its needles by situating it away from the radiator and watering it each day.
Fraser fir
The Fraser Fir is growing in popularity, and it has a dense, pyramid-shaped structure and soft, silver-green needles that are sure to bring a touch of festive cheer to any room. It does resemble the Norway spruce slightly and its needles are a dark green on the top and silvery underneath. This type of fir tree also has good needle retention; nice scent; pyramid-shaped strong branches which turn upward slightly. It even has a nice citrus scent which adds an extra festive feeling! This tree is highly sought after for its strong branches – the soft needles make adding decorations a pleasant experience! Prices range from £25-£75 depending on size, so it can be a more expensive option. But if you're looking for quality and longevity, the Fraser fir is an excellent choice.
OUR TOP TIP: Keep away from heat and keep watered to ensure it lasts for the festivities – the Fraser tends to last longer than most other trees.
—oooOooo—
Do you need help deciding on your Christmas tree type?
If so, here's Clive Collins, the owner of Catsfield Christmas Tree Farm, who shows us the four different types of Christmas trees on his East Sussex plantation.
If you want to know more about the Norway Spruce, Nordmann Fir, Blue Spruce and Fraser Fir, then Clive is your man.
The video offers a good guide to the benefits of each tree, its needles and scent.
If you have never bought a Christmas tree before, then Clive's video is very helpful.
—oooOooo—
Making the decision: How to choose the perfect tree
When it comes to choosing your festive evergreen, there are a few things you should consider before making a purchase.
Take into account your space and how much room you have for your tree. If you have a small living space, opt for a smaller option such as a Norway spruce or Nordmann fir. Or if you have more room, then an imposing Noble fir might be the ideal choice.
Think about what sort of look and feel you want in your home this Christmas. If you're going for traditional vibes, a Norway spruce with its classic shape and deep green colour might be the perfect option. But if you're after something more modern-looking, a Nordmann fir may fit better with its slender silhouette and light green hue.
Consider the type of foliage and needle retention you'd like. If you're looking for something with a strong scent and long-lasting needles, then opt for a Nordmann fir or Noble fir. But if you prefer something more traditional with sharp needles that drop quickly, then choose the Norway spruce.
Think about how you'd like to decorate your tree. Some trees have branches that are better suited for heavier decorations, while others are better for more subtle decorations. Consider this before you make your purchase.
How long do you want your tree to last? It's not the most obvious question for Xmas tree for the season. But if you want a tree that will last you until the new year, then go for something like a Norway Spruce or Nordmann Fir – both of which have long-lasting needles and stay looking fresh for weeks.
Armed with this information, you'll be able to pick the perfect evergreen companion for the festive season. So don't forget to grab some hot cocoa and get shopping – it's time to choose your ideal Christmas tree!
—oooOooo—
Unusual or rare Christmas tree choices in the UK
For those looking for something a little different, there are plenty of unique Christmas tree choices in the UK! Here are some of our favourites:
·         Korean fir
This is a new type of Korean fir tree to the UK. Its needles are silvery and curl in a unique way, displaying both green and white-silver colours that is quite alluring. It smells similar to the Norway Spruce and Nordmann fir, but better at keeping its needles (it still needs to be watered every day), with that special fresh pine smell filling any room it's placed in.
·         Noble fir
Adorned with attractive silver-blue foliage, this tree is sure to be a showstopper in the home. Its branches are known for having excellent needle retention and it has luscious foliage that makes it a standout choice during the festive season.
·         Silver fir
The Silver Fir is a stunningly beautiful tree with its distinct silver-green needles that not only look great but also have an unmistakable citrus scent. As if that wasn't enough, this tree is also highly resistant to shedding its needles – so you won't have to vacuum as often!
—oooOooo—
The UK's tallest Christmas tree
If you want to enjoy a really unusual Christmas tree, how about this one? It's the tallest Xmas tree in the UK!
You will find the 37-metre giant sequoia in all of its glory in West Sussex.
Here, we see the tree in Kew Gardens' Wakehurst where visitors can marvel at its incredible 1,800 energy-saving bulbs that are used to decorate it.
The tree was planted in 1890 but it has only been decorated as a Christmas tree for the last 20 years.
We are just pleased that it's not us elves that have to get the ladders out to decorate it!
—oooOooo—
·         Lodgepole pine
The Lodgepole Pine is a tall and slender tree that's sure to make a statement in any home. Its long green needles give off a fresh scent and its unique shape is ideal for displaying decorations. The tree also retains its needles well so is a great choice for anyone wanting a longer-lasting festive companion! And, if you are lucky, you might find a Lodgepole pine that still has some pinecones on it!
·         Monterey pine
The Monterey Pine is the perfect choice if you're after something a little more exotic. This tree has a vibrant emerald green colour and its long needles give off an aromatic scent – perfect for creating a special atmosphere!
·         Blue spruce
The Blue Spruce makes for a truly eye-catching addition to any home! This tree features a stunning blue-green colour and has stiff, pointy needles that are sure to make your decorations stand out from the rest. Plus, its strong scent is bound to help you get into the Christmas spirit.
·         Balsam fir
Balsam Firs are needles that last a very long time. They're rare in the UK and are only available in a handful of farms. This tends to be the traditional American Christmas tree with a dark-green appearance, and it holds a lovely fragrance throughout the Christmas season. This is the perfect type of tree if you want to avoid pine needles dropping everywhere!
·         Serbian spruce
Serbian spruce is a type of tree that typically grows in regions with limestone mountains and is usually found in Bosnia and Serbia. One way to identify a Serbian spruce is by the glossy, dark green needles on the upper surface–a contrast to the lower side which appears white.
·         Douglas fir
The Douglas fir has a lovely scent and holds blue to dark green needles and the tree is growing in popularity. The scent of the tree will fill your room and make everything feel 'Christmassy'!
Some fun Christmas tree facts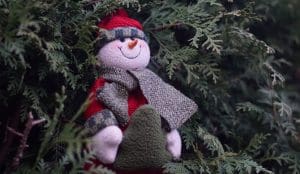 Did you know that the traditional Christmas tree custom is believed to have started in Germany? This popular festive tradition made its way over to the UK with Prince Albert, who brought a fir tree from his home country of Germany in 1841.
Since then, Britons have been decorating their homes with evergreen trees during Christmastime. The most popular type of tree is the Nordmann fir, also known as Abies nordmanniana. According to the British Christmas Tree Growers Association (BCTGA), it makes up for 80% of all cut trees that are sold in the UK!
This iconic fir tree has a unique shape and attractive needles which make it an ideal choice for decorating with lights and ornaments. Its dense, dark green foliage is also a great way to create a warm and inviting atmosphere in any home during the festivities.
Another popular tree in the UK is the Norway spruce, which is known for its distinctive conical shape and vibrant colour. The Norway spruce is a popular choice for those seeking a more traditional look and feel. It's also known to be more aromatic, with its intense fragrance of citrus and pine.
Finally, the Scots pine is another tree that has been gaining popularity in recent years. This coniferous species can range from light green to deep blue, depending on its location and age. The Scots pine is ideal for those seeking a more modern take on the Christmas tree
No matter which type of tree you choose, the UK is full of beautiful options to make your home festive this year.
Which are the UK's most popular Christmas trees?
Christmas is all about creating a festive atmosphere and what better way to do that than with a beautiful Christmas tree?
Whether you opt for the classic Norway spruce or go for something more modern like a Nordmann fir, we hope this article has helped give you some ideas about which would suit your home best.
Whichever tree you choose, we wish you a very merry Christmas and a happy New Year! May your home be filled with joy and festive cheer throughout the festivities.