When it's time to trim a tree for the festivities, have you wanted to learn more about how to make your own Christmas tree decorations?
Then, if so, this Christmas.co.uk article will help you achieve this.
One of the big attractions to creating impressive festive tree decorations is that these ornaments are used year after year.
Among the reasons for this is that they hold priceless memories – and if yours are handmade by you or your children, then they become incredibly special mementoes.
In addition, creating your own Christmas tree decorations can be a fun festive activity for all the family and you will generate great memories of doing so together.
It's important to appreciate too that it's never too early to start your DIY tree decorations in time for Christmas because you can make them whenever you feel creative.
Here, we take a look at some of our favourite DIY Christmas tree decorations and ornaments from some very talented bloggers.
DIY Christmas tree decorations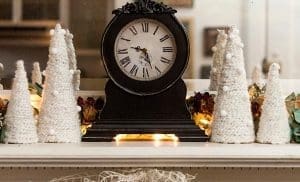 Among the crafty Christmas bloggers we love, is Genevieve from 'She keeps a lovely home'.
The blog is packed with great ideas and recipes, and we love her whimsical DIY Christmas tree decorations.
They not only look pretty and soft, but they're also easy to make.
These creations can be placed on a window sill, under your Christmas tree or on a Christmas mantel as a feature.
All you need to make Genevieve's Christmas tree decorations are:
Yarn
Paper-mâché cones
Pompoms
Glue
And 'a little love for Christmas crafting!'
One of the reasons Genevieve came up with the idea to create these striking decorations is to offset the colour from roses and garlands and other festive colours.
Genevieve also adds some creative tips to help crafters create these Christmas decorations, including using natural wool rather than having a synthetic weave yarn.
She says this really does make a difference and will help to make the finished trees look lovelier and softer.
Also, the trees can be created in various sizes to suit situations but also because they're not uniform, they manage to stand out a little bit more.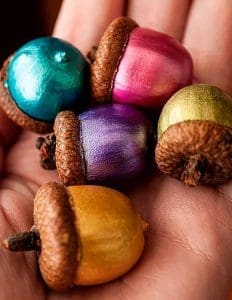 Genevieve adds a step-by-step process with photographs, and you will be struck as to how easy these Christmas tree decorations really are to create.
We also loved Genevieve's take on homemade painted acorn Christmas ornaments.
This is a really simple and yet striking creation – and they are easy to make.
You need just a few big acorns, string, a paintbrush for the metallic paints and a hot glue gun.
Star-shaped Christmas wreath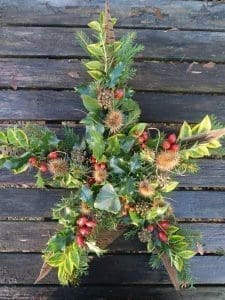 It's also important at Christmas time to appreciate that you don't have to go wild with craft making items and you can use nature.
Here, Sarah from Craft Invaders shows us how to make a star-shaped Christmas wreath using floral foam.
It's decorated with fresh foliage and creates an impressive star wreath that you can hang on your front door.
However, the feedback from the Christmas.co.uk team is that with some adapting, this may also make for a striking (real) Christmas tree topper.
Sarah asks whether people have seen a star wreath before, and we have to confess that we had not.
Basically, this is a spin on a traditional Christmas wreath and uses floral foam to create the star wreath creation.
It's also really easy to make.
Sarah says that all you need is:
1 round floral foam pad
A piece of string or yarn
Marker Pen
Knife
Short length of wire to hang the wreath
Another big attraction is that while this star wreath has been made with five points, Sarah stresses that you could create a star wreath made with six, seven or even eight-point stars.
The step-by-step process is easy to follow, and the photographs illustrate clearly what you need to do.
If you've never used crafting foam before, then you're in for a treat because it is easy to handle and cut into pieces and proves to be a resilient crafting aid.
As well as creating the star wreath, Sarah illustrates how you go about adding a loop to add the wreath to your front door.
Here, Sarah has opted for evergreen foliage including pine, ivy, holly and feathers.
We think this is an impressive and straightforward creation to spend time getting just right – it will be a conversation starter when someone knocks on your door.
Sarah also offers a great idea for cute Christmas reed diffusers to help create the scents of the festivities.
ooooooooooooooooooooooooo
DIY Christmas crafting kits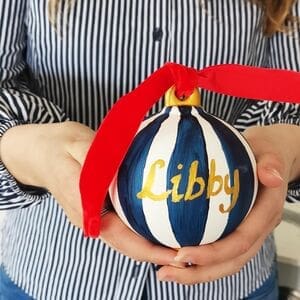 The DIY Christmas crafting ideas that we show here will not take long to do or require lots of materials.
But what happens if you simply want to buy a kit and spend time creating the craft from it?
Then, Notonthehighstreet.com offers a great page of ideas to make your own Christmas decorations.
They highlight that you can buy a Christmas decoration kit and put it together while snuggled by the fire or buy something that will be sewn or created by your child to create an ornament that will take pride of place during the festivities.
The site has lots of ideas to think about ranging from traditional craft making, to cross-stitch, crochet and knitting ideas.
Not on the High Street offers everything from a luxury ceramic paint your own bauble kit – it's a very large bauble – to a DIY woodland animals Christmas garland that you put together.
There's also kit for creating personalised glitter decorations and even a kit for creating a Christmas wreath to impress.
Some crafters may also like the 'Paint your own decorations kit' and there's a 24-day crafting advent calendar that is worth considering.
Again, creating a Christmas garland is possible with a 'Forestry craft making kit' and there's an excellent personalised advent calendar poster that the recipient simply colours in.
We were also taken with the Christmas paper chains kit that you crochet!
ooooooooooo
Eye-catching macramé Christmas star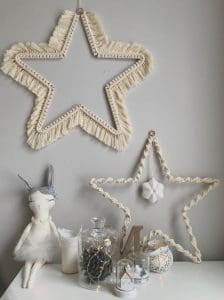 Having seen how impressive Sarah's creations for a star wreath for your front door is, we turn to Isabella Strambio who has an eye-catching macramé Christmas star idea that will also go down a treat.
Isabella says her Christmas decorations have a Bohemian inspiration and that these macramé Christmas stars will look great in any room.
On her blog, Isabella offers two simple macramé tutorials that both use natural string, and you can change the string to add more colour.
It's also interesting that you can add fairy lights plus other decorations that will not only suit your own festive decor but make them look more Christmassy.
Isabella starts with a copper star wreath from Hobbycraft, and she then uses single twist natural string.
The equipment needed to complete this great star includes:
Scissors
Masking tape
Measuring tape
Pet Brush or normal brush.
The tutorials offer an in-depth guide to creating these impressive macramé stars and the images used also prove invaluable.
If you are super creative, then this is an ideal creation for you since there's a double half hitch knot needed for the strings – Isabella offers a tutorial for this knot too.
These knots help the design stand out and they are easy to do.
Isabella also offers tips on brushing the string and also using spray starch to hold a fringe in place.
There's also a second guide to creating a different style of macramé star and it's just as impressive to complete.
ooooooooooooooo
Creating your own Christmas decorations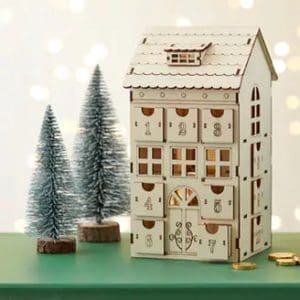 If you are looking for inspiration when it comes to creating your own Christmas decorations, then a trip to a Hobbycraft store or their online site is highly recommended.
They offer good value for their festive craft collection which includes creating handmade gifts for loved ones, DIY Christmas decor and the opportunity to personalise the creation.
Online, the Hobbycraft site has a wide range of Christmas crafting ideas ranging from wreaths and garlands, advent calendars to DIY decorations and tree decorations.
They also offer ideas to decorate a Christmas table, Christmas stockings and fillable decorations, for example, a personalised bauble for a Christmas tree.
It goes without saying that Hobbycraft offers a good range of Christmas card making kits, plus crafting ideas for children.
Knitters and stitchers don't go without with some great ideas for handmade novelties and the bakers amongst us also have some cracking ideas to enjoy too.
These include the gingerbread house baking kits, cupcake cases and toppers made from sugar for eye-catching festive cakes and buns.
There's also a chocolate caramel yule log baking kit, plus a really great idea to offer a personalised cake with a letter and number cake pan set.
The growing popularity of Christmas Eve boxes also make Hobbycraft a sound choice as a supplier since you can tailor the box to meet your own needs.
They offer a good range of wooden, cardboard and wicker boxes to deliver presents on Christmas Eve in what is becoming an incredibly popular new tradition.
Check out the Hobbycraft TV advert!
ooooooooooooooo
Bird Christmas tree ornament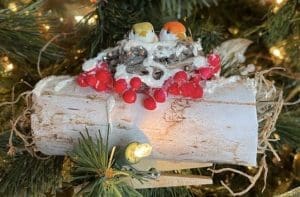 Our final Christmas crafter that impressed us is Mona at Craft Latch.
She has created an excellent bird Christmas tree ornament that is easy for others to make.
There's a very good photo tutorial that uses toilet paper rolls wrapped around bark scrapbook paper.
That's all straightforward and then crafters create the nest using either twigs that have been shop bought – or ones you've found outdoors.
The process moves onto creating a circle of twigs and you simply glue them together and build it up until it's an inch or so high.
Mona then adds Spanish moss and berries and glues on a clothes peg to the underside of the log so it can be clicked onto your Christmas tree.
It's not only an easy craft to undertake, but it's an impressive Christmas tree decoration that will get people talking.
The two birds are shop bought and there are other additions to make this an interesting creation with white glitter for the frosty appearance, and moss at the end of the branch.
The result is two birds sitting in a nest looking really cosy in your Christmas tree. There's no doubt that this will work really well if you have a real Christmas tree in your home.
It's also a Christmas tree ornament that you can use your after year, or slowly build up your collection of them.
If it helps, Mona has made a great YouTube video of 5 DIY Christmas decorations you can make – including the excellent nesting bird's ornament. (And she makes it look as easy to make as it really is!).