The festivities are fast approaching and what better way to get into the Christmas spirit than by embracing easy Christmas crafts ?
Whether you're looking for DIY decorations, unique gift ideas or just a fun activity to keep you and your loved ones entertained, there's no shortage of Christmas crafting options.
From traditional wreath-making to making Christmas gift stocking, there's a craft out there for everyone.
In this article, the Christmas.co.uk team takes a closer look at some of the top Christmas crafting trends, as well as a few tips and tricks to help you get started on your own festive creations.
So, grab a cup of hot cocoa and let's get crafty!
Super cute Father Christmas papercraft puppet
Our first easy to make at home craft is this super cute Father Christmas papercraft puppet.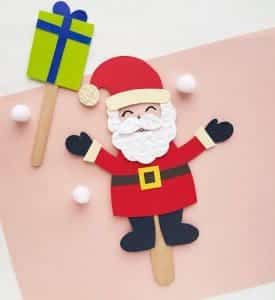 It's the brainchild of Attachment Mummy and is a lot of fun to create-and also helps children get even more excited about the festivities.
This father Christmas Papercraft puppet will need a printable template from the website and the supplies:
Coloured craft papers – red, black, off white or cream and yellow
Embossed paper (optional) in off white or cream
Craft glue
Popsicle sticks
Black Sharpie
Pencil
Scissors
Printable template.
The website uses a series of easy-to-follow instructions with good use of photographs to deliver the final creation.
We found the Father Christmas Papercraft but the great fun to make and the finished creation does impress.
Attachment Mummy also offers other great crafty ideas including a papercraft Christmas tree and excellent seasonal Christmas cards.
oooOooo
Hobbycraft: 4 quick and easy Christmas crafts for kids
We love this YouTube video from Hobbycraft since it offers four quick and easy Christmas crafting ideas for children.
By simply using craft essentials, children can create:
A Christmas tree game
Yarn letters
A Christmas wreath
Reindeer antlers.
There's no doubt that these projects are easy to complete and will get you and your youngsters into the festive mood.
The video clearly shows what needs to be done and children can do most of the work!
oooOooo
How to make a Macramé angel
The next Christmas craft idea for making is the impressive macramé angel from isabellastrambio.com.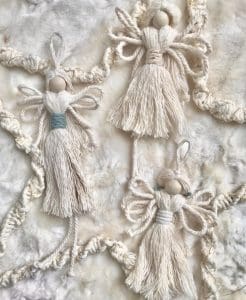 The website is packed with excellent ideas and there's even a macramé community Christmas guide offering lots of unique handmade festive gift ideas.
While the process of macramé looks complicated, it really isn't and for many enthusiastic followers, it's a great way to reduce stress and unwind.
The method for the macramé angel has a very easy video tutorial to follow on Facebook and even a first attempt can have an impressive finish.
You also don't need many materials though you might need a dry run or two to deliver a similarly impressive angel as Isabella's!
We also like the macramé Christmas stars that we featured on Christmas.co.uk previously and Isabella is a very good teacher, particularly when highlighting the mindfulness moments that macramé can bring.
oooOooo
Why should people think about crafting at Christmas?
There's no doubt that crafting at Christmas is a wonderful way to get into the festive spirit and add a personal touch to your celebrations.
Instead of shop-bought decorations and gifts, crafting allows you to create unique and meaningful items that reflect your style and personality.
Crafting is also a great way to spend time with your loved ones, as crafting can be a fun and bonding activity.
In addition, crafting can be a stress-relieving activity that allows you to unwind and focus on creating something beautiful.
So, whether you're an experienced crafter or a beginner, Christmas crafting is definitely something worth considering for this festive season!
oooOooo
Wooden bead Scandi-style Christmas ornaments
Another great Christmas craft creation comes from Jae at Make Calm Lovely.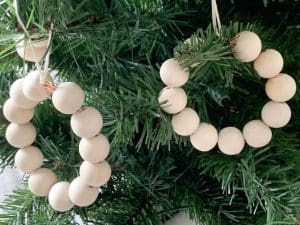 This is a lovely idea and utilises Scandinavian Christmas decorations that Jae says are beautiful, warm yet simple and natural.
The easy to make ornaments will look great on any Christmas tree and use stylish wooden beads.
Jae also highlights that the creation can also be used as window decorations or for other places in your home for the festivities.
They might also make a sound gift choice for family and friends too.
The supplies list simply includes natural wooden beads – the ones pictured here are 20mm – along with jewellery or picture wire, wire cutters or pliers and string or cord for hanging the finished ornaments on.
oooOooo
Excellent 3D paper Christmas gnomes
We absolutely adore these excellent 3D paper Christmas gnomes from Maggy at Red Ted Art.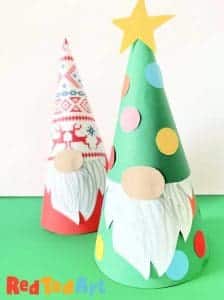 Her aim is to make arts and crafts not only approachable but easy and encourages participants not to be daunted by the projects.
These 3D gnomes are great fun for adults and children to make and the easy-to-follow instructions help make this a fun undertaking.
The supplies list is mainly paper and white printing paper for the templates.
Maggy uses very basic shapes so they are easy to trace, and you will also need a black pen, a glue stick and scissors.
The finished product impresses and along with being great fun to make, will impress visitors and family alike.
Maggy also offers up impressive simple Christmas card designs and a living advent calendar.
oooOooo
Lara Joanna Jarvis: Affordable Christmas crafts
You don't have to spend a small fortune on creating great Christmas crafts and here Lara Joanna Jarvis explains how you can create impressive crafts on a budget.
Using items from Poundland and The Range, Lara shows how to create stylish and impressive items at a low price.
She shows how to buy cheap items, repaint or add festive items to deliver something unusual.
The crafts include a candle pillar that would make an ideal table centrepiece.
We liked the jar Christmas tree idea and it is an effective decoration that looks trendy and usual.
The Christmas tray will make people smile.
For anyone wanting unusual and easy to make crafts, there's a lot to enjoy with Lara's ideas.
oooOooo
Wooden Christmas gift tags
If you are looking for a single source of great Christmas crafting ideas, then we can heartily recommend sumoftheirstories.com.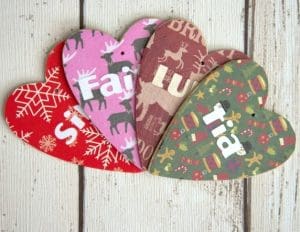 The site is the result of Julie's hard work and she's obviously very enthusiastic about crafting. She also runs an Etsy shop.
On a page dedicated to holiday projects, Julie lists some great Christmas crafting ideas with tutorials including an excellent DIY punched tin lantern, felt star ornaments and pom pom Christmas baubles.
Some of the ideas are very impressive and simple including upcycled cotton reel table place settings and reusable fabric Christmas gift bags.
However, we were really taken with her idea of wooden Christmas gift tags because they are not only original, but they can be used as tree ornaments in the years afterwards.
Julie uses premade wooden hanging hearts or shaped gift tags.
You will also need Christmas scrapbook paper, glue, a needle, cord or baker's twine and alphabet stickers.
There's a step-by-step photo tutorial and you simply use the tag as a template for Christmas paper and use that as the base before adding a pattern or a name.
It's such a simple idea, they are bound to go down very well with all recipients.
oooOooo
Where does Christmas crafting come from?
Christmas crafting has been around for generations, with many of the traditions and techniques dating back to medieval times.
During the Victorian era, Christmas crafting became more popular as people began to make their own decorations and gifts by hand.
This was due in part to the rise of the arts and crafts movement which emphasised the beauty and value of handcrafted items.
Today, Christmas crafting remains an important part of festive traditions in many cultures and is practised by people all around the world.
The entry level is low cost, and you can explore your creative side and enjoy fun times with loved ones as you create impressive crafts!
oooOoo
Free Christmas cross stitch patterns
Not every Christmas craft has to be paper-based, and we found that cross stitching is a popular and rewarding pastime.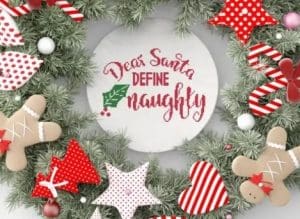 Here, Ruth at craftwithcartwright.co.uk offers some very impressive free Christmas cross stitch patterns for the festivities.
Her ideas include patterns for Christmas bells, patterns for cards, a Christmas pudding and a Santa hat design.
Again, you don't need to have years of experience in cross stitching – the patterns are easy to follow, and the finished result will impress.
There's a lot to like about the work that Ruth has put together, including the cross-stitch gift tags and a cute elf design too.
We enjoyed her festive sign designs including 'Happy Christmas', 'We wish you a merry Christmas' and 'Dear Santa, define naughty'.
oooOooo
Easy Christmas crafts for the whole family
Following on with the theme that you don't have to spend a small fortune when crafting is this video from 5-Minute Crafts. They offer these crafting ideas:
Yummy chocolate drink
Fun Christmas tree decor
DIY festive pillow
Colourful Christmas ornaments.
You don't have to buy lots of items, and you can recycle items in your home.
The video has been made by a US team, but the crafts really do impress.
oooOooo
Dried citrus Christmas ornaments
We love the creative ideas from Genevieve at shekeepsalovelyhome.com and this dried citrus Christmas ornament idea really stands out.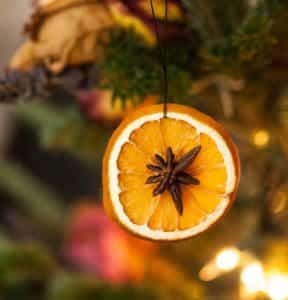 Indeed, we have used one of her previous ideas for using acorns as a Christmas ornament – and they have proved to be popular!
The dried citrus fruit Christmas ornaments use a very simple idea by utilising dried orange slices with star anise to create a natural and pretty Christmas ornament that is fragrant too.
They are not only easy to make but look like stained-glass windows when Christmas lights are behind them.
All that's needed to create them are five oranges, a needle and thread along with star anise and some time.
The inspiration comes after Genevieve wanted to decorate her Christmas tree with natural ornaments and pretty items – except for the tree lights.
For many people, the oranges will create a talking point and we also enjoyed her homemade flower ornaments too.
The process described on Genevieve's website to create the ornaments is straightforward and you essentially slice the oranges so they are just less than 1cm thick – the thinner you cut them, the more transparent they will be.
You'll then need to bake them in the oven which is the process to dry them out and ensure they won't end up covered in mould. Let them cool before adding the star anise.
Genevieve also cautions that the citrus fruit will not look as good next Christmas, so there's no need to pack them with your ornaments and you simply make more for the next festive period.
We also love Genevieve's idea for a Christmas garland – which many people will enjoy.
oooOooo
What type of crafting can be enjoyed at Christmas?
There are many types of crafting that can be enjoyed during Christmas time. Some popular examples include:
Christmas tree ornaments: Making ornaments for the Christmas tree is a classic festive crafting activity. From felt ornaments to painted baubles, there are countless ways to add a personal touch to your tree. These make for wonderful keepsakes too!
Wreath-making: Wreaths are a festive way to decorate your home and making them can be a fun and rewarding project. Whether you prefer a traditional evergreen wreath or something more modern, wreath-making is a great way to express your creativity.
DIY gifts: Homemade gifts are a thoughtful and personal way to show your loved ones how much you care. From knitted scarves to homemade jams, there are endless options when it comes to DIY gifts.
Baking and cake decorating: Baking and decorating Christmas treats can be a fun way to get creative in the kitchen. From gingerbread houses to decorated sugar cookies, there are plenty of sweet Christmas crafts to try.
These are just a few examples, but the possibilities for Christmas crafting are endless!
oooOooo
Free quilted Christmas stocking pattern
Who doesn't like to receive their festive gifts in a Christmas stocking? Then this free Christmas stocking pattern from sarahmaker.com is for you.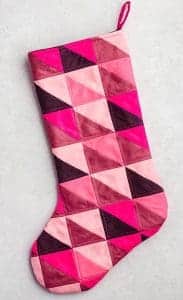 There's a step-by-step photo tutorial on Sarah's website and the process to piece and then sew together the patchwork stocking is surprisingly easy.
The result is that you'll get to hang a beautiful stocking or give them as gifts to family and friends – it is likely that they may well turn into cherished family heirlooms.
One of the best things about the stocking pattern is that you can choose various colours and fabrics rather than coordinating them, so they all look the same.
This is a great sewing project to undertake for both experienced and beginner quilters.
Don't forget too that the stockings are not huge, so they are only suitable for holding small presents – and help build for the fun on Christmas Day.
We also like the fact that you can use the ends of fabric from previous projects or buy small amounts of fabric from craft or material shops.
Sarah also points out you'll need ribbon, matching thread, a quilting ruler, cutting mat and a rotary cutter.
She also uses straight and curved pins, a sewing machine, and an ironing board with iron.
Sarah's website is a goldmine of great crafting ideas, and we also love her salt dough recipe too.
oooOooo
Super cute Christmas reed diffusers
If you want to enjoy a simple crafting idea, then this one is excellent and you'll create super cute Christmas reed diffusers.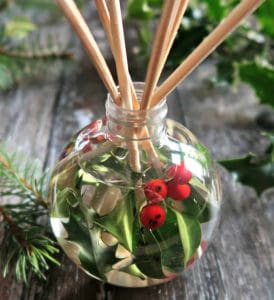 The idea is to utilise fillable festive baubles as the diffuser bottle and adding essential festive oils for the fragrance.
This is a home fragrance system that uses the reeds to disperse a fragrance and you won't need electricity or batteries when using it.
This is the creation of Sarah at Craft Invaders who highlights that rather than buying expensive diffuser oil in the shops, she has a recipe for creating one of the best homemade reed diffuser oils around.
Another big attraction for creating these Christmas reed diffusers is that they only take a few minutes to put together and they'll make perfect presents for house guests.
Sarah starts by adding fresh foliage such as holly leaves and some berries into a fillable bauble.
She then adds Augeo clean multi diffuser base to the oil and adds a scent. In this offering, Sarah uses a ready-made essential oil fragrance, but the homemade oil is certainly worth considering.
You can adjust the strength of the festive scent by adding more oil drops to the mixture. Once done, simply add the lid, put on a festive ribbon and then pop a bundle of reeds tied with a ribbon on top, ready to be used.
The result is a very stylish Christmas bauble reed diffuser that will impress.