Who doesn't like to receive a DIY Christmas card for the festivities, whether it is from a young child or older relative?
Here, we look at some great DIY Christmas card making ideas to help you impress recipients.
No matter whether you are old or young, these crafty card ideas are easy to follow – and provide great entertainment for youngsters.
Not only can you use DIY Christmas cards for decorating your home, but they will become a much-cherished memento when made by children and sent to grandparents and other relatives, for example.
Here, we take a look at some DIY Christmas card ideas that we really enjoyed putting together.
Create a 3D Christmas tree card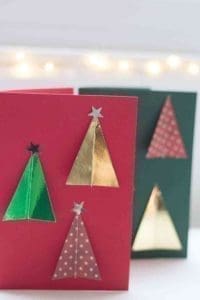 First up is an impressive way to create a 3D Christmas tree card from Alina Davies.
She runs the fabulous parenting and lifestyle blog, 'We made this life' and there are some lovely ideas for people of all ages on there.
As Alina says, there's something special about sending someone a gift that you have taken the time to make for them.
You don't have to make lots of these cards but sending a few handmade 3D Christmas tree cards is an effective way to make someone feel cherished.
The instructions are straightforward, and you only need:
Card base
Different coloured paper for the trees
Thick needle
Cotton
Sellotape
Glue
Star sequins
Ruler
Scissors
From there, there's a step-by-step guide to cutting triangle shapes, folding them and then securing the shapes to the card and adding the cotton thread.
As Alina states, these 3D Christmas cards are not only striking but they also don't take very long to make so parents should be able to get toddlers to focus long enough to create a memorable card!
Ooooooooooooooooooooo
Create the perfect DIY Christmas card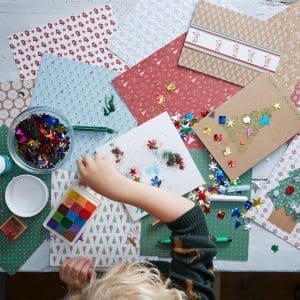 If you worry about finding the items needed to create the perfect DIY Christmas card, then High Street retailers are worth trying first, plus there are lots of good suppliers on platforms like Amazon.
For example, The Range offers Christmas craft essentials in the run-up to the festivities including stamps, embossing folders and die-cutting machines.
The store also offers packs of paper and card, as well as foam to help create wintry scenes and festive backdrops.
Don't forget too that children will love to add some detail to their masterpiece including beads, buttons and glitter.
The Range also offers some top tips for creating the perfect Christmas card and they include:
Leave space for writing
It's too easy to become focused on creating the card without wondering what you will have to write. Leave space for your message and well wishes so it might be an idea to think about where the words will go, and then work around that area.
Experiment with landscape and portrait layouts
When designing a card, you should consider the different orientations – whether the card should be landscape or portrait.
Different versions of the same design
If you like a particular design, then there's nothing wrong in copying it but adding a sprinkling of different items when complete.
Ensure you have time for creativity
There's no need to rush when it comes to creating the perfect Christmas card so you should set aside enough time to create your art. It may be that children particularly become very involved and want to make lots of cards. Encourage this creativity!
oooooooooooooooooooooooo
Materials to make Christmas cards
Another great retailer for those wanting materials to make Christmas cards is Hobbycraft.
The firm sells packs of crucial items including specific Christmas card making kits.
Families can buy packs of 24 sheets, 60 packs of paper and packs of card, for example.
There are also specific designs to create an icy winter look, plus wooden Christmas signs to affix to the card itself.
The Christmas.co.uk team also loved their other wooden toppers including brilliant dogs in jumpers, Father Christmas figures and wrapped presents.
Some of the festive fun Christmas papercraft bundles are definitely value for money, and certainly worth a small investment to deliver a fun time as children create their art.
The Hobbycraft website offers all of these items and a visit to the store is also great fun when taking children.
To help crafters and families visualise just how easy DIY Christmas card making can be, Hobbycraft has this great YouTube video to enjoy.
ooooooooooooooo
Christmas scrapbook-style cards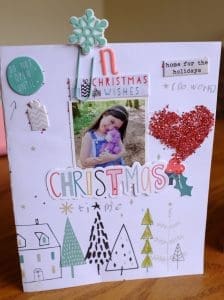 Another craft blogger that the Christmas.co.uk team really admires, is Sarah at runjumpscrap.com.
On her blog, she offers making Christmas scrapbook-style cards as a children's activity and these are striking because they have small photographs of the child, or children, who made the card.
As part of the blurb, Sarah explains that her family no longer buys Christmas cards since most of them end up in recycling.
However, for close family members sending and receiving a Christmas card is still something of a special event which is why she has come up with Christmas scrapbook-style cards.
Part of this is down to Sarah's love of scrapbooking and she's put together a guide to create a striking guide to making a Christmas card.
Sarah highlights that you can buy the materials from The Range and Hobbycraft but there are also specific websites available for buying scrapbooking and card making kits.
The equipment needed for the Christmas scrapbook-style cards:
Mini photos
Plain coloured card
Scissors and glue
Christmas stickers
Christmas themed cardstock
Glitter (if you dare)
Alphabet letter stickers
Anything else! (Sarah says: "I had some Christmas paper clips in my kit. I have used buttons when scrapbooking, little wooden veneers, sticky dots, ribbon. The list is really endless, so worth browsing when picking your kit.")
Again, Sarah gives a photographic guide as her step-by-step process and the cards are easy to make.
They are certainly a striking creation for youngsters, and they get to be as creative as they want, with glitter and glue and nice messages and drawings on the inside.
The result is, and we are sure you'll agree, an impressive memento that make for lovely keepsakes.
oooooooooooooooooooo
Making DIY Christmas cards for the festivities
There are lots of resources online for anybody interested in making DIY Christmas cards and other crafty items for the festivities, and we can also recommend:
Sitters.co.uk
The site offers some striking and easy Christmas cards to make – for crafters of all ages!
This Paper&Twine YouTube video shows how to make 40 Christmas cards on a budget, using materials from The Range:
We also like the well-priced resources at TheWorks.co.uk and their shops are well worth visiting for materials to create your own Christmas cards.
Not on the High Street is another potential online portal with a range of Christmas card making kits, particularly if you want to be a tad more ambitious. They are stylish and creative offerings with some cracking ideas to help children create impressive DIY Christmas card designs.
And, as should be expected, Amazon has lots of potential Christmas card making material suppliers and a wide range of prices.