For many families, settling down to be creative in the festivities is a high point to enjoy and if you are looking for easy and fun Christmas craft ideas for kids to complete, then the Christmas.co.uk team can help.
That's because we have been looking at some of the creative crafty bloggers around, as well as retailers, offering Christmas craft ideas for everyone to enjoy.
Not only will crafting keep children busy, but it will also help build excitement for Christmas Day.
Plus, they will get to create decorations and cards and gifts for friends and families – which will become cherished mementoes for grandparents.
And let's face it, when people start reaching for the tissue paper, glue and glitter, we know it is beginning to feel a lot like Christmas!
Easy Christmas crafts for kids
When it comes to thinking up ideas of easy Christmas crafts for kids, there are some excellent retailers offering great ideas and materials.
Among them is the crafter's dream outlet, Hobbycraft.
They have an excellent page of ideas that range from a Santa pom-pom plate kit to a Christmas tree craft decoration sewing kit.
Essentially, if you have an idea to create something specific, then the Hobbycraft stores and online site will be able to supply the materials.
They stock everything from artificial snow to snowman foam shapes and a make-your-own 3D wooden house scene.
We have also highlighted here previously on Christmas.co.uk how impressive the Christmas Santa stencil wheel is.
Here, the Hobbycraft team put together three fun and easy kids Christmas craft ideas – using paper plates, cardboard tubes or toilet roll holders and how to make personalised Christmas cards.
ooooooooooooooooo
Create Christmas crafts with children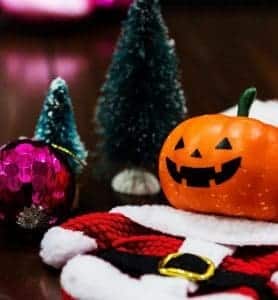 There are more great ideas to create Christmas crafts with children on the Purple Pumpkin blog.
It's the work of Michelle who runs a seasonal series on the blogs with crafts and recipes.
Indeed, the blogger has been going since 2012, and Michelle has indexed all of her 'Create Christmas' ideas since then.
They include making paper crafts, cake recipes, felt ornaments and other great ideas to enjoy.
Visitors to the Purple Pumpkin blog will also find printable Christmas activity sheets for kids that are free for using.
These Christmas activity sheets include word searches, colouring sheets and mazes for children to enjoy.
Michelle also offers a free printable letter that acts as a template for children wanting to write to Santa, plus the envelope.
Children who fancy making Christmas wreath cupcakes and other homemade Christmas gifts will find plenty to enjoy on the blog.
But the site isn't just about delivering easy craft ideas for children, Michelle also offers 20 awesome Christmas craft ideas for adults too.
There are guides to creating paper ornaments, including those for hanging from Christmas trees and DIY Christmas ornaments.
000000000000000000
Children being crafty at Christmas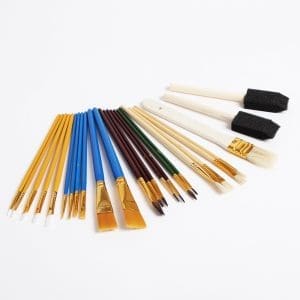 When it comes to being creative, you don't have to spend a lot of money to offer children the opportunity of being crafty at Christmas.
For example, Home Bargains is a large chain of shops, and they have a very good website offering a canvas three-pack, along with paintbrushes or a sketchpad that will deliver a quick win for parents to help children paint festive scenes.
You can also buy double knit yarn in various colours for knitting projects, along with washable marker pens and twistable crayons.
Like many popular stores, Home Bargains really does gear up for the festivities with a wide range of products, but they also cater to families wanting to create crafts.
It's worth scouring the site and the store to find the materials to deliver a memorable Christmas craft creation.
ooooooooooooooooooooooo
Great festive crafting ideas for kids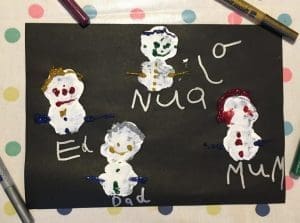 Another crafty blogger we enjoy at Christmas time for great festive crafting ideas for kids is Jenny at the Gingerbread House.
Based in West London, this mum of two has created a family and craft lifestyle blog and she is a big fan of Christmas.
Among her creations that we love, is the potato print snowmen craft for kids to make.
The process is straightforward, and Jenny uses a cookie-cutter to create the desired shape when a potato has been cut in half.
You then simply squeeze some paint onto a surface, dab the potato shape into it and plant onto a piece of card or paper.
From there, youngsters can decorate their creation as they wish.
Jenny also offers a great idea to create thank you cards at Christmas time.
It's a simple idea and there's a free printable download for these cards to be created.
Since most people tend not to send thank you cards or notes anymore, it's a really touching idea for children to spend time creating their own thank you card and sending it to a family member or friend.
ooooooooooooooooooo
Retailer offering cheap Christmas crafting materials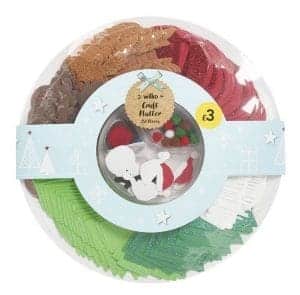 Another retailer offering cheap Christmas crafting materials is Wilco.
Again, this is a popular retailer with a large number of shops around the UK.
The website also offers an arts and crafts page with lots of well-priced materials including glue, foam face shapes, pom-pom fairies and bunting that can be coloured in.
Along with foam craft shapes such as Christmas trees, Santa hats, robins and foam snowmen, Wilco offers a decent range of products at reasonable prices.
The foam craft shapes platter is particularly impressive.
It's worth checking out the Wilco Christmas craft offering because there are some simple tips that children can use should parents not be confident about starting a Christmas craft from scratch and running the risk of lots of glue, glitter and paint everywhere!
Instead, you can buy items such as a 'Nature's own rainbow kit', a 'Colour your own canvas bag' and a 'Paint your own piggybank' that a child can make and then give as a gift to a loved relative.
oooooooooo
Simple DIY Christmas craft ideas
The Christmas.co.uk team also liked other bloggers and websites offering simple DIY Christmas craft ideas to be completed with children.
Among them is the 'Skint Dad' website which offers 15 really simple ideas for children's Christmas crafts that they've collected from other sites and bloggers. There's something here for everyone!
Another site worth visiting is Activityvillage.co.uk with some great ideas on their Christmas crafts page for children to be creative at Christmas.
There are great ideas for nativity and angel crafts, as well as Christmas candles and Christmas cards for children to make.
There's also this YouTube video from Twinkl on 'How to make Christmas crafts for children'. There are some simple and impressive ideas for those who want to follow easy instructions.