If you would like to 'sleigh' your neighbours this Christmas with an impressive outdoor Christmas lights display, then the Christmas.co.uk team are here to help.
There's no doubt that using outdoor Christmas lights is becoming increasingly popular with people adding festive lights to their garden or the front of their home.
It's also possible to add lights to outdoor trees at Christmas when it comes to decorating the exterior of your property for the duration of the festivities.
Along with garden and icicle lights, you can create an impressive winter wonderland for young and old alike and turn your front garden into a wonderful and dazzling lit display.
The categories for outdoor lighting will include:
LED outdoor string lights are not only super bright but also long lasting, durable and energy efficient.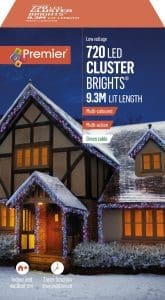 LED Christmas cluster lights come in a range of colours, styles and sizes and are the perfect choice for creating an impressive display outside – and also inside – your home.
One flexible choice when designing a festive display is to think about Christmas rope lights as they can be bent into various designs and shapes to make them a versatile choice for confined areas or to create a special display.
A popular way to create a festive winter wonderland is to use LED Christmas icicle lights to hang from the guttering or from above the front door or windows.
Christmas string lighting is a great way to light up an area or a tree outdoors. These are sometimes referred to as fairy lights.
For anyone looking for an easy-to-use option without the hassle of having to wire your Christmas lights into the mains or use batteries, you could consider LED Christmas solar lights. These lights have a solar panel on a spike you stick into the ground that will charge the lights – and when the sun goes down, the lights come on to brighten your garden, home or trees and shrubs. The lights won't run all night but for an early evening display, it's an outdoor Christmas lighting solution to consider.
Novelty Christmas lighting
Want to use lights that are quirky and novel to grab attention? There is a wide selection available from lots of High Street and online retailers from penguins and reindeer to Santa Claus. Silhouettes help make a home look impressive at Christmas. Some of these festive silhouette offerings will have a function; for example, Santa in a sleigh being pulled by his reindeer as he waves at passers-by. Christmas figures for the outdoors include polar bears and unicorns and there are impressive Christmas reindeer and all of them use LED bulbs to bring an impressive impact.
Outdoor Christmas light projectors
One great way to create an eye-catching festive display is to use outdoor Christmas light projectors. They're easy to set up and your festive lighting display will come from just one lighting source. There are a range of patterns to illuminate the front of your home and Christmas light projectors are weatherproof and reliable.
Inflatable Christmas figures
One increasingly popular way to brighten up a garden for the festivities is to add an inflatable Christmas figure. This is an easy and effective way to decorate with a fun figure that also lights up in the evening, for example, having Santa Claus waving at passers-by.
But that's not all, you also need to decide on the power source for your lights.
Powering your outdoor Christmas lights
There are some issues when it comes to powering your outdoor Christmas lights and there are three potential power sources:
Plug-in outdoor Christmas lights must be designed for outdoor use – or they won't last long. The lights will need to be weatherproof and waterproof, and you will need an outdoor power socket to plug them into. You could also run a cable from indoors but again this needs to be waterproof or you run the risk of damaging the cable and exposing the wires and electrocuting someone.
This means having to understand the IP rating for your outdoor lights. IP stands for Ingress Protection and all fittings and lights are rated by this feature – and this is an issue we discuss further in our article, 'Which outdoor Christmas lights are best for a garden?'.
The IP rating includes two digits – the first highlights how protected the product is from solid objects and runs from 0 to 6, and then X – which stands for 'Protection level not tested or defined'. To illustrate:
0 – No protection against contact and ingress of objects
1 – Protects against objects greater than 50 mm (2 inch)
2 – Protects against objects greater than 12.5 mm (.5 inch)
3 – Protects against objects greater than 2.5 mm (.098 inch) such as tools etc.
4 – Protects against objects greater than 1 mm (0.04 inch) such as slim screws, etc
5 – Protects against dust (affecting the operation of the equipment)
6 – Allows no ingress of dust.
The next digit describes the protection that the light source has. For example:
0 – No protection
1 – Dripping water
2 – Tilted dripping water
3 – Spraying water
4 – Splashing water
5 – Water jets
6 – Powerful water jet
7 – Immersion in up to 1m of water
8 – Immersion in more than 1m of water.
 Put simply, the IP rating for standard garden lights that you want to use for the festivities should be rated at IP44 – or higher.
oooooooo
This video from eFIXX explains really well what the IP ratings means – and shows how water affects electrical equipment. This underlines the need to buy outdoor Christmas lights in the UK that are designed for the winter weather.
ooooooooooooooo
Battery power for outdoor lights is a sound choice for those who don't want to bother with a powered source or pay for waterproof plug-in lights. Battery-powered Christmas lights will offer a festive choice that will be protected from the rain, wind and snow. An ideal choice with a timer function. However, the battery pack will still need to be waterproof to protect it against the elements.
As mentioned earlier, solar-powered Christmas lights are a great choice for those who don't have the time or confidence to wire their lights into the mains or want to use battery power, and that is to simply place the lights where you want them, and you should get several hours Christmas lights in your garden to enjoy.
When looking at outdoor festive lights for your garden, remember that battery and plug-in power sources must be waterproof and meet the minimum British Standard for this purpose.
The colour of your outdoor lights
As should be expected, outdoor Christmas lights come in a range of colours, including:
White
Warm white
Green
Blue
Read
Blue
Pink
They are also available in red and white offerings, along with white and various changing colours and multi-coloured offerings.
These lights can also be used with a timer function – and it makes sense to set the timer from teatime and to end before midnight. There's no point adding to a festive electric bill if no one is enjoying your Christmas lights.
The style of outdoor festive lights
While many of us will simply want to place a few animals and attractive lights outside for the festivities, some people are more ambitions.
You may decide to run icicle lights along your property's guttering, for example, or place icicle lights around the windows.
While these will look very impressive and frame a house to look wonderful, you will need to place hooks on your gutters and be careful when using ladders or stepladders to put your lights in place.
Again, you will need the lights, cable and plug to be water and weatherproof.
It helps that there is a wide range of outdoor festive seasonal lights available to create the winter wonderland that you will enjoy looking at every day.
Others may simply decide to add Christmas figures to help light up their lawn, from a jovial Santa Claus to penguins to reindeer.
Indeed, manufacturers and retailers now deliver a wide selection of outdoor Christmas lights to illuminate your home to deliver a seasonal 'wow' factor.
Some retailers also offer connecting LED lights so you can be more creative and hang a long string of fairy lights around your garden. Not only will this deliver a boost to Christmas spirits, but they will also create a warm and inviting atmosphere.
oooooooo
Below we discuss installing Christmas lights on an outdoor tree. This video explains more about how to wrap a tree effectively for the festivities – and the lights can be left in place. Remember you need to buy quality weather and waterproof lights for the UK winter.
ooooooooooo
Other Christmas outdoor lights
Along with traditional outdoor Christmas lights including icicles and festive characters, you could also include:
·         Christmas tree lights
You will find that LED Christmas tree lights are not only very bright, but long-lasting, energy-efficient and durable. Done correctly, adding outdoor lights to a tree will create an impressive display.
·         Path lights
If you have a garden path that you would like to light up for the festivities, then Christmas path lights are for you. Easy-to-use, you can opt for plug-in, solar or battery-powered path lights to bring some festive delight to your garden.
·         Net lights
An effective and hassle-free way of decorating windows is to use Christmas net lights, and these can also be used for trees and gardens.
Most of these lights will be easy to install and will be mains powered or battery operated.
Outdoor display lights – what to consider before buying
Before you buy outdoor Christmas lights, there are several issues to consider.
Firstly, decorating outdoor spaces can be trickier than when decorating indoor areas and you also need to put up your outdoor Christmas lights safely and easily.
Choosing the right outdoor Christmas lights style is important and it's worth spending a few moments looking at the area you want to decorate with lights to decide what will work best.
You could, for example, head to a retailer or an online website selling outdoor lights for Christmas and spend money on lights you either don't like or are not fit for purpose.
As mentioned earlier, most, if not all, outdoor Christmas lights for sale today will have LED bulbs. They not only last longer but are brighter than traditional incandescent bulbs so will light up the area that you want to decorate nicely.
Outdoor festive lights – how long should your cable be?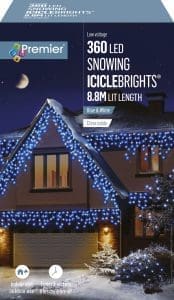 One of the issues when placing outdoor Christmas lights in the area that you want illuminating is to think about how to power the lights first – not afterwards.
Remember that your cable will need to reach the power source – or you will need a waterproof cable extension.
You also need to check that the mains operated outdoor lights that you want will be safe for use outdoors – and the retailer will provide evidence of this.
However, you should always ensure that the plug remains in a dry location or use a suitably covered outdoor socket.
Some people will also be tempted to use an indoor power supply and either run the cable through an open window or drill through wood or brick to deliver the power.
If this is a route you are considering, then you will need a fairly lengthy cable to go from the plug socket and to the light display. You must measure what the distance will be and consider using a circuit breaker on the cable – just in case. In addition, you MUST ensure that the bulbs you are putting up are designed for outdoor use.
Understanding the lit length of outdoor lights
Another issue when considering the size of outdoor Christmas lights to use for your home is the lit length – this is the number of bulbs along a cable.
This is really important if you are looking to decorate your roof, or the exterior of your property because you need to ensure that the bulbs are not spread too far apart so they don't deliver a good festive look.
It's for this reason that you really should measure the area where the lights are going to be placed, and rather than guessing what the lit length will be, calculate it using a retailer or manufacturer's instructions on how long the lit length is, or the number of bulbs that will be on the cable.
This will then make the installation easier – and your expected enjoyment when you come to switch the lights on and find that there aren't enough bulbs on the cable for the desired look you were hoping for.
Other issues to consider for outdoor festive lights
The fact that outdoor Christmas lights are growing in popularity in the UK should be proof enough that buying and installing these festive displays is not very difficult.
Unless you are thinking of creating a showstopping festive offering, then most people will be able to get by with battery-operated, solar powered as well as mains operated Christmas lights.
You also need to consider how important a timer function might be.
Not only will this device enable your outdoor Christmas lights to be turned on and off at the same time during the day, but you will also be saving money and energy.
Remember: There is no point powering outdoor Christmas lights if no one is going to enjoy them.
It's also worth considering multi-function settings when buying outdoor lights for Christmas because you can choose the setting that is most suitable for the space where the lights are being placed.
One example of this is if your home is next to a busy road because having lots of flashing lights may cause a distraction to passing drivers so it would be better to have a static function for your light display.
Ooooooooooooo
This is a great video from Dobbies Garden Centres which shows how to hang Christmas lights easily. Instead of using gutter clips, you can use binder clips.
oooooooooooo
How to hang your lights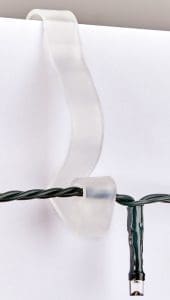 When it comes to hanging your outdoor Christmas lights, your number one priority is your safety.
Before you hang your outdoor Christmas lights, you will need:
A ladder (though there are handheld devices available to place the hooks on a gutter without using ladders)
Decorating clips or gutter hooks
A weatherproof extension lead
Your outdoor Christmas lights.
The process of hanging outdoor Christmas lights is straightforward:
Plug your Christmas lights in while on the ground to ensure they work
Check how near an accessible power socket is – if the lights don't reach, then use a waterproof extension lead
If placing your Christmas lights at a height, you need to use the ladder. The ladder must only be placed on level ground and must be tall enough so you don't have to reach out to place the lights where you want them to go.
Attach gutter hooks or decorating clips to the area that needs decorating with lights – and these should be placed evenly apart. For most lights, you should look at a distance of between 30cm to 50cm, or if you are hanging icicle lights, then consider a distance of 20cm to 30cm.
Plug your Christmas lights in and then work backwards from the power socket and click your cable into the decorating clips or hooks. There should be no loose wires that hang down and the cable should be held tightly.
Continue working slowly until the end of your string of lights has been reached. There should also be one last clip to hold the end of the light string.
If there are any wires drooping or bulbs that have been spaced unevenly, then adjust them accordingly.
You can now step back and enjoy your outdoor Christmas lights display!