For growing numbers of us, one of the great things about the festivities is the appearance of beautiful decorations and lights, but which outdoor Christmas lights are best for a garden?
Here, we take a look at some of the best outdoor Christmas lights available for gardens but let's start with a few tips first.
Outdoor Christmas lights power supply
When you are thinking about buying outdoor Christmas lights, you need to consider the power supply too.
Firstly, you cannot put Christmas lights that have been designed for indoor use outside in the garden – it's not only a waste of money but also dangerous.
That's because indoor lights can blow a fuse or become easily damaged in poor weather.
However, while the bulbs may often be suitable for outdoor use, you could use a device to plug them in indoors.
This will save you the expense and trouble of installing an outdoor power source and you should check out DriBox – a weatherproof offering created specifically for powering outdoor Christmas lights. While this invention impresses, it still needs to be plugged in using an indoor plug socket.
Alternatively, you could consider something that turns non-weatherproof plugs into something that can be used outdoors. These can be bought from major retailers and will be an addition to an outdoor plug that will weatherproof it. This is a different product to investing in lights and cable but worth considering.
However, because the British weather can be unpredictable you will need outdoor sockets that are not only waterproof – but also dust proof.
If not, the power socket will malfunction.
You will need a minimum of an IP56 rating for an external socket to be safe – even when you are jet-washing nearby, the socket will be safe.
Christmas lights for outdoor use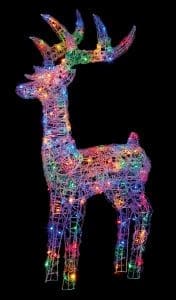 You will need to invest wisely in Christmas lights that have been designed for outdoor use.
This means you need to consider the power supply – so you may need to install an outdoor socket that is close enough to where you want to place your lights. See above for protecting the socket properly.
This then enables the use of mains supply Christmas lights and will protect the lights from wet weather.
However, you will need to understand the IP rating.
But what does the IP rating mean?
IP stands for Ingress Protection and all fittings and lights are rated by this feature.
The rating will then help determine where your outdoor Christmas lights can be placed safely outdoors.
The IP rating includes two digits – the first highlights how protected the product is from solid objects and runs from 0 to 6, and then X – which stands for 'Protection level not tested or defined'. To illustrate:
0 – No protection against contact and ingress of objects
1 – Protects against objects greater than 50 mm (2 inch)
2 – Protects against objects greater than 12.5 mm (.5 inch)
3 – Protects against objects greater than 2.5 mm (.098 inch) such as tools etc.
4 – Protects against objects greater than 1 mm (0.04 inch) such as slim screws, etc
5 – Protects against dust (affecting the operation of the equipment)
6 – Allows no ingress of dust.
The next digit describes the protection that the light source has. For example:
0 – No protection
1 – Dripping water
2 – Tilted dripping water
3 – Spraying water
4 – Splashing water
5 – Water jets
6 – Powerful water jet
7 – Immersion in up to 1m of water
8 – Immersion in more than 1m of water.
Please remember that your outdoor Christmas lights will come into contact with a range of objects and substances – certainly more so than indoor Christmas lights.
Put simply, the IP rating for standard garden lights that you want to use for the festivities should be rated at IP44 – or higher.
The first digit in the IP rating indicates that the cable will be protected against being damaged by objects greater than 1mm, such as screws and wires. That's as a minimum – you could opt for IP43, and your power cable will be strong enough to withstand the impact of tools.
The second digit highlights that the lights are protected against splashing water, or the equivalent of heavy rain.
oooooooooo
To help explain more about IP ratings, this Which? Video on YouTube explains everything you need to know!
ooooooooooooooo
Circuit breaker for your Christmas outdoor lights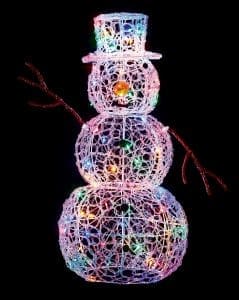 It may also be worth investing in a circuit breaker for your Christmas outdoor lights to help prevent damage should there be an electrical surge.
Indeed, your outdoor lights should be plugged into a 30mA RCD protected socket for the best protection. RCDs will protect your home if there is a fault by switching off the power immediately before any damage puts a damper on the festive display – and blows the lights and sockets in your home!
RCD stands for residual current device, and this is a safety component that is installed into your home's fuse box as a type of system breaker.
Or you could opt for a waterproof circuit breaker designed for outdoor use.
These are inexpensive, rugged and waterproofed – usually to a IP54 rating.
These circuit breakers tend to be used for those working with power tools outside – by people who don't want their tools starting up unexpectedly.
There is one other alternative power supply for outdoor Christmas lights and that is battery power.
However, you need to ensure the battery pack is waterproof and designed for outdoor use. If not, your batteries may leak, or rust and your lights will stop working.
There are some good choices available – you can also opt to use rechargeable batteries to save money too.
The type of bulbs for your outdoor Christmas lights
The next step to consider for outdoor Christmas lights is the type of bulb to use.
This is made easier since most outdoor lights that are on sale tend to have LED bulbs.
These are now replacing traditional incandescent bulbs as they last longer and are more energy efficient.
LED bulbs also have a lower voltage and so will not overheat which makes them a safe option for outdoor Christmas lights. LEDs have been around for several years and now make up the bulk of the market for outdoor Christmas lights.
The style of your outdoor Christmas lights
Having mentioned the style of outdoor Christmas lights, there are two issues to consider:
String lights: You can use string lights on hedges, trees and on a property's eaves, as well as around windows and doorways
Novelty Christmas lights: You can also buy novelty Christmas lights that come in various festive shapes such as Santa Claus, snowmen and reindeer.
This means that if you have the space, you could place Santa Claus with two reindeer or have other animals such as penguins in your garden.
These novelty lights are a great way to express your personality – and entertain your neighbours and passers-by!
oooooooooooo
If you fancy being ambitious when asking 'Which outdoor Christmas lights are best for a garden?', then how about this video to help inspire you.
It's called 'The BEST Christmas garden in the UK? Amazing Christmas lights in Tintinhull, UK'.
The video is from Christmas 2020 and just look at how the garden festive lights being put to great use!
oooooooooooooooo
The best outdoor Christmas reindeer lights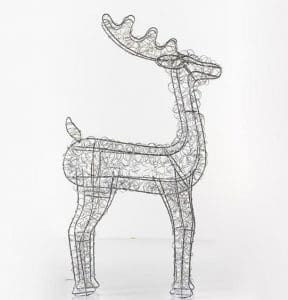 There's a growing trend to use animal LED light sculptures including reindeer as part of a festive garden display.
These make for great illuminations, and we really like this stylish silver deer from Perch & Parrow. It costs £60 and comes with 50 LED bulbs – which look great whether turned on or off.
If illuminated acrylic reindeer and snowmen are your thing, and you fancy them at great prices then the Christmas.uk site is worth a visit.
The best outdoor Christmas snowman
Another popular choice for an outdoor Christmas garden light is a Christmas snowman.
There's a wide selection available this year, but we really like this offering from Homebase at £45.
This 3D light-up snowman will impress children and adults alike.
There are 64 bright white LED lights to bring a smile to everyone's face even on a dark winter's night.
The Christmas.uk site also does a great range in festive outdoor acrylic figures, including streetlamps and snowmen.
The best outdoor Christmas Star stake lights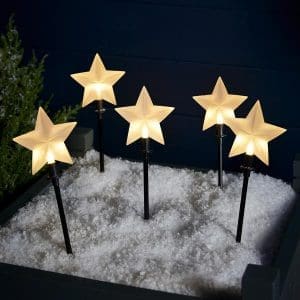 There's no need to neglect your flowerbeds or paths with these outdoor Christmas star stake lights.
They not only look seasonal, but the LED warm white lights also deliver a nice glow.
There also battery-powered with a six-hour timer to help save on electric bills and deliver a smile on dark winter evenings.
We like these offerings from Lights4Fun at £17.99.
The Christmas.uk site also offers a set of lovely little white LED Christmas tree pathway lights to brighten up your garden for the festivities.
The best outdoor Christmas rope light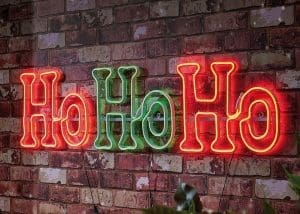 Elsewhere on the Christmas.co.uk site, we recommend using rope lights to create impressive creations outdoors at Christmas.
But The Range have an excellent neon rope light spelling out Santa's catchphrase 'Ho Ho Ho' which is cheerful for neighbours and passers-by in bright red and green.
It certainly is an eye-catching neon rope light at £49.99 to put on an outdoor wall for Christmas and it has eight light functions and 5 metres of cable.
It can also be used indoors but it is an attractive and bright addition for any garden this Christmas.
The best outdoor Christmas freestanding character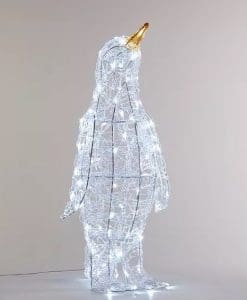 There's no doubt that an adorable Penguin is a great addition as the best outdoor Christmas freestanding character.
This creation is not only durable, but it will also withstand the worst winter weather and features long-lasting LED bulbs. This energy efficient offering comes from John Lewis at £50.
There's no doubt that John Lewis really does deliver a great range of lit characters for the festivities and the Christmas.uk site also offers stylish and well-priced festive outdoor decorative lights too.