With so many great products available, knowing which are the best Christmas decorations can be difficult.
For many people, Christmas only starts when they put their tree and Christmas lights up.
For others, it's when they put their outdoor Christmas lights and decorations up that their festive celebrations can begin.
There's no doubt that having quality outdoor Christmas decorations can transform anyone's home into something of a winter wonderland.
And with the nights getting longer, there's a lot to recommend investing in quality Christmas lights whether you are after a mini Santa, illuminated reindeers, twinkly lights or even penguins!
Quality Christmas decorations will be able to stand the test of time and you will be able to store them away for use every Christmas.
However, you'll need to consider some issues before purchasing outdoor Christmas decorations, including:
Should your Christmas decorations be battery operated?
Can you plug them into a nearby socket?
Are your decorations suitable for outdoor use?
Will you be able to use a timer for your lights?
The best outdoor battery-operated lights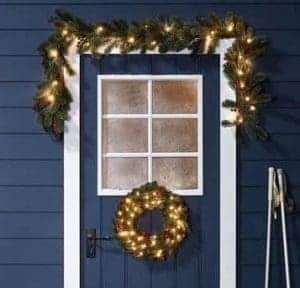 Perhaps the easiest way to shop for Christmas decorations this year is to consider battery-operated outdoor lights.
We particularly like this wreath and garland from Lights4Fun.
It uses six AA batteries and there's a timer so the illuminations will run for up to six hours.
We think they make a very stylish addition to any home.
A cheaper alternative is this festive lighting string from Amazon.
There are 100 battery-operated globe lights on a 10-metre strand.
There's also a remote control to offer eight flashing light modes.
These lights use 3 AA batteries, and it helps that they are also waterproof.
Lots of retailers are offering battery-operated LED lights and some make for great alternatives, particularly if yours is a small house or flat.
For example, The Range is offering 100 LED battery lights on a five-metre strand for just £4.99.
Outdoor festive fairy lights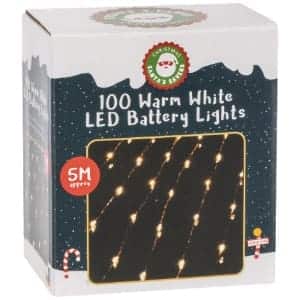 If you want to give your home a twinkly, starry effect this Christmas, then festive fairy lights are for you.
We particularly like these indoor Christmas icicle lights in blue and white from The Range.
They cost just £29.99 and consist of 400 LED lights on an eight-metre strand.
There are also available in blue, warm white and white colours to create a striking effect on any home.
The lights can be used indoors or outdoors, and the lighting functions create a festive feel, and these are a great way to add festive sparkle.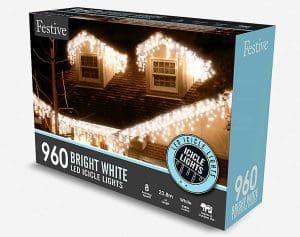 There's no doubt that manufacturers are really catching up with this growing trend and we like another batch of snowy icicle lights.
These come from Amazon and will add sparkle and shimmer to a home with an impressive 960 bright white LED lights.
The strand is nearly 34 metres in length and the timer can be set for 16 hours or eight hours. They are also energy efficient and cost £49.99.
For those who like LED icicle-type lights, then Argos is offering bright white chasing waterfall lights for £25.
The lights can be added to a tree or along the front of a house to deliver a cascading water effect.
Outdoor Christmas tree lights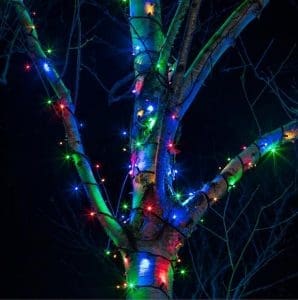 Talking of adding bright lights to a tree, there are some very striking decoration ideas to enjoy.
First up, is this five-metre strand of 50 multicoloured LED lights that you can wrap around tree trunks and branches.
If you have more than one tree, then the lights from Lights4Fun will help you create something of a winter wonderland.
The lights are available in either white, yellow, blue or mix of blue and white with varying lengths of cable. They cost £20.
Lights4Fun is also offering a 20-metre cable with 200 LED fairy lights. They cost £48.
The cable is clear, and the lights are available in white, yellow, red and a mix of white and blue or multicoloured.
The cable length varies from 10 metres to 50 metres so these could be a great way to illuminate the front of your home.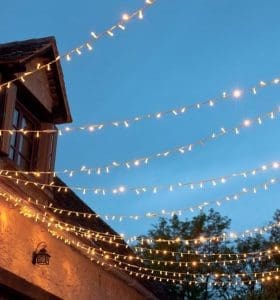 We were also taken by a string of 60 LED holiday lights. Not only are they striking, but they create an interesting display.
They cost £11.99 from Amazon.
Since many people will want a very long length of cable to illuminate their home, it is possible to buy lights that connect together.
This means you can buy as many lights as you need and then simply connect the strands.
For example, All Round Fun is offering 100 connectable blue LED lights that are easy to wrap around a tree trunk or run along the front of a home.
They offer a nice Christmas effect, and the cables are easy to connect so each strand of 10 metres is easily extendable.
The connectable outdoor lights cost £24.95.
Freestanding outdoor Christmas decorations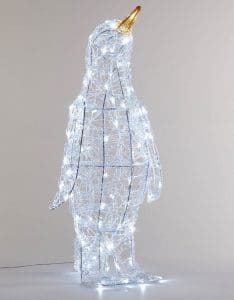 Not everyone wants to spend time adorning their home in Christmas lights and decorations, they simply want to buy a freestanding outdoor Christmas decoration to impress.
One of the best retailers for these impressive creations, in our opinion, is John Lewis and Partners.
They have a range of great figures and this penguin is a stand-alone feature that will make people smile.
It costs £50 and has been designed to stand the test of time.
Not only is it durable, but the long-lasting LED lights are energy-efficient and will create a talking point.
To sit alongside your penguin, John Lewis is also offering a polar bear figure.
This consists of 60 LED lights and needs an all-weather mains plug to work.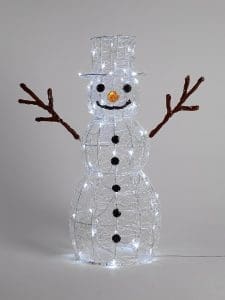 And if that isn't enough, John Lewis is also offering an absolutely brilliant Alistair the Snowman figure.
This has 80 LED lights and will bring a smile to the face of even the most Scrooge-like person you know.
It costs £100 and has been designed to be durable.
John Lewis also has a Santa figurine, a snowman, a proud stag and a twinkling deer figure in their range.
Other novelty Christmas decorations for homes include a candy cane pathfinder set from Argos at £15.
Wayfair is also offering a set of baby bullfinches that are weather and water-resistant for £32.99. They require a plug socket to work.
We also like the reindeer and sleigh that light up to become a dazzling display.
This creation can be bought from Lights4Fun at £169.99.
There are 280 lights fitted around a metal frame to sparkle outside your home.
Outdoor projector Christmas lights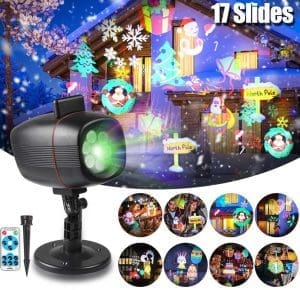 In recent years, another type of Christmas decoration has grown in popularity, and that is to have your Christmas lights projected onto the front of your home.
There's a nice offering from B&Q at £24 to project twinkling stars onto your property.
However, we really like a projector device from Amazon at £29.99 with a range of slides that can be used at Christmas, Easter and Halloween.
The projector is rain and weatherproof and is controlled remotely.
Amazon is also offering a Christmas snowflake projector at £18.99 which is a great way to offer a festive makeover with a snowflake display that rotates.
As you can see there is a great range of outdoor Christmas decorations available but knowing whether you want battery-operated or mains-powered will make choosing quality outdoor festive lights and decorations much easier.