If you've ever wondered how to make Christmas mulled wine, or if you have made it before and not been impressed, here, we explain what you need to do to create the perfect recipe to deliver winter cheer.
And while mulled wine is a cosy drink that appears to be easy, it takes more than just heating red wine and adding a few spices.
What is mulled wine?
But what is mulled wine?
It turns out that there isn't a set recipe for mulled wine in the UK and it's known by different names around the world.
In Germany, for instance, Glühwein translates as 'smouldering wine' and is a popular choice on winter days.
In some Christmas markets, it's the only alcoholic beverage that available.
Glühwein is prepared using warm red wine that has been spiced with cinnamon sticks, sugar, orange and cloves.
Mulled wine in Nordic countries is known by several names with a variation on the spelling, Glögg.
It's available in alcoholic and non-alcoholic versions and instead of using wine, it can be created using fruit juices.
In the alcoholic versions, red wine with sugar and spices including ginger, cardamom and cloves are used.
Some creators even use stronger spirits such as brandy or vodka.
oooooooooooo
YouTube: How to Make Mulled Wine | Tesco Food
This YouTube video from Tesco Food on how to make mulled wine offers some great advice.
It's an easy recipe to follow: you simply need a good wine, spices and sugar to deliver what is a tasty festive tipple.
The video highlights using a quality red wine, plus a splash of port to add body and then the sugar and spices and letting the wine approach boiling point – but not actually boil – and then remove from the heat before adding slices of lemon and orange.
ooooooooooooooo
Why do we drink mulled wine?
In the UK, mulled wine is undoubtedly a traditional and popular choice of drink at Christmas.
There's also the option of having mulled cider from some outlets and it's also available in non-alcoholic variations.
And while there is no specific recipe to create the drink in the UK, it's traditional to use:
Red wine
Lemon
Nutmeg
Cinnamon
Star anise or fennel seeds
Cardamom
Clothes
One common way of creating mulled wine is to buy a teabag of spices that you simply add to the wine and heat together with slices of orange.
It's a quick and tasty alternative to delivering a full recipe and some people may combine their spices and boil them together in a sugar syrup before adding red wine.
Normally, you serve mulled wine in a small glass, usually around 200 ml, and often with a slice of orange.
Where does mulled wine come from?
It's thought that mulled wine was brought to the UK by the Romans and by the fifth century it was a popular drink.
The Roman soldiers would use a red wine and add medicinal herbs and honey to enjoy.
In the Middle Ages, mulled wine remained a popular choice and it wasn't until the Victorian era that mulled wine became a festive staple.
Indeed, Charles Dickens wrote in 1843 about a drink called 'Smoking Bishop' which was a mulled wine punch described in his story, A Christmas Carol.
Then, Mrs Beeton added a mulled wine recipe for her famous cookbook.
ooooooooooo
YouTube: How To Make Mulled Wine – Jamie Oliver
Here, a chef at one of Jamie Oliver's restaurants shows how to make mulled wine using their recipe with a twist.
The step-by-step video by J Riviera highlights that the perfect festive drink can be boosted with a splash of delicious rum.
It's a straightforward recipe, and the well-made video highlights just how easy it is to create an excellent Christmas party drink for everyone to enjoy.
With this recipe, the chef creates the sugar syrup first before adding the red wine and simmering for five minutes and then taking off the heat and adding the special rum twist.
ooooooooooooooooo
Which is the best wine for making mulled wine?
Wine experts say that the best option is to use a red wine that you find palatable to begin with but without a robust flavour.
For example, a Beaujolais, a fruity Australian Shiraz, or even a Pinot Noir would make an ideal base for mulled wine.
You could also, if you like to shake things up, opt to use a white wine instead.
Which are the best mulled wine spices?
We have seen already that spices are a crucial ingredient to delivering a tasty, mulled wine and you should use whole and fresh spices.
That's because not doing so means you'll be drinking a mulled wine that has a powdery film on top so you should not use any spice that's been pre-ground.
In the UK, the most common spices for mulled wine are:
In addition to these, your own personal tastes could lead to you adding:
Vanilla
Star anise
Fresh root ginger
Bay leaves
Should I add orange or lemon to mulled wine?
While many market stalls will offer mulled wine with a slice of orange, you should just see this fruit as a garnish.
Traditionally, orange and lemon peel will be used to help boost the spice aromas and some people add clementine segments.
It's also worth noting that to help balance the bitterness of the spices, most mulled wine recipes will include sugar.
Alternatively, you could use maple syrup or honey to help sweeten the concoction.
Should I add liqueur or spirit to mulled wine?
While mulled wine is a very tasty alcoholic drink, some people might like to add an alcoholic kick by adding either liqueur or spirit.
The classic choice – if this is something you want to do – is to add brandy which also adds something to the flavour.
Also, Armagnac and Cognac will add a caramel note, while a sweeter almost citrus addition will be found when added Cointreau or Grand Marnier.
Some people also add sloe gin that apparently works very well, while others may add port to boost the sweetness level.
oooooooooooooo
Mulled wine recipe from Tesco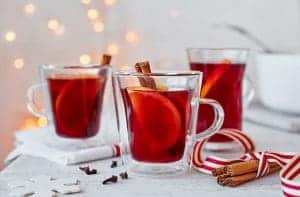 This obviously tried and tested mulled wine recipe is worth considering.
It takes 10 minutes to prepare and then 20 minutes for it to cook.
Those who have enjoyed praise the resulting mulled wine – and say they have added brandy to deliver a real festive treat (though it already has a splash of port!).
Ingredients
75cl bottle full-bodied red wine
2 oranges
1 lemon
8 cloves
4cm (1.5in) piece ginger, peeled and sliced
2 cinnamon sticks
60ml ruby port
60g (2½oz) light brown sugar
oooooooooooooo
How do I make and serve mulled wine?
There's a split school of thought when it comes to making a delicious, mulled wine.
Traditionally, you would add all the ingredients for your mulled wine to a pan and then let it simmer for 20 minutes.
You can't cook the wine at too high a temperature or the alcohol will boil off, but you can then serve it immediately and let the wine cool to infuse some more flavours before reheating for serving at a glass-friendly temperature later.
As mentioned, another popular choice is the syrup method for which you need to boil the sugar and the spices for five minutes until you have a rich syrup.
You may need a small amount of wine for the syrup to develop but then you add the rest of the bottle and allow that to simmer.
This will then deliver a stronger flavour to the mulled wine than by simply adding zest and spices to the wine and warming it up.
However, most experts agree that you should only add spirits at the last minute before you need to strain and then serve the wine.
Garnishes for your mulled wine include orange slices, cinnamon sticks and star anise but it's probably best to use fresh choices rather than something that is soggy that you have pulled from the pan.
What can I use leftover mulled wine for?
In the unlikely event that you have mulled wine leftover, you can use it in a variety of recipes.
For example, you can reduce the liquid over a low heat and then use it to glaze a ham joint.
You can also use it for poaching pears, or you could add it to a fruitcake.
What do experts recommend for making mulled wine?
For the best results to create mulled wine, experts such as Fiona Beckett from Matching Food and Wine says there are some common mistakes that everyone should avoid when creating the drink.
The first is to consider other options than red wine, for example cider or white wine.
Should also consider adding brandy or port to add more alcohol.
And for the spices to be used, she says that anything linked to Christmas, such as nutmeg, cardamom, ginger or cloves can be used.
However, she does say that you should not go overboard when adding spices because this will ruin the mulled wine flavour.
She says that the aim of creating mulled wine at home is not to bury those festive flavours but to enhance the wine's flavour.
Another huge mistake that people usually make is to boil the wine in the process of creating the drink.
She says do not let the mixture boil at any point because you have to infuse the wine long enough for the spices to deliver their flavour.
So, if you want to create a tasty, mulled wine for Christmas, follow the advice in this article and enjoy!