If you have over-ordered on food and drink supplies for the festivities and now want to know how to deal with unwanted Christmas food, then this article will help.
There are a number of ways of ensuring that the food you've bought, and which is still edible will find a welcome home.
First, you can donate food to a local food bank who rely on the goodwill and support of the public.
The Trussell Trust says that 90% of the food distributed via food banks has been donated by members of the public.
Without this goodwill, food banks around the country would struggle to meet demand.
The trust aims to offer a nutritious and balanced supply of food to feed a family for three days.
They say you can donate unwanted Christmas food using any of these methods:
Use a collection point in a supermarket
Host a collection of unwanted festive food at your place of work, school or in a church and donate what is given to a local food bank
Deliver your unwanted goods to your nearest food bank – you can find the one that is nearest to you using this find a food bank facility.
Items to donate to a food bank
The Trussell Trust also offers advice on what items to donate to a food bank, and you can also offer essential non-food items, including hygiene and toiletry products.
For example, a food parcel will generally contain:
Cereal
Pasta
Soup
Rice
Tinned meat
Tinned vegetables
Tinned tomatoes/pasta sauce
Tinned fruit
Fruit juice
Biscuits
Tea/coffee.
The trust works with nutritionists to ensure that the food parcels supplied by a food bank will offer a nutritionally balanced meal for families and individuals.
The trust also stresses that food parcels are not aimed at meeting a long-term need but to help people who are struggling.
ooooooooooo
Help support the hungry with Co-op 'Community Fridges'
This is the Christmas TV advert for the Co-op which explains their Community Fridges.
Anyone can place unwanted food in them – or make a food donation – and anyone can take food out of them.
This is a great idea – it's simple and accessible.
ooooooooooooo
Charitable food distributors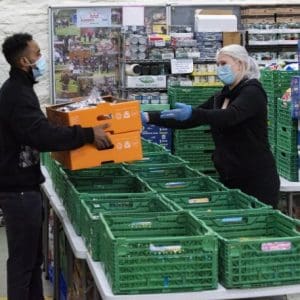 FareShare is a charity that works with charitable food distributors, and they take quality food from the food industry and then deliver it to more than 10,500 community groups and charities.
Again, the food that's redistributed is good to eat and nutritious and is supplied to homeless shelters, older people's lunch clubs and school breakfast clubs.
FareShare delivers enough food that provides nearly one million meals for the most vulnerable people in society.
If you want to donate to the work of FareShare, then it's easy to do on their website and they have various campaigns around the year to help feed hungry children.
While the organisation doesn't take unwanted food donations from individuals, they do work with companies with surplus food, and this is a great way if you work for a company that you believe has surplus food that could make a difference to help others to get involved.
oooooooooooo
Shoppers want to reduce their food waste
According to a report from Waitrose, around three-quarters of its shoppers say they want to reduce their food waste.
That's the figure from their Food and Drink report, and it has risen from 50% when the study was carried out in 2019.
The firm's director of ethics and sustainability, Marija Rompani, says we have become too casual when throwing away food.
However, it appears that consumers are now increasingly wanting to resolve the problem of food waste, particularly at Christmas.
ooooooooooooooo
Food apps to deal with Christmas leftovers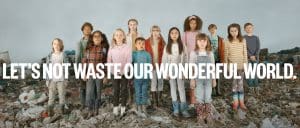 There's also another great way to deal with unwanted Christmas food and that is to use a smartphone app.
Among them is Olio which connects someone with surplus food with someone who wants to consume it.
The app is free to use for households while supermarkets and restaurants will be charged a small fee to help them quickly redistribute unwanted food.
The food can be cooked, raw, open or sealed but it must be edible.
And the festivities are a busy time for Olio with lots of surplus food to be redistributed.
The app's founder, Tessa Clark, says that we all need to think carefully about how much food we buy for Christmas – and be realistic when doing so.
The app will help people deliver edible and in-date food that would go to waste otherwise.
A spokeswoman for WRAP (Waste and Resources Action Programme) says: "Everyone dials food waste at Christmas up to 11."
The UK charity wants us to buy less food in a bid to reduce Christmas food waste.
Wrap says that every year, Brits will waste 74 million mince pies and 2 million turkeys.
And they say that with the Covid pandemic and social distancing rules means we will probably waste more Christmas food than we normally do.
That's because pubs and restaurants, as well as homes, won't be quite as sure about how much food they will need to buy for their guests.
ooooooooooo
Firms that help avoid food waste
There are lots of firms and organisations in the UK that help to avoid food waste.
One of them is Hellmanns who have joined forces with FareShare Food Bank to donate 50,000 meals for the hungry.
Here, the animation 'Twas a Christmas Food Waste Miracle with Stephen Fry' explains how everyone can avoid wasting food at Christmas.
ooooooooooooooo
Volunteer to help redistribute unwanted Christmas food
There's an initiative called Food Waste Heroes that has been launched by Olio and Tesco to re-distribute food that is nearing the end of its shelf life.
This sees volunteers going into their local Tesco Stores and collecting food to redistribute to individuals and community groups in need locally.
There now 35,000 trained volunteers with other companies also signing up, including Costa and Pret a Manger.
Olio's Ms Clarke says: "Our partnership in the past year alone with Tesco's 2,700 stores has prevented five million meals going to waste."
One of the reasons that food firms get involved is that it's cheaper to redistribute their food rather than paying for it to be taken away as waste.
Using a smartphone app for unwanted Christmas food
The process to get rid of your unwanted Christmas food by using a smartphone app is straightforward.
You simply upload a photograph for a listing and another user of the app can then send a message saying they'll come and pick it up.
Ms Clarke says the growth of the Olio app reflects what is happening across society with people pushing for change.
There's also the Karma app from Sweden that helps firms reduce their food waste.
This enables cafés and restaurants to list and then sell their surplus food at a discounted price when it is collected.
The app came about because its creator Ludwig Berling saw that restaurants in Stockholm were throwing good food away when they closed for the day.
He adds that in December, the amount of food waste soars.
Karma will charge a business a percentage of any transaction, while the consumer pays a small fee.
The app enables a business to be paid for any food it is planning to throw away, while consumers get good food for less.
The app now operates in France and Sweden, as well as the UK, and there are more than two million users and 10,000 businesses working together to prevent more than six million food items being wasted.
The top tips from Waitrose on how to eliminate food waste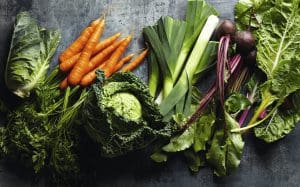 Waitrose has some sound advice for reducing food waste, particularly at Christmas, such as feeding leftovers to a pet, making breadcrumbs with stale bread and using old vegetable and fruit skins to treat garden soil.
Their advice on reducing food waste at home includes:
You don't have to buy fresh vegetables when veg is frozen at the peak of freshness so you could enjoy cauliflower, sweetcorn, butternut squash, spinach, peas and green beans for meals.
Before throwing food in the bin, you should think about what it could be used for. Can you use it in stock? Or use for the following day's packed lunch?
You should write down a shopping list before setting off and stick to it. By doing this you won't buy things that tend to end up in the bin.
Aim to plan meals for the next few days – and how each one could feed into the next. You will reduce leftover food waste by doing so.
Keep a cupboard of useful herbs and spices that can be used to create a meal from leftovers.
Don't throw veg peelings away – they can be used for stock to boost flavours.
When planning meals, get the portion sizes right. Don't buy too much!
Plan a meal without fresh food
To help cut down on fresh food being binned, plan at least one meal a week that doesn't use fresh food. Instead, opt for frozen or tinned items.
You should store fresh food correctly so it last longer – even carrots can be kept in the fridge. Put fresh chick in the freezer.
The only date you take note of is the 'Use by' date on the packaging.