While Christmas Day is a special event that sees friends and family coming together to open presents and enjoy a nice festive dinner, it's also an opportunity to enjoy lovely and unusual drinks and these festive drink ideas may help.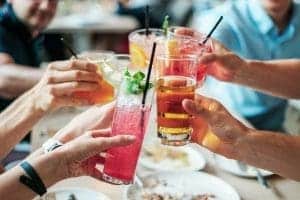 While we could stick to our favourites, whatever that might be, some people also use the big day to start with Bucks Fizz which is simply champagne and orange juice.
Alternatively, it's also a day to enjoy crisp white wines and full-bodied reds and here we will offer some recipe ideas for festive drinks and also drinks for matching with Christmas dinner.
Festive drink ideas: Wines
The main aim for enjoying wine with Christmas dinner is to look for wines that have tasting notes that essentially chime with your menu's ingredients.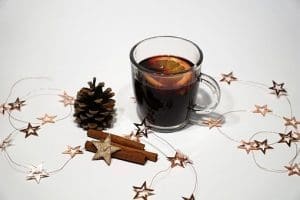 However, Christmas dinner usually has a lot going on with people's plates piled high with lots of food but there are wines available to match.
Perhaps a flavoursome aromatic white wine will work well with white meat and vegetables and there are rich whites, such as a Chenin or a Chardonnay that may be suitable.
For those who enjoy red wines, there are reds that work well with the turkey, along with beef and game.
Dry red wine, such as a Bordeaux may not quite deliver the flavour enhancement you may be looking for so you should opt for spicy flavours with rich fruit overtones, such as Pinot Noir.
It's also a good idea to consider dessert wines that will help deliver the enjoyment of pudding.
That's regardless of whether you are offering a sticky Christmas pudding, a trifle or even something fruity.
Essentially, you'll need a strong, sweet wine since anything that's thin or remotely sweet may not do the job.
For example, to help intensify the flavours you'll need a wine that is quite acidic and not one that's flat. For example, Sauternes may deliver the sweetness and blend of flavours in a white wine to complement dessert.
Most people associate dessert wines with white wines but there are sweet red wines available as well – and not just port.
Not only do they offer a completely different spectrum of flavours than white wines, they also tend to work better with rich chocolate desserts and Christmas puddings that have been laced with alcohol.
Festive drink ideas: Cocktails
Most people enjoy Christmas cocktails and the recipes mentioned here will help deliver an extra sparkle to the festivities.
Gin and ginger cocktail
If you're not really a cocktail fan but would like to try something else then a gin and ginger cocktail may well hit the target.
You'll need fresh ginger to help deliver the festive kick along with a strip of orange zest to give it a special touch.
The gin and ginger cocktail consists of your favourite spiced gin, a thick slice of fresh ginger, tonic water and orange peel to garnish.
Whisky fireside cocktail
For whisky lovers, then the whisky fireside cocktail is an interesting take for those who enjoy their whisky neat. This is more of a celebration drink and will help warm you up.
You'll need a favourite whisky, a teaspoon of maple syrup, a teaspoon of a strong peat whisky (Laphroaig will do the trick), the zest of an orange, orange peel and cherry to garnish along with a dash of Angostura bitters.
Snowball cocktail
For some reason, a lot of people enjoy a Snowball cocktail at Christmas and this recipe gives it a seasonal twist.
To start, you'll need a bottle of vodka, a (big!) dash of Malibu, two teaspoons of coconut cream and a sprinkling of desiccated coconut.
You shake the ingredients together, pour into a glass and sprinkle with the coconut before serving.
For those who want to enjoy the classic Snowball, then you need to add Advocaat and lemonade to a tall glass, fill with ice and then stir gently.
Most people add a maraschino cherry to garnish.
Bellini's
Alternatively, you could serve up Bellini's to your guests, which is a classy cocktail that is served in an elegant flute.
It's a different spin to a Bucks Fizz since you'll need peach puree (or peach nectar) to fill one-third of the flute and then top up with Prosecco.
Christmas punch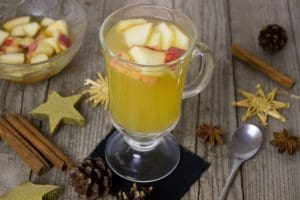 If you're entertaining quite a few people then a Christmas punch is an increasingly popular choice.
This recipe includes starting with a bottle of light rum, adding two tablespoons of sugar, a big glass of orange juice, some lemon juice, cherries and sliced orange, lemon and pineapple chunks. It is completed by using a one litre bottle of carbonated water and ice.
Easy mulled wine
As you can see, most of the festive drink ideas here are easy to put together and here is one for an easy mulled wine which for many people is the drink of the festive season.
You'll need to pour a bottle of red wine into a large saucepan, add a small cinnamon stick, a sliced clementine, star anise and then a few black peppercorns, four cloves and three dried figs.
Let this mixture simmer for a while before removing from the heat and then you'll need to remove the peppercorns and whole spices with a spoon and stir in 50ml of brandy.
Serve up in heat-proof glasses or mugs and add a slice of clementine to each offering for an easy mulled wine that guests can enjoy.
Cinnamon and orange Christmas coffee
If after your Christmas dinner, you'd like something unusual to serve rather than just normal coffee this is a recipe for cinnamon and orange Christmas coffee.
First, take a large cafeteria, add four tablespoons of ground coffee, a small cinnamon stick and two pitted dates.
You'll then need to add a pinch of ground cinnamon, two cloves and some orange zest and pour in 400 ml of freshly boiled water.
Stir this mixture with a wooden spoon and then leave to steep for around four minutes before pushing down the plunger slowly and serving in espresso cups.
This is a tasty and unusual combination of flavours that work well, particularly after a very large Christmas dinner!