When it comes to preparing and cooking Christmas dinner, there's no doubt that the pressure is on, particularly for those who have never cooked a turkey before but these tips may help on the big day.
Essentially, whether you are cooking dinner for just a few people or a big group, the route to success is usually down to preparation.
It helps that there are easy ways to prepare and save crucial minutes on Christmas Day.
This means that you can spend more time with your family and your friends and you'll spend less time having to slave in the kitchen – and set the festive dinner table to impress guests!
One of the issues for preparation is to have the right kit on hand from the roasting tins, turkey baster and gravy separator.
You also need to know the cooking times for each of your dishes – it may be a good idea to write these down so you can work out which dishes need to be started when and which dishes can be prepared ahead of schedule.
Having a clear idea of the dishes that need preparing and cooking will help you keep on top of what can be tedious tasks, but also when you're running behind knowing the schedule may help speed things up when necessary.
The tips for saving time on Christmas Day include:
Have a turkey cooking plan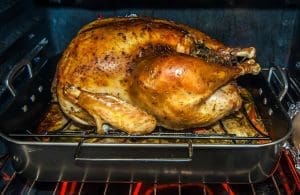 Everyone who's cooking a turkey for the big day needs to know when it needs to be put into the oven and how long it needs to defrost. It still surprises that so many people forget these basic items.
Also, you need a bird that will fit into the oven and if you've never cooked a turkey before and it is causing you to worry then have a practice run with a very large chicken in the days (or weeks!) beforehand.
When it comes to turkey, if you're defrosting it in a fridge, then you need to allow between eight and 12 hours per kilogram or between three and four hours per kilogram if you're defrosting in a room.
Once the turkey has been defrosted, remove all of the packaging, giblets and any liquid and keep it in the fridge until you're ready to cook it.
It's important to appreciate that you don't have to defrost the turkey on Christmas Day or the night before since it will keep in the fridge for up to two days after being defrosted.
However, you should remember to take the turkey out of the fridge around two hours before you need to put it in the oven, so it comes up to room temperature.
It may also be a good idea to invest in a meat thermometer and you don't have to fill the cavity with any type of stuffing to ensure the bird cooks thoroughly and properly.
It's important that the turkey reaches the right cooking temperature, so you remove the issues of undercooked meat or having a dry and unappetising dinner.
Time-saving tip: if you are running out of time and the turkey is still not cooked, then it's time to remove the breasts, wrap them in cling film and put them in the microwave to cook quickly.
The freezer is your friend
On Christmas Day, lots of people leave too much to do when they could prepare ahead of time and keep the side dishes and trimmings in the freezer.
For example, stuffing is among the items that can be frozen and then defrosted in a microwave before being browned in the oven.
You can also freeze pigs in blankets, gravy, parboiled parsnips, as well as Yorkshire puddings.
Invest in sharp knives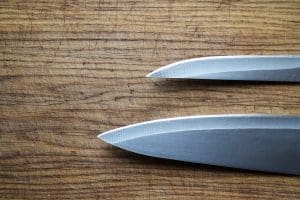 There's no doubt with so much chopping and cutting to do when cooking Christmas dinner, having a sharp kitchen knife will help save time.
An all-purpose cook's knife will help hugely since you can chop and dice potatoes and vegetables with ease and then trim sprouts and green beans when necessary,
Struggling with a blunt blade will be a frustrating and time-consuming experience.
You may also think it's worth investing in a chef's knife that will slice meat or a turkey joint with lots of control.
It may also be a good idea to invest in a decent knife sharpener should your favourite knife blade be tearing food or just be too blunt to use.
Understanding your oven space
Of all the dinners, Christmas Day offers problems since the oven will be bursting to capacity as you try to fit everything in. You could use a microwave to part-cook some food which will help save minutes from cooking times and then put them in the oven to brown.
Remember too that with a full oven cooking times will need to be extended.
You could save time, for example, by microwaving potatoes before putting them in a roasting tin and then defrosting just about everything else from the freezer, rather than steaming or boiling vegetables.
If you've prepared vegetables the day before then you can blanch them in boiling water for several minutes, then dip them into cold water to stop them cooking and then reheat the vegetables when needed.
You could also buy microwave steamers which will cook vegetables easily from scratch.
Remember the essentials
One of the items that may be worth investing in is a kitchen timer when cooking Christmas dinner to help keep track of how long pans may have been simmering and small weighing scales can help recalculate recipes or substitute ingredients if you haven't remembered to buy them.
Indeed, in the run-up to the big day, you should invest in cling film, extra-wide foil, freezer bags and baking parchment. You never know – you may need these items and not having them may lead to various issues and the shops will be shut and you will need to do without.
Also, have plenty of containers with lids available for leftovers so you can put them in the fridge or freezer.
Plugged-in kitchen accessories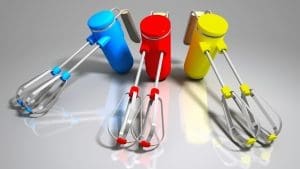 While there are lots of dishes that can be prepared by hand, having a blender or an electric hand whisk may save time on Christmas Day.
Whether you need to prepare brandy sauce or butter, whipping cream, knock out the lumps in your gravy or make Yorkshire pudding batter, hand blenders will prove useful.
Also, some of these come with attachments for mashing so you can prepare pureed potatoes easily and they have mini choppers so you can prepare small amounts of spices and herbs for any seasoning.
Don't forget too that blenders are also great to use on the day for making soups and batter mixes.
Essentially, these are all the tips that you need and the most important is having a thorough understanding of cooking times, so you'll need to know when you are dishing up your Christmas dinner, work backwards and add 30 or 60 minutes so you have time for carving and resolving any other issues that may have cropped up while cooking.
Enjoy Christmas dinner, it's a day for celebration with family and friends and there's no need getting upset, frustrated or angry over whatever may happen in the kitchen because there's always next year to get things right!