How to dress your Christmas dinner table: The decorations are up, your presents are wrapped and placed under your well-decorated Christmas tree and the fridge is heaving with food and alcohol.
But have you considered how you will dress your table for Christmas dinner?
If you've gone to a lot of trouble in the run-up to Christmas Day, it makes sense to push the boat out and dress your Christmas dinner table to match the event.
Also, one reason why more people are pushing the (gravy) boat out when decorating their Christmas table is down to social media. Yep, that's right – the opportunity of Instagramming your table creation is a huge incentive that few people can resist.
As with everything to do with Christmas, it always pays to be prepared and this is the Christmas.co.uk guide to dressing your Christmas dinner table.
Make a list
It's important that you plan ahead so you need to list all of the dishes that will be served up for Christmas dinner.
It's an idea to get your serving dishes out the night before and with a Post-It note mark what will be served on every plate.
This also means there will be no last-minute hunting for the lost gravy boat which is bound to shorten tempers.
This planning ahead also means knowing how many people can sit at your dining table. If there's only room for four diners then it's time to either borrow extra tables or invest in a larger one.
You will also need a suitable tablecloth to cover the fact you may have joined two tables together!
It's also worth bearing in mind that you may need to use a heat-resistant table protector so your precious table is not damaged or marked from hot plates, drink or food.
This may be an issue, since most modern tables are not laminated and you may need to introduce some sort of protection.
---
It is becoming popular…
You may believe that dressing the Christmas dinner table is too much of a faff but it is becoming popular.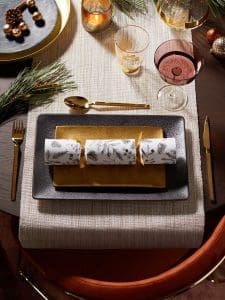 That's according to John Lewis & Partners who say that in 2018 sales of Christmas table decorations doubled and the year before they increased by 30% – and they look set to do so once again.
Indeed, last year John Lewis unveiled masterclasses in stores around the UK to help people understand the new trend for table dressing and how they can carry it out successfully.
Karen Reeves is a trading manager with the retailer and she said: "Customers are increasingly dressing their Christmas table with an on-trend decorative scheme that will wow their friends and family.
"Table runners now outsell traditional tablecloths and demand for contemporary accessories such as novelty placemats, wine charms and napkin rings will continue to rise."
The other trend noted by John Lewis when it comes to Christmas table decorations is that customers are avoiding anything that is plain or muted.
Instead, they want pieces packed with personality that will particularly look good in photographs.
John Lewis has also seen the sales of party serving dishes and sharing platters rocket by 40% over the last Christmas period with people increasingly using bread and cheese platters, as well as chip and dip bowls.
---
Prepare your Christmas dinner table place settings
One great way to create the personal touch and welcome Christmas dinner guests, is to make your own place settings.
It may even be an idea to get the children to make these with individual names and have everything tied-up in a pretty ribbon.
You will also need to consider whether your dinner table will have a theme which will help deliver a dramatic effect.
You'll need to look at your dining room colours as well as your Christmas decorations so that the Christmas table matches.
Use a simple tablecloth
Indeed, you could use a simple tablecloth for this purpose but use a decorative table runner that will help become a focal point.
There are some very festive tablecloths and runners available at this time of year in a range of patterns and colours. If you tend to use plain fabrics, then this may be the time to opt for a pattern or unusual colours.
When choosing a tablecloth, a white one may be the most suitable because it will reflect light onto everyone's face.
It may also be an idea to invest in waiter's clamps to keep the tablecloth and runner in place so there is no risk of them sliding about.
Another tip is to iron the tablecloth when it's in place by simply placing a tea towel on top of it and ironing the creases away through it.
Using candelabras and lace napkins
Other ideas for the table include using candelabras and lace napkins to create a vintage theme. You can also invest in antique napkin holders.
If you really want to create an impressive Christmas dinner table, then you'll need a centrepiece to be the table's focus but it shouldn't be so large that it uses up crucial space.
You could opt to use a vase or a candelabra with a narrow base, so you can still see diners across the table and have room for the serving plates.
If there is not enough room on the table for glasses, drinks and spare napkins, then set up a sideboard or small table for this purpose. This means you won't have to go far when fetching drink refreshments.
---
Make your Christmas dinner table sparkle
If you want to make your Christmas dinner table sparkle, then party planner Jenny Hodges of mrsmyrtle.co.uk offers these tips.
Let it glow
Lighting will help make the event atmospheric. Jenny says: "If you don't have any lamps or are not a fan of candles, you can use a couple of strings of fairy lights across the table centre and around the room."
Three colours
Choose three colours and one of these will take centre stage. Golds, greens and reds all look great, but you could also use jewel-tones or pair up blue and silver. Jenny says: "You could make the napkins one colour, the tablecloth a different colour, while glassware and plates could be a third colour."
Have an impact
Use cardboard hanging fans or tissue paper balls as a way to add fun. Jenny said: "Christmas crackers are a great decoration themselves so you could choose some in a jazzy colour."
---
Step-by-step
Once the tablecloth and runner are in place, then it's time to add placemats and decorative plates which many people have for events such as this.
Having cloth napkins would be a good idea for what is a formal dinner, and they are more elegant than paper versions. They will also remain on a diner's lap.
When it comes to placing the cutlery and glasses and also the plates, then you should use the thumb test.
What is the thumb test?
Essentially, you should use your thumb to measure the distance between the cutlery and the edge of the table and then use the same distance between the cutlery, plates and glasses.
If you have room, one of the big attractions for setting a Christmas dinner table is that there is a range of tableware created for this time of year.
Whether you want fresh flowers, it's also a great opportunity for festive candles and twinkling tea lights.
Some may also want place cards or plates with a classical theme.
---
Decorating your dinner table
Since Christmas can be a very expensive time of year, you don't have to spend a fortune on decorating your dinner table.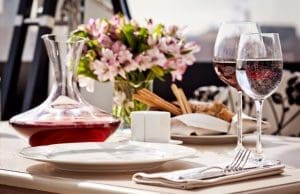 The Range offers a variety of reasonably priced decorations and a spokesman explained: "How you decorate your table will determine the feel and look of your home. It does not have to cost the earth creating a magical space that your guests will love."
He says that tea lights dotted around the table will create an inviting and warm ambient glow and the flickering light adds to a cosy atmosphere.
The spokesman says that while fresh flowers will help make the perfect centrepiece, it's important that diners can see each other because they need to chat.
Also, when laying cutlery, it should be done in order with everything being placed from the outside towards the plate setting. If you're having soup, don't forget soup spoons. (The soup spoon is placed on the right alongside the knives).
You can either lay your dessert cutlery above the dinner plate or bring it out later with the Christmas pudding.
Also, there's no need to invest in expensive cutlery and crockery when a modern eclectic look is created by mixing and matching your dinnerware instead.
The other tip for those wanting to dress their Christmas table on a budget is to use a tablecloth to create a sense of occasion.
Tablecloths that have a long drop to the floor will also help add a touch of luxury, while shorter drops can be used for casual gatherings.
---
Specific pieces of Christmas dinner tableware
There's also a trend, which first took off in the US, to have specific pieces of tableware that will only be brought out for use at Christmas. These items, so the idea goes, can then be passed down through the generations.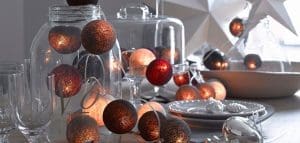 So far, we have highlighted how you can decorate the Christmas table by investing in impressive items to help lift the room and give your Christmas dinner table a polished look that will look great in photographs.
However, it's also possible to use pieces that you have probably got at home to create an unusual but beautiful table at the same time.
Interior designer Caroline Wood used her expertise to help inspire Sainsburys' shoppers and these included:
Decorations
Christmas dinner is a great time to add drama to the dinner table and she says: "An effective option is to gather decorations in coordinating colours, but use them in unexpected ways. Plates can be stacked and then ornamented with baubles and you could tie a decoration to a wine glass stem with your guest's name on it."
Fairy lights
Just about every home will be putting up of fairy lights at this time of year and they can also be used for a touch of magic on the table. Caroline says: "The lights can be arranged tumbling out of a glass jar or an elegant vase and you could place them among rosy apples or tangerines for what makes for an eye-catching centrepiece."
Flames
As an interior designer, Caroline says people should not be afraid to go off-piste when it comes to colour. An orange theme is inviting and warm while using hollowed-out oranges will create lightly scented candles.
She says: "You can complete the look with an organza ribbon or raffia for a rustic effect and then tie this around bundles of flowers, twigs or the guests' cutlery. For those with traditional taste, switch your colour scheme to red for a typically festive table."
DIY Christmas dinner table decorations
So, we've looked at various Christmas dinner table preparation ideas, usually involving shop bought goods or items you have lying around the home. But what about DIY creations?
For one thing, it's a great way to surprise family and friends with an original arrangement and home-made items.
You could, for example, create a Christmas tree from gold wrapping paper with a slot that cutlery can be placed into. And you could use glittery stars to decorate the table.
You could even make the candles for your Christmas table along with napkin rings and small figures to place on plates.
As mentioned earlier, it's a good idea to choose up to three colours and combine these within every element of your table setting.
You can also make place cards and wine glass tags and create the stars that have been used in a pattern for the napkins and tablecloth.
Other ideas for a DIY Christmas dinner table include creating snowflake placemats, a cardboard Christmas tree cut out with a sprig of holly to wrap around the napkin or even a special Santa's glove for the cutlery to be placed into.
While there are lots of craft and DIY website aimed at enthusiasts, you can also pick up great ideas for Christmas table DIY decorations from sites such as Pinterest.
If you don't feel creative enough, or haven't got the time to create some of these ideas, then Amazon has some great Christmas table gift ideas.
They include a Christmas Santa Claus toy for the centrepiece, red plain candles designed for table use and even novel glittery Christmas spectacles for those selfies that will be taken to add a bit of fun.
There are even snowflakes for use with champagne and wine glasses, small glass Christmas trees with coloured baubles and to impress there are wine bottle fairy lights available.
Depending on your table design ideas, then there's something available to offset or help focus attention on a clever idea.
---
Creating a memorable Christmas dinner table
The team at Matalan also offer good ideas for creating a memorable Christmas dinner table, including:
Create the centrepiece
For a real impact, you need to start with the centrepiece. You should begin with a table runner as the table base and then layer this up to the look you are after by adding various stunning pieces. For a traditional look, add fairy lights and garlands though flowers will help create a modern appearance.
Lay the table
The next step is to lay your Christmas table so it feels extra special and you need the right tableware. You should stack soup bowls on top of the matching dinner plates to create something that will interest those sitting at the table. Also, tartan often works well as a table covering though as a traditional table setting, a white tablecloth still makes a great impact.
Gourmet glasses
You could use gourmet glasses or novelty glasses for your guest's favourite tipple. Whether that is champagne, wine or spirits, the novelty glasses add a fun factor and come with a festive edge, but traditional glassware also works well. To add more festive fun, tie a piece of ribbon to the stem of the champagne flute or wine glass.
Mini Christmas
We all love little ones around at Christmas and you could make them feel extra special by serving their Christmas dinner on festive and fun dinnerware that's just for them.
Finishing touches
The real secret to a Christmas dinner table is in the detail, so once the table has been set, you could create a nice atmosphere by lighting scented candles.
---
Guide to creating a festive dinner table
That's the Christmas.co.uk guide to creating a festive dinner table but like a lot of things, a lot depends on your own tastes and circumstances – which is why we have listed lots of different ideas to meet various budgets and needs. There is a surprising amount to consider – what with buying presents and organising and cooking dinner for everyone – but having a stylish table really will make the day that bit more special.
And, don't forget, it's an opportunity to become an Instagram star!
Finally, absolutely no Christmas table will be considered to be properly dressed without there being Christmas crackers available.
While you can buy Christmas crackers that are expensive or inexpensive, this might be the time to consider making your own Christmas crackers and there are some ideas on Christmas.co.uk to help you.