When it comes to finding easy and funny Elf on the Shelf ideas, the Christmas.co.uk team is here to help with some excellent suggestions.
The Elf on the Shelf is a fairly modern tradition that has become increasingly popular and with funny ideas, this is something that kids will love (whatever their age!).
Whether a child is on the naughty or nice list, the elf has travelled from the North Pole to ensure they behave themselves in the run-up to Christmas.
Unfortunately, the elf often misbehaves, and this can be a source of great fun in the family home.
Whether he is having a bubble bath, is stuck on top of a Christmas tree or even spoiling wrapping paper, all parents can use these easy Elf on the Shelf ideas to deliver great fun.
And if you want to know more about how the Elf on the Shelf phenomenon came about, then we explain more in another article.
Elf on the Shelf – how to make the magic happen
Think of a name for your house guest – I love the idea of a traditional name from Lapland.
Explain why your elf has arrived in your home to your children – did he fall off Santa's sleigh and they are too busy to pick him up till after Christmas? Is he there to check that they are doing their best at school and report back to Santa?!
Have a little welcome party when your elf makes his first appearance. Jolly Christmas music, yummy treats and a warming hot chocolate with marshmallows would be lovely.
The elf ONLY moves at night when everyone is asleep or when the household is out at school and work. There are lots of amazing ideas for how to have fun with him but don't make December more stressful than it needs to be, just one move an evening is enough to create the mystery.
Ambition is a wonderful thing, but sometimes just a simple costume change for the elf will delight your little ones.
When it's time for your elf to go home, encourage your kids to leave a small gift and letter to say 'Thank you' for all the fun.
Our favourite Elf on the Shelf ideas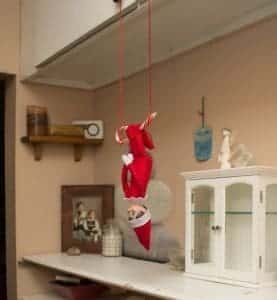 Elf on the Shelf is about laughter, creativity and joy. His antics should be a lovely way to make memories for your children rather than a source of pressure to spend money and be the 'most inventive' parent.
Look round your home with the elf in mind and you'll be amazed at the scenes of mischief and mayhem you can build in just a few minutes.
Make a list, or take photos, of each of elf's adventures so you don't repeat them in later years. (Not that an excited child would mind or even remember!).
Zooming down the bannisters on his sledge
Sledging on soft white snow will have your elf's heart racing. Sellotape two small candy canes together or use a festive sock as the sledge and sit your elf on top. If you have time, stick cotton wool on the bannister to replicate the snowy slopes.
Elf on the Shelf and Olaf the snowman
Ahhh! Who doesn't love the adorable Olaf?! Fans of Frozen will be tickled by elf's new best friend. What do you need? Three stacked toilet rolls, a black felt tip for buttons and his face and a rolled-up tube of stiff orange card for a carrot nose.
Relaxing in a bubble bath
Elves work hard and deserve a little 'me time' to relax and take care of themselves. A big bowl filled with mini marshmallows is all you need for Elf's very own soothing spa bath. Place him under the bubbles and then, when he's done, pop the sweets in some warm milk or hot chocolate to make a cosy evening into something special.
Making a snow angel
Icing sugar is the best way to produce a pristine field of snow and snowdrifts. Elf just can't resist jumping in and making a snow angel. You just have to wrap him up warm as soon as you find him as he'll be chilly from laying in the snow all night.
'Be Good!'
If your child's behaviour has been challenging on a particular day, a gentle reminder from elf written in stripy toothpaste is a fantastic idea to 'Be Good!' or 'Be kind to your sister!'.
Chocolate thief!!
Buy your family a tub of their favourite chocolates and place your cheeky elf leaning over the side to grab a sweet. Place the colourful wrappers at his feet, take a tiny bite of an unwrapped chocolate and make sure he has the gooey evidence on his face.
The helpful elf doing his chores
Do your children have a list of household jobs to complete before they are allowed any screen time? Use your elf's helpful nature to encourage them to complete it. He could be found clinging to the top of the vacuum cleaner or sat on the edge of the sink with a tiny washing up sponge in his eager hands.
Snowball fight!!
This dynamic scene can involve as many toys as you can drag out from under the sofa on in between the cushions. Collate screwed up balls of paper, a sprinkle of talcum powder on the carpet, a few Lego or Duplo brick walls to hide behind and a couple of enthusiastic opponents to do hilarious battle with your elf.
Making cookies
Homemade cakes and cookies are a wonderful way to celebrate the festive season. Your little ones will be thrilled to find that elf has baked them some sweet and chewy breakfast bars or after-school cinnamon cookies.
Place him in front of a bag of sugar and flour, make a sticky mess around him and give him a matchstick stirrer and bottle cap mixing bowl.
Rocking the baby Jesus to sleep
If you're feeling weary and would rather sip mulled wine and eat mince pies than arrange elf's latest shenanigans, then this idea is for you!
Curl elf up in the corner of a comfy chair and place Baby Jesus from your Nativity scene on his knee. It's a great way to share this traditional story and encourage an older child to spend some quiet time with their baby sibling.
Elf on the Shelf Resources
As we've said, you can spend as much – or as little – as you like on Elf on the Shelf stunts and accessories for what can be an adorable tradition.
However, if you can't find what you need in your home, then there are lots of fabulous and free printable sheets available online.
From miniscule 'Bingo!' cards to a Doctor's Certificate for a hospital visit, there are hundreds of ideas to spark your imagination.
If you really must shop, head to local craft shops for inspiration or try Amazon for inexpensive elf props.