It's a craze that appears to be getting bigger every year and if you are looking for great Elf on the Shelf ideas, then we can help you.
And if you have not already begun trying to hide your Elf in various places around the home, and if you've got young children, there's no doubt that you soon will be.
But what is Elf on a shelf? This is a tradition that began in America and it has now made its way across to the UK with more parents becoming obsessed with the cheeky little character.
It all began with a book called the Elf on the Shelf and there was a small elf character in it.
The idea was to read children a story about a naughty Elf who is sent by Santa to act as a scout and spy on the children in the home.
The book, 'The Elf on the Shelf: A Christmas Tradition' is still available and it was written and self-published 13 years ago by the American writer Carol Aebersold and Chanda Bell, her daughter.
In the story, children are told that the elf has been sent by Santa to watch over them to ensure that they're behaving in the run-up to Christmas.
The idea is that children are encouraged to behave and avoid being blamed for any trouble or mayhem that is created by their naughty elf.
The festive elf is moved around the house so they can report back to their boss at the North Pole, who is busy compiling his Christmas present lists for those who have been good this year.
However, the elf is also notorious for causing festive trouble along the way.
Elf on the Shelf tradition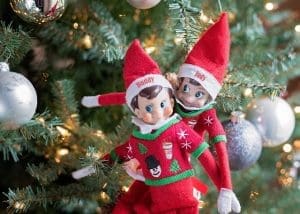 In the US, the Elf on the Shelf tradition begins the day after Thanksgiving but in the UK, it generally begins on or around 1 December.
For many people, it's like an alternative advent of a fun-filled event as parents and young children gear up the fun of their Christmas festivities.
This means that mum and dad will need to think up 24 new cheeky scenarios which can be a challenge, particularly with so much else to do.
Let's face it, most mums will be busy with day-to-day issues looking after their family, buying Christmas presents and then thinking about buying Christmas dinner ingredients without having to think up new ideas for hiding a cheeky elf in their home.
There's even an official Elf on the Shelf website offering the elf to be bought from £29.95 and this includes the accompanying book.
Suitable elves are also available from Argos, at £17, Hamleys, at £18 and Amazon are offering a girl elf with brown eyes for £22.95. There's also lots of other merchandise available to help the tradition become more involving, including pets clothing and an Elf on the Shelf play kit.
Amazon sell elves that include a boy scout elf with blue eyes and Christmas.uk have a blue-eyed girl elf. There are also superhero girl outfits and also dark skinned brown eyed girl and boy scout elves.
Ideas for hiding your elf on a shelf
So, among the easy ideas for hiding your elf on a shelf from the Christmas.co.uk team, are:
Placing your elf on the bathroom sink with a toothbrush and a note telling children to brush their teeth
Hide the elf in a jar with a note asking for help
Open a tub or box of chocolates, such as Celebrations or Heroes, and have the Elf hide in there with some empty wrappers (Mums and dads – be sure to blame the children for the sweets that are missing!)
Cover the toilet in wrapping paper and place the elf on top
Have your elf ride a stuffed reindeer or other toy animal
Wrap toilet roll around your Christmas tree with the elf hanging out of part of it (this only really works for smaller trees!)
Hang some string from the living room lights with the elf using the string as a zip wire
Punch a hole through a box of cereal and push the elf's head through it
Try writing Christmas graffiti in lipstick on a big mirror with the elf hanging from it
Replace all of your family pictures in the living room with pictures of the elf with the naughty elf standing behind one of the images (you could even use cut-outs of the elf and paste them on top)
Draw on one of the best family photographs you have hanging up by adding joke glasses and a moustache with the elf sitting on top of the picture frame (remember to use non-permanent pens!)
Tie the elf up in the living room next to some scrunched up wrapping paper as if someone has stolen a Christmas present
Pin-up some of your children's underwear with the elf sat in them
You can also place underwear and socks on your Christmas tree with the elf as the tree topper
Have your elf gets stuck it in the biscuit barrel, head first
If you have a tropical tank, put the elf in there with a sign saying 'I'm an Elf, get me out of here'
Wrap a sofa in festive wrapping paper
Sprinkle some flour on a kitchen worktop and have the elf do a snow angel
It's a bit cruel but have the Elf open an advent calendar window before your child does with chocolate around his mouth (and 'someone' will have to eat the chocolate treat)
Draw on your child's face while they are asleep with a note from the elf asking them to look in the mirror
Use tape to seal off a room and have the elf stuck to the doorway
Another cereal box idea is to have the elf on the outside with their head stuck in the hole in the box and with cereal scattered around him
Create mini elf footprints in flour across the kitchen worktop or other surface
Hang your elf from a lamp shade
Get your elf baking and creating a mixing bowl mess
Turn some empty tins upside down and have the elf 'play' drums
Have your elf go fishing in the toilet with a rod and line
Cover the toilet bowl with clingfilm but don't forget to add the elf sitting on this before someone makes a terrible mistake without noticing
Place wobbly eyes on a favourite family image with the elf sitting nearby
When your children are asleep, write a message on their face, so they wake up with the elf sat nearby holding a pen (again, make sure it's non-permanent!)
If your children like products such as Nutella, write a message on the kitchen wall with it and have the elf sat on the jar
Pour lots of sweets such as marshmallows into the bathroom sink, so children cannot wash their faces with the elf sitting in the middle
Place Christmas wrapping paper over the front door so no one can get out with the elf taped to the door as well
Have the elf play noughts and crosses on your carpet by filling in the square (again, ensure you don't use a permanent marker pen for this one!)
What a party! Put empty drinks cans and bottles along with empty crisp packets on a coffee table or work surface with the elf looking satisfied
Roll a toilet roll down the stairs and place the elf in the cardboard centre
Hide your elf in the cutlery drawer
Draw Minions on bananas
Wrapping your elf in fairy lights and hang him upside down from a suitable location
Fixe a tin lid to the banister to create a makeshift elf slide
Have elf being discovered mid-email to Santa about the children's behaviour
Have the elf break into mum's make up with some on him
Draw on daddy's face (it's always likely to be daddy who will 'volunteer' for this one) as he comes down for breakfast (This is probably a good one for Christmas Eve when the elf appears to have been good and no-one can find any mischief)
Own an Elf on the Shelf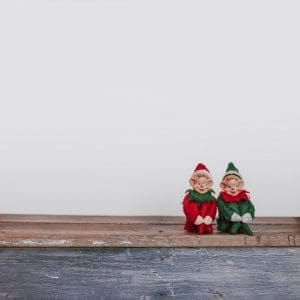 Apparently there are more than 12 million families around the world who now own an Elf on the Shelf so this looks like a tradition that is going to stay for years to come yet.
Indeed, one study last year revealed that more than 1 million monthly searches were being made online for what is an increasingly popular children's toy.
While many parents will be preoccupied, the introduction of an elf that is acting as a spy for Santa will help develop their understanding of what is good and bad behaviour and its potential consequences and also help them develop self control.
However, there's also the joy of seeing your children's eyes light up every morning as they search for the elf to see what he has been up to. It does add to the Christmas excitement and helps to create lovely memories that everyone can look back on.
There's no doubt too that the more imaginative and creative the Elf on the Shelf ideas are help to make for excellent Instagram and Pinterest pictures.
So, those are the great Christmas Elf on a Shelf ideas that the Christmas.co.uk team have come up with and once Christmas day dawns, what is a fairly new tradition will have seen parents creating simple or complex ideas when hiding their Elf and this is a great opportunity to be creative and help deliver joy to children's lives.
Don't forget too that once you commit to having a naughty elf spy in the family home you'll have to see it through all 24 days of fun and capers.
And on Christmas Day, most parents will be relieved that their elf will not be making another appearance. Until next year, that is…