The perfect Christmas Day for most Brits starts at 8am when they wake up and they plan to enjoy eating their festive dinner by 2.30pm – and we also enjoy four inches of snow, the research reveals.
The ideal Christmas Day also includes a glass of fizz being served by 10.28am and beginning board games at 3pm.
It also appears that we enjoy watching two festive movies throughout Christmas Day.
And when it comes to presents, the ideal number to unwrap is 13 and we also enjoy two mince pies, the survey of 2,000 respondents' highlights.
Perfect Christmas Day for many families
And while the research offers a glimpse of the perfect Christmas Day for many families, it also shows that this is not quite the same reality for others.
However, for 38% of Brits, they say that Christmas is their favourite time of the year, and they will have spent a long time planning the perfect festive break.
On average, adults are spending £547 on presents, food shopping and decorations.
The adults also say that in an ideal world, they would spend nearly three hours completing their Christmas shopping to enjoy the big day.
A real Christmas tree to decorate their home
The survey also found that 33% of adults prefer having a real Christmas tree to decorate their home, while 40% say they make a big effort with their festive decorations.
However, 25% of adults say they are feeling growing pressure to deliver the perfect Christmas festivities this year, and admit that finding the perfect present, entertaining friends and family and preparing the Christmas dinner are areas of concern.
Of those questioned, 40% said that expectations are higher for Christmas this year because of lockdown last year, and 26% of us say we are out of pocket by the time the festive season ends.
Also, 57% of those questioned said that they could do more to help families in need.
ooooooooooo
Helping families in need at Christmas
John Lewis has been running its 'Give a Little Love' initiative to help struggling families.
It began during the pandemic and has raised more than £8 million from generous shoppers.
The retailer has also donated £1 million to create magical moments for families and are working with partners Home-Start and FareShare.
The staff in John Lewis stores also used funds to help families in need so they can enjoy a magical Christmas in some way.
Their efforts included hosting an in-store Christmas meal, donating a Christmas tree and donating gifts to local charitable networks and children.
The retailer's director of ethics and sustainability, Marija Rompani, said: "Christmas is a magical time for many, but sadly not for all.
"The initiative is a small way to offer support for those in need, but it won't be anywhere near enough.
"We hope the initiative will help raise awareness and inspire others to act."
oooooooooooooooo
Our favourite Christmas Day traditions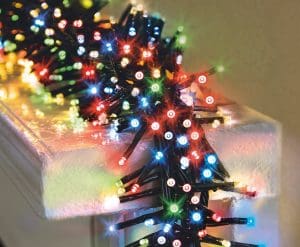 In another survey, the favourite Christmas Day traditions that Brits enjoy have also been revealed.
The research was carried out by the charity, Save The Children and they found that enjoying a Christmas dinner was our top tradition for the festivities.
In a top 20 list, we also enjoy putting a mince pie out for Santa Claus and listening to Christmas songs.
Researchers also found that 53% of respondents said that the impact of the Covid pandemic has made them realise how much they value Christmas traditions.
However, the pandemic means there are some traditions that growing numbers are uncomfortable doing, such as going to a pantomime, going out for drinks and shopping in-store.
Also, 41% say that over the years the traditions they have enjoyed have changed.
Of these, 35% said they have adapted their traditions, so they are less materialistic, and 32% say they have changed their traditions for their children.
A spokeswoman for Save The Children said: "The traditions for many of us that we take part in at Christmas make the festivities something to look forward to.
"However, the pandemic means that we have had to adapt, and people have swapped materialistic traditions for those that bring joy to their children."
Favourite Christmas traditions
The favourite Christmas traditions for Brits are:
Enjoying Christmas dinner
Giving and receiving gifts
Putting a Christmas tree up
Eating dinner on Christmas Day with family members
Putting Christmas decorations up
Watching a traditional Christmas film
Eating turkey for Christmas dinner
Listening to Christmas songs on the radio
Sending out Christmas cards
Receiving an advent calendar
Enjoying turkey sandwiches on Boxing Day
Wearing Christmas jumpers
Enjoying a Christmas meal out with friends
Watching the Queen's speech
Getting dressed up for Christmas Day
Hanging a wreath
Putting a glass and mince pie out for Santa, and carrots for the reindeer
Enjoying Bucks Fizz on Christmas morning
Lounging in Christmas pyjamas on Christmas Day
Going to a panto.