With so many Christmas Day traditions to enjoy, this may be the time for a family to learn of what others do, and perhaps start their own.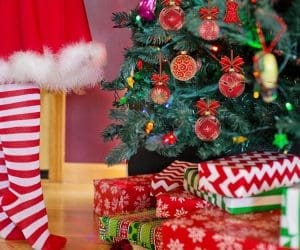 In most homes, since this is a family event, the day will start early because children want to see what Santa Claus has left in their Christmas stocking.
Celebrating Christmas with family will mean placing presents under the Christmas tree – and perhaps opening a present on Christmas Eve.
Below, we explain one Christmas present opening tradition that most homes will carry out.
Others will be considering a church service, if churches are open during lockdown, as this is a Christmas tradition they will enjoy – again with family members.
Traditional British Christmas morning
A traditional British Christmas morning will see people rising and enjoyed their gifts before preparing Christmas dinner.
Some families will enjoy an alcoholic drink early, perhaps Bucks Fizz which is a mixture of champagne and orange juice – and this is highlighted below with a Christmas Day timescale.
Christmas cards that have been sent will be on display and many of us may be watching a televised church service to enjoy a Christmas carol or two.
Christmas decorations will also be in place and at Christmas.co.uk we have highlighted that handmade crafted Christmas gifts and decorations are becoming increasingly popular.
Eventually, the family will gather around the dinner table to enjoy a festive dinner and then relaxing afterwards.
Popular Christmas Day traditions in UK homes
Here, we look at some of the popular Christmas Day traditions in UK homes.
1 Wishing everyone a Merry Christmas
Some families may be wearing matching pyjamas as they gather for the start of their Christmas day celebrations.
This will see excited children itching to open their presents, but one tradition is that you only get to open one present at a time.
As mentioned earlier, another tradition is to choose a present on Christmas Eve to open and some families may also have enjoyed Christmas Eve boxes.
2 Opening Christmas presents
While it may take some time to complete, lots of families will open their presents in turn.
This means that children particularly are not rushing through the opening of carefully bought and wrapped presents and will instead take the time to enjoy what Father Christmas has brought them.
For the adults, it also means that the morning is not rushed, and they get to look at what has been bought and this also extends what can be a very enjoyable and fun morning.
One American tradition on Christmas Day that is receiving publicity is to offer a present you receive to someone less fortunate.
3 Christmas films or a church service
Inevitably, the TV will be on and many families will be enjoying a popular Christmas film that is a particular favourite in their home.
Or they may decide to enjoy a new offering – for example, the Disney streaming site has 'Soul' on offer this year which is a great story for young and old.
Others will be watching a live church service being broadcast and will be joining in with the hymns and carols.
Some families may also put off the opening of their presents to later in the day, or perhaps open one or two, before they attend a church service.
After church, they will return home, but possibly have an alcoholic drink such as a sherry before preparing Christmas dinner.
Essentially, lots of families celebrate in ways that are traditional and comfortable for them.
One established Christmas tradition for many families on Christmas Day is to start drinking alcohol earlier than they would otherwise do.
As mentioned, Bucks Fizz is a popular choice, but other families will be drinking Prosecco or champagne, or even mulled wine.
Christmas dinner will usually be accompanied with wine or beer.
Later in the day, usually after a snooze, more wine and beer will be consumed as people relax playing games or watching TV.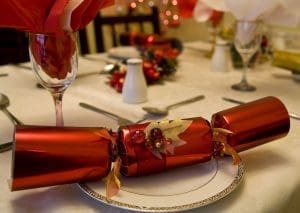 A traditional Christmas dinner in the UK will consist of:
Starters: This can be optional but there is a trend to enjoy a small starter such as a prawn cocktail.
Main course: Roast turkey is the traditional meal and is served with roast potatoes, Yorkshire puddings, Brussels sprouts and sage and onion stuffing. However, other meats are also growing in popularity including duck, salmon and beef.
Dessert: The traditional dessert after Christmas dinner in the UK is to enjoy Christmas pudding. This is a rich and heavily fruited offering served with either custard or brandy-butter.
Along with alcoholic drinks, families will have fizzy drinks and soft drinks for non-drinkers and children.
Some families also make an exception for Christmas tea since so much has been consumed during the day, so this tends to be a small meal.
This may include a buffet of sorts such as serving up turkey sandwiches, and most homes will have a traditional Christmas cake – this is a fruit cake that is covered in icing – to serve. They may also offer mince pies and the popularity of a yule log is growing.
---
A traditional Christmas Day timetable explained
The origins of celebrating Christmas in the UK dates back to the sixth century when Christmas Day became an established holiday.
This saw traditions being established to include various local customs, feasting, attending church and visiting friends and family.
Research from a cheese company has revealed the timetable of most of our Christmas Day rituals in the UK.
8am This is the most common time for the average family to rise from their beds
8:19 Present opening begins
8:39 The first chocolate of the day is consumed.
9:02 Breakfast is eaten
For those families attending church on Christmas Day, and around 30% of families will be doing, then they will leave for their service before 10am.
9:58 The first family row will begin
11:07 Parents begin telling children off
11:48 The first alcoholic drink is consumed
3pm The Queen's speech. Lots of families, around 27% of us, will sit down to watch this annual speech.
3:24 Christmas dinner is served. Apparently, 85% of us will be opting for a traditional roast turkey with all the trimmings.
4:58 This is when the first person will fall asleep – and it is usually dad who goes first
5:46 Family board games are produced and enjoyed – Monopoly being a particular favourite
11:39 Bedtime.
Most people will recognise that time scale and 38% of us believe that spending quality time with their family is the best thing about enjoying Christmas Day.
---
Along with a traditional Christmas Day dinner, a Christmas cracker will be placed on the table for each diner.
This is a popular tradition – nearly every home will have Christmas crackers – and everyone has to wear the paper hat that is in the cracker, plus everyone must read out the (often poor) joke and show off their gift.
Most families also insist that the paper hat is worn after leaving the Christmas table to keep the festivities and spirits high.
With the presents open, and everyone being fed, it's time to relax.
Usually, this means watching a film on TV, or going for a walk after lunch.
Others will begin family games including board games or playing with presents they have received that day.
For many, Christmas Day is the culmination of weeks of planning, shopping and cooking – so the adults deserve a rest!
Things are fairly sedate until teatime when a small meal will be offered – after all, it has been a tiring day and people are relaxing before going to bed.