Growing numbers of us are taking up Christmas crafts and here are some great needs to inspire you.
According to the country's largest arts and crafts retailer, that's Hobbycraft, more people than ever before will be getting crafty.
Indeed, they say 2020 could largest ever handmade Christmas with mindfulness, sustainability and personalisation being the key topics.
The firm's customer director, Katherine Paterson, told us: "We anticipate this will be the most creative Christmas ever.
"The nation has embraced everything craft-related during lockdown and have fallen back in love with older times."
'Create something filled with love'
She added: "The festive season is a perfect opportunity to put these skills to use and create something filled with love for friends and family."
Whether people are making a festive cake, or personalising a bauble, or creating a special handmade gift, especially one that has been carefully wrapped, they will be bringing an extra special touch to deliver that extra sparkle on Christmas Day.
She also reveals that searches on their website for Christmas-related crafting terms have rocketed by 100% compared with last year.
Growing interest in crafting
Hobbycraft says that the searches for Christmas crafts projects and products underline a growing interest in crafting.
They say that searches for Christmas wreaths have more than doubled – with Christmas stamp searches by 250%.
Handmade Christmas card searches grew by nearly 1,500%, while fabric searches grew by 221%.
Here are some great ideas for making Christmas crafts that have inspired the Christmas.co.uk team.
Make your own Christmas crackers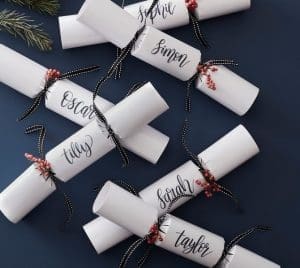 Everyone likes a Christmas cracker on Christmas Day, but perhaps they do not always like the joke that is inside. (Check out our hilarious round-up of Christmas cracker jokes!).
Instead, why not make your own Christmas crackers?
You can personalise each one and find a gift that someone would like to receive.
Hobbycraft offers some impressive crackers for the dinner table and they will go with a bang.
Everything you need is available from the crackers including jingle bells, double-sided sticky tape, and cracker accessories including jokes and hats and there's room for a gift too.
Thankfully, the firm also supply some nice ideas for presents.
John Lewis also offer a nice line in make your own Christmas crackers.
Watch this DIY easy Christmas crackers video from Hannah Weir for inspiration!
Make your own Christmas baubles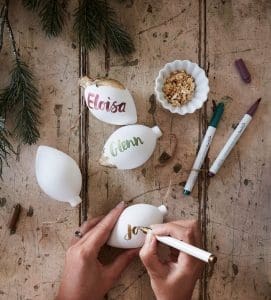 A nice touch for Christmas is to make your own Christmas baubles.
You can buy them as ceramics so that you can add your own designs or names.
Hobbycraft says that within a week of launch, they sold more than 7,200 ceramic baubles.
They make for excellent custom-made Christmas tree decorations and offer a blank canvas to deliver a personalised and distinctive ornament.
They also make for a great family crafting project for a day of festive fun.
This video from Prima and House Beautiful explains more:
How to make your own Christmas wreath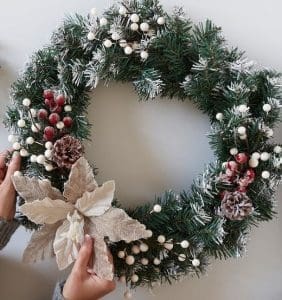 Having mentioned that demand for Christmas wreaths has grown this year, Hobbycraft has all of the items you need.
If you would like to make a Christmas wreath, then they are surprisingly easy and straightforward to complete.
You can buy the artificial wreath from Hobbycraft and other Christmas crafts outlets and then decorate it with lovely berries, birch cones and even robins.
You don't even have to make a traditional wreath or garland, with a handmade creation, you can personalise your wreath to reflect you and your style – or that of the recipient.
This YouTube video from Crafty not Shifty about Three Ways to Make Christmas Wreaths is great!
How to decorate a Christmas stocking
Here at Christmas.co.uk, we have already looked at the great range of Christmas stockings available, but you could make your own.
Not only is this an affordable option, but it's a nice way for a child to create something pretty and memorable for Santa to put his presents in.
Along with the stitching, you can add various decorations including jingle bells and pom-poms.
This Hobbycraft video explains how!
Make your own Christmas wrapping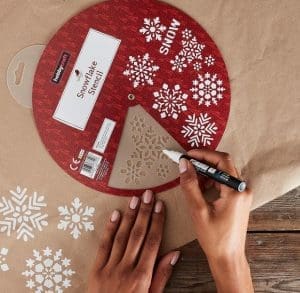 Don't like the Christmas wrapping paper in shops?
Then it's time to create your own Christmas wrapping paper. It's also a surprisingly easy undertaking, and a great solution for children to undertake.
They simply need plain paper wrapping, brown paper will do, and use a snowflake stencil to create a fetching snowflake covered wrapping paper.
Along with using personalise gift tags, these stencil wheels create a thoughtful and pretty paper for wrapping.
Hobbycraft bring five great ideas to create your own wrap…
How to craft your own Christmas cards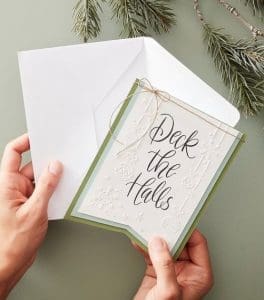 There's no need to spend lots of money on Christmas cards, when you can craft them this year.
By simply using stamps, stencils and foil, you can create an eye-catching and impressive Christmas card.
Hobbycraft supply white cards and envelopes, and various types of Christmas paper along with metallic pens.
You can even buy Christmas cards with a Christmas tree already cut out of the card.
For those who are adventurous, there are gingerbread man toppers and even a winter wonderland Christmas card kit for making 20 cards.
There are five easy and impressive Christmas card crafting ideas here:
How to 'Christmas-ify' just about anything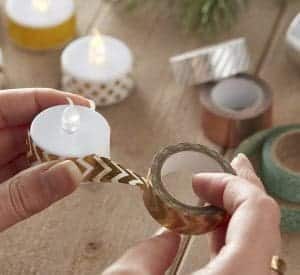 One of the benefits when you start to craft, just about everything for the festive season can by 'Christmas-ified'.
By simply adding stamps and stickers, you can jazz up cards and even tea lights.
Hobbycraft is selling silver and gold Merry Christmas foil stickers, snowflake stickers and star labels.
There are also wood effect alphabet letters and wooden letter tiles available too.
You can even buy traditional Christmas stickers of Santa and Christmas trees, or go for funnier larger stickers of penguins, snowmen, woolly hats and gingerbread men.
Get crafty with Christmas fabrics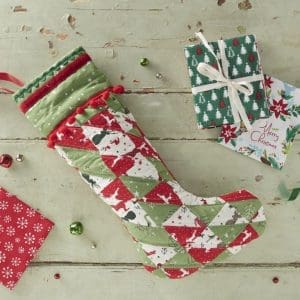 With Christmas fabrics, the world really is your oyster when it comes to Christmas craft projects.
From the material, you can make Christmas stockings and have some fun.
Indeed, Hobbycraft says that they sold more than 2,300 of their 'fat quarters' fabric packs within a week of launching.
There's even a book available which shows people how to deliver 25 excellent projects using fabric.
All of the projects are easy and quick to make and use anything from fabric scraps to fat quarters.
You can also buy fabric roll, glue, white tulle, fabric samplers, films and even a roll of lace.
How to put a Christmas stamp on it
Finally, everyone loves to use a stamp, particularly children at Christmas time.
Hobbycraft says that people searching for Christmas stamps have rocketed by 258% this year.
And because they deliver so much fun, it's easy to see why.
The stamps make it easy to create your Christmas cards, your wrapping paper as well as gift bags.
Along with ink pads, there are stamps for just about everything to do with Christmas crafts.
There are alphabet letters, plus stamps in the shape of wreaths, stars, reindeer, Santa and berries.
And to make Christmas cards easier, there's a stamp with 'Season's Greetings' and a traditional set of stamps with a Christmas tree, a snowflake and a 'Merry Christmas' stamp.
This YouTube video from Helen Griffin shows the range of stamps available…