They might be old-fashioned, but Christmas stockings are still popular and here we take a look at some of the best ones.
Whether your old, knitted Christmas stocking needs replacing, or you would like to start a lovely family tradition to enjoy every Christmas morning, then Christmas stockings make for a great choice.
They also add to the Christmas decor as the festive countdown begins and whether they have Christmas trees or a polar bear on the front, everyone loves a Christmas stocking to get stuck into on Christmas Day.
Large Tartan Christmas Stocking, Santa, Snowman and Reindeer 3 Pack – £21.99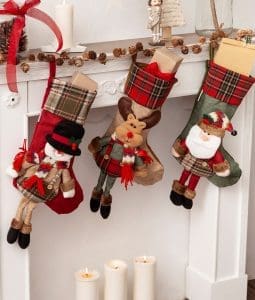 These gorgeous Christmas stockings have jolly 3D characters on the front with festive red and neutral tartan detailing. Kids will love them, but they'll also look great in all styles of home.
The size is perfect for stocking filler gifts, or a collection of delicious seasonal food. Alternatively, they would simply make a cute fireplace decoration using the integrated hanging loop.
We loved the beautifully made Reindeer, Snowman and Santa Claus that perch with quirky dangly legs. They are even dressed in fab little outfits and have happy smiling faces.
You'll be amazed at the value – all three stockings are just £21.99!
Giant 3D Reindeer Christmas Stocking – £16.99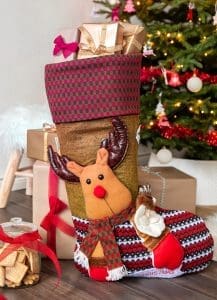 How adorable is this single stocking?!
It's a huge 75cm long so would be ideal for several medium-sized presents. The team at Christmas.co.uk have bought them as a luxurious alternative to gift bags for our nieces, nephews and friends' children.
Rudolph and his red nose are the stars of this design with a distant Santa peering cheekily over his shoulder. The colours and pattern are bold but still elegant and the stocking can be hung from anywhere you fancy with the sturdy loop.
We were impressed at the quality of the fabric and robust stitching.  Loads of room for presents inside this giant stocking.
John Lewis and Partners Red Ribbed Velvet Stocking – £20.00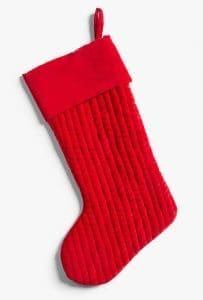 John Lewis and Partners have designed this stunning scarlet Christmas stocking. It is part of their Japanese art range and is luxurious in colour and texture. The rich red reminds us of the breast of a Robin and the combination of quilting and soft velvet is both comforting and glam.
If you're searching for an unusual way to present the gifts of a cherished friend, or as part of a simpler theme for your Christmas decorations then this would be a wonderful choice.
At £20 it won't break the bank and can be used year and after year after treating yourself or a loved one.
Snowman Advent Calendar Stocking – £15.99 was £22.99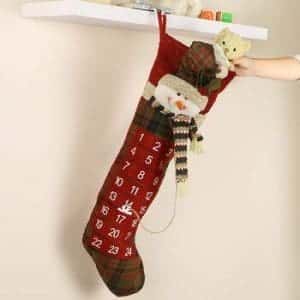 This clever design of a Christmas stocking with an advent calendar really made us smile. We adored the idea of hanging it up at the beginning of December full of daily treats and then, as the chocolates and sweets disappeared, popping a small gift inside the stocking itself.
If you have naughty pets who can't be trusted, this is also a cool way of building the excitement of gifts without risking them under the tree.
Each carefully stitched pocket is big enough for a fun-size bar of chocolate or a small bag of Haribo, a much more satisfying snack than the tiny pieces of cheap chocolate behind the door of standard Advent calendars.
Understated Monogrammed Christmas Stocking – £16.00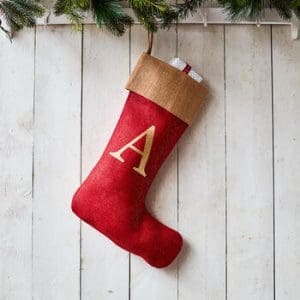 For the sophisticated and understated person in your life, this style of monogrammed Christmas stocking is perfection. Hand-finished with the first letter of their name, this would be a classy way to display and/or present a collection of presents.
The fabric is navy hessian that has a subtle shimmer that gives it a Christmassy spin. They have a rustic look that would look incredible in either a countryside cottage or mixed in with a bolder, brighter theme.
At 50cm they would fit a good number of gifts inside and the durable, natural cotton lining will make sure it lasts for many years.
Personalised Nordic Knitted Christmas Stockings – £16.00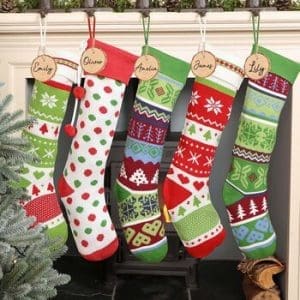 The Scandinavian look of these colourful knitted festive stockings is an awesome alternative to the usual Christmas character-led styles.
There are five themes to choose from. Bright green, cheerful red, ice blue and ivory feature in the chunky knitted design as do trees, hearts, snowflakes and reindeers.
Personalisation is available so that each member of the family has their own special place for presents. The birch wood tags hold enough engraved letters for a longer message if needed.
This year, buying from small businesses is more important than ever. These stockings are made with love in the Yorkshire home of a talented craftsperson, so the quality is excellent.
Generous sizing and flexible fabric mean that lots of presents can be squished in and hung from a durable hook throughout Christmas. Your friends and family will keen to know where you sourced them from.
A Christmas stocking for your dogs – £12.98 for 3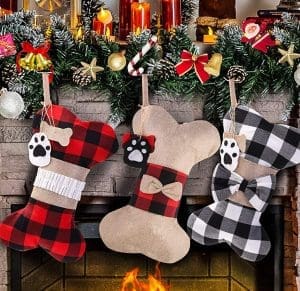 Now, if you are a family who adores your dogs, then this pooch-themed set of three stockings is for you! Family traditions should include everyone, so buy these and fill them with squeaky toys, tasty treats and antler chews.
These Christmas stocking for dogs are bone-shaped in red, black, white and cream, these are decorated with charming bows and rustic ribbons. I wouldn't trust my dogs not to steal the gifts and destroy the stocking before the 25th December, but if you secure them high up with the sturdy loops, they will sit neatly as for the whole month.
Practicality was key with the dog lovers who designed these. There is enough room inside for spoiling your fluffy best friend and they are easy to wash and store until next year.
Christmas Stocking Holders for the Fireplace – £26.99 for 4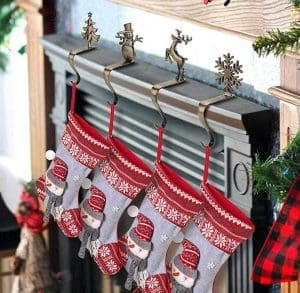 The traditional image of a row of stuffed stockings hanging from a roaring fireplace is a regular feature on Christmas cards, and in films and Pinterest pins. Make that fairy tale becomes a reality in your own home with these brilliant Christmas stocking hooks.
Made from smooth, sturdy metal and kept in place by non-marking rubber grippers, these hooks are practical as well as beautiful. They are super simple to install and remove and can be used year after year.
They can also be used on bookcases and staircases too, just read the instructions for placement inspiration.
The Christmas.co.uk team were delighted by the vintage look of these hooks. In each pack, there is a snowflake, a prancing reindeer, a spruce tree and a snowman. Each one is expertly crafted and adds a rustic elegance to wherever it sits.