Christmas cake can evoke strong emotions in human beings. With cheese?! (No!!) Topped with a thick slab of almond laced, yellow marzipan?! (Yes!) With or without mixed peel?! (Without!)
Cake is always a popular festive choice as a treat – whether you or friends are dishing up an iced Christmas cake or a cake with layers of icing.
There's no doubt that cake is a popular Christmas dessert with glacé cherries, vine fruits and lots of royal icing.
While some of us will make a cake from a cherished Christmas cake recipe that has been handed down the generations, some people are opting for more unusual cakes to celebrate the festivities with food at this time of year.
They include gingerbread cake, chocolate cake, gluten free Christmas cake and bundt cake (a doughnut shaped cake). There's also chocolate yule log.
Whichever your preference, we guarantee that the perfect festive fruit cake is amongst this worthy list of the BEST Christmas cakes of 2020.
The Best Christmas Cake Winners!
We don't just listen to the foodies on our team at Christmas.co.uk. Awards from domestic stalwarts 'Good Housekeeping' and eminent magazine 'Woman and Home' are meaningful reasons to trust in the quality of a cake. Of course, we do double check for ourselves too!
Waitrose No.1 Richly Fruited Christmas Cake – £6 for 1.3kg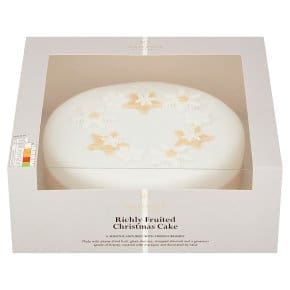 The winner of Good Housekeeping Best Christmas Cake of 2020 is this beautifully rich treat from Waitrose and Partners.
The sweetness of the soft icing is perfectly balanced by punchy citrus and warming spice from ginger and cinnamon. We loved the luxurious texture too, it's incredibly moist!
If you're looking for a good-looking cake, this is it. Shimmering edible glitter, gold stars and snowflakes adorn the pristine white icing.
M&S Perfectly Matured Rich Fruit Cake – £10 for 907g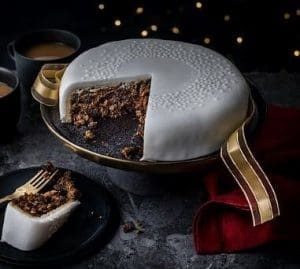 The Good Housekeeping Best Christmas Cake 2020 Runner-up prize was awarded to M&S. We loved the extra fruity flavour provided by juicy whole cherries and plump vine fruits.
The cake itself has a gorgeous depth of flavour that is almost treacly. All the expected spices are present in generous but not over-powering quantities.
If you enjoy a thick slab of almond-dense marzipan and the boozy taste of brandy, then this is the cake for you! The pretty pearl and snowflake design is so chic and would look fabulous on any festive buffet table.
Booth's Sherry and Rum Iced Christmas Cake – £18 for 2kg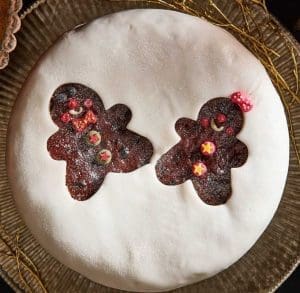 Booth's is a northern supermarket chain which prides itself on excellent quality and stocking products made by local suppliers. They are also the worthy winner of Good Housekeeping's third place award.
The design is ace! Gingerbread men shaped cut-outs reveal the tempting golden cake underneath. The texture of this cake, soft and crumbly, is unusual but oh so delicious. It's fruit cake still, but there is a nice sponge-like feel to it too.
Aroma is a key part of food appreciation and this cake has a very seasonal fragrance. Nutty marzipan, booze and fruitiness caress the nose as you cut a slice to enjoy.
Gentle spiciness, citrus and rum are the main flavours in Booth's delightful cake. We couldn't pick up the sherry but the earthy sweetness we detected showed it was in there, stealthily enhancing the other ingredients.
Sainsbury's Taste the Difference Holly Wreath Christmas Cake – £11 for 900g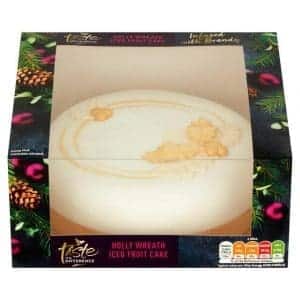 Woman and Home Best Buy 2020 awards are prestigious, so buying a Christmas cake with that badge of honour is a great idea.
The décor atop this wreath shaped wreath is simple and elegant and the flavours inside are delicious.
Underneath the squidgy marzipan and crisp icing is a sumptuous cake packed with plump fruits and glugs of warming brandy.
Betty's Royal Iced Bell Christmas Cake – £25 for 1kg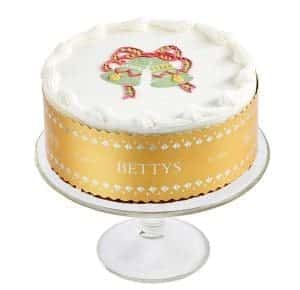 Another Woman and Home Best Buy 2020 comes from the iconic Yorkshire Tea Room, Betty's. The stunning colourful bell design is hand stencilled by Betty's team of artisan bakers and looks so special against the ivory royal icing.
The flavour of this Christmas cake is sophisticated and complex. The Christmas.co.uk taste team particularly enjoyed the sherry-soaked sultanas and raisins and the sweet cherries.
Nutty marzipan is thickly layered on this luscious cake but it's not over-powering. We loved the hand piped icing and Betty's branded golden cake frill too. They are a lovely finishing touch.
Excellent value Christmas cakes
Christmas cake is an indulgence to enjoy throughout the festive season so you might need to buy a few if your family are fans. These options are a wonderful price for the size of the cake and the delectable flavours they contain.
Aldi Specially Selected Luxury All Over Iced Cake – £6.99 for 1kg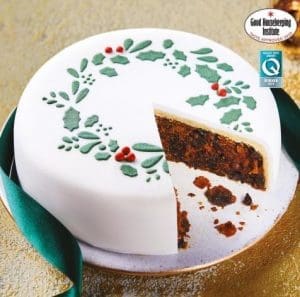 Aldi are very good at producing exquisite Christmas food at reasonable prices and this yummy cake is a great example of that.
It's shimmery surface and jolly green and scarlet holly wreath are inviting, and the icing is smooth and squidgy.
The moist cake is spicier than some but if you're a lover of cinnamon and gingerbread that's a very good thing! Brandy flavours are prominent which gives it a homemade taste.
Lidl Deluxe Luxury Fully Iced Christmas Cake – £6.99 for 1kg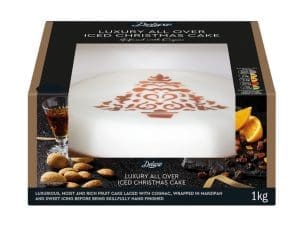 Our Christmas cake connoisseurs felt that Lidl's deluxe offering would work beautifully with a (big!) slice of cheese as it is a lighter style of cake.
Not everyone is a lover of dense, heavy fruit cake, so if that's you, we highly recommend giving this fairly priced treat a try.
Our favourite elements of this cake were the large pieces of crunchy nuts, extra spiciness and the lavish amount of whole fruits and fat vine fruit laden with juice.
Plain Fruit Christmas cakes
Icing and marzipan are the work of the devil to some! (I know, weird isn't it?!) So, we bring you un-iced Christmas cakes that can be decorated to you liking or served naked.
Country Fare Brandy Fruit Cake – £25 for 1kg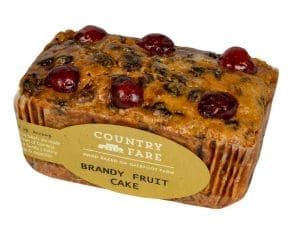 This is a scrumptious looking cake! The topping of glossy nuts and cherries is a fabulous alternative to a traditionally iced cake. We enjoy the fact it still looks extravagant.
The texture is delightful, it crumbles wonderfully as you cut into it and that makes it an ideal partner for cheese too.
Hand fed with the best of French brandies so it warms the throat as you eat and tastes decadent. It's maybe not the best cake to serve to children but that just means there is more for you!
Daylesford Organic Christmas Cake – £18 for 800g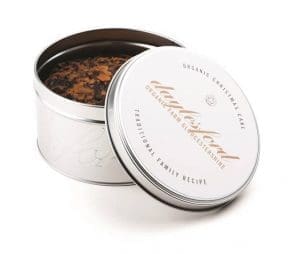 Daylesford may not have created a feast for the eyes, but they have put lots of love and effort into the taste and texture of their cakes.
Organic and made at the Daylesford farm in the Cotswolds, this is as close to wholesome and homemade as you can get. A glow inducing alternative to mass produced supermarket cakes. You can even reuse the useful, durable tin.
Fruits jostle for space in a cake steeped in brandy and spiced with ginger, a smidge of nutmeg and cinnamon. Gorgeous!
Unusual and Quirky Christmas cake
Bored of the 'usual'? Ready to break away from tradition and serve a cake with imagination? Try these and delight the haters of raisins and loathers of marzipan.
M&S Chocolate Fruit and Nut Cake – £15 for 800g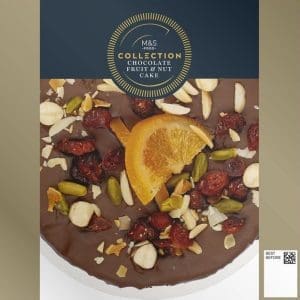 With this chocolate-laced creation, M&S has produced a cake that defies description! Traditional Christmas cake ingredients such a dried fruits and sweet spices join indulgent chocolate liqueur and a smooth, dark cocoa rich sauce.
Cranberries, lots of nuts and sweetened citrus pieces join the party in this awesome showstopper of a cake. There are twelve portions and each one is incredibly flavourful.
Christmas.co.uk staff believe that December is not a time to worry about calories and we were reassured to taste butter, cream and lashings of sugar in every mouthful.
Waitrose Trio of Christmas Cakes – £35 for three cakes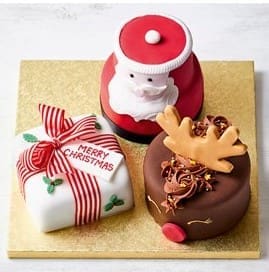 Waitrose and Partners clever bakers have dreamt up, for your delectation, the cutest trio of Christmassy cakes available in 2020.
If you're catering for children this year, then this is the perfect choice. Each cake is different so all palates will be happy.
The classic fruit cake is laced with alcohol and smothered in an icing that is blessed with just the right amount of sweetness. The marzipan is almondy, jammy and moreish. These are good skills!
Rich and gooey chocolate sponge cake and a Victoria Sponge style vanilla cake with raspberry jam and cream make up the rest of this adorable trio.
Special Diets
Purveyors of Christmas cake appear not to be mindful about the needs of customer's who have restricted diets, and so the choice is limited. Check these out for your best options.
Waitrose Vegan Iced Fruit Cake £13 for 800g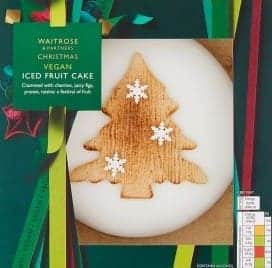 LOTS of different fruits are crammed into this attractive cake. Happily, each one can be tasted so it's a joy to sit down with a slice of this cake and a cup of tea.
Standard cherries and raisins jostle for space with figs and prunes while brandy skilfully ties the flavours together.
Morrison's The Best Gluten Free Christmas cake £5 for 406g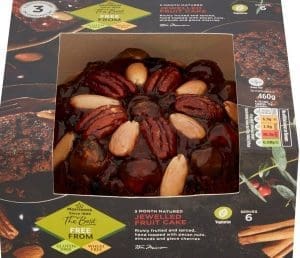 Gluten Free, Wheat Free and suitable for vegetarians. There are also no artificial colours or flavourings.
The spices are the star of this yummy cake. They are perfectly balanced, festive and show-off the loveliness of all the other flavours.
Topped with sweet and salty pecan nuts, creamy almons and luscious cherries this cake is a triumph. Time and hard work have gone into the making of this cake, it has been matured and fed for three months.