With so much choice available, finding the best frozen Christmas turkey for 2020 is not easy.
But the dedicated taste testers at Christmas.co.uk have been sampling lots of tasty turkeys and wonderful frozen turkey crowns.
Finding the perfect turkey for Christmas dinner is a very important undertaking since it is the centrepiece of the festive meal table.
Whether you are looking for a free-range bronze turkey, covered with streaky bacon and served with delicious gravy, your Christmas Day turkey dinner will take time to prepare.
To help, we also detail how to defrost a frozen turkey so you can serve up a delicious meal to your guests.
Along with bronze turkeys, a Christmas turkey may come with stuffing and wrapped with smoked bacon.
Many people like a turkey with stuffing, while others look for the dark meat to enjoy.
Along with pigs in blankets, the range of frozen turkeys and crowns this year is impressive.
The Christmas.co.uk frozen turkey winner for 2020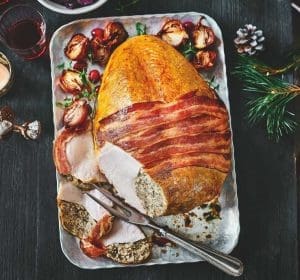 Of all the frozen turkeys tested by the Christmas.co.uk team, the winner was a popular choice.
The M&S British Oakham turkey crown landed the top spot with a nice balance of flavours.
It costs £20 for 2kg, and this turkey is deliciously moist with a nice crisp bacon topping.
It has a perfect golden colour and the sage and onion stuffing smells delicious.
A well-deserved winner that will go down a treat with your Christmas dinner guests.
Runner-up for the best frozen turkey for Christmas 2020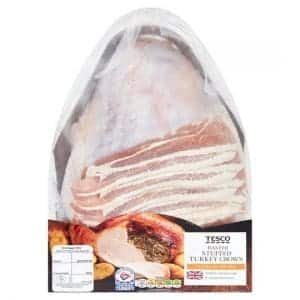 The Tesco basted turkey crown was for us a tasty offering.
It costs £23 for a 3kg product that is a juicy and nice smelling creation.
We found the streaky bacon complemented the turkey meat and the stuffing has a nice texture.
This was an all-round, cracking value for money offering.
Aldi Specially Selected Turkey Crown
This stuffed turkey crown from Aldi was a close runner-up to the Tesco frozen crown.
The crown costs £16.99 for 1.8kg to 2.3kg.
We found the bird had a lovely, sweet flavour and the sage and onion stuffing complimented it well.
This frozen turkey crown smelled delicious when it was brought to the table.
The crisp bacon topping also helps the herby aroma.
This Aldi turkey crown is also good value.
---
How to defrost a frozen turkey properly
For anyone buying a frozen turkey for Christmas 2020, it's important that the bird is defrosted properly.
Our friends at Tesco have given us the defrosting times for frozen turkey crowns and frozen whole birds.
The length of defrosting time may come as a surprise for many people, particularly if you think you can defrost your frozen turkey on Christmas Day.
That will be a mistake and under no circumstances should you try to cook a frozen turkey that has not been thoroughly defrosted.
The table below shows the defrosting time for frozen turkeys and shows that a turkey crown weighing between 1kg and 1.4kg takes between 10 and 14 hours.
However, for anybody entertaining lots of people, the frozen British turkey whole bird weighing between 8.9kg and 10.6kg will take up to 106 hours to defrost properly – that's more than four days!
| | |
| --- | --- |
| British Turkey Crown 1kg – 1.4kg | 10-14 hours |
| British Turkey Crown 1.5kg – 1.9kg | 15-19 hours |
| British Turkey Crown 2kg – 2.3kg | 20-23 hours |
| British Turkey Crown 2.4kg – 2.8kg | 24-28 hours |
| British Turkey Crown 2.9 – 3.5kg | 29-35 hours |
| British Turkey Whole Bird 2 – 2.5kg | 20-25 hours |
| British Turkey Whole Bird 2.6 – 3.8 kg | 26-38 hours |
| British Turkey Whole Bird 3.9 – 5.2KG | 39-52 hours |
| British Turkey Whole Bird 5.3 – 6.9kg | 53-69 hours |
| British Turkey Whole Bird 7 – 8.8kg | 70-88 hours |
| British Turkey Whole Bird 8.9 – 10.6 kg | 89-106 hours |
| Finest FR Bronze 3.2 – 4.8kg | 32-48 hours |
Tesco also told us how long it will take to defrost a fresh turkey that customers have frozen at home.
From their Finest range, a small fresh turkey will take up to 40 hours to defrost.
The medium turkey will take up to 53 hours, while a large Finest fresh turkey will take up to 65 hours.
Again, it's not worth taking the risk when it comes to defrosting a frozen turkey or a frozen turkey crown.
Not only will you have a turkey that's inedible, but you run the risk of delivering a serious case of food poisoning to your guests.
The Food Standards Agency also publishes useful advice on how to defrost and then cook a frozen turkey or turkey crown properly.
---
Morrisons The Best Bronze Frozen Turkey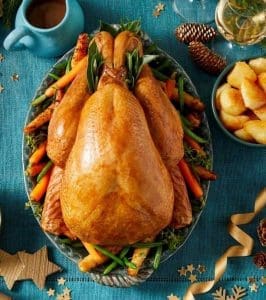 The best frozen turkey, rather than a turkey crown, that we tested was this offering from Morrisons.
It costs £23 and the turkey weighs up to 5kg.
The Morrisons frozen turkey was cooked up with crisp skin with nice, moist white meat.
Also, tasters found the dark meat from this turkey was packed with flavour.
It's also an easy to carve bird and it smells delicious when doing so.
Sainsbury's Taste the Difference Turkey Crown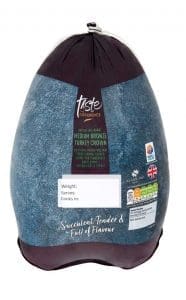 This tasty frozen turkey crown offering is for those who don't want a big frozen turkey.
The Sainsbury's frozen turkey crown smells delicious when cooked, and the crispy skin is a lovely colour.
The crown costs £27.50 for a product weighing between 3.6kg and 5kg.
Again, the dark meat had a lovely robust flavour though some tasters found the white meat lacking in depth of flavour.
This Sainsbury's frozen turkey crown really does have a nice aroma and it is certainly worth considering.
---
How to choose the best frozen turkey in 2020
Since celebrating on Christmas Day might look very different in 2020 for most families, it's likely that frozen turkeys and turkey crowns will grow in popularity.
Rather than buying a fresh bird, a frozen turkey means not only that you will be prepared, but you won't have to run the risk of a shop selling out in the run-up to Christmas.
Here are some tips for choosing the best frozen Turkey:
Check the date that the turkey has been frozen
You should eat your frozen turkey within three months of buying it because keeping it too long in the freezer will affect the taste and quality of the meat.
By your frozen turkey locally
There are lots of quality farmers selling frozen turkeys locally which makes them a quality and sustainable option. Ensure the bird has been frozen professionally and you will have a tasty turkey dinner.
Do not refreeze frozen turkey
A frozen turkey that you buy in a shop has been frozen at a temperature that is much lower than your freezer. Do not allow a frozen turkey to thaw, even slightly, because if you refreeze it there will be ice crystals forming in the meat – and the taste and quality will be affected.
---
Asda Basted Medium Whole Turkey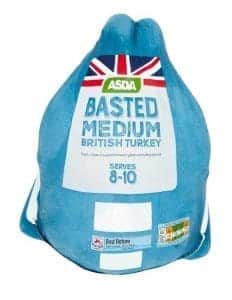 This frozen turkey from Asda came close to matching the frozen crown from Sainsbury's.
The bird costs £13 and weighs between 3.9kg and 5.29kg.
When cooked, the turkey smells delicious with crisp skin.
There's almost a salty taste to the aroma with the light meat being juicy.
Of all the frozen turkeys we tried, the Asda turkey delivered the most natural flavour.
Lidl Braemoor Large British Turkey with Giblets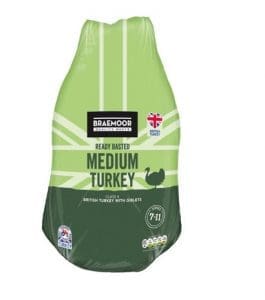 While this frozen turkey from Lidl is among the cheapest offerings, it is one of the best tasting meats.
Priced at £16.99 for a frozen turkey weighing up to 7.2 kg, the cooked bird has a lovely crisp skin.
The meet has a buttery taste, while the dark meat has a robust flavour.
For some tasters, the texture of the meat was a tad dry but overall, it's a nice offering.
Waitrose Frozen Medium Free Range Turkey Crown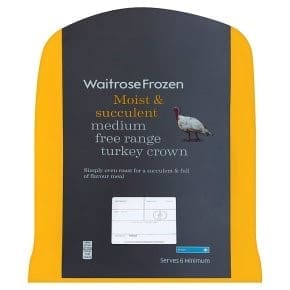 We were surprised to find that the frozen turkey crown from Waitrose was among the lowest scoring.
It costs £12.50 and the 2kg product will serve up to six people.
Waitrose says that its turkeys have the freedom to behave naturally in small flocks and it does have a nice flavour.
It's also an easy to carve roast turkey with a pleasant aroma but the overall offering, for us, just misses the mark.
Iceland Boneless Perfect Turkey Crown wrapped in Bacon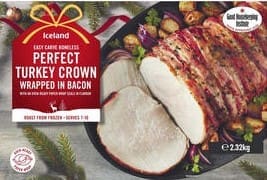 One of the best places to shop for frozen foods at Christmas is Iceland.
Their boneless perfect turkey crown wrapped in bacon is a very tasty offering.
It weighs 2.32kg and costs £16.
It looks great, it smells nice and while it is not as substantial as some of its rivals, for those who want a frozen turkey crown that cooks well and carves easily, this frozen turkey is hard to beat.
Also, this Iceland frozen turkey crown can be cooked from frozen in three hours 30 minutes. The defrosted product takes two hours 15 minutes.