Christmas Dinner is the highlight of the day in our houses and we truly believe your meal should be an elaborate banquet with impress Christmas Day tableware.
The sumptuous food and delicious drink you've dreamt of for months, needs to be show-cased by a stylish dining table and below are our favourite ideas for festive tableware.
Not only that, but the host also has to consider their Christmas table setting arrangements, including whether they use napkin rings and table decorations such as candleholders.
There's a lot to consider and so many different items to use to ensure the highlight of the festive season impresses.
Indeed, for some, the styling of their dinner table on Christmas Day is just as important as their Christmas tree and other Christmas decorations.
And it's not just about focusing on a red and white colour scheme, there are other great ideas available.
A Scottish Christmas theme
Imagine you're spending the Christmas season with the Queen at Balmoral and style your table with a traditional Scottish theme.
Traditional Christmas Tablecloth – Size 220cm x 150cm is £27.99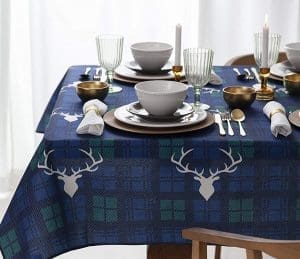 Scottish tartan will a touch of elegant cosiness to your home and will inspire a Boxing Day walk in the great outdoors. The reindeer print is a festive but sophisticated detail
We loved the quality of the heavy linen type of fabric of this Christmas Day table cloth, it will last for many future Christmas Days and would also look great as a winter tablecloth in a traditional dining room.
This size of rectangular cloth would suit a table seating six people but there are more size options available from the same seller.
Stewart Royal Tartan Napkins – £32 for pack of four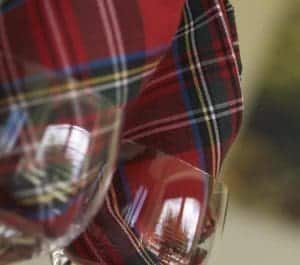 These napkins in Stewart Royal tartan print would look stunning with the reindeer tablecloth. Alternatively, the visionaries amongst you could clash different tartans – such as the impressive Black Watch offering – and make a bold statement.
They are made from practical polycotton and are stain resistant and super easy to wash and dry. Each napkin is 18-inch square which is the perfect size for an adult. The price is £32 for a pack of four napkins which is quite expensive, but they could also be used at Hogmanay, on Burns Night and to celebrate St Andrew's Day.
Spode Glen Lodge Tableware – from £21.50 for six teaspoons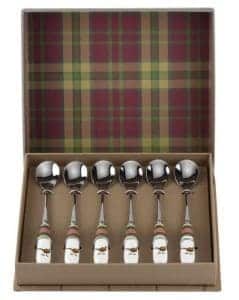 Oh!! Now this is a gorgeous collection of Christmas Day tableware! Spode's Glen Lodge collection of teaspoons is the ideal companion to the rest of your Scottish Christmas dining table.
Choose between pheasants or stags, an argyle pattern or fleur-de-lis, and dress your table with old-fashioned style. The mossy green and brown colour palette with a hint of warm gold will match your tablecloth and napkins.
To purchase the full set would be costly but the Christmas.co.uk team recommend buying a few bits and pieces to mix and match with classic white plates.
A fun Christmas that is perfect for kids
A family Christmas involving small children should be about fun and laughter. To make sure your Christmas Day tableware reflects that joy, look for colours that pop and cheerful characters.
Fun Christmas Tablecloth – 250cm x 150cm £31.99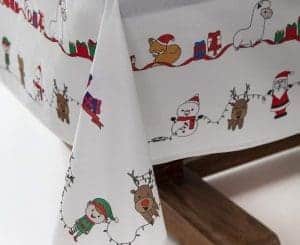 There is a huge cast of cute characters on this fun Christmas tablecloth from Santa and his sidekick Rudolph to a musically inclined llama and a pretty flamingo.
Challenge the children to find each one as you await each course of your Christmas lunch!
This is a large rectangular tablecloth that would seat up to eight people. We recommend measuring your table and allowing for a 6-inch drop on each side, so it hangs nicely.
The fabric is high quality polyester with a thick weave that is akin to linen. It's easy to wash and dry and won't hold onto stains.
The designs on this fabulous tablecloth are focused round the edges so it is not hidden by serving plates or elaborate centrepieces.
Reindeer Paper Napkins – £2.25 for a pack of 16
Do you enjoy having a different Christmas look every year? Paper napkins for your Christmas dinner table are a fantastic solution for those who are fickle about home styling, they are also a great size for kids.
These 3-ply reindeer napkins are incredible value and could be used throughout December to make teatime festive.
At Christmas.co.uk we think that classic red and a cartoon reindeer would look ace placed on a plain red plate against a backdrop of the fun tablecloth featured above.
John Lewis and Partners 200cm Red Sequin Table Runner – £25.00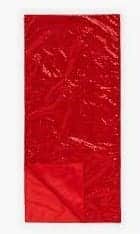 Dressing your table with adorable patterns is a wonderful idea, but you need plain to make sure it doesn't look too busy.
This shimmering sequin table runner is a vibrant scarlet colour and will catch the light beautifully. In a dining room where the children are the focus this runner adds a touch of grown up glamour that will be appreciated by your adult guests.
Be warned though! Make sure you place your splash of glittering red down the centre of your table away from messy little ones as this beautiful item is spot clean only!
Elegance with a touch of sparkle
John Lewis and Partners Snowflake Pattern Tablecloth – from £35.00 to £50.00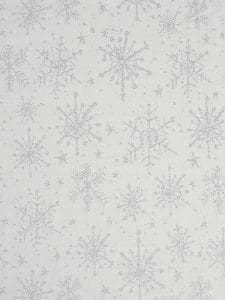 This elegant white snowflake pattern tablecloth is so pretty! The snowflake pattern is a glorious combination of delicacy, simplicity and sophisticated bling.
The intricate tone on tone pattern of snowflakes is woven through with cobweb thin metallic silver thread. It has just the right amount of glitz! Our style experts think this cloth would also look fantastic as part of a Scandi theme.
Machine washable and available in two sizes. As always, we suggest that you take careful measurements of your table and consider the drop. Make that small effort and your new tablecloth will hang beautifully.
Silver glitter place mats – Set of 4 for £18.00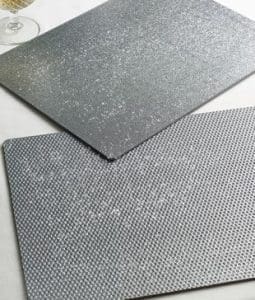 Shimmering silver glitter place mats set against the John Lewis Snowflake Tablecloth will look stunning. The subtle gleam of the glitter will enhance the metallic thread and brighten up plain white china.
The cost of these mats is amazing when you consider the excellent quality and there are other well-priced co-ordinating items to treat yourself to.
You'll get lots of use out of these all-year round should you wish as they will make special place settings at decadent dinner parties and birthday dinners.
Lustre Water Glasses – £45 for 6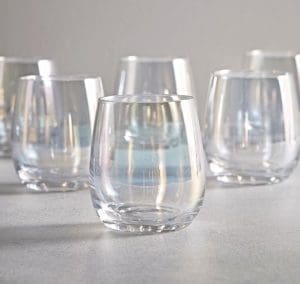 LSA are the go-to brand for stylish and impressive lustre glasses.
However, we think these water glasses from Cox and Cox are just as eye-catching.
Whether you're planning to indulge in a glass of your favourite tipple, or stick to the soft stuff, these glasses will work with all kinds of drinks.
The gentle shimmering effect of these glasses would look ace next to each place setting or holding a tea light as a show-stopping display down the middle of the dining table.
We know you'll be thrilled with the sensuously curved form and sturdy base and will use them with pleasure all-year round.
Rustic or Scandinavian
For Christmas Day tableware with a difference, try rustic or Scandinavian this year.
Sprig of Foliage Place Card Holder – £6.99 for a pack of 6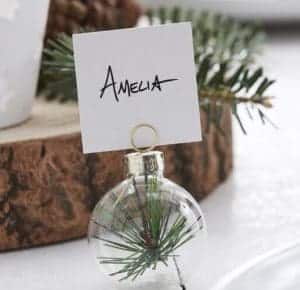 These simple and Christmas dinner table rustic place card holders are a lovely way to let your guests know where you would like them to sit.
The small glass bauble will sit attractively askew but hold the place name straight. A sprig of fir tree foliage is encapsulated within the glossy globe and adds natural beauty to your table.
We were particularly enamoured by this unique design as it would suit most table themes from traditional to cool and modern. They do, however, work best within the Scandinavian Christmas look.
Natural Fabric Nordic Jul Table Runner – £22.95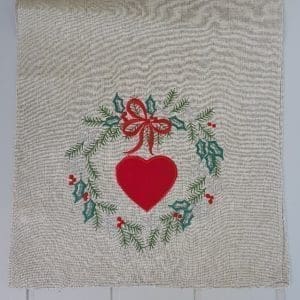 Natural fabrics in neutral colours are a key feature of a rustic Christmas. This beautiful Christmas dinner table runner is made from hard-wearing linen-effect material that will add a homely texture to your kitchen table.
The cute embroidered red and green holly wreath adds a subtle Christmas look that will match the rest of your table scheme. At a time that is all about family, the heart motif is an important addition to the decoration.
Your new runner would be perfect for use throughout winter as it's fantastic quality and washes well.
Swedish Christmas Gnome Decoration – £17.30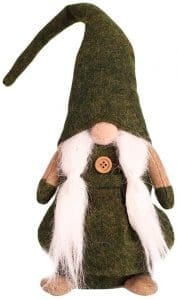 In Scandinavia this cute mythological creature is known as a Tomte or Nisse and he is an integral part of the Christmas festivities and the Winter Solstice. The Scandi seasonal look is simple, sophisticated and inspired by nature so this gnome adds a bit of fun.
He's a lovely moss green and sports a long white hair that Santa would be proud of. We think he'd look fab sat amongst foraged foliage as a quirky table centrepiece.
The craftsmanship of this Tomte is exceptional and he is super fluffy and soft. Kids will love his round nose peeking out from underneath his extra jaunty cap and his cosy coat buttoned up against the winter snows. A great and different idea for Christmas Day tableware.