It's been an unusual year and, this Christmas, I'm determined to appreciate each small moment of happiness that comes my way. In my house, the festive season has definitely not been cancelled.
Now, I may be a grown woman, but I still love an advent calendar. That little nugget of sweetness every December morning still feels as special as it did when I was a child.
That's why I am interested in the best beauty advent calendars every year – and 2020 is no different!
In recent years, that piece of chocolate has been joined by a sparkly or beautifully smelling treat with the annual purchase of an indulgent beauty advent calendar.
And there are so many to choose from! From the jewel-like nail colours of Ciate, to the skin-loving products from Clinique. So, which will you choose for a year in which we all need a daily moment of joy?
John Lewis and Partners Beauty Advent Calendar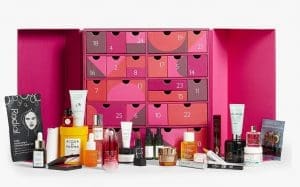 With a price of £150, this impressive John Lewis beauty advent calendar has a value of £375.
John Lewis and Partners have put together a set of products that work beautifully together. You will discover an entire skincare regime, a make-up look that will suit all women, some pampering body care and indulgent finishing touches.
The box is in bold shades of pink and peach and the drawers are robust enough to last as dressing table storage throughout 2021.
I love the choices the beauty team at JL have made. Iconic products such as Liz Earle's Cleanse and Polish, and Evolve Beauty's stunning, anti-ageing Bio-Retinol Gold Mask.
Jo Malone Beauty Advent Calendar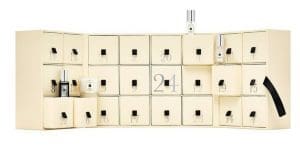 Jo Malone fragrances, body care and candles are simply divine. This calendar would make a wonderful early Christmas gift for a loved one – or yourself!
The box itself is elegantly illustrated with a depiction of the brand's London townhouse and would look chic in any room of the house. Behind every cream and black door, you will find mini bottles of colognes, cute candles, bubble baths and travel-sized body creams.
The Jo Malone beauty advent calendar contains much-loved scents such as English Pear and Freesia appear alongside some exclusive festive surprises. There's even an extra special treat to enjoy on Christmas Eve, I can't wait!
Charlotte Tilbury Bejewelled Chest of Beauty Treasures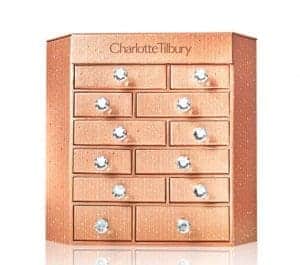 Price: £150 for 12 full and travel sizes.
Charlotte Tilbury make up is transformational and this glittery box is full of that magic. This is a wonderful gift for the big day itself as it features full and travel size products to enjoy over the 12 days of Christmas.
The Charlotte Tilbury Bejewelled Chest of Beauty Treasures is a diamante be-decked chest of drawers is re-usable and would make an ideal jewellery box.
So, what treasures lie inside?! You'll reveal nourishing clay-based face masks and the universally adored Pillow Talk lipstick amongst a classic black mascara and the legendary Beauty Light Wand.
Charlotte Tilbury is the Queen of flattering make up and powerful party looks so expect this spectacular celebration of bling to sell out fast!
The Body Shop 'Make it Real' Together Advent Calendar
Price: £50 for 24 travel sizes.
The Body Shop has been a 'go-to' shop for Christmas gifts for decades. We all have fond memories of fruity scents and creamy body butters. Remember White Musk anyone?!
In increasingly eco-conscious times, The Body Shop is a great place to spend your money, they have long been at the forefront of sustainability and ethically grown ingredients.
The boldly designed box for the Body Shop 'Make it Real' Together Advent Calendar and the rainbow product packaging makes this a real joy to look at. Teenagers would love to receive this as a present.
There are three advent calendars to choose from but this one is, in my humble opinion, the best! You'll need to love fruity smells to agree with me though, this box of delight is packed with mouth-watering aromas. I particularly adore the sweet Strawberry Lip Butter, relaxing bubble baths and caring Mango hand cream.
Lush 12 Days of Christmas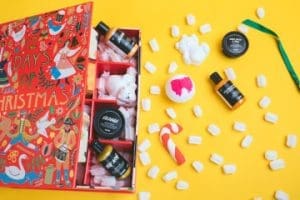 Priced at £75 with 12 full-size products.
Anyone who has walked past a Lush shop will know just how amazing your 12 days of Christmas gift is going to smell. The festive scents are jaw-dropping, and we know you're going to be delighted to unwrap something fresh and funky every morning.
Lush is proud of the ethical way they do business, and the box and packaging are made from entirely recycled and recyclable materials.
What's inside? Amongst other delights, you'll unearth a fun polar bear-shaped bubble bar, a glittery, eggnog scented shower gel and a Jingle Bells Bath Bomb.
This Lush advent calendar for 2020 is perfect for adults and kids alike.
Ciate Mini Mani Month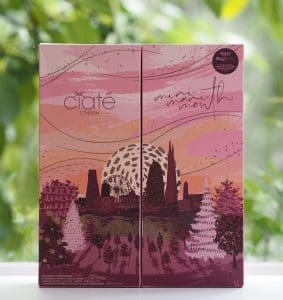 Price: £59 with a mix of full and travel size – worth £150.
With a huge range of pretty colours and a caring formulation, a lick of Ciate nail polish is a lovely way to brighten your day.
This advent calendar has recycled, recyclable, compostable and bio-degradable elements and contains 22 mini varnishes, 1 full size and a watermelon flavoured lip oil.
The hues are glorious! My favourites are the delicate peaches and show-stopping blues. Fingers and toes can show off a new shade every day!
The winter months aren't kind to our nails so Ciate have gifted their loyal customers with a new recipe of 80% natural ingredients including strength giving biotin, bamboo and bakuchiol for hydration. At the end of December your nails will be thanking you for the loving care, thanks to the Ciate Mini Mani Month advent calendar.
Dior Advent Calendar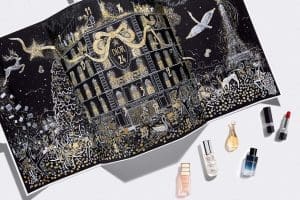 Price: £340 for 24 miniatures.
Dior's beauty advent calendar for 2020 is fabulous, decadent and a truly deluxe gift for someone very special. It's one of the most expensive on the UK market but I think, if you can afford it, it's well worth its price tag.
The box is a magical depiction of the Dior Atelier in Paris in wintertime and is just gorgeous! In terms of packaging the glittering black and gold illustrations of a wondrous ballet makes this the most beautiful I've had the pleasure of seeing.
The products nestled inside the dainty drawers will be a dream come true for any lover of fashion and premium beauty. A tiny bottle of J'adore Eau De Parfum and an iconic Rouge Dior lipstick are just two of the highlights.
You will also receive an exclusive Dior Snow Globe that is sure to be a cherished Christmas decoration in years to come.
Elemis 25 Days of Spectacular Skin Beauty Advent Calendar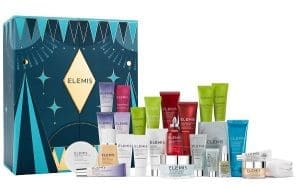 Price: £175 with products worth over £400.
Elemis skincare is a huge name in the spa industry and this beauty advent calendar will bring 25 moments of bliss into your life.
I enjoyed the shades of blue on the Elemis 25 Days of Spectacular Skin Beauty Advent Calendar box, a welcome change from a Christmas theme that would look great in most bathrooms.
I think we all know that sadly, this year, the party season won't be taking its usual toll on your skin over the festive season. But that doesn't mean it won't need the boost that products such as Frangipani Monoi Body Cream and Pro-Collagen Marine Cream will provide.
Dove Nourishing Beauty Advent Calendar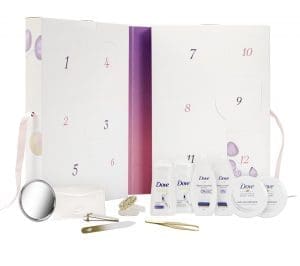 Price: £20.00 for 12 minis and pampering accessories
Not every woman wants to spend lots of money on a beauty advent calendar and this is an awesome price! Dove is a skin and hair care range who have been delighting their customers for years and this is another hit.
The Dove Nourishing Beauty Advent Calendar box is elegant and feminine and is filled with mini samples that will suit the skin and hair of most women and be a useful addition to a toiletry bag.
Personally, I love the ethos that Dove promote. Body confidence for women all shapes, colours and sizes. It's an inclusive brand who have decided that beauty advent calendars don't need to be costly or require a waiting list to purchase them.
Soap and Glory 24 Days to Roam the Foam Beauty Advent Calendar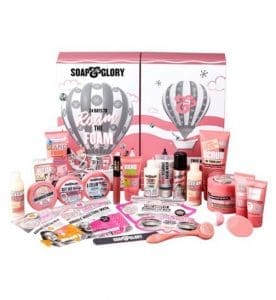 Price: £42 for 24 travel sizes, miniatures and beauty tools.
Soap and Glory is a fun brand with quirky names, innovative formulations and distinctive packaging. Their beauty advent calendar has always been a bestseller at Boots because the value it represents is amazing.
The pink, retro-styled box would look ace in a teenager's bedroom or pink themed bathroom and each individual tube, bottle and tub has a design to make you smile.
'Sexy Mother Pucker' is the star of this collection. It's a lip gloss which gives a non-sticky sheen and a volumised, bee-stung look.
You'll also be thrilled with the exotic coconut body scrub and 'Hand Food' a deeply moisturising cream that will keep your hands soft despite the gallons of sanitiser they have been subjected to. For me, the Soap and Glory advent calendar for 2020 is highly recommended for a great start to the festivities.