The big attraction for gifting someone one of the best wine Advent calendars for 2020, is that for those who love a drop they get to discover delicious new wines and vineyards.
So, these Advent calendars are educational for the wine lover in your life!
And with so much choice available this year, there are great options for finding the best wine Advent calendar for the person who will enjoy most.
There's also a growing number of prosecco and sparkling wine alternatives and we list some of them here.
Find new, quality wines
For wine lovers, an Advent calendar is an excellent way to enjoy a daily treat in the run-up to Christmas Day and the recipient gets to find new, quality wines.
From robust reds, to fantastic fizz and elegant whites, there's a wine Advent calendar to meet most tastes.
And if you are interested in a wine Advent calendar, then now is the best time to organise by buying one in time for starting the delicious wine countdown on December 1.
Don't forget too that part of the enjoyment that comes from a wine Advent calendar is to discover great new grape varieties, brands and also potential vineyards.
However, some of these wine Advent calendars come in large boxes so they can take up space but they all have a fetching festive design to help deliver that extra bit of Christmas cheer.
Best Christmas wine Advent calendars
Let's begin the Christmas.co.uk round-up of the best Christmas wine Advent calendars for 2020.
Virgin Wines Advent calendar
We really do rate the Virgin Wines Advent calendar 2020 very highly.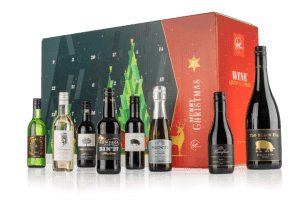 We also thought the wines on offer were interesting and helped to promote lesser-known varieties – and wine lovers not only get popular styles, but also the excellent Virgin Wines Black Pig offerings.
Most wine aficionados will know that Virgin wines introduced the first wine Advent calendar in 2016 and this year's offering is a good mixture of red and white wines, plus some sparkling choices.
There are 24 small bottles of wine – a great way to begin a countdown to Christmas Day!
It helps too that the Virgin Wines Advent calendar for 2020 has a choice of three calendars: there's a choice of all white, all red or a mixture of the two.
And this year, Virgin Wines not only offers 24 miniature bottles, but there is an award-winning full-size bottle of wine to enjoy on Christmas Day. This wine is worth £19.99.
As a result, the Virgin Wines Advent calendar comes in a heavy box so you will need to make some space for it under the Christmas tree.
The Virgin Wines Advent calendar for 2020 costs £89.99.
The John Lewis Wine Advent calendar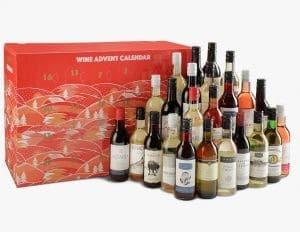 One of the front runners for the title of best wine Advent calendar 2020, usually sees the offering from John Lewis making the cut.
Firstly, there's no doubt that John Lewis understands how to deliver Christmas style for those who enjoy a tipple, and their latest wine Advent calendar is exceptional.
It costs £75 with wines including Pinot Grigio, Shiraz, Malbec and fruity merlots.
The Advent holiday is a rather cheerful Christmas red design, and the selection is really hard to beat.
John Lewis is also offering a 'Prosecco & Bubbly Advent Calendar' for £130. Fizz lovers get to enjoy sparkling wine and prosecco from the likes of Bottega, Freixenet and Laurent Perrier.
It's more of a comprehensive wine tasting offering for those who want to explore worldwide wines at a great price.
The John Lewis wine Advent calendar will certainly cheer up the wine lover in your life.
The Tipsy Tree Wine Advent calendar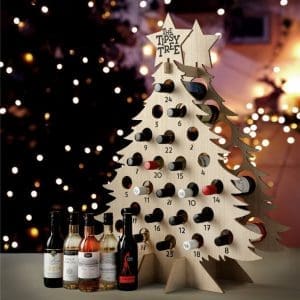 Perhaps the most stunning wine Advent calendar for 2020, is this excellent creation from First4Hampers – the Tipsy Tree Wine Advent Calendar.
There are 24 miniature bottles that have been carefully selected and the unusual Advent calendar also works as a Christmas decoration.
For us here at Christmas.co.uk, we think this Advent calendar makes for an ideal early Christmas present for the wine drinker in your life.
One of the big attractions for the Tipsy Tree Advent calendar is that it can be used year after year so may be of interest to those wanting an eco-conscious Christmas option.
The offering from First4Hampers also includes an all sparkly version for those who want to enjoy fizz at £125.
Indeed, along with sparkling wine, there's a nice selection of prosecco and the last offering is a Laurent Perrier Champagne to open on Christmas Eve. The bottles deliver enough to fill a champagne flute.
Every order also comes with a personalised gift card.
The First4Hampers Tipsy Tree advent calendar costs £85.
Laithwaite's Wine Advent calendar 2020
For those who enjoy quality wine, the Laithwaite's name is synonymous with delivering great wines and this year their wine Advent calendar is exceptional.
Wine lovers will be offered an Advent calendar that has been designed to look like a French château with 23 windows containing mini bottles of wine.
The Laithwaite's offering includes red and white wines, plus rose options.
The recipient also gets to enjoy a treat on Christmas Eve! That's when they get to open a 1/2 bottle of Didier Chopin Brut Champagne – it's hidden in the calendar's roof!
One of the big attractions for the Laithwaite's wine Advent calendar is that they are offering an interesting mix of wine.
So, if you're wanting to try something new in the world of wines, from Chardonnay, Rioja and Merlot, then this Advent calendar is certainly worth considering.
You will need to act quickly, since the Laithwaite's Advent calendar, which costs £69.99 usually sells out quickly.
Search for the best wine Advent calendars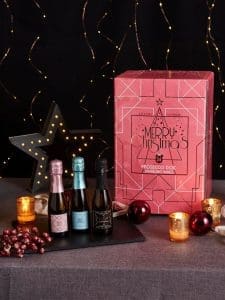 In our search for the best wine Advent calendars for 2020, we also need to mention:
The Aldi wine Advent calendar which proved to be very popular in 2019. It's available from November 1 and is packed with an interesting mix of white, red or rose from some of the best wine growing regions in the world.
Aldi is also offering a Prosecco & Sparkling Wine Advent Calendar for those who enjoy fizz.
More importantly, the Aldi wine Advent calendar costs just £49.99 which is a cracking deal for those who love wine.
Wine Advent calendar clock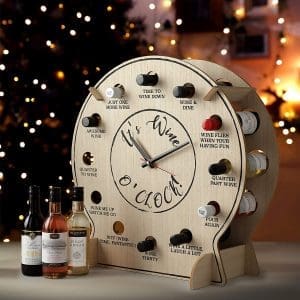 We were also taken by this Wine Advent calendar clock which is an unusual centrepiece and can be used around the year.
With some nice slogans, such as 'time to wine down' and 'wine past nine', this is a fun and attractive Advent wine calendar.
The ingenious design containing a lovely selection of wines in small bottles.
It costs £89.95 from Not on the High Street and Amazon.
There's also a wine and sparkling Advent calendar from Amazon with a nice mix of festive wines in a red Christmas design.
The lines are collected from vineyards around the world with some very tasty offerings including for JP Chenet, Calvet and Brut Dargent.
The Amazon wine sparkling Advent calendar costs £64.05.