You know the countdown to Christmas Day has begun when the Greggs Festive Bake makes a reappearance.
The bakery chain has confirmed that the much-loved festive delight will be re-released for 2020.
The Festive Bake is among several Christmas favourites that will be returning to the High Street this year.
Festive Bake will be back on the shelves
Greggs made the announcement on their Twitter feed – and fans have estimated that the Festive Bake will be back on their shelves from November 5.
The popular treat is made with pieces of chicken breast with bacon in a cranberry sauce along with a sage and onion stuffing – which is then stuffed inside a crispy pastry shell for everyone to enjoy.
There's no confirmation of how much the treat will cost, but 2019's version was just £1.50.
The teasing of the Festive Bake has also led to calls that the firm should create a vegan version.
Greggs already makes vegan versions of their excellent steak bakes and sausage rolls which have also proved to be popular.
Greggs festive food items
We are also still waiting to hear from Greggs what other festive food items they have planned for their Christmas menu.
A spokesman for Greggs said: "To say the least, 2020 has been strange. We want to bring a little taste of normal – one bake at a time.
"The much-anticipated Festive Bake will be back on the menu for November, and aside from uncertainty, we are pleased that customers will have something to look forward to."
And since the autumnal weather has begun, the bakers have also reintroduced their tasty pumpkin spice latte.
This is a seasonal coffee made with sweet pumpkin flavoured syrup, topped with sprinkles and cream.
Costa Christmas range for 2020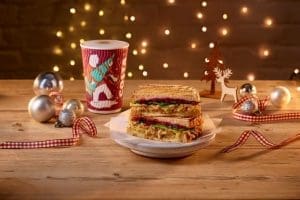 Other High Street favourites to unveil their festive delights is the Costa Christmas range for 2020.
They are offering new items from savoury to sweet, along with gluten-free treats.
The new menu will appear on November 3 and a lobster toastie – featuring lobster that has been responsibly sourced – that is topped with cheese and a rich bechamel sauce, and then wrapped in a malted bloomer with a parsley crumb.
Costa is also offering pork and Bramley apple sausage rolls and a British turkey with the trimmings toasted sandwich – a Christmas classic of turkey breast, maple-cured bacon, cranberry sauce and sage and onion stuffing.
There's also a vegan 'ham and cheeze' toastie, as well as 'Vegan Turkee' toasties.
Costa also have a new rich chocolate and hazelnut shimmer cake for chocolate lovers containing three layers of dark chocolate sponge, hazelnut and chocolate frosting with hazelnut and dark chocolate curls with a dusting of 'gold'.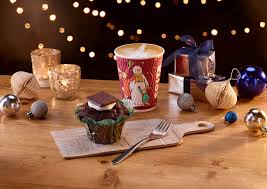 However, we love the sound of their new After Eight Muffin which is a chocolate muffin stuffed with a peppermint-flavoured sauce and topped with white icing and an After Eight wafer.
A spokeswoman from Costa told Christmas.co.uk: "Christmas is a magical time and we know that our customers this year are looking to us to help make the festivities that extra bit special.
"We are launching a limited edition Christmas food menu for 2020, which we believe is the best yet!"