Are you looking for Christmas trees that won't leave you feeling 'needled'? Then look no further than your local Christmas tree grower!
Supporting local businesses is a great way to give back in the festive season, and there are plenty of benefits to choosing a locally sourced tree.
The trees are freshly cut and will last longer, meaning that you can enjoy it for a full festive season.
Plus, buying locally means that nobody has to travel for miles in order to get your tree – which is better for the environment!
Issue of sustainability
This issue of sustainability is an important one as Lucy at Charlton Park Estate explains: "You can buy a Christmas tree from a huge variety of vendors now, chain supermarkets, pop up Christmas shops, garden centres, the side of the road or from a local tree nursery.
"Many of these outlets ship in cut trees from outside of the UK.
"Not only does that create a huge carbon footprint trail, but the chance is it's why your tree drops all its needles and looks more than a little sad by the time you reach Christmas Day.
"Locally grown freshly cut or potted trees are the most sustainable option."
She adds: "At Charlton Park Estate, we offer a range of tree sizes, three different varieties, freshly cut, potted or you can pick and dig-up your own.
"Options like this are the best for your environment.
"Potted trees will stay alive longer – you can plant them in your garden and admire all-year-round, and the dig-your own provide a fun and slightly different tree selection process – and a good work-out!"
'Experience of choosing your own tree'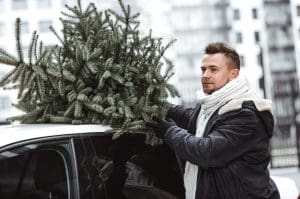 Adrian at Snowbirdchristmastrees.co.uk in Castle Bytham, near Grantham, told us: "We have three key points; freshness, the experience of choosing your own tree growing and seeing it cut down and the range of trees on offer.
"Oh, and we are a really friendly team who go the extra mile with a smile!"
Charlotte at Christmas Wrapped Up in Dunmow, Essex, said: "Come to us instead of a garden centre, you get the whole experience, wander in the tree plantation and take photos of the kids.
"People love seeing the tractors working and the netting machines. There's a jovial atmosphere and all the trees are standing individually so there are no surprises when you get home."
She adds: "This is an enjoyable environment and of course the trees are fresh."
'Fresh, locally sourced Christmas trees'
Richard at East Grange Farm in Durham told Christmas.co.uk: "We would say to shop with us over the high street as we have fresh, locally sourced Christmas trees.
"We know exactly which field ours are cut in and they are cut as close to the order being delivered as possible, which means that they are really fresh and really good quality.
"Some of the high street shops have trees which could have been cut a month already."
He adds that they also sell all of the extras that anyone buying a tree will be looking for, including stands, skirts, decorations, handmade wreaths and garlands.
Process of growing Christmas trees
The process of growing Christmas trees also supports a variety of wildlife.
From the birds which feed on the insects and berries found on the trees, to the bees which pollinate them, buying local means that you're helping to maintain a healthy environment for all.
So, this Christmas, don't be needled by your festive purchase – buy local and buy fresh!
Ask at your local garden centre or farm shop for trees that were grown in your area and give back to the community this festive season.
Your wallet and the environment will thank you!
Benefits of shopping locally for Christmas trees
Shopping locally for your Christmas trees this year has more benefits than you might think!
Not only does it help to support the local economy, but you can find varieties of trees that you wouldn't be able to find anywhere else.
For many people, this is also the perfect way to get into the Christmas spirit, support your local businesses and make sure you have the best tree in town.
So, this year why not take a break from online shopping or traipsing to big High Street outlets and visit your local Christmas tree seller? You just might be surprised at what you find!
How many great reasons do you need to shop locally for your tree? Let's see:
Supporting the local economy
Supporting the local economy is one of the best ways to ensure that your community can thrive for years to come.
By shopping locally for a Christmas tree, you'll be directly investing in your area's businesses and helping them to stay afloat in these difficult times.
So, do yourself and your community a favour this year and shop local for your Christmas tree – it's a win-win for everyone involved!
—oooOooo—
Most of us want to shop local this Christmas
As the festive season rolls around, many of us are planning our festive shopping trips with one thing in mind – supporting local businesses.
And recent research has found that an impressive 75% of Brits want to buy from independent shops and small retailers this Christmas, a figure that increases to 83% when it comes to millennials.
The findings from Smart Energy GB also reveal that 36% of us are happy to pay more when supporting local retailers.
And though many people are struggling with rising bills, 78% of those surveyed said it was important to shop local at Christmas.
Passionate about shopping local
It's great to see so many people passionate about shopping local and helping their communities – but why?
What has made us all so keen to show our support for independent retailers at this time of year?
For many, it's probably rooted in nostalgia.
Christmas is a time for traditions, and those special memories that come with visiting the same shops each year have a powerful impact on how we feel.
But it's not just sentimentality – there are practical reasons too.
Prices can be more competitive
Local businesses offer unique products that you won't find in the big chains, and their prices can be more competitive than online stores.
Plus, when you buy from a small business, you know that your money is going directly to someone in your community.
That's a great way to feel good about your Christmas shopping and give something back at the same time.
This year, why not join the millions of Brits who are choosing to shop small this festive season?
It could be the start of a wonderful new Christmas tradition!
And by making a commitment to shop local, you will be showing that you care and want to help keep independent businesses alive.
—oooOooo—
Finding lots of tree varieties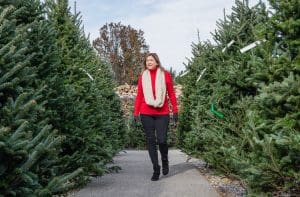 When it comes to finding the perfect tree, shopping locally is the way to go.
Local sellers often have an excellent selection of trees in all different shapes and sizes, and you can even find unique varieties that aren't available anywhere else.
From sweet-smelling pines to bright, colourful firs, you can find something special.
Delivery or collection options
Let's face it, it can be a festive comedy moment watching the man of the house – and it is usually the man – struggle with a tree slung over his shoulder as he then wrestles it into the car. Where it then makes a mess.
So, rather than having to grapple with the tree once you get it home, and having to clean your home, why not have it delivered?
Many of your local retailers will offer this service and you can even find a tree without leaving the comfort of your home.
All it takes is a few clicks and soon enough you'll have the perfect Christmas tree delivered right to your doorstep.
And because the supplier is local, you won't be racking up lots of miles for the tree to be delivered and keeping your carbon footprint low.
Exceptional customer service and advice
Another great benefit of shopping locally for Christmas trees is that you can get exceptional customer service and advice from the local retailers.
When you buy from a local seller, it's more than just a transaction – it's an experience. You get to spend quality time outdoors, hand-picking the perfect tree and making wonderful memories that will last a lifetime.
Not only do they have an in-depth knowledge of their products, but many are willing to answer any questions you may have to ensure that you get the best tree for you.
This personalised experience makes the entire process of buying a Christmas tree so much more enjoyable and convenient.
—oooOooo—
Buy your Christmas trees and accessories locally
There's a lot to recommend about buying your Christmas trees locally and the accessories you need – whether that's the skirt and stand or the fairy.
With so many outlets to choose from you could add to your festive cheer by visiting several outlets!
There are lots of farms and plantations around the country striving to deliver great Xmas trees – but there are also some very good independent garden centres too.
Here, British Garden Centres manage to attract Mr and Mrs Claus from their busy schedule to open their Christmas tree section – along with a very big Christmas tree decoration area too. There are some great ideas for festive décor here.
—oooOooo—
Price
Don't make the mistake of believing that by shopping locally that you will be paying more.
That's because many local retailers will offer competitive prices and great deals on trees of all sizes, so you won't have to worry about breaking the bank.
Plus, most local tree sellers are willing to work with their customers to ensure that they get the best possible deal for their budget.
Quality
When it comes to quality, shopping locally for a Christmas tree is an excellent choice.
Local retailers take great pride in their products and strive to provide trees with the best possible quality.
You can be sure that the tree you buy will have been grown with care and attention so that it looks perfect in your home.
Sustainability
Finally, one of the best benefits of shopping locally for a Christmas tree is that you can be sure that it has been sourced in a sustainable way.
Most tree sellers take great care to ensure their trees are grown responsibly and with respect for nature, so you can have peace of mind knowing that your tree is environmentally friendly. Not to mention, buying locally reduces your carbon footprint and helps to protect the planet.
Also, real trees are better for the environment. When you choose a real tree, you're making an eco-friendly choice and supporting sustainable forestry practices.
Plus, when it's time to take down your decorations, real trees can be recycled into mulch or compost or even used as wildlife habitats. We explain more about what you can do to recycle your tree after Christmas.
—oooOooo—
What types of Christmas trees are available?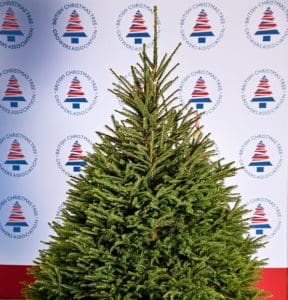 The timeless tradition of picking out a Christmas tree is one that is welcomed by many families.
In the UK, there's no shortage of options when it comes to choosing your festive evergreen.
Whether you're looking for something that's easy to maintain or one that's unique and special, there's a perfect tree out there waiting to be decorated.
Norway spruce Christmas trees
Let's start with the classic: a Norway spruce. This evergreen is one of the most popular Christmas trees in Britain due to its traditional shape, pleasant scent and relative ease of maintenance. Plus, it looks great with all types of decorations! The Norway spruce is a versatile tree – it is also the tree that is used for Trafalgar Square and 10 Downing Street. Perhaps the only downside is that if you don't look after the Norway spruce properly it will shed its needles.
·         Nordmann fir Christmas trees
The Nordmann Fir is a popular Christmas tree with UK buyers because of its dark green glossy needles and classic shape. The tree will hold its needles over Christmas so is a sound choice for most homes.
·         Fraser fir
The Fraser fir is a nicely shaped tree with branches that turn slightly upwards. They have a dense appearance and are not as wide as a Nordmann so are better suited for tighter spaces so you can enjoy the full, bushy look. The Fraser also has good needle retention, and its scent has a citrus note which helps it stand out.
Other great Christmas trees to consider to stand out:
·         Japanese White Pine
If you're looking for something more unique, why not try a Japanese White Pine? This tree has an exotic shape and soft blue-green needles; it's sure to make your holiday decorations shine!
·         Balsam firs
While it is a popular choice in the US, the Balsam fir is rare in the UK with only a few outlets offering them. The needles are dark green with a silvery look and offer a sweet fragrance. The upside is that the needles last a long time.
·         Douglas fir
Another tree that is quite rare but growing in popularity is the Douglas fir. They have a lovely fragrance with needles that are dark green to blue. For many fans, the fragrance of the Douglas is the best of all Christmas trees!
·         Grand fir
Still relatively unknown, these trees have dark, shiny green needles that have a citrus scent. The needles grow in two lengths on the tree to help deliver a fuller look to the tree.
·         Korean fir
A new variety for the UK's Christmas tree buyers it needles with a silver underside – and these curl, unlike other trees, so give a unique appearance. While looking like a Nordmann, the fragrance for the Korean fir is very different and its needle retention is impressive.
—oooOooo—
Buying a real tree and stand advice
Here's another video from British Garden Centres that shows their selection of real cut trees, how to choose one and how they wrap them in netting.
There's also a great item on how to use a Christmas tree stand for when you get your tree home.
As we have highlighted in this article, the real advantage to shopping locally for your Christmas tree is that you can get to speak with experts who will offer advice on buying a tree – and how look after it so you can enjoy it for the festivities.
—oooOooo—
Why buy real Christmas trees locally?
There's something special about having a real Christmas tree in your home to get you in the festive spirit.
Whether it's the smell of pine needles or the sight of twinkling lights, there's something magical about bringing the outside inside during this time of year!
So why should you buy a real Christmas tree locally?
First and foremost, buying a real tree locally supports local farmers and growers who work hard to provide beautiful trees for Christmas. By purchasing your tree locally, you're helping to keep these businesses in business and support the local economy.
But that's not all! Real trees are also much better for the environment than their artificial counterparts. Real trees are renewable, biodegradable and recyclable so they have a much lower impact on the environment than artificial trees.
Finally, buying a real Christmas tree from your local seller also ensures freshness and quality! Because these trees are cut closer to the day of purchase, you'll be sure to get one that looks beautiful and lasts throughout the festive season.
So, this year, why not make a difference by choosing a real tree from your local area? You'll be helping out a small business, doing your part for the environment, and getting a much fresher and better-quality tree than if you bought it from a shop. It's a win-win situation all around!  Merry Christmas!