Shopping for the perfect Christmas tree can be a daunting task. After all, you don't want to lug home a bad one only to have it look sparse and wilted within days.
To ensure you bring home a vibrant, healthy real Christmas tree that will last for the festivities, there are some tips you should follow when selecting one.
Christmas is a time of joy and celebration but finding the perfect tree can be a stressful experience – especially if you have never bought one before.
When it comes to buying a real Christmas tree, there are some key things to look out for to make sure you get the best quality tree possible.
Here are a few tips from the elves at Christmas.co.uk that will help you choose the perfect tree for your festive season:
·        Vibrant
Look for a full, vibrant tree that is not overly droopy or lopsided. A good Christmas tree should have a symmetrical shape and an even distribution of branches throughout the entire tree. Does it have an even spread of branches? A good quality tree will have a nice, even shape and plenty of room for your Christmas decorations. Also, is the trunk straight and sturdy? Make sure there are no weak spots or signs of rot that could lead to it collapsing if you try to move it.
·        Needles
Make sure to check for any dead or diseased needles on the tree. Look along the branches and between overlapping needles, as these are spots where disease can be found. If you notice any browning or discolouration, this could be a sign of disease and should be avoided. One good, quick test is to pull gently on some of the needles, if they come off easily or the tree looks dry and brittle, it may be too old.
·        Texture
Look for a tree with a smooth, supple texture to the needles. Needles should be soft to the touch and not too brittle or stiff. Why? A tree with vibrant green colour and fullness indicates that it is heavy with moisture and will last much longer than a dried-out tree. Avoid trees with high yellow or brown needle colouring as they are likely to have been cut down earlier in the season and have already started drying out. You can also test the freshness of the tree by bending a single needle between your fingers. If it breaks, then it's not fresh enough.
·        Shake
Shake the tree vigorously before buying it; if lots of dead or dried-out needles fall off, then this is an indication that the tree has been neglected and may not last very long in your home. Look for trees with green needles that stay firmly attached to the branches even after being shaken.
·        Spiders
Make sure to check underneath the tree for any pests such as mites or spiders that may have made their home in your new Christmas tree. If there are any creepy crawly things living inside, it is best to steer clear of that particular tree – you don't want these little critters to take up residence in your home!
It's also worth noting that your tree should have the base of its trunk trimmed by an inch or two before putting it in water. This will help the tree drink the water you provide. Check this has been done before taking your tree home – the supplier will usually trim the tree for you if it hasn't already been done. If not, this could be a struggle to do it yourself once you get the tree home!
After you have bought a tree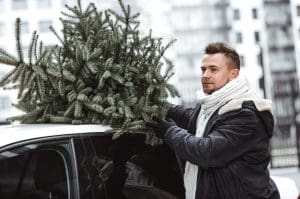 Once you've purchased your real Christmas tree, there are a few steps you can take to ensure its longevity throughout the festivities.
And that starts when you get your tree home.
Firstly, your tree will probably not have been kept in water while waiting for a buyer so you must:
Leave your tree outside
Place it in water for a day or two (keep an eye on the water level because trees drink a lot of water!)
Let it rehydrate.
After your tree has been rehydrated, you need to:
Take your tree indoors
Try not to decorate it immediately
The tree needs to 'acclimatise' to the warmer conditions
After a day or so, then you can decorate your tree.
Make sure that you water your Christmas tree regularly; most real trees can drink up to a litre of water per day – sometimes up to two litres – so make sure to check the tree's water level daily.
Keep your Christmas tree away from any sources of heat – such as an open fire or radiator – or direct sunlight, as this will cause the needles to dry out quickly and reduce the lifespan of your real tree. Be aware too that if you allow your tree to dry and leave it close to a heat source you risk creating a fire hazard for your home.
If you have pets in your home, make sure to keep the tree away from them as well. Cats and dogs are notorious for accidentally damaging real trees with their playful shenanigans!
And don't forget to vacuum regularly around the tree. Regularly hoovering the area around your tree to pick up any dropped needles will help keep it looking its best – and stop the spread of needles around your home!
The types of real Christmas tree available
Different varieties of Christmas trees have their own advantages and disadvantages, so do your research to make sure you're getting the right one for your needs. For example, some trees are better suited to a larger space or require more upkeep than others.
Fortunately, when it comes to choosing a real Christmas tree, there are various options for buyers available in the UK. They are:
·        Norway spruce
One of the most popular types of tree with British buyers is the Norway Spruce, which is known for its traditional shape and pleasant scent. These trees have good needle retention but you will need to keep it well watered. The Norway spruce has the conical shape that buyers want so their decorations look great when added. The tree has dark green needles – these can be spikey so be aware of you have small children or pets at home.
For more information about choosing a great Norway spruce, this video from the BCTGA will explain what you need to know:
·        Nordmann fir
The Nordmann Fir is also a popular choice. This tree has more glossy needles than other varieties, making it an excellent option if you want a tree with a longer lifespan. These trees are also slightly more expensive than other varieties, but they will last much longer if properly cared for.
If you would like to know more about selecting a Nordmann for, this BCTGA video will answer your questions:
While the Norway spruce and Nordmann fir tend to be the most popular trees for British homes, you can also find these trees to consider too:
·        Blue spruce
The Blue Spruce is another type of tree that is becoming increasingly popular. It has beautiful dark green needles and a pleasant smell which can fill your home with festive cheer. The downside of this tree is that it can be quite temperamental and may drop many of its needles if not handled correctly.
·        Fraser fir
The Fraser Fir is a great choice if you are looking for an aesthetically pleasing tree with a pleasant scent. It is especially popular in colder climates as its sturdy branches cope better with icy weather. It's also worth mentioning some other unusual tree types that are available with some tree retailers, including:
·        Korean fir
This is a new type of fir tree to the UK with silvery needles that curl uniquely – the colours and curling is quite alluring! It smells similar to the Norway spruce and Nordmann fir but retains its needles better – though it still needs to be watered every day. The tree's fresh pine smell fills any room it's placed in.
·        Balsam fir
Balsam firs have needles that last a very long time. They are quite rare in the UK, only sold in a handful of tree farms. This is a tree akin to a traditional American Christmas tree and has a dark-green appearance and retains its pleasing fragrance throughout the Christmas season. This is the perfect type of tree if you want to avoid pine needles dropping everywhere!
·        Noble fir
Noble firs have strong branches with long, blue-green needles. They are great for heavier ornaments and maintain their needle quality very well. The needles of this variety point upward, exposing the lower branches. The tree's scent is aromatic, and it is shaped more like a Christmas tree. Its elegant appearance makes it one of the most popular varieties grown commercially for Christmas trees. It has excellent needle retention and makes great wreaths and garlands.
·        Serbian spruce
Serbian spruce is a type of tree that typically grows in regions with limestone mountains and is mainly found in Bosnia and Serbia. One way to identify a Serbian spruce from others is by the glossy, dark green needles on the upper surface – while the underside appears whiter.
·        Douglas fir
The Douglas fir has a lovely scent with dark green needles. These needles have one of the loveliest aromas to help make your home smell like Christmas in no time!
You might need to shop around to find the ideal Christmas tree for your home but if you want to be different this year you will find suppliers willing to help.
Whichever tree you choose, make sure to follow the tips outlined above so that it stays healthy and vibrant throughout the festivities.
With a bit of care and some elbow grease, you can have a beautiful real Christmas tree that will provide lots of festive cheer for you and your family.
Great tips when buying a Christmas tree
There are other tips to consider when buying a Christmas tree, and they include:
Make sure the tree you choose is not too tall or wide for your space, as it may look out of place.
For this reason, it is important to measure your space accurately. We explain more about this and what you need to get exact dimensions.
Shoppers can measure the space where they plan to put the tree and compare it with the measurements of trees available. This can help ensure that the chosen tree looks just right in your home.
Also, don't forget to check the height of your ceiling because you will need to account for the stand and a topper, such as a fairy.
How to recycle a Christmas tree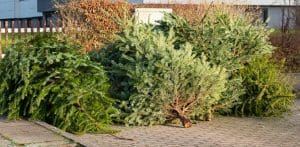 Recycling your Christmas tree is not only easy but it's also a great way to help the environment. Here are some tips on how to recycle your Christmas tree:
Don't just dump your tree by the roadside in the hope that the local council or a good Samaritan will pick it up and dispose of the tree for you.
Start by removing all decorations, such as lights and ornaments, from the tree before disposing of it. This will help make the tree easier to recycle.
Check your local council's website to find out where you can take your Christmas tree for recycling. Some councils may even offer collection services or special drop-off points for Christmas trees.
Many waste tips will accept drop offs of Christmas trees on site, so it's worth checking to see if this is an option near you.
If possible, try to avoid throwing away your Christmas tree as this will add to the amount of waste ending up in landfills. Instead, look for a recycling centre that can turn it into compost or mulch so that it can be reused in gardens, parks or public spaces.
After recycling your Christmas tree, don't forget to recycle all the other items that come with it, such as cards and wrapping paper. This will ensure that these materials are disposed of responsibly.
By following these simple tips, you can easily take part in helping the environment by recycling your Christmas tree. Not only is this a great way to protect the environment, but it is also an easy and convenient way to dispose of your tree responsibly.
So, take some time to recycle your Christmas tree after the festivities and make a difference!
Tell the difference between a good and bad Christmas tree
Choosing the perfect Christmas tree for your home doesn't have to be a chore! With these simple tips, you can find a beautiful and lively tree that will last for the festivities.
Just remember to keep it hydrated and away from heat sources.
Finally, always remember to dispose of your Christmas tree responsibly, either by taking it to your local recycling centre or composting it in your garden.
Following these simple steps will help you choose the perfect Christmas tree for your home and ensure that you get maximum enjoyment out of it during the festivities.