Are you getting ready to deck the halls for the festivities? If so, it's important to remember that planning ahead is essential for making sure your decorations look perfect and this Christmas decoration tips will help.
From budgeting and buying your decorations, to arranging items for maximum impact, having a plan will help ensure that your home looks festive and beautiful in time for Christmas.
And, with the right plan in place, you can create a festive atmosphere that will have your family and friends feeling merry and bright!
Here, the Christmas.co.uk team offer some important tips on why planning ahead for decorating during the festivities is so crucial.
Why planning is crucial for Christmas decorations
Planning for Christmas decorations is crucial for ensuring that everything goes smoothly. A well-thought-out plan can help:
Save time
Save money
Prevent stress.
Christmas decoration planning can also help to ensure that you get everything done in time and meet achievable goals. You will need:
A vision of what you want your finished room or project to look like
A timeline for completing each task so that everything gets done
Know which materials are needed for each task – we explain more about this below
Have the relevant tools for success – if you need a stepladder then buy one – don't risk balancing on a stool!
As part of the vision process, you will need to consider colour schemes, room sizes and how much your budget will extend to. It's to get carried away when trying to create the perfect festive environment for family and friends.
—oooOooo—
Prepare and plan for Christmas
This video from Angela Braniff helps explain why being prepared and planning decorations before going out to buy them is key. Everything is covered here and the process from getting your ideas down on paper.
There are also tips to wrap Christmas presents effectively – and being organised will help. There are tips for those families who want to undertake 'elf antics' for their Elf on a Shelf activities.
We also liked her recommending ideas that worked in the year before. Angela shows how to use a planner effectively and offers a Christmas planner for free!
—oooOooo—
Tips for getting started with your Christmas decorating plan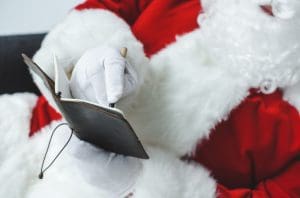 When planning for Christmas decorations, it is important to get organised and plan ahead. Proper planning ensures that the process of decorating goes as smoothly as possible. Follow these Christmas.co.uk tips for decorating success:
Create a list of what needs to be done
Consider any tasks such as shopping for decorations
Think about seasonal trends when creating your decoration design
Make a list to stay organised
Put together a timeline so tasks are completed efficiently
Take measurements of spaces that need to be decorated
Plan out the final layout or design accurately
Decide which decorations will fit best – take pictures of the space to better visualise any design ideas.
Essentially, getting started with your Christmas decorating plan is an essential part of the process.
That's because taking the extra time to create a list and take measurements ensures that all tasks in the process will be completed correctly and efficiently.
And, with careful planning, you can have a beautiful festive display in your home in no time!
Ensuring all necessary items are on hand
When planning for Christmas decorations, it is important to ensure that all the necessary items are on hand before you start putting your vision together.
So, you will need to gather and buy all the materials needed in advance so that when it comes time to decorate, everything is ready and available.
For example, if you plan on hanging lights around your home or garden, make sure to have:
A ladder
Extension cords
Extra bulbs (just in case!).
If you plan to make a wreath or other decorations from materials such as pinecones and holly, make sure you have the correct tools and supplies ready beforehand. This is a crucial undertaking since you plans will need to work with the materials you have – rather than planning and then struggling to find the materials you need. This could be an issue if you want pinecones, for example, and there are no pinecones on the ground!
In addition to having all the necessary items, it is also important to plan to ensure you are using the right materials. This means researching different options and choosing items that are safe and durable.
For example, if you want to hang lights around your home, make sure to select lights that have been safety tested and rated for outdoor use. The Christmas.co.uk team have done this research on selecting the best indoor Christmas lights for you!
Using a budget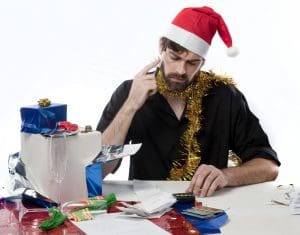 Another important issue when planning is to use a budget, so you stay within your means and don't overspend on decorations.
This element of planning will also allow you to purchase items in advance so that when the time comes to decorate, everything is ready.
When creating your budget, you'll need to consider the specific decorations you need and the estimated cost of materials and supplies. You can also use online resources to compare the prices of different items so that you get the most for your money.
Also, if any items are being reused or repurposed for decorations, make sure to factor in any related costs such as paint if you need to freshen an object.
In addition to creating a budget, it is important to remember that Christmas decorations don't have to be expensive. There are plenty of cheaper alternatives such as using paper snowflakes instead of plastic ones and making your wreaths and garlands out of natural materials.
—oooOooo—
Christmas decoration tips – planning and decorating
Here, Lara Joanna Jarvis shows how she goes about planning and getting ready for decorating at Christmas time.
And why she is in a larger home why they need a second Christmas tree and how she plans for the decorating phase. There are also some useful tips on how to save when buying Xmas decorations (there is some paid promotion).
And in this video, Brittney Blane shows the depth of preparation she goes into when planning for her Christmas decorating schedule. It's an impressive binder of notes, dates and details she uses…
—oooOooo—
Setting aside enough time
When deciding on how to decorate your home for Christmas there's also the issue of running out of time to complete your vision. Again, the issue of the vision is an important part of the planning process. While you want to create an impressive festive display, don't be over-ambitious and find yourself regretting the project you start because the plan was simply too big (or too expensive!) to pull off successfully.
When searching for Christmas decoration tips and planning, remember to set aside enough time for your project as this will save you a lot of stress and frustration. This is especially true if you are planning to do any crafting or DIY decorations. Don't be shy about adding more time than you think a particular part will take, for example, stringing fairy lights around your bannister.
You will need to create a schedule so that everything gets done in the allotted timeframe and that no elements of the decorating process are overlooked.
Along with setting aside enough time, you will need a plan effectively so that you don't run out of energy mid-project. This means taking regular breaks and allowing yourself enough rest between tasks.
And don't forget to factor in any extra help needed when planning your schedule and timeline.
It's also important not to lose sight of the fact that putting up Christmas decorations should be a fun and enjoyable experience rather than a burden!
Choosing materials and supplies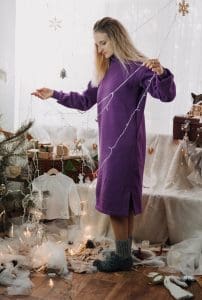 Taking the time to research materials and supplies will pay off as it can help to save time and money.
When selecting materials, make sure they are of high quality and safe to use.
You should also look for items that are easy to store so they don't get lost or damaged after you take them down.
And you will need to choose decorations that fit with the overall aesthetic of your home.
In addition to materials and supplies, consider any tools or equipment that may be needed for installation or crafting decorations.
Make sure they are easy to use and can handle the job at hand.
You should also factor in any related costs such as batteries or extension cords when budgeting for your Christmas decorating project.
—oooOooo—
Start planning Christmas in July …
As Christmas decoration tips go, this next one might seem strange. But if you want to see how someone plans for Christmas in July – and how they store everything from the year before so it is easy to find, then this video from Crystal Tara is for you.
It involves decluttering, organising Christmas decor and shopping for new items to decorate a home.
Also, buying decorating items in the New Year sales is also a tactic to consider – it not only saves money but makes the planning process easier because you know that you have new objects to incorporate not your vision.
—oooOooo—
Taking the time to properly design and arrange each item
Take the time to consider colour, texture and the overall arrangement of what your finished project will look like – this will pay dividends and create a beautiful and cohesive display.
When designing your decorations, you'll need to consider any seasonal trends or colour palettes that will help create a cohesive and attractive look. Then you should pay attention to the placement of each item and how it relates to other elements in the space.
In addition to considering design elements, you will need decorations that fit with existing items or the architecture of your home. This will add depth and detail to your decorations and give them a professional and polished look.
This is also the point to consider adding personal touches such as family heirlooms or sentimental items for a truly unique look.
Essentially, when it comes to Christmas decoration tips, taking the time to properly design and arrange each item is an essential part of planning for Christmas decorations.
Christmas decoration tips – storing materials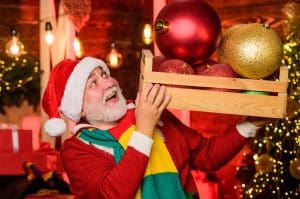 Another issue for Christmas decoration tips is that when you plan your festive decor you will need to know what you have in storage and WHERE those items are!
So, when planning this year consider the storage issues for the materials and supplies you buy. Proper storage can help protect decorations from damage or deterioration over time – and save money.
When storing materials, choose a space that is dry, cool and away from any heat sources. Additionally, use containers such as plastic bins or baskets for easy organisation of stored items. If possible, opt for clear containers so you can easily see what is inside and find items quickly.
Also, make sure to properly label stored items so you can easily keep track of all your decorations and supplies, making it easier to locate them when they are needed.
It's also a good idea to sort items by type to help make the process of finding items even easier.
Shopping for decorations
When planning for Christmas, you will need to plan to shop for decorations, so you buy the right items – and in the correct quantities.
As mentioned earlier, the New Year sales are a prime opportunity to bag a few bargains when decorations a heavily discounted. This also means having an idea of what you want to do for the follow festivities – you may, for example, have be inspired by visiting someone else's home or have seen something on TV.
When shopping, make sure you know exactly what you want beforehand by creating a list of the items.
Then consider budgeting and shop around for the best deals – researching online can help save time and money when purchasing decorations.
In addition to researching prices, you should consider any special needs or accessories that may be required. For example, if purchasing outdoor items such as lights or inflatables, make sure to buy the appropriate power cords and adapters.
Setting up decorations
As part of your planning schedule, you'll need to allocate time for the setting up of your festive decorations. This will ensure that the design and arrangement of decorations are carried out efficiently.
When designing a layout, consider the space available and any furniture or obstacles that need to be worked around.
You will also need to plan where each item will go before setting up. This can save a great deal of time and effort.
While many of us won't go to the trouble of measuring the space, it might pay off if you have a lot of decorations or large ones you want to incorporate into your design. This process will mean having rulers or measuring tapes, so you know that your decorations are placed accurately.
If you want to learn more about how professional Christmas decorators plan and tackle a festive project, then read on!
—oooOooo—
The first step to successful decorating is planning
There is some great advice from Ongar-based At Last Events who are expert Christmas decorators as well as making creative displays.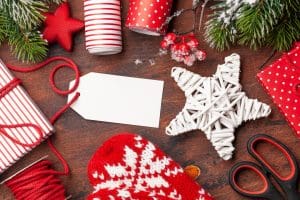 They say the first step to decorating any home or business successfully is planning.
You need to know what space you want to fill, as well as what decorations you currently have – from there you can then pick a colour theme and scheme to work with and then determine if you need to purchase other items.
Sharon Creates-Webb, the owner of At Last Event, told Christmas.co.uk: "When it comes to decorating our clients' properties, we work with the colour schemes of the home, brand or if there is a particular colour scheme the client desires, we consult with them to produce the most cohesive and complimentary theme possible.
"As for trending, we're seeing traditional is making a comeback.
"People are wanting the holly and the ivy look. Candy canes are also extremely popular at the moment, so we incorporate those into our red and white schemes."
'Add a real, warm cosy atmosphere'
She added: "Another way to add a real, warm cosy atmosphere to your decorative displays is going natural.
"We go foraging prior to our dressing stage. That means getting on the welly boots and going hunting – pinecones, wheats, pheasant feathers, all of these are great options for adding textures to your decorated garlands.
"We spray paint in the chosen colours so that it keeps the cohesive feel of the display."
Sharon continued: "However, if you're opting for the popular traditional scheme, keep au naturel.
"So, to start, let's focus on the home.
"The first thing that says 'Wow' instantly is decorating the doorway exterior – this is the first thing your guests see and sets the stage for the rest of your home.
"They say that first impressions are key so if you can dazzle them before they step foot over the threshold, you're already on top."
When it comes to decorating inside the home
She says that when it comes to Christmas decoration tips for the home, there are a few steps to take before you pull out all the decorations from the attic.
Sharon explains: "If you have any pets, get them cosy in a separate room and close the door.
"The last thing you want is to be spending hours untangling your pooch from the lights after they've run off them, or worse, having to buy more because they've chewed through them.
"Children – get them involved, age dependant of course! But the more they can help, the more they will appreciate how special the decorations are and get excited by all Christmas magic coming together."