Christmas decorations can be a great way to add festive charm and cheer to your home, but it is important to remember the do's and don'ts of Christmas decorating to ensure you create an appealing look without overdoing it.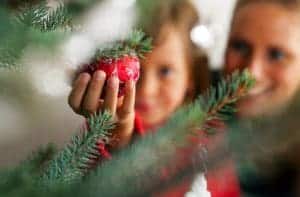 This advice includes useful tips on the best way to decorate including colour schemes, balance and proportion.
There are also suggestions for decorating different rooms in the home; cost-saving ideas; and safety considerations.
We will also offer some important do's and don'ts when it comes to Christmas design, such as not overloading the space with decorations, avoiding garish colours and ensuring that any electrical decorations are secured safely.
By following these tips, readers can create a festive atmosphere in their home without compromising on safety or style.
The benefits of following the Christmas.co.uk decoration do's and don'ts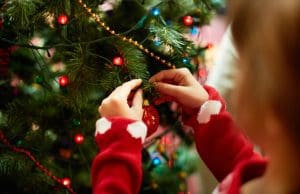 Following the do's and don'ts of Christmas decorations can help ensure that your festive season is filled with festive, joyous moments.
Doing it right will result in a display that showcases your personality, creativity, and taste.
It will also make sure your family and friends feel the warmth of the season.
And by following these tips, you can also save time and money as you won't have to purchase lots of new decorations each year.
Finally, adhering to the do's and don'ts ensures that your festive decor remains elegant, classy and timeless.
Such a display can be appreciated by all and will become part of the family's holiday traditions for years to come.
—oooOooo—
DIY Christmas decorating tips
In the section below, we look at getting the colour, balance and proportions right when decorating.
And sometimes it is easy to forget that creating striking festive decorations doesn't have to be expensive – you can create your own on a small budget.
This American video from Hometalk illustrates this really well. The video sprints through a lot of interesting – and easy – DIY ideas. Not all of them will be suitable but there are some very visually impressive projects, including a smashing idea for a doormat and an easy way to make a stylish wreath. You can learn more here:
We were also impressed by this video from DiYBigBoom that also shows 10 great homemade festive decoration ideas. Again, there are some surprisingly ideas to do at home – and you'll end up with stylish decorations that no-one else will have:
—oooOooo—
Decoration tips: Colour, balance and proportion
When decorating your home for Christmas, it's important to keep in mind certain design principles. This will help you create a unified look that is pleasing to the eye and appropriate for the festivities. Here are some tips:
Choose colours that coordinate well. That means opting for two or three colours that complement each other and use them consistently throughout your decorations. By using just two or three colours you will help create a unified look that will be pleasing to the eye. When picking colours, think about the overall atmosphere you want to create. For example:
If you are decorating for a traditional Christmas, go for red and green or blue and silver.
If a modern look is more your style, try bold colours like bright pink or purple.
Or choose colours that represent the season, such as white snowflakes, gold stars, and icy blues.
Balance is key. Decorate in a way that creates an overall sense of harmony and balance. This can be achieved in several ways, such as varying sizes or shapes of decorations or mixing up styles. For example, if you have a large wreath with bright colours, choose smaller, more muted ornaments to hang around it. Or if you have a variety of different decorations, group similar items together to create a balanced look. Additionally, pay attention to the scale of each decoration – make sure that they are sized appropriately for the area.
Pay attention to proportion. Avoid overwhelming the space with too many decorations, and make sure that each one is sized appropriately for the area.
Be creative. Feel free to mix up styles and colours for an eclectic look – just be sure that it all works together in the end.
Add Personal Touches. A great way to make your Christmas decorations unique and special is to add personal touches. Whether it's a handmade ornament, family photos or a sentimental card, these little touches will make the decorating experience even more special. You can also add personal elements to your decorations by adding personalised messages or details that reflect your family's traditions and values. For example, if you celebrate a particular holiday each year, why not add an ornament that reflects this? By adding personal touches to your decorations, you can ensure that each item is special and meaningful, creating a festive atmosphere that is uniquely yours.
Keep safe! An important factor to remember when decorating for Christmas is to keep it safe. Make sure all of the decorations are secured properly and out of reach from small children or pets. Additionally, any festive lights used should be CE or BSI Kitemark approved and checked for frays or other damage before being plugged in. By taking these simple safety precautions, you can ensure that your decorations are enjoyable and safe for all.
Planning: Planning your decorations first will be a big help. Some will be tempted to add lots of decorations because they love that style, others won't. (See below where an expert Christmas decorator says that this is a great opportunity for maximising your space for decorations). Be wary though of the space that you have – you still have to move around and use the room you are decorating. In some cases, having too many decorations can create a cluttered and chaotic look that may appear to be overwhelming. Instead, start by focussing on the key pieces you want to feature in your decorations and build around those. Start with the largest piece – like a tree or wreath – and then add in smaller items like ornaments, decorations, and lights. Remember, in most homes less is more when it comes to decorations; by keeping things simple you can create a festive atmosphere without overloading your space.
—oooOooo—
Christmas decoration tips – the do's and don'ts from the experts
We spoke to the Christmas decoration experts from At Last Events in Ongar in Essex about their advice when it comes to the do's and don'ts.
Here, Sharon Creates-Webb, the company's owner, told us: "So, now you have the preparations in order, it's time to get down to the do's, don'ts, tips and tricks."
This is what Sharon's years of experience in helping clients decorate for Christmas recommends:
Do overdo it. The well-known phrase 'less is more' should be thrown out in this instance – the maximalist mantra should be your approach with decorating garlands and the tree. No one wants to see a stark tree looking sorry for itself so the more you add, the more luxurious your results will be. Remember to stick to a set amount of similar themed set pieces and use plenty of them. Among our themes is a candy theme, filled with canes, gingerbread men, pinecones, red berries and feathers – what a sweet delight!
Stay away from multi-coloured lights – they're a bit of a faux-pas in the Christmas decorating world. Warm white with 10% twinkle is our go to for a more refined, cosy feel.
Don't be scared to go DIY – if you've got a collection of old baubles that you just can't stand the colour of anymore, give them a new lease of life with spray paint or use a paint pouring technique to add elegant patterns (we find acrylic or poster paint to work best and a hair dryer can then add rippling if you want to try a textured look).
Cinnamon powder is your friend! Collect pinecones, dust them with cinnamon powder and display in a beautiful festive bowl with some freshly pricked oranges for the centre piece of the table. You can even add cinnamon sticks into the mix to really spice things up. If you want to add the scent throughout the home, you can spritz cinnamon oil on the tree and garlands too. The warming fragrance will be a delight of the senses for both you and your guests. What better way to capture the essence of Christmas!
—oooOooo—
Tips for decorating different rooms in the home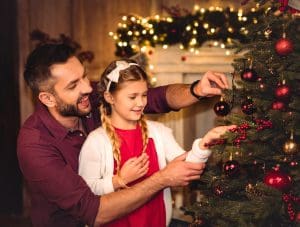 No matter which room in the home you are decorating, certain tips can help make it festive and inviting. Here are some suggestions to consider when decorating different rooms in your home:
Living Room: When decorating the living room, remember to keep it simple yet festive. Start by adding a statement piece like a tree or wreath and then add in smaller pieces such as lights, garlands and ornaments. Add some cosy touches like Christmas cushions or throws to complete the look. If you have a fireplace, don't forget to add greenery and decorations around it for added warmth.
Bedroom: The bedroom is the perfect place to keep Christmas decorations simple. Hang a festive banner above the bed or hang some twinkle lights on the wall. You can also add a small tree or wreath to the space. Choose decorations with warm tones and festive textures like velvet. A small tree or wreath can be used in this space as well.
Kitchen: The kitchen is one of the best places to show off your creative side when it comes to Christmas decorations. Look for decorations with a culinary theme like gingerbread houses or cookie cutters. Add some string lights and ornaments to the cabinets and walls for a festive touch. If you have extra counter space, consider adding a mini tree or garland for an extra bit of holiday cheer.
Bathroom: Stand out from the crowd and decorate your bathroom this year! Consider a wintery theme and hang some snowflakes from the ceiling, add candles of various sizes, and include festive touches like small wreaths or figurines.
Hall/Staircase: Halls and staircases are a great place to show off your Christmas decorations. Hang festive garland, tinsel and ornaments from the bannister. Consider adding a decorative touch such as a festive banner or wreath at the top of the stairs. For a more subtle touch, string up some twinkle lights or place candles around the area for a lovely ambience.
Christmas decorations: Cost-saving ideas
Decorating for Christmas doesn't have to break the bank. Here are some cost-saving ideas that can help you get into the festive spirit without spending a fortune:
Shop around for cheaper decorations at discount stores, online retailers or secondhand shops.
Reuse items from last year, such as lights and decorations. This includes repurposing items, such as mugs or ornaments, for a new life!
Avoid expensive items like large trees and instead opt for smaller ones or artificial ones that can be used again next year.
Use natural elements like pinecones, branches, berries and leaves to decorate your home.
Make use of what you have: draw festive pictures on windows, or use everyday items like mugs, plates and glass jars to hold candles and ornaments.
No matter which room you're decorating this Christmas, these tips can help you get into the festive spirit without breaking the bank.
—oooOooo—
Fixing your Christmas decoration mistakes
The idea of providing readers with Christmas decoration do's and don'ts is to avoid making mistakes. But what happens if you do?
That's the premise of this video from House of Valentina who illustrate some of their don'ts with some horrendous scenes, how to correct them and re-using items every year.
We also liked this video from SugarPuffAndFluff which offers some great tips on decorating your home at Christmas. The presenter also shows how she stores her items every year, so they are easy to find when she needs them. There are also good ideas for colour themes – and that you are decorating your home at Christmas for yourself, so whatever you fancy, goes!
—oooOooo—
Keep in mind safety issues
When decorating your home for Christmas, it's important to keep safety in mind. For example:
Fire retardant: When decorating your home with Christmas decorations, always opt for flame-retardant or fire-resistant items. This includes lights, garlands, tinsel and other decorations that may come into contact with heat sources such as candles or fireplaces. Look for any labelling on the packaging that indicates whether an item is flame-retardant or not.
Don't overload electrical outlets: When using electrical decorations such as lights, be sure to not overload the outlets. Don't use too many extension cables or power strips and make sure that all cables and wires are properly protected from wear and tear. If your home has an older wiring system, consider having it professionally inspected before adding any additional decorations to ensure that it can handle the extra load. Also, make sure all lights are turned off when you're not at home or when you go to sleep.
You also need to ensure that decorations are kept out of reach of children and pets and inspect any toys or decorations before using them.
Lastly, be aware that some types of decorations can contain hazardous materials, so always read labels before purchasing and assembling them.
Christmas decoration tips – the do's and don'ts
With the right advice, anyone can create a festive atmosphere in their home to help them enjoy the Christmas season.
And by following these Christmas.co.uk tips on colour, balance and proportion, you will have a home to impress.
The do's offer a great way to deliver a seasonal theme with style, and the don'ts show how to avoid a clashing design – and keep everyone safe.
There's a lot to consider when decorating at Christmas but the main aim is to create a cosy atmosphere for you and your family to enjoy