These tips on choosing an artificial Christmas tree from the Christmas.co.uk team will help you navigate what can be a tricky process in selecting the right tree for you and your home.
While many of us will want to install a real Christmas tree for the festivities, others may not have the space or inclination to buy a tree that they have to water and care for.
And then have to recycle after Christmas.
Instead, you could invest in a quality artificial Christmas tree that will last for years and bring joy and delight whenever it's put up in your home as you decorate the tree with family or loved ones.
Finding the perfect artificial Christmas tree is complicated by the type of tree that is available; these include pre-lit trees, tabletop trees, snow-covered trees, traditional green trees and pre-decorated trees.
You also need an artificial creation that has a lot of tree branches that look authentic and will hold your Christmas decorations and make them look great.
Whether you put your artificial Christmas tree in your living room, hall or even a bedroom, these tips on choosing the one that is right for you are worth checking before investing.
OOOOOOOOOOOOOOOOOOOOO
Here, Phil and Holly on This Morning look at the range of artificial Christmas trees available including new pop-ups and alpine designs. The video covers the other types of trees available, including Balmoral pine and those with cones and berries added. They also look at the option of rainbow trees, parasol trees and half trees, as well as quirky and fabric trees.
OOOOOOOOOOOOOOOOOOOO
The advantages of buying an artificial tree
There are a range of reasons why buying an artificial Christmas tree is a better choice for many people than buying a real tree, and the reasons include:
You can reuse your artificial Christmas tree for many years – which makes it a cost-effective choice
You won't have to deal with needles that drop and need to be cleaned up
Your tree will need very little attention, such as not having to add water or groom it
Artificial Christmas trees are easy to set up – particularly with hinged branches since these just need to be 'fluffed' into position (though this process of getting the artificial tree's branches 'just right' can take longer than you think!)
Your tree will be easy to store, and you don't have to recycle it after the festivities
Artificial Christmas trees are easier to transport since they come in boxes that are easy to carry and you won't have to strap it to the top of a car
Your artificial tree will make it through Christmas without looking tired or have brown leaves by Christmas Day
They come in various sizes to suit the space or your needs.
Artificial Christmas trees are also hassle-free if you don't have the time or inclination because you can buy pre-decorated or pre-lit trees to enjoy.
What to look for when choosing an artificial Christmas trees
As with real Christmas trees, you can buy quality artificial Christmas trees online or visit various stores to find the one that will best meet your needs.
There's also less of a gamble being taken because you can see the tree in the store before buying it.
When buying a real Christmas tree, if it has already been netted, then you may be disappointed when you take the netting off and it looks bedraggled.
There's no doubt that decorating a Christmas tree in your living room is a popular family ritual because you get to spend quality time being creative and adding decorations that hold fond memories for you.
And with an artificial tree, there's no need to worry about falling needles or having to regularly water it.
So, here are some tips when choosing an artificial Christmas tree that you should bear in mind:
Artificial Christmas tree size
Artificial Christmas trees are available in a range of sizes, from small ones that will sit on a table or a sideboard, or much larger ones to dominate your living room. You should take account of the space where the tree is going and then appreciate how it will be set up. Larger artificial trees are more difficult to manage and move and also take more time and effort to decorate. Remember too that height is as important as the width and you'll need the space available for when you put the tree up. It's also worth appreciating that you will be adding a tree topper, for example, a stylish fairy or a star, so you need to take that into account when measuring the height between ceiling and floor. Artificial trees are available from retailers measuring from 3ft to 15ft in height, but most people opt for a 6ft or 7ft artificial tree.
Artificial Christmas tree shape
The next most important consideration is the artificial Christmas tree shape. The manufacturer will be trying to mimic in some way an evergreen tree's shape and appearance so you should decide on the shape you would like your tree to be. You can choose a tree shape that matches your decorating ideas, so yours could be straight and thin or you could opt for the larger fluffy versions with lots of branches.
Pre-decorated artificial Christmas trees
To save you time and trouble, you can buy pre-decorated artificial Christmas trees. This means the tree will come with the lights already attached and arranged. Some manufacturers will have tree lights that flash or change colour. You need to appreciate that you won't be able to move or take the lights off the tree, so you need to live with what you buy. Some of these trees will have artificial berries and pinecones already attached and some will have some nice decorations added too. These trees are also available with a flocked appearance, so they look as if they have a covering of frost or snow.
Artificial Christmas tree branches
When you buy an artificial Christmas tree, the branch types are usually hooked or hinged. With a hinged branch, these are attached permanently to the tree and are easily folded when you take the tree down after the festivities. A hooked branch will not be attached permanently to the tree trunk, and you'll need to put them on when setting your tree up, and then unhook them when taking the tree down. You'll find that on high quality artificial Christmas trees, the manufacturer will tend to use hinged branches to make putting up and taking down much easier. Hooking branches onto a Christmas tree will take longer and can be a fiddly experience.
Artificial Christmas tree materials
There are two types of artificial Christmas tree materials, and they are PE, which stands for polyethylene, and PVC. Both have their benefits and if you want an artificial tree to remain green, then PVC is the main choice. This material is also safer and fire resistant though the branches tend to look more artificial than PE ones. That's the big difference with PE because the tree's needles will have a better sculpted quality and look authentic. If you want realism, then an artificial Christmas tree made from PE would be a better choice. However, some trees come with a mix of both materials and do look very realistic because they look fuller. You may also find that when looking close-up, artificial trees made from PVC resemble short green tinsel – while the polyethylene trees resemble realistic-looking tree. Indeed, with polyethylene, the plastic has been pressed to have the mass and thickness of a real tree.
Artificial Christmas tree styles
One of the advantages of choosing artificial Christmas trees is the range of styles. You simply choose the style of tree that you prefer so you could choose a green tree because it looks organic and natural and resembles a traditional Christmas tree. Or you could opt for branches that are covered in snow, these are called 'flocked' Christmas trees, or you could choose aluminium or tinsel covered artificial trees. These were popular years ago, but they are enjoying something of a nostalgic comeback and are great trees for reflecting your indoor Christmas tree lights. Alternatively, you could consider a coloured tree and they come in a range of unusual colours including white, blue and pink.
There are other considerations when choosing an artificial Christmas tree including the number of 'attached tips'. This may indicate a better quality of artificial tree because the higher the number, the better the tree's quality tends to be. However, some manufacturers deliberately have a low branch tip count to expose the trunk which some people prefer.
You could also consider buying an artificial Christmas tree that has an attached stand because you don't want your tree to fall over to injure someone or break expensive much-loved decorations. Some manufacturers will add a cheap plastic stand and you should consider using a metal stand.
If your artificial tree doesn't come with a stand, then this is a great opportunity to invest in a quality stand to create a strong and sturdy artificial tree that won't fall over.
You can also buy a Christmas tree skirt that will cover the plastic or metal stand and help create a more authentic look for the tree.
OOOOOOOOOOOOOO
This video sees the presenter unboxing a pre-lit artificial Christmas tree from the supplier, Balsam Hill. It's a 7ft creation with 700 LED lights already attached – experts say that you should aim to have at least 100 lights for 1ft of tree.  She compares this tree with the one she has had for 20 years – which still looks great!
OOOOOOOOOOOOOO
Choosing an artificial Christmas tree
When it comes to choosing an artificial Christmas tree, you should really invest in quality.
Not only will the tree look more realistic, but it will also last for longer.
Artificial trees are popular because they're easier to deal with than real trees and since they will last for years, it's worth choosing the tree that you will enjoy having in your home so researching carefully before selecting your tree is a worthwhile undertaking.
There are some well-known retailers offering excellent artificial Christmas trees for the festivities and they include:
Argos Christmas trees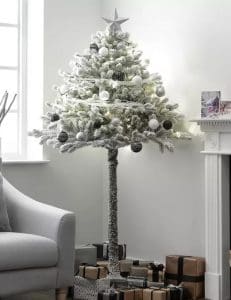 Popular retailer Argos has a wide range of Christmas trees available including real trees and artificial trees. The artificial versions include pre-lit and fibre-optic choices, along with bright and modern Christmas trees and outdoor Christmas trees. We were also taken by their snowy Christmas trees that have a white and wintry theme, as well as space-saving half and slim Christmas trees and pop-up Christmas trees – they literally pull-up to create a stylish and modern creation.
John Lewis Christmas trees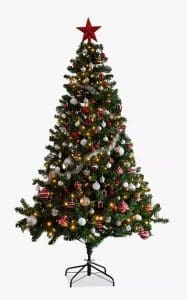 John Lewis always offers an impressive range of real and artificial Christmas trees, including some very realistic creations. They also offer potted pre-lit Christmas trees and a very modern take on the subject such as the white birch pre-lit tree – which is 6ft tall and looks great with minimal decorations on it. They also offer some excellent pre-lit offerings and realistic Nordmann firs among other choices.
Wilco Christmas trees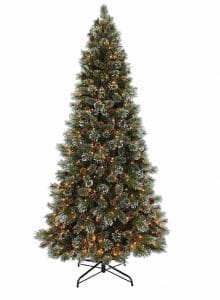 Another popular retailer with a great line of artificial Christmas trees is Wilco. They also offer real Christmas trees, pre-lit Christmas trees as well as tree skirts and stands. Their artificial Christmas trees cover a range of prices and sizes and there are some unusual offerings for those looking for an artificial tree to stand out from the crowd. We like their 6ft tree with cones and berries, and their 9ft pre-lit trees with frosted cones and tips. You can also buy white and pink Christmas trees, fibre-optic tabletop Christmas trees and a black Christmas tree among a wide range.
M&S Christmas trees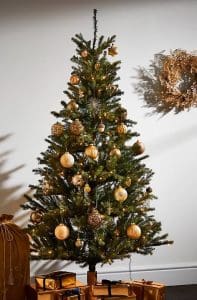 For many people, M&S Christmas trees are well-designed and well made to create a cosy atmosphere in their home. The retailer offers artificial trees from 1.5ft high and up to 7ft for larger rooms. They are also available with or without snow, pre-lit choices, and there's free delivery available too. We like their Fraser Christmas tree, there's also a very good snow-covered tree and a slim snow-covered tree. The smaller trees are excellent; the 1.5ft pre-lit Christmas tree is ideal for a small home, particularly for a kitchen table, and the 6ft pre-lit slim pine Christmas tree is a great modern take on a traditional design. M&S also offer wicker and faux fur tree skirts, as well as a red velvet offering as if Santa has left his hat behind.
WeRChristmas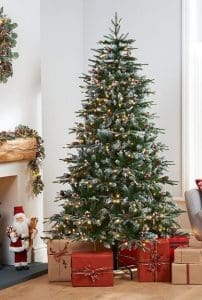 One online retailer to consider for artificial Christmas trees is We R Christmas. They have an impressive collection of artificial trees including pre-lit frosted Norwegian spruce trees which are covered with warm white LEDs, and other pre-lit offerings include a Victorian mixed tip creation of berries and cones, a Colorado blue spruce and they also have a pre-lit pop-up Christmas tree. Along with the wide range of pre-lit trees, including flocked versions that look like they are covered in snow, the site also offers potted Christmas trees with LED lights that create patterns and tall twig Christmas trees with a snow effect. There are also fibre-optic artificial Christmas trees, white Christmas trees and many others.
Other retailers offering great artificial Christmas trees
Other retailers offering great artificial Christmas trees this year include Homebase who have a great range to consider, including natural looking trees including a 7ft Aspen pine artificial Christmas tree. They also offer pre-lit trees as well as flocked snow-covered offerings.
There are also artificial tree offerings from B&M at the budget end of ranges. They have a wide choice of black, white and traditional 6ft trees, along with stylish pre-lit trees, fibre optic trees and festive pine needle trees. They also have pricier pre-lit 7ft flocked trees that impress.
Another retailer offering an interesting range of artificial trees is Matalan. They offer small LED-lit Christmas trees, black fibre optic trees, a tree with fibre optic white ball decorations and an LED 'dancing light' tree. Other trees have pinecone decorations, but they also offer realistic artificial trees in the shape of spruce and firs, as well as snow flocked offerings.