With so many great Christmas tree decorating ideas around, it can feel overwhelming sorting great tree decor inspiration, from those tree decorating ideas that have passed their sell-by date.
Everything from the tree topper to the baubles and whether you need red and green tinsel to bring a festive look, there's no doubt that Christmas tree decorating ideas are varied.
Indeed, should you opt for traditional tree decorations, or Japanese art?! Or the tat that the children made when they were little, or a new colour theme every year?!
Whichever way you dress your Christmas tree we have some fantastic ideas to inspire!
Scandinavian Christmas tree decorations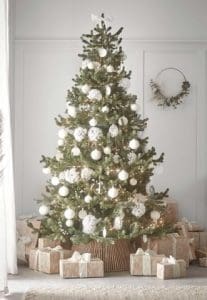 Christmas trees dressed in a Scandinavian style are a gorgeous mix of minimalism and luxurious textures.
A cream, white and silver colour palette evokes snowy days and the icy air we're snuggled up from. Christmas can be chaotic and the Scandi look is the restful opposite of that.
This is perhaps not the look to go for if you have toddlers or dog. But if elegant cosiness is what you're craving, then take a look at the Scandinavian Lakehouse range at Cox and Cox.
Traditional and Classical Festive Tree decorations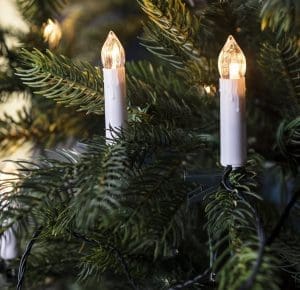 Christmas is a time for rituals and each family has their own way to celebrate. Some will wrap up warm and go for a long walk after breakfast, others will worship at midnight mass on Christmas Eve.
These comforting annual events are what makes Christmas so special and a classically themed tree are a wonderful homage to tradition.
Glossy red baubles, clove-studded oranges and lights shaped like candles will produce a stunning tree that will be reminiscent of Victorian England.
School Days and Childhood Tree Decorations
Enjoying Christmas in the company of small children makes it extra special. Their excitement and sense of wonder is a fabulous excuse for adults to indulge in childhood memories too.
Choosing ornaments that would delight a toddler will suit a lounge with plain walls and neutral colours or a small bedroom tree.
The Pop Art range at John Lewis is glittery, bright and fun. A member of the team has already purchased the balloon animal baubles and sparkly dinosaurs for his children's quirky and joyful playroom tree.
All the colours of the rainbow tree decorations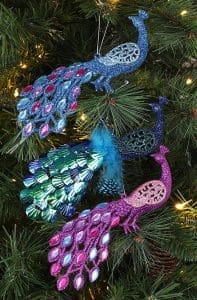 The rainbow is a symbol of hope and renewal. It is much-loved by the Pride Movement and this year it has been used to show the nation's appreciation to the NHS and keyworkers.
So, why not step away from the usual festive hues of red, green, silver and gold and treat your tree to splashes of beautiful colour?
Bold jewel or primary colours would suit a fun-loving family home. Just make sure your fairy lights are white or the effect will be lost.
This set of three shimmering peacocks would look fabulous perched in the branches of your tree.
Alternatively, pastel colours that match the existing décor will have a sophisticated effect in a carefully curated room.
Glass orbs in pretty shades of lilac are available at Next for just £6 for 10.
Lights for your Christmas tree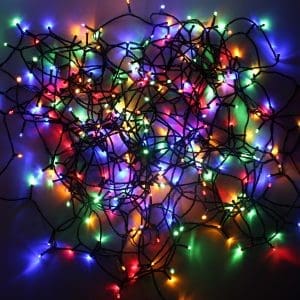 The origins of Christmas are pagan and many of our traditions are rooted in its first incarnation as a festival that honoured the Winter Solstice. It was a time of year when the days would begin to get longer.
This return of light and life to the natural world made life easier and the relief of that is reflected by using candles, fairy lights and evergreen trees in modern decorations.
There are lots of lighting options to illuminate your tree. Snowflakes, simple white lights or elaborate light shows are all options depending on your style.
Use flashing multi-coloured fairy lights to compliment boughs bedecked with a random collection of heirloom baubles, your children's makes and impulse purchases.
Food and Drink Christmas tree decorations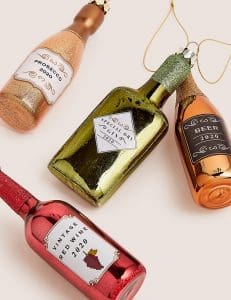 What does Christmas mean to you?! The celebration of the birth of Jesus? The chance to chill out with family and friends? Or is it all the delicious food and drink on offer at this time of year?
Food and drink themed decorations can be adventurous and unusual or classically Victorian. The choice is yours!
If you're in the mood for a little DIY, buy red and white striped candy canes and use green ribbon to hang dried orange slices for an old-fashioned look.
Good old M&S have a tasteful set of four hanging bottles of booze that would suit any look of tree.
While Selfridges have a jolly range of hanging takeaway coffee cups, pizzas, sweeties and French fries that we made us laugh out loud!
Decorate your own Christmas tree decorations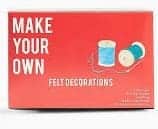 One of the growing trends is for people – but especially young children – to add personalised decorations for their Christmas tree.
Various retailers have spotted this trend, including Marks & Spencer, and there's a wide range of choice from online sellers.
There are kits available for the decorating of items including baubles and figures – and some retailers have stocks of letters to create names.
Along with painting festive figures such as Santa Claus, the M&S collection also offers a 'Make your own felt decorations' kit to help spruce up your festive tree.
Great fun for children of all ages!
Travel memories  as Christmas tree decorations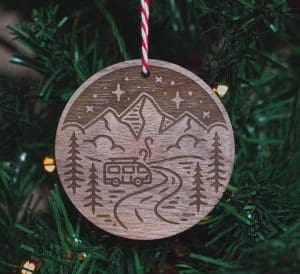 If you're lucky, Christmas is a time to look back over the years with your loved ones and reminisce. At Christmas.co.uk we believe that making memories is a thousand times more important than collecting stuff.
HOWEVER! When it comes to travel and holidays, we do love a bit of tat shopping.
Decorations collected from chilly trips to Christmas markets, or even sunshine holidays are an awesome addition to your tree trimmings. They will make you smile every year and, hopefully, next year we will be able to continue or begin your collections.
For inspiration and complimentary touches head to Etsy.com.
Your beloved pets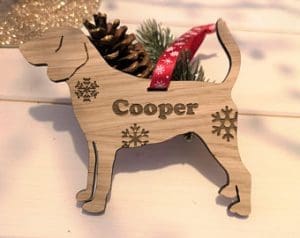 Our gorgeous pets are an important part of the family and so they should absolutely be represented on the Christmas tree.
While researching our article, it was this decorating idea that cost us the most money because we wanted to order everything!!
The world of pet-themed embellishments is full of baubles painted with the image of your cat, hanging 3D felt pooches and ornamental ceramic bones inscribed with your pet's name.
Marketplaces such as 'Not On The High Street' and 'Etsy' are the best places to search for your personalised tree adornments.
You could order baubles for the children in your life as well as your furry friends and save on the postage and environmental impact.
Tree Decorating Tips
We all have our rituals at Christmas time and decorating the tree is one of the most universal. In my house, enjoying the ornaments that hold happy memories is more important than an aesthetically pleasing theme. However, you need some tips on how to dress your tree, read on!
Whether real or fake, invest in the best quality tree you can afford.
Arrange the tree branches methodically and carefully, it should look fluffy!
Add your fairy lights first so they can be 'tucked in' and placed evenly. Check they are all working before positioning.
Put delicate baubles at the top to prevent them from getting broken.
To create depth and texture, big baubles should sit near to the centre of the tree and small ones should dangle on the end.
Special decorations should be arranged in a Z-shape at the front of the tree, fill in the gaps with the rest of your collection.
Choose a tree topper that suits the size of tree.
Finish off your design with a tree skirt.
Christmas 2020 is one in which we will all be spending more time at home, so we hope we've sparked your imagination and creativity with these Christmas Tree decorating ideas. Why not have a tree in each room so you can try them all!
Watch a video on how to put up a Christmas tree
For more information about putting up my Christmas tree and Christmas tree decorating ideas, check out this video from Mummy of Four about how to put up a Christmas tree.
Or this rather more upbeat option from SamanthaClaireEllison with some interesting tips.