Christmas gifts for women – finding presents for the beloved women in your life should be thoughtful and include special treats that she wouldn't buy for herself. Think about her interests, her values and DON'T panic buy!
The fact that you've arrived here with us shows that you care about making Christmas Day special and that's a wonderful attitude!
So, have a look at our comprehensive festive gift guide for women – we have something to suit all women, and either make a purchase or find inspiration for your own ideas.
Happy shopping!
Click and Grow from 'The Smart Garden 9' – £178.99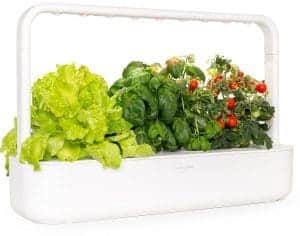 This is an awesome gift for the lady in your life who loves flowers and plants but has killer rather than green fingers.
Click and Grow have developed a clever system which allows you to grow 100% organic fruits, salad veg and herbs. A starter kit of tomato, lettuce and basil plants is included.
The design is chic, would look fab in any part of the home and has space for nine leafy friends. The best bit? It's impossible to do it wrong!
Choose from more than 50 types of plant and allow Click and Grow to provide the perfect amount of water, light, air and nutrition.
Moet and Chandon Impérial Rosé NV Champagne and Personalised Tin – £58.99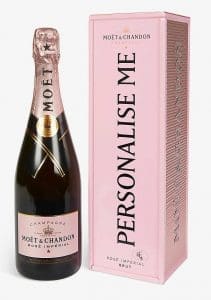 Lovers of quality champagne will adore this luxurious gift. Knowing there's a gorgeous bottle of Moet & Chandon chilling in the fridge will make most women smile with the anticipation of those delicious bubbles.
This Moet & Chandon offering from Selfridges also includes the opportunity to personalise a limited-edition presentation box. The choice of wording is all yours so it's worth imagining what the lady in your life might use it for after the champagne has been enjoyed. As Christmas gifts for women go – this is great!
'Glossier' Cloud Paint – £15 each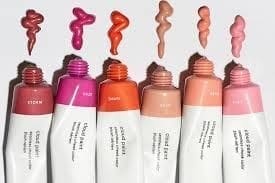 Beauty junkies are obsessed with iconic US cosmetics brand Glossier. Their products are all covetable and she'll be amazed at your unexpected knowledge.
So, which product to choose and what colour? Glossier's best-sellers are Cloud Paint, a cream blusher, and Boy Brow, an eyebrow groomer.
Use the product descriptions to help you decide what to buy or take a sneaky peek in her make-up bag for clues on the hues she would pick for herself.
'Lucy Bee' Organic Beauty Set – £75.00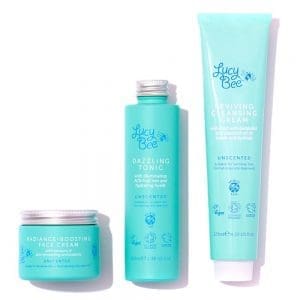 The Lucy Bee range is the ultimate in skincare for women who care about our planet. Lucy Bee guarantees that the contents of each bottle are vegan, Fairtrade, cruelty-free and 100% organic.
This effective and beautifully scented set includes a powerful cleansing cream, an exfoliating toner and a moisturiser than will boost radiance.
The ingredients used are suitable for sensitive skin and super easy to apply. Any ethically minded-woman who also enjoys feeling pampered will be thrilled with her thoughtful gift.
'Slip' Silk Leopard Print Face Mask – £39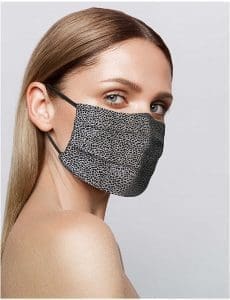 Face coverings have become an unexpected fashion accessory this year, and this is a beautifully soft and silky mask from Selfridges looks stunning while being kind the skin.
As unusual Christmas gifts for women, the leopard print pattern is sophisticated, and the neutral colours will look great with most outfits. Silk is also a fabric that shimmers naturally so a touch of glamour will be introduced into every day.
It's also been designed to be comfortable to wear which encourages the wearer not to faff with it and therefore stay protected throughout the day.
'John Lewis' Cashmere Beanie Hat – £40.00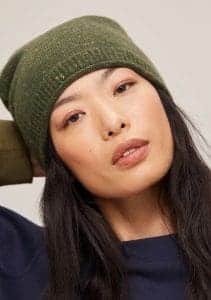 John Lewis and Partners cashmere is affordable, warm and easy to look after. The fabric is made in a family operated factory in Florence, Italy, and is of the highest quality.
The beanie shape hat is universally flattering and there are lots of rich colours to choose from. Our advice? Pick the shade that is closest to her favourite coat or play it safe with a black or grey.
We were impressed with the clever hem of these hats. The ribbed texture can be rolled up to create a better fit.
Handmade Candles from 'The York Candle Company' – £12 each
A cosy home is a wonderful thing to come home to and a scented candle is the easiest way to create the warming ambience we all crave after a long day.
The York Candle Company have lots of classic and quirky fragrances available. There's something for everyone, from Lemon Cookie and Pumpkin Spice to Fresh Coffee and Elderflower Gin.
Happily, these candles are made by a family business in small batches with 100% soy wax, a sustainable and natural alternative to paraffin.
The perfectly sized cotton wicks are coated and help extend the burn time and impact of the perfume.
Each vegan-friendly candle would be an ideal stocking filler and burn for an impressive 40 hours. A helpful guide is included to maximise the life of your candle.
'Chocolates and Truffles' Handmade Chocolate Box – £21.00 for 24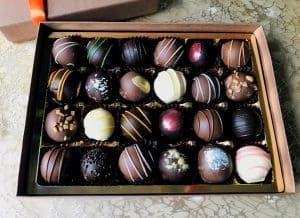 When searching for Christmas gifts for women, chocolates are sometimes seen as a boring and safe gift, but we disagree! When you buy handmade chocolates such as those from Chocolates and Truffles you are gifting your loved one with an exquisite treat.
The flavours are mouth-watering, and customers can choose from all dark, all milk or mixed chocolates. Specially selected, single origin cocoa beans are used in each chocolate and truffle. We adore the rich Noir Truffle and the carefully balanced salted caramel.
Chocolates and Truffles are based in the small market town of Skipton in the Yorkshire Dales. They pride themselves on using Rainforest Alliance certified cocoa and supporting sustainable farms all over the world.
Each chocolate is made in a small factory powered by renewable energy and is lovingly presented in recyclable packaging. Even the plastic bags used for display in the shop are compostable.
Forest Bathing, Spa Experience and Hotel Stay at Armathwaite Hall – from £395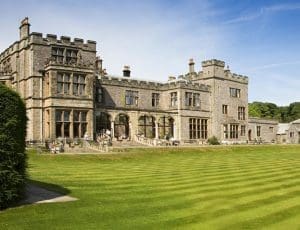 Armathwaite Hall is a stunning hotel in the heart of The Lake District and this extravagant gift is sure to wow the beneficiary.
We all need an indulgent break from real life occasionally and this offer provides exactly that.
2 peaceful nights of sleep
2 delicious dinners
2 hearty breakfasts
A 55-minute relaxing treatment and access to the spa facilities
A 2-hour forest bathing experience and tea ceremony
There are hotels all over the UK who are longing to fill their rooms after a difficult year. Look out for special offers in your area and reward a hard-working Mum or a stressed-out small business owner with a much-needed day and night away from real life.