Looking to reduce the amount of waste you produce during Christmas this year? Why not try renting a real Christmas tree?
An increasing number of people are looking for sustainable options and ways to reduce their festive footprint.
And since between six to eight million real Christmas trees end up in UK landfills every year, renting might be a sensible option.
Here, the Christmas.co.uk team look at the benefits of renting your Christmas tree.
Benefits of renting a Christmas tree
There are several benefits of renting a Christmas tree, including:
·         Disposal
You don't have to worry about disposing of the tree when the festive season is over. This can be a particular hassle if you live in flats or don't have access to a garden. Simply return the tree to the rental company and they will take care of everything. Or, usually, they will pick it up.
·         Tree types
You can choose from a wide range of different types and sizes to find the perfect tree for your home.
·         Budget
Rental Christmas trees are available to meet a wide range of budgets. It is cheaper to pick the tree up from a supplier, but for a small fee they will deliver – and pick it up. A small potted tree may cost as little as £25 to rent.
·         Reuse your tree
You can reuse your tree year after year. This also means that you can give your tree a name and it will be cared for until next Christmas when it will enjoy the family festivities once again.
·         Emissions
Rented Christmas trees tend to be supplied by local growers so the transport emissions for your tree will be much lower than if they were supplied from further afield. However, as Elvis explains below, there might be an issue if you want to rent a tree that is taller than 5ft because they are too cumbersome to transport effectively.
·         Care
Rental Christmas trees are usually pot-grown which allows for better care because the root system grows within the pot. Taking a tree from the ground will see those roots being destroyed.
·         Stress
If you are short of time, then trying to find a real Christmas close to the big day can be a stressful experience. Renting a tree will reduce festive stress because your tree will be organised and can be delivered. Having it picked up after Christmas is also a boon.
To get an accurate estimate of how much it will cost to rent a tree for your home, it's best to get in touch with a local rental company. They will be able to give you a tailored quote based on your specific requirements.
—oooOooo—
Christmas tree rental service
If you need to know more about a real Christmas tree rental service, then this CBS Weekend News report explains more!
It shows that customers in London can keep their tree over the Christmas period and will then return it – and they can rent the same tree the following year.
—oooOooo—
Get in touch with a Christmas tree rental firm
One firm that rents out trees are Good Elf.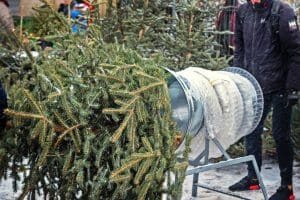 Their rented trees are between 2ft and 5ft tall, with the most expensive costing £114.96. The price includes delivery and collection of the live pot-grown Christmas tree.
Elvis Elf told us: "We rent trees up to 5ft tall, collect them after Christmas and look after them until they are needed again.
"Christmas trees in pots look great and stay fresh throughout the season. Potted trees can be watered and therefore have better needle retention than cut trees. There's a fabulous scent of Christmas with lush green foliage."
Renting a tree that is bigger than 5ft
However, Elvis Elf warns that renting a tree that is bigger than 5ft will bring problems.
He explains: "They get too heavy for one person to deliver, and the tree really needs to be planted in the ground, not a pot."
Elvis also says that real Christmas trees are sustainable because they have been specifically grown to be harvested and the firm plants more new trees each year than are harvested.
He also adds that fresh cut trees require a lot fewer resources to deliver because they weigh less and take up less space in the delivery van.
How to rent a Christmas tree
The process is to rent a Christmas tree in the UK is much simpler than you may expect, here we explain how to do this in 5 steps:
Find a local supplier who offers a real Christmas tree renting service – we offer a list below of potential Christmas tree suppliers
Decide on your budget – the cost will depend on its size, and an extra deposit is required but don't worry – you'll get this back, but you must return the tree in good condition
Consider the tree type – most potted trees will be a Norwegian spruce since those won't shed their needles while in a pot
Decide whether to pick your tree up from a farm or tree supplier, or have it delivered – there might be a small fee for delivery. Always check first.
Once in your home, follow the supplier's instructions to care for it. Then add your favourite decorations.
Enjoy your rented Christmas for the festivities and then return it. If it is in good condition, you will receive your deposit back.
The company will replant the tree and leave it to grow until next Christmas, when it will again be available for rent.
Most suppliers will let you re-rent the same tree every year. Families that do this often give their 'tree for life' a name. Not only is this greener, but the tree will grow with the family over time too.
—oooOooo—
A Christmas tree renting firm explains more about what they do
Jonathan Mearns and Catherine Loveless were inspired to start London Christmas Tree Rental while walking London's streets one January and finding Christmas tree graveyards littering the pavements in many areas.
That led to Jonathan deciding he would try to change things and in 2018 the business was born.
Now, he and his partner supply Christmas trees to rent and each one lives in a pot and needs a pint of water every day.
And after the festivities are over, customers simply return the tree, and it will be cared for until next Christmas – and the same tree can be re-rented.
This news clip from EuroNews shows that a rented tree costs about the same as a cut tree.
The item explains that having a real tree that can be reused every year is better for the environment that having a cut tree that is disposed of.
The business now rents out more than 1,000 trees every year – and the service is growing in popularity.
—oooOooo—
Which type of Christmas tree should you rent?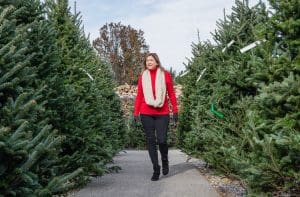 As mentioned above, rental Christmas trees come in all shapes and sizes.
A spokesman for Christmas on the Hill said: "All our rental trees are Norway Spruce.
"Nordmann Fir is the tree of choice for cut trees, as they retain their needles well, but for living trees needle retention isn't an issue – trees only drop their needles when they're dying."
He added that these trees look and smell 'Christmassy' and have a smaller root system which enables them to be a practical choice for renting.
The trees are grown from seedlings and firm highlights that rental trees can have thinner branches and be more delicate than a Nordmann fir.
The fact they aren't always perfectly straight or symmetrical means they have been grown as nature intended, rather than being sprayed and heavily pruned that most consumers expect.
Outlets offering a Christmas tree rental service
These outlets are offering a Christmas tree rental service – if you know of any more, please do let us know!
Some suppliers also offer the rental of a tree saucer – and even a barrel to store your tree in.
Is renting a Christmas tree cheaper than buying one?
Renting a real Christmas tree is becoming increasingly popular each year since many people enjoy the convenience of not having to purchase, transport and then dispose of a real tree.
But renting a Christmas tree also offers many other benefits that you may not have considered, including saving yourself from the hassle of visiting real tree retailer to find a tree you like and enjoying a sustainable way of having a real Christmas tree in your home.
You not only won't be wasting time shopping around, but your tree will also be delivered in good condition so there are no worries about it drying out before you pick it up or it gets delivered to your home.
And don't forget that if you rent the same tree every year it will become part of the family – and an important part of the celebrations.
So, while renting a real Christmas tree may not be cheaper than buying one – depending on the size and tree type – it can be an economical and hassle-free way to bring some Christmas cheer into your home this year. If that sounds great to you, then consider renting a real Christmas tree this year!