For many office workers decorating their workspace for the festivities can be a fun way to bring some cheer into the workplace – which is why these Christmas decoration tips for the office will help!
Whether you want to go all out or keep things simple, here are some great tips from the Christmas.co.uk team for decorating your office this Christmas.
Why decorate your office for Christmas?
The holiday season is a wonderful time to add a little extra cheer to the workplace by decorating your office.
Decorating for Christmas can help create a pleasant and festive atmosphere that boosts employee morale and creates an inviting work environment.
Also, for those who have offices or shops on the High Street, this is a great way to show your creativity for when clients and customers at this time of year.
For example, having a spectacular tree, lovely trendy decorations and free treats for clients can be considered as a PR opportunity! As can sponsoring a tree for the community so everyone can see your generosity.
What decorations to use when decorating an office
When selecting office decorations, it's important to consider their appropriateness for the workplace environment and the size of the space you are decorating.
That means you need to carefully consider the size, colour and content of the decorations — you should avoid anything too loud or overly distracting. For example, for a festive and professional look:
Opt for light-coloured decorations like white snowflakes, stars and other silhouettes made of paper or card
String lights around the office walls or along desks to add an extra sparkle.
Hang garlands with small golden or silver bells above doorways and windows.
Add a few small potted plants, such as poinsettias, to bring in the festive spirit.
You could also consider placing festive-coloured candles around the office to create an inviting atmosphere.
Christmas decoration tips for the office: How to get everyone involved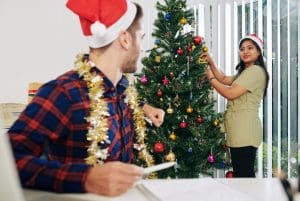 All workplaces have a Grinch and not everyone will want to get involved with putting up Christmas decorations in their office – or in any other areas of the workplace.
However, employees should be encouraged to join in on the festive decorations.
It might be a good idea to ask each team to come up with their own theme for decorating and set a budget for them to work within.
Have some fun competitions or activities where employees can show off their creative ideas, such as a gingerbread house competition or an ornament-making competition.
You could also host a wrapping paper designing contest or have a contest to see who can come up with the best holiday-themed decoration.
These activities are a great way to get everyone involved in the decorating process and create a sense of team spirit as well.
And by having each team contribute their own decorations, you'll end up with a truly unique and special office decor that celebrates the season.
If you are using a Christmas tree in your office
Adding a festive Christmas tree to your lobby or break room is an easy way to get into the festive spirit! Here are some tips for setting up the perfect tree:
Choose a size that's appropriate for the space. A larger tree can create an impressive focal point while a smaller one can make a cosy corner.
Place the tree in a spot where it will be safe from any potential hazards. Make sure there's enough room around the tree for people to move freely and keep it away from heat sources or electronic equipment.
Buy high-quality decorations that are easy to take down and store when not in use. This will help keep the tree looking great all season long.
Consider using LED lights instead of traditional incandescent bulbs. They're much safer and energy-efficient, plus they come in a variety of colours to fit any style.
Where to place your office Christmas tree: When deciding where to place your Christmas tree, it's important to consider the traffic patterns of your office space. For example, if you have a busy lobby or break room, placing the tree in a corner may help minimise potential hazards and make sure everyone has enough room to move around freely.
The different types of Christmas trees available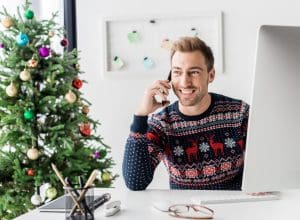 When choosing a Christmas tree for your office, there are several types to choose from. Here are some of the most popular options:
Artificial trees: These trees come in all shapes and sizes, so you can find one to fit any space. They're easy to set up and require no maintenance, plus they can be reused year after year. We offer more advice about what you should look for when choosing an artificial tree.
Real Trees: Nothing beats the smell of a real Christmas tree, and they're available in a variety of sizes and types. Just make sure to water them regularly and remove any fallen needles.
Pre-lit trees: If you don't want to deal with the hassle of stringing up lights, opt for a pre-lit tree. Just plug it in and you're ready to go!
Ideas for making the tree stand out and look festive
Making your office Christmas tree shine is all about the decorations! Here are some ideas for making your tree stand out and look festive:
Use glittery, shiny ornaments to create a beautiful winter wonderland. Consider using colours like blue, purple, silver and gold for a truly magical effect.
Add ribbons, garlands and wreaths to your tree for extra sparkle. Choose coordinating colours for a cohesive look.
Hang ornaments at different heights to create visual interest. This will draw people's eyes up and down the tree rather than just focusing on one area.
Place lights strategically to highlight different areas of the tree. This will make it look even brighter and more eye-catching.
—oooOooo—
Get inspiration for Christmas office decorations from John Lewis
A good way of finding out what is on-trend this year for office Christmas decorations is to check out the John Lewis website or stores.
Here, London Visited goes to the John Lewis shop in Oxford Street to show us what is available.
The range of items to decorate an office is impressive and you'll see that by using quality products, you will create a stylish festive environment for staff and visitors.
We quite like the commentary that details what the decorations available are and what they can be used for. Starting with Christmas trees, the video shows all of the trees – and the mix of colours and decorations being used. John Lewis uses various themes to show off their creations, including a community woodland, and they make good use of neon lights and unusual tree decorations.
—oooOooo—
Christmas decoration tips for the office
It's always worth asking the professionals how they go about decorating client offices at Christmas and Sharon Creates-Webb, the owner of At Last Events, said: "Firstly, focus on the reception area – again like your home, this is the first area your visitors and employees will see so it's a way to warmly welcome and make a great first impression of your company.
"A decorative, battery-lit garland along the underside edge of the counter is the best way to instantly add texture, colour and lighting to a plain space.
"Bonus tip – spice up with baubles in your brand colours to really compliment your business – it's the little details that can make a big impact."
Sharon says that you can then spruce up the countertop with Christmas themed ornaments and a bowl of pinecone – make sure to keep the ornaments paired and matching.
'Keep the balance of decorations looking right'
She explains: "It's not always the absolute but symmetry is usually a good way to keep the balance of decorations looking right however, this is very much dependent on what your counter looks like in the first place and the available space.
"Next up, the office Christmas tree. It's important to measure the width of the space you have available as well as the height.
"You'll be surprised at how much space a tree can take up – a natural 12ft tree will be roughly 6ft wide so be sure to measure up so that you have no nasty surprises."
Sharon adds: "If you are really tight on space, there's also half-back/corner tree options so that they can tuck into a small space or against the wall.
"Lastly, try changing the wall art for Christmas themed pieces, wreaths, bells, bows and framed Christmas art – the fixtures are already there and it's a way to add more Christmas magic without taking up any additional space – the perfect solution for small offices.
"Hopefully, these tips and tricks are helpful but if this all sounds like too much to organise into your busy festive schedule, the best advice we can give, is leave it to the professionals!"
—oooOooo—
Tips for creating a festive office environment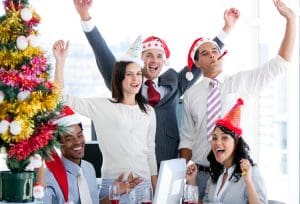 Creating a festive office environment in the run-up to the Christmas break doesn't have to be a daunting task. Here are some tips to make the process easier:
Start early. Make sure you leave yourself enough time to decorate your office before the festive rush begins. This will also give your employees plenty of time to join in on the fun and come up with creative decorating ideas.
Make decorations a team effort. Collaborate with your employees to create something special for the office space. This will help build team spirit, as well as make sure everyone is involved in making the office look cheerful and festive.
Include music. Music can really set the mood for the festivities in your office – though this tip will depend on what your workplace does. It might sound off-putting if you have clients calling regularly! Consider setting up a festive playlist or having someone in the office take charge of playing music throughout the day.
Don't forget about food. Have some small treats and snacks like cookies or Christmas-themed sweets available to keep your team energised and motivated during this busy season. Remember, no one needs an excuse to buy a tin of Quality Street!
Keep it professional. Remember to keep decorations appropriate for the office environment, as this will ensure that customers and visitors have a positive experience when they visit your business.
Follow these tips and you'll be sure to create a festive atmosphere in your office space that will spread festive cheer throughout your workplace!
Festive banners, ornaments or wreaths
When it comes to Christmas decoration tips for the office, one great way to bring the festive spirit into your office is to hang up some festive banners, ornaments, and/or wreaths. These decorations can be hung from the walls, ceilings or doorways and will add a cheerful touch to any office.
You can find plenty of Christmas-themed banners at most craft stores that are sure to get your team into the festive spirit. There are also quality wooden festive signs that are worth the investment to add something special.
You can also hang ornaments and wreaths around the office space to create a festive atmosphere. Wreaths are perfect for front doors and window frames, while ornaments can be used as wall decorations or hanging from doorways.
Be sure to use safe materials when hanging decorations, such as rope, fishing line, or hook and loop fasteners.
These decorations can be a fun way to get everyone excited for Christmas and create a sense of festivity in the office. Plus, they'll make your office look even more inviting to customers and visitors who may be stopping by during this time of year.
Where to hang them your office Christmas decorations
Once you've selected the decorations for your office, it's time to choose where to hang them. Here are some tips on choosing the perfect spots:
Consider traffic patterns within your office. Try not to hang up anything that could impede movement around the office or block a doorway or walkway. This will help ensure that your decorations won't be knocked down or damaged by foot traffic.
Hang decorations at eye level. This will make sure they're seen and appreciated by everyone in the office – from customers to employees.
Don't overlook corners or walls that could use a festive touch. Decorations can go anywhere, so don't be afraid to get creative and hang them in unexpected places.
Also, don't forget to place decorations away from sources of heat or direct sunlight to prevent fading or damage.
How to make your office Christmas decorations last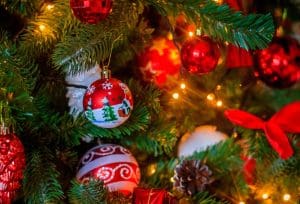 Although decorations can bring some much-needed holiday cheer, it's important to think about how to keep them looking fresh and festive for the entire season. Here are some tips on making your decorations last:
Choose sturdy materials such as plastic ornaments, synthetic greenery, wood or metal decorations. These materials will help make sure your decorations stay standing and looking new for longer.
Use light strings that are CE approved or have the British Safety Kitemark. This will help prevent any risks of fire or damage to the office space. If you are concerned, it is always best to buy from a bonafide retailer or commercial supplier. But for those who are planning to install a large creation with lots of lights, you should have your lights professionally tested before use.
If you're using artificial Christmas trees, look for ones made from fire-resistant materials.
Keep decorations away from water sources or drafts to prevent fading or damage. If you're using artificial tree branches, be sure to store them indoors when not in use.
Christmas decoration tips for the office: Different decorations you can use
When it comes to decorating the office for Christmas, there are endless possibilities! Here are some ideas for decorations you can use to spruce up your workspace:
Artificial garlands: Hang them around doorways or along walls and desks to give your office an instant festive feel.
Christmas trees: Get a small artificial tree or a potted live tree to place in your reception area or break room.
Ornaments: Hang fun and colourful ornaments from doorways, walls, and desks to add some sparkle to your office.
Lights: String up white holiday lights on walls and around furniture for an eye-catching look.
Wreaths: Hang up a festive holiday wreath on the door or wall to welcome the season.
How to fit Christmas decorations into your office's design scheme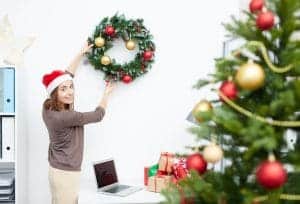 When decorating your office for Christmas, it's important to consider how it fits in with the existing design scheme. Here are some tips on making sure your decorations look great:
Use colours that match or complement the existing décor. For example, if your walls are painted blue, try using white and silver ornaments and decorations to create a modern, winter look.
Choose decorations that are appropriate in size for the space. Too large of decorations can make the office feel cramped while too small will be lost in the room.
Consider how you'll be using the lights and garlands. Place them strategically to create the most impact and make sure to keep them away from any cords or electronics.
Use decorations that are easy to store and remove when Christmas is over. This will help minimise clutter and ensure your office looks neat and tidy all year round.
—oooOooo—
Get inspiration for on-trend office Christmas decorations
Having mentioned that visiting the John Lewis website or stores will help anyone get inspiration for decorating their office this Christmas, why not watch this video about the Harrods offering?
Again, there are some great ideas and pointers as to what is hot – so if you want trendy, stylish office decor that is on-trend, this offering from London Visited will help.
—oooOooo—
How to take your office decorations down
When Christmas is over, it's time to take down all those festive decorations. Here are some tips on how to safely remove your festive decor:
Gather a few helpers and make sure each person knows what areas of the office they're responsible for. This will help speed up the process and ensure that everything is taken down properly.
When taking down decorations, start from the top and work your way down to avoid any potential hazards.
Take extra precautions when removing decorations near windows or fragile items such as computers or printers.
Dispose of any decorations that are damaged or broken beyond repair. It's best to keep the office space clutter-free and organised.
Christmas decoration tips for the office
Decorating your office for the festivities is a great way to show your employees that you care about their wellbeing – and that you recognise that decorating the workplace at this special time in the year is a worthwhile undertaking.
By using some of these simple tips, you can create a special atmosphere that will bring joy and cheer to everyone in your workplace.
Don't forget to include lots of festive decorations, music and lights so that your office looks and feels warm and inviting this Christmas!