When it comes to finding Secret Santa gifts in 2020, then you may be wanting something unusual.
After all, it's been an unusual year and your workplace may be having a virtual secret Santa gifting session.
Along with buying presents for friends and family, you should also be looking for inspiration when it comes to Secret Santa gifts.
This is a Christmas gift that is generally similar to stocking fillers and most workplaces will have a limit on how much to spend.
For those who may not be aware of what is a popular tradition in UK workplaces, a group of co-workers, or friends, or housemates, put the names of everyone into a hat – and then draw names.
This is the person you buy a small gift for and this is usually exchanged in the workplace or at a work Christmas party.
However, the pandemic may make face-to-face meetings a little difficult so be prepared for virtual Secret Santa gifting.
The Christmas gift is usually no more than £5 or £10, which means you need to get your thinking cap on to buy for your Secret Santa recipient.
This is also an opportunity to show how well you know that person – or not, as the case may be!
There's no doubt too that while a Secret Santa gift does not have to be boring, it is a great opportunity to be creative.
Christmas beard lights and tinsel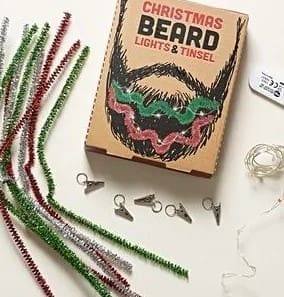 Why not spread a little cheer with this great creation?
If your secret Santa gifts recipient has a beard, then they'll get a kick from this Christmassy beard lights and tinsel offering.
The decorations are kept secure with clips and everything, the lights and tinsel, works a treat.
Prices vary, but the Oliver Bonas site has the gift on offer at £5.95 currently.
Hy-Pro Two Player Table Tennis Set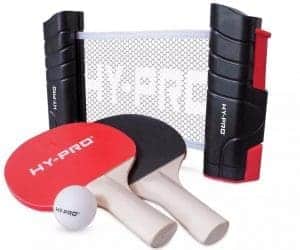 A great idea for slackers everywhere, this table tennis set is ideal for boring times in the workplace.
It costs £9.99 from Argos and you can transform any table to become a sports venue in just seconds.
There's a simple clamp to push down and the net will spread easily across the table.
The table tennis set can also be transported easily.
Colouring As Therapy Poster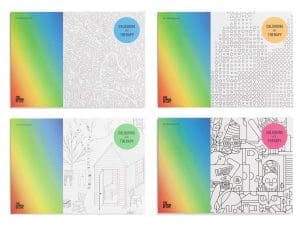 Everyone likes to colour in and this set of four posters is a worthy secret Santa present.
It's available on the School of Life website, and has been reduced from £30, to £8.
The posters include Walden Pond, still live with fruit, wave and know yourself.
Colouring can be a therapeutic pastime and will bring out the child in all of us.
Personalised bottle of champagne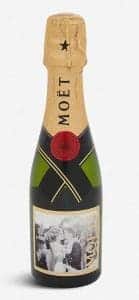 If you are struggling to find a secret Santa present, how about a personalised bottle of Moet and Chandon champagne?
These are available for £20 from Selfridges.com and you simply send a photograph that is then printed up and added to the bottle.
The photograph could be from a special event, for example a family wedding, or it could be a nice picture of you and the recipient sharing a cuddle.
This is on the pricey side of secret Santa presents but it's something they can keep once the fizzy contents have been consumed.
Spreadable Whisky Single Malt Marmalade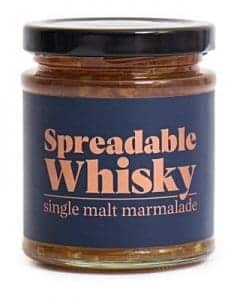 If your secret Santa recipient is a marmalade lover, and enjoys that and a tipple of whisky, then the Spreadable whisky single malt marmalade is a great gift.
Created by the Proper Marmalade Company, the alcohol cooks out but the real taste of whisky remains.
For many reasons, this is the perfect marmalade to use at any time.
It costs from £10 at Oliver Bonas.
Ridley's 1990's Music Trivia Game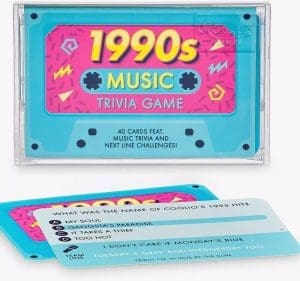 This is a great idea from John Lewis and Partners and will be great fun for anybody aged over 25.
This is a party-friendly music card game based on the 1990s.
There are 40 cards with a sing the next line competition as well as music trivia.
The pack of cards comes in a lovely retro cassette tape case.
This game can be used after all secret Santa presents have been opened with two teams competing to win.
Great fun and laughter guaranteed!
The secret Santa present costs £7.
Hot Chocolate Bombes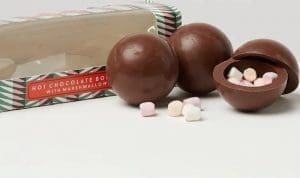 Another popular secret Santa present is to offer chocolate, and these hot chocolate bombes will hit the target.
They come as a pack of three and you place one in a mug, add hot milk and watch them explode into a tasty drink.
The chocolate sphere consists of Belgian milk chocolate which contains mini marshmallows.
The hot milk then melts the chocolate, and the marshmallows rise to the top.
It's a little bit different than buying a chocolate bar and a great idea for those who love a real hot chocolate drink.
The hot chocolate balls cost £10 and are available from Oliver Bonas.
Light up Christmas necklace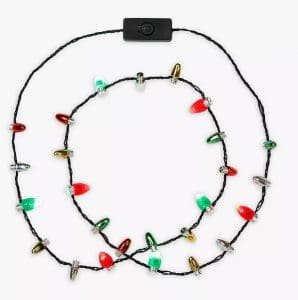 Sometimes, a secret Santa present just needs to be a talking point, so how about a light up Christmas necklace?
The necklace is available from John Lewis and partners for £6.50 and consists of Christmas tree lights and a discreet on/off switch.
There are three flashing light modes and if this necklace doesn't get the party going, the recipient will certainly stand out from the crowd with the festive addition to their outfit.
Christmas dinner bibs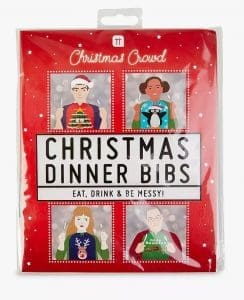 Staying with John Lewis, they have a great secret Santa offering in the shape of Christmas dinner bibs.
The recipient and their family or friends can eat, drink and be messy for their Christmas dinner.
The present costs £10 and will add a festive cheer to those sat around the dinner table with a Christmas themed bib.
There are eight bids made from plastic offered in four different designs.
Hotel Chocolat The Christmas Goody Bag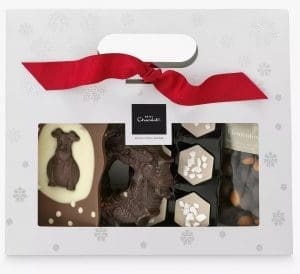 For a secret Santa gifts to impress, how about this Hotel Chocolat Christmas Goody Bag?
It costs £18 from John Lewis and consists of chocolate made reindeers, reefs and clementines.
While some may see buying chocolate as a copout for a secret present, for someone who loves chocolate, this might be the ideal solution.
This is a top-quality product and will delight a chocolate lover.
Beer Hawk BrewDog Canister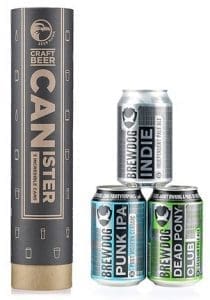 If a chocolate lover would love a Christmas goody bag from Hotel Chocolat, why not get a beer lover this Beer Hawk BrewDog Canister?
It costs £12 and is available from Next.
These craft beer cans consist of two award-winning creations, plus a new offering.
The canister contains India pale ale, punk IPA and Dead Pony Club.
Creations from BrewDog are very popular and a sound choice for a beer lover.
Cocktail Syrups Gift Set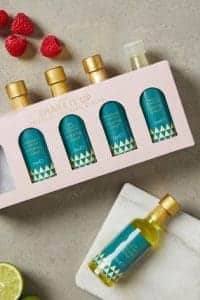 This set of five cocktail syrups from Next will deliver the perfect mixers for your secret Santa recipient.
The flavours include piña colada, raspberry cosmo, strawberry daiquiri and margarita.
They cost £8 and for someone who likes cocktails, or at least the flavours of cocktails, they can have a non-alcoholic version while at your secret Santa present opening party!