It's one of the highlights of the festivities when everyone tucks into a feast, but do you know how to lay your Christmas dinner table correctly?
For many people hosting family and friends as Christmas dinner guests, this is a rewarding task but with a fresh twist you will be able to create a nice ambience.
Also, this is a great opportunity to be creative and lots of people will be putting images on social media of their Christmas dinner table layout creation.
If you do not know how to lay a Christmas dinner table correctly, there are etiquette experts available to explain how this should be done correctly.
One of them, Liz Brewer, told a national newspaper that you should begin by laying a festive runner along the centre of your table and then use a festive floral centrepiece to complement it.
Use elegant table mats
You should also use elegant table mats and you can use these from a length of eco-friendly paper or Christmas fabric.
The aim is to create a formal table setting for everyone to enjoy their meal.
She adds: "Cutlery should be placed from the outside in because this makes life easier as the meal proceeds, so you know which order to use forks, knives and spoons."
The etiquette expert also adds that you need to provide enough space between guests, so they don't feel cramped and there's room for a plates, cutlery as well as crackers.
She says: "Glasses must be placed to the right of your plate and in the order of drinks. A small wine glass for white will be placed slightly in front of a large glass for red wine."
Creating a festive buffet table
When it comes to creating a festive buffet table, Liz points out that you should do this logically and place the starters at one end of the table, and then desserts at the other end so guests can work their way along the table options.
Another tip from Liz is to stagger a festive buffet mealtime to prevent a traffic jam of guests and children should be served first.
A buffet table should also include an area for drinks, so the host does not have to rush around topping up the glasses of guests.
ooooooooooooooooo
YouTube: How to lay the perfect Christmas table with Mrs Alice
Whether you are a seasoned host or taking up the challenge to impress with an incredible Christmas dinner table layout, this video from Jessica Doyle and Mrs Alice show how to create the perfect festive creation.
From place settings, personal touches, themes and centrepieces, the video highlights how easily and impressively you can put together your Christmas dinner table to impress those who will be dining with you.
ooooooooooooooooo
How to lay the perfect Christmas dinner table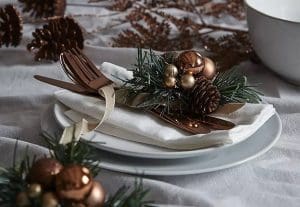 There's no doubt that if you are the person tasked with cooking Christmas, organising drinks and snacks for guests then laying a table is asking a lot of you.
Instead, this is a great opportunity to get family involved and here's a quick checklist for them to understand what needs to be done.
A great idea is to dress your Christmas dinner table the night before which will leave time for finding missing crockery and cutlery. Ensure that glasses are watermark-free, and you can consider hanging paper decorations from the ceiling to create an unusual and trendy look.
Decide on a Christmas dinner table theme
When you decide on a theme, it could be anything you want it to be so you could choose a key colour for the tablecloth, and napkins and let this inspire your table arrangement. This leads to a specific look, whether it's greenery or using lots of wood or even having an art deco influence. This is a great time to let your imagination run wild.
The idea to create an impressive Christmas dinner table is to consider layering the table. If you use a table runner and tablecloth, you could use beaded placemats for every setting and then add bowls and crockery on top of that. Don't forget too that napkins can be illustrated with Christmas themes, or you could show off with some Christmas napkin folding origami.
Eye-catching centrepieces
If you have the space, it is a great idea to consider eye-catching centrepieces for your Christmas dinner table. While you may be struggling to fit all the crockery and glasses on the table, you could add a centrepiece such as a long planter that is filled with candles or tea lights or even fairy lights on copper wire.
This is a great opportunity to show off your personality and you could put handwritten place settings on the table or even a chalkboard that bears the guest's name. Don't forget to you could use a personalised cracker or bauble though it would be good if this personalisation fitted your Christmas dinner table theme.
Again, before everybody sits down to eat, and if it's your thing, then you could show off your dinner table creation to the world on Instagram using a hashtag such as #tablescape – and look to see what other people are doing for their big festive meal for future inspiration.
oooooooooo
Shops offering Christmas dinner table items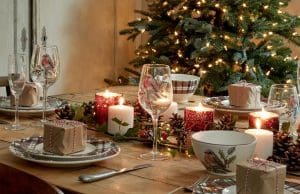 There are lots of shops offering Christmas dinner table items and this year we were taken by Matalan.
They say that this is a great time to offer gourmet glasses or glasses with a festive theme, for example, a glass painted in Santa's outfit.
Or you could use traditional glassware and tie a piece of ribbon at the base of the champagne flute or wineglass to deliver instant festive fun.
Matalan also says you should consider the right tableware and think about the dishes that are being offered.
If you have a festive theme in your home to impress family and friends, then you could ramp things up with your dinnerware.
Matalan also highlights that this is a time for children so you could plate up their Christmas dinner on festive but fun dinnerware. You could also use colourful napkins for children to enjoy.
The retailer also offers homemade name cards to impress, and personalised Christmas crackers deliver some frivolity.
Other retailers offering a great range of Christmas dinner tableware include John Lewis and also B&Q who have some interesting items and ideas such as creating a dedicated kids area, adding festive ceiling decorations to a room and there are interesting centrepiece ideas including battery-operated wire lights.
oooooooooooooo
YouTube: Christmas table decoration – foliage and Scandinavian decor
This YouTube video from Luke Catleugh is an interesting take on the type of table decor you could use to impress.
There's the timeless appeal of using Scandinavian items and foliage to create an unusual and great looking table.
Luke explains how he puts his table together and links to where he purchased the items including the tablecloth, the mini vases, napkins and tiger candles.
His aim is to bring the outdoors, indoors with some great ideas that are easy to implement.
Like everything in this article, you can be as ambitious as you want to be and there's a great range of retailers offering excellent products to create a one-off Christmas dinner table design that will not only impress but people will remember.