Food waste on Christmas Day: While Christmas is a great time for treats, we run the risk of wasting money and spending too much on food we will throw away.
Brits buying their Christmas dinner ingredients are making some common mistakes.
And now, the consumer organisation Which? has revealed the foods that we are most likely to waste our cash on.
Topping their list of festive waste is cheese, followed by biscuits and in third place is chocolate.
Also, 11% of us are buying too much booze – and the same proportion is buying too many Brussels sprouts and Christmas veg.
One in 10 of us are also buying too many mince pies, and 8% of consumers are buying a turkey that is too big for their needs.
How much food we will consume this Christmas
But do you know how much food as a nation we will consume this Christmas?
According to research, we will munch through 250 million roast potatoes, 208 million boxes of chocolates and 264 million slices of turkey.
We also get through five portions of cheese per person – that's nearly 218 million portions.
The research also reveals that we will enjoy 250 million sprouts, 162 million portions of Christmas pudding, along with a festive roast that is covered with 255 million ladles of gravy and then eaten with 366 million glasses of wine.
We will also get through 287 million mince pies and 200 million cups of hot chocolate.
Overindulging at Christmas time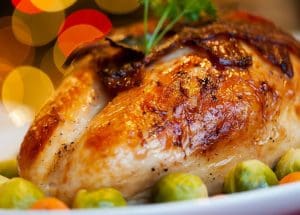 Researchers also found that 68% of Brits admit to overindulging at Christmas time.
A spokesman for Boursin, who carried out the survey, said: "A lot is consumed over Christmas and for many, they are enjoying time with loved ones which is what the season is all about.
"But it's also important to get creative with leftovers so as little food as possible is going to waste."
It helps though that the study found that one in three adults say that eating their Christmas dinner leftovers as a festive treat.
During December, most people will eat three dinners on average and enjoy two Christmas parties.
However, research from OnePoll found that 48% of adults say they will buy too much when stocking up on festive drink and food.
Christmas food waste
And 72% of those said they would like to be savvier when it comes to Christmas food waste and 25% say they end up throwing uneaten food into the bin.
Researchers also found that four in 10 of those questioned say that they don't like to waste food over the festive period but say they have 'no choice' but to do so.
If you are worried about wasting food, then consider foodcycle.org.uk which is a charity that will use surplus food, volunteers and spare kitchen spaces to create meals for those at risk of food poverty, as well as those in social isolation.
It's a great way to use food that may otherwise be thrown out but will be turned into wholesome meals for others to enjoy.
Buying the wrong festive foods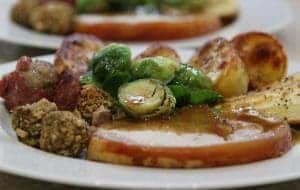 And with food prices rising, there's no need to make Christmas more expensive than it usually is by buying the wrong festive foods.
The average Christmas dinner in the UK costs an average of £27.49 with inflation and other costs pushing up staples such as sausages, apples and margarine up by 20%.
To help avoid overspending when buying festive food, you should:
Put together a shopping list
Stick to it
Plan your meals ahead to know what you need
Don't go shopping on an empty stomach
Most of us overspend by £11 on food per shopping trip
Consider food waste apps to prevent throwing food away.
You could, for example, use a food waste app called Kitche that will track the food you buy and then highlight when those items get close to their sell-by date.
The people behind the app say you should save around £630 a year using their app, which equates to £12 a week.
Brits will waste nearly 200,000 tons of food at Christmas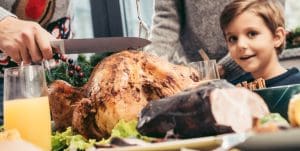 In another survey, Schwartz found that Brits will waste nearly 200,000 tonnes of food at Christmas, or 6.6 million bins full of wasted food.
That means that of the 2,000 adults that were questioned, they said they will spend £146 stocking their cupboards and fridges – but will bin £79 of that.
The findings highlight that 63% of those who throw away uneaten food say doing so makes them feel bad.
One reason for this is that most of us are spending more on Christmas food to deliver too much rather than not having enough food when hosting family and friends.
A spokeswoman for the company said: "Food waste is a growing issue, and it intensifies over Christmas when fridges fill up and not everything will get eaten.
"If all of us can get creative in the kitchen, the impact could be phenomenal on food waste."
The survey found that the festive food items that we throw away include:
Potatoes
Brussels sprouts
Carrots
Condiments including mint sauce and cranberry sauce
Turkey
Broccoli
Gravy
Stuffing
Cauliflower cheese
These items are followed by Christmas pudding and Yorkshire puddings, bread sauce, sweetcorn, gammon, pigs in blankets, prawns, red cabbage, Christmas chocolate and then profiteroles.
The Christmas food you should not buy
Essentially, as this article highlights, there are Christmas foods you should not buy because they are likely to end up in the bin.
While we all enjoy a traditional Christmas dinner, we need to look carefully at the food and drink we buy as part of the festive feast to ensure nothing goes to waste on the big day.
That means looking carefully at your Christmas food shopping to ensure that you don't spend more than is necessary but still deliver a cracking meal that everyone gets to enjoy.