There are some excellent European Christmas food traditions that deserve to be enjoyed in many more countries.
While in the UK, roast turkey, roast potatoes and sprouts are popular dinner choices, for many others in Europe, their Christmas lunch can be rather different.
Wherever you go in Europe, popular Christmas meals been maintaining the tradition of the festive season uniting families and underlining the season of goodwill.
However, these traditions also tend to see food taking centre stage.
And there's no doubt the Christmas foods that reach the dinner table will please everyone whether they include dry fruits, whipped cream and boiled potatoes.
It also appears that everyone in Europe enjoys a tasty dessert with everything from Christmas pudding to a yule log – or even a sweet porridge.
But it's not just in the UK where a huge traditional meal is prepared, with this labour-intensive offering being the focus of so much effort for a family to enjoy.
Festive meals around the world do vary and help to make Christmas Day dinners an interesting reflection on the country and its culture.
So, let's look at festive food traditions around Europe.
Christmas food in Finland
The customary dishes in Finland include swede and carrots, a potato casserole as well as dill-cured salmon and a leafy green salad.
There's also a rosolli salad which is a mix of carrots, beetroot, apple and potato and cream.
Most of this is dished up on one plate for dinner guests to enjoy.
Festive food in Russia
The Christmas Day celebrations in Russia are unusual but that's mainly because their winter holiday feast is held on December 31.
However, on Christmas Day, Russians will tuck into a pasta dish, usually featuring pork, along with salad, tomatoes and cheese. There's also a tasty sliced sausage to enjoy too.
Also, many Russians tend to fast on Christmas Eve until the first star appears in the night sky.
There's also a popular dish called sochivo which is made from rice or wheat and is a type of porridge served with fruit, honey, seeds and nuts. This dish symbolises unity and in days gone by, the family would chuck a spoonful at the ceiling – and if it stuck, it meant there would be good luck and a good harvest for the family.
Christmas dinner in Spain
Of all the countries celebrating European Christmas food traditions, the offering from Spain really caught our eye.
The starter course tends to be a chicken noodle soup that has boiled eggs in it.
It also, bizarrely, features peppermint and chickpeas.
They will then enjoy a dish of cured ham – Jamon – prawns, and a sliced summer sausage called salchichon with manchego cheese.
For the main dish, Spaniards will enjoy sirloin steak that has been marinated in fresh orange juice and is served up with tasty blue cheese rolls.
A traditional dessert at Christmas in Spain is a 'Turron' or a nougat dish. It is a mixture of sugar, honey, almonds and egg whites.
Christmas food in France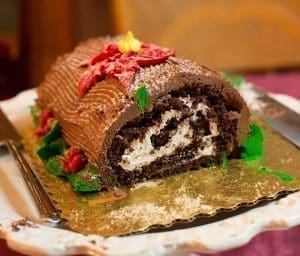 On Christmas Day, lots of French families will tuck into a selection of cold meats and cheese followed by a salted jelly and cabbage filled with a minced pork meat.
Others will enjoy roast duck or roast turkey. Venison is also a popular French Christmas dish and many people in France will have their festive dinner on Christmas Eve or after their midnight church service.
There's also a dessert known as 'buche de Noel' – or Yule log which is served with fresh cream.
Festive dinner in Estonia
Talking about roast duck, Estonians will enjoy a dish of duck breast with a side of mashed potatoes on Christmas Day.
There may also be a seafood platter, wholemeal bread with butter and home-made mayonnaise.
Christmas dinner in Montenegro
The traditional Christmas Day meal in Montenegro will feature a special kind of dumpling, pickled whitefish with onion, sauerkraut and pickled mushrooms.
This dish will then be followed by a desert known as kutia which is cooked wheat with honey, raisins, ground poppy seeds and chopped nuts.
For the people enjoying Christmas day in Latvia, they also enjoy lots of pickled vegetables and smoked meat and potatoes as part of their celebrations.
The special dumplings also feature in Ukraine, they are known as varenyky, and these are served with sour cream or a mushroom sauce. Ukrainians also like to see 12 dishes traditionally on their festive dinner table.
Traditional Christmas lunch in Serbia
The Serbians tend to do things differently at Christmas and the main feature for many families is homemade bread.
This is a traditional feature and is baked with a coin inside which is then broken into pieces by the older members of the family but only when no-one is watching.
The recipients then try to find the coin.
The main dinner dish includes fish, onion, and baked beans.
Christmas day lunch in Sweden
In Sweden, they create a 'Christmas table' which is effectively a buffet of cold fish dishes. In some homes, this will take place on Christmas Eve.
There will also be a boiled Christmas ham which is then glazed with eggs and mustard and cooked until crisp but then served cold with other buffet dishes.
In Sweden, there's also a potato and fish dish called lutfisk for dinner guests to enjoy, as well as pork sausage.
Christmas dinner in Portugal
Fish is also a popular choice in Portugal on Christmas Day and people eat cod in a variety of dishes, along with boiled potatoes.
However, the Portuguese tend to enjoy dessert with two versions of Christmas cake.
Firstly, there's a nut and fruit-filled creation called bolo rei, and one without candied fruit, known as bolo rainha.
There's also include a fried dough creation with a topping of sugar and cinnamon, along with small sweet dishes called broa which consists of sweet potato and egg yolk.
Christmas dinner in Germany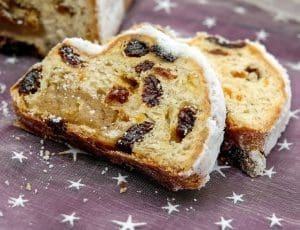 For Christmas Day diners in Germany, there's usually goose, duck or turkey.
The main course is dished up with red cabbage, dumplings and potatoes.
Desserts include stollen which is a traditional favourite and is a type of bread with dried fruit, spices and nuts with a powdered sugar topping.
Stollen dates from the 15th century and was traditionally given as a Christmas gift in Germany – a tradition many families keep up with.
Many homes also enjoy gingerbread houses.
Like many European Christmas food traditions, traditional mulled wine is enjoyed in Germany and other countries, along with a mulled wine with rum known as 'fire tong' punch.
Festive dinner in Norway
The festive dinner in Norway tends to be on Christmas Eve and is an interesting offering, as European Christmas food goes.
The most popular dish being served up consists of roast pork with boiled potatoes and sauerkraut.
In many homes, there's also the traditional whole steamed sheep's head with the eye and ear meant to be eaten first.
The brain is also removed to be served up as either a fried or boiled dish.
Desserts in Norway include a dish of whipped cream, sugar and cloudberries called multekrem.
Also, delicious cakes are very popular and families make a special bread called julekake which is a sweet bread filled with candied peel, cardamom and raisins.
Christmas dinner in Greenland
It's also worth looking at the festive traditional Christmas Day dinner in Greenland.
Not only do the women take a day off, but the meal is cooked and served by men and will consist of whale blubber strips encased in whale fat known as muktuk.
That is something of a strange meal to have on Christmas Day, but it is a traditional favourite.
There's also the slightly less palatable kiviak dish which is a slice of a bird known as an auk that is buried in sealskin for some months and when it begins to decompose, the meat will be served up.
Dessert in Greenland sees festive diners enjoying a Christmas pudding that has butter and is topped with sugar and cinnamon.
Festive dinner in Iceland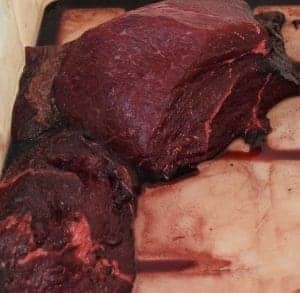 In Iceland, the main meal on Christmas Day is called the 'Yule meal' and tends to be a roasted leg of lamb.
This is presented for the middle of the Christmas Day dinner table for everyone to enjoy.
However, some families still like to practise the tradition of slowly roasting the lamp over sheep dung.
Icelanders also make a dessert of leaf bread from layers of dough which is cut into delicate patterns and then fried before being served up.