If you or someone you love is a foodie, then finding the best Christmas food gifts in 2020, will be paramount.
Food gifts for those who like to cook – and eat! – are an excellent choice and with so much to choose from, the food lover in your life is really spoilt choice.
Along with food gift sets and various limited editions, food gifts really have taken off in popularity in recent years and it's not just foodies and home cooks – but also for those who love to indulge in luxury offerings.
Here, the Christmas.co.uk team take a closer look at the best Christmas food gifts available this year.
The Waitrose and Partners treat sack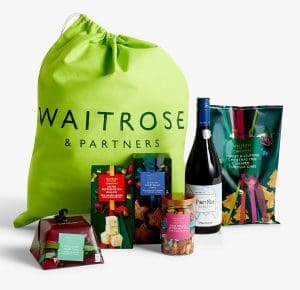 We begin our roundup with an excellent offering from Waitrose and it's great for those who are foodies and you're on a budget.
The treat sack means you will get the best of both worlds with a range of some of the retailer's finest snacks, plus there's a bottle of Pinot Noir.
Along with savoury snacks, there are delicious, sweet treats and the bag is reusable and practical.
It's a great choice for those who like to enjoy tasty and top-quality treats.
The Waitrose and Partners treat sack is available from the John Lewis website at £35.
A vegan Christmas dinner for two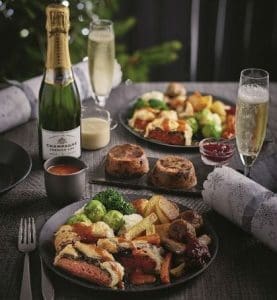 Offering Christmas food gifts for the festivities is not just about offering quality crisps, snacks and sweet treats.
The Tesco Finest range includes this impressive vegan Christmas dinner for two and is a bargain at £35.
Essentially, it's a hassle-free vegan festive feast including a bottle of champagne, Christmas crackers with vegan 'No beef Wellington', roast potatoes, sage and onion stuffing balls and roasted vegetables. There's also meat-free cocktail sausages and a cranberry sauce – plus two Christmas puddings.
Vegan gift box of treats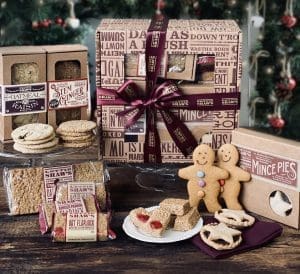 Sticking with vegan food delights, we also like the Christmas vegan gift box of treats by Lottie Shaw's and stocked by Not on the High Street.
It costs £35 and is a great choice for those who would love eco-friendly treats and dairy-free goods.
The Christmas offering is inspired by festive favourites and the box can be sent directly to the recipient.
The vegan baked foods include oatmeal and biscuits, traditional flapjack and stem ginger savoury oatmeal biscuits.
There's also stem ginger flapjacks, a coconut flapjack and two vegan gingerbread men.
Christmas Connoisseur Hamper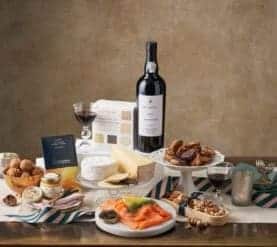 For those who are serious about their festive food, a selection of Christmas connoisseur hampers from Panzers is certainly worth looking at.
There's something for everyone in the family including smoked salmon, chocolate, truffle butter and a bottle of port.
It weighs in at £135 but includes some very impressive items including Montgomery Cheddar, dried figs with dark chocolate, caviar and Firetree Philippines Mindanao Island Dark Chocolate.
In the blurb, Panzer says that the hamper is packed with undiscovered treats that will delight even the most knowledgeable of food lovers.
Virginia Hayward Christmas hamper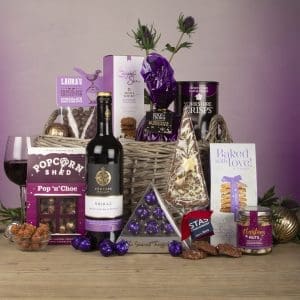 There's no doubt that Christmas hampers are a popular choice for many and the Virginia Hayward Season's Greetings Christmas hamper is worth considering.
It costs £50 from Yumbles and has a lovely mix of savoury and sweet snacks.
There's also a bottle of red wine, popcorn and Yorkshire crisps plus Christmas pudding and biscuits and nuts.
Everything is delivered in an impressive wicker storage basket, though the suppliers also deliver in a postal carton.
Meg Rivers Classic Christmas hamper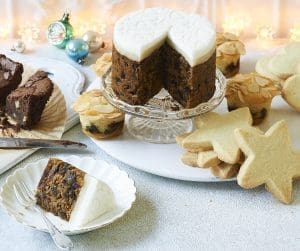 For those who like luxurious Christmas treats, there's a classic on offer from Meg Rivers called the Classic Christmas hamper.
It costs £45 and there's a donation to the Teenage Cancer Trust with every hamper sold.
The luxurious offering includes an indulgent iced fruit cake, various shortbreads, frangipane mince pies and chocolate brownies.
Everything in the hamper is top quality and Meg Rivers call themselves 'The bakers of happiness ' – and that is exactly what they deliver here.
Aldi's Luxury Collection Hamper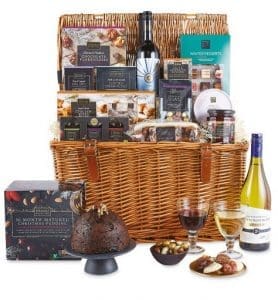 One of the best food and drink hampers currently available is the luxury collection hamper from Aldi.
It costs just £59.99 and is packed with a range of treats including chocolate and fruit cakes as well as savoury surprises and sauces.
The wicker basket is well made and there are two bottles of wine, plus a range of teas, preserves, foods, crackers, fruitcake, champagne truffles and chocolate winter desserts.
Of the hampers available, the Aldi range is particularly impressive and includes a chocolate celebration hamper for £29.99, an afternoon treat selection hamper for £39.99 and the Christmas feast hamper at £79.99.
The Christmas Day hamper is also good value and is packed with various indulgent treats including an iced Christmas cake and a bottle of prosecco.
3 months of pasta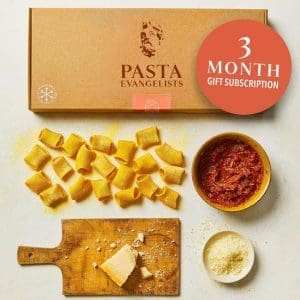 Not everyone wants to receive a festive hamper and many foodies will love a subscription to quality ingredients.
Among the offers in 2020 that we love is the three-month gift subscription for quality pasta from the Pasta Evangelists.
Recipients get to enjoy fresh artisan pasta that will be delivered every month and it's a quality offering.
The price depends on how many servings of pasta you want to enjoy with prices starting at £51.
The Christmas morning hamper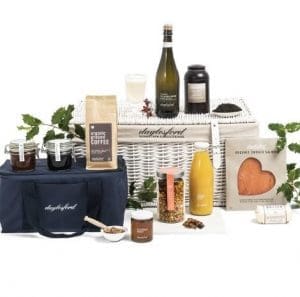 It's not just foodies who want to enjoy something unusual, the Daylesford's Christmas morning hamper at £180 is certainly a luxurious and indulgent offering.
Everything comes in a white wicker basket and there's a cool bag as well for recipients to enjoy an astonishing range of foods on Christmas morning.
They include organic unsalted butter, smoked salmon, marmalade, English breakfast tea and ground coffee.
There's also organic orange juice and a bottle of Prosecco to get things going. As the best Christmas food gifts for 2020, this offering from Daylesford's is very impressive!
Monopoly luxe biscuit tin
The most impressive collection of biscuits for food lovers in 2020, is this Monopoly luxe biscuit tin which costs £48.
While that may appear to be a steep price, the tin and the iced biscuits are just incredible. The attention to detail will impress and you can even try to play the game of monopoly with the biscuits.
It's a well-designed and impressive creation and eating the tasty biscuits almost seems like a shame.
There are 12 hand-baked biscuits that have a hint of ginger and cinnamon and are rich and sweet.
There are fresh and presented in a square-shaped keepsake tin – so it can be used for years to come.
The offering from Biscuiteers.com also includes the option to add a bottle Prosecco or a bottle of sparkling rosé plus other options.
Brie à la Truffe Wheel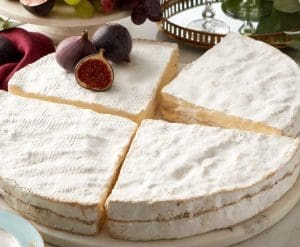 The Christmas.co.uk team absolutely love the Brie à la Truffe Wheel from Fortnum & Mason.
While cheese boards are set to rocket in popularity this Christmas, this cheesy offering weighs in at 4kg.
This is a traditional French brie but with an added twist – there's also a layer of mascarpone, crème fraiche and truffle paste with fresh black truffle shavings.
It's really indulgent but it's a table centrepiece that people will love.
It costs £280 and for cheese lovers who are serious about indulging with a luxurious offering, there's little to beat this wheel.