While Christmas is a great time to relax with friends and family – and our two- and four-legged friends – you might want to know more about how to keep your pet safe for Christmas.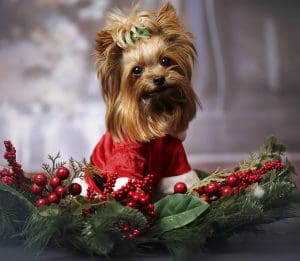 That's because Christmas can be a dangerous and scary time for our pets what with decorations, presents and food, plus visitors, becoming hazards.
Indeed, vets report that the festive season can be their busiest time of the year.
But knowing the dangers to our pets is key and you should let everyone in the house know what is not and what is safe for their pets.
After all, prevention is better than cure.
ooooooooooooo
YouTube: How To Keep Dogs Safe At Christmas | Blue Cross Pet Advice
Here, Blue Cross offer lots of advice in their video about the hidden dangers around a home at Christmas time for a dog.
The presenter explains carefully the issues that may be presented to a dog, and what behaviours an owner should be looking for to see whether their pet is anxious or poorly.
ooooooooooooo
Keeping pets safe at Christmas
This advice on keeping pets safe at Christmas also extends to visitors and they should be told about pet etiquette as well.
One of the issues is that some pets can become distressed when their routine changes, or they may become anxious when unfamiliar people visit.
It also appears that the pandemic has exacerbated this issue, so you should not leave dogs unsupervised around unknown or excited children because it may do something unpredictable, such as hurt a child.
Instead, you should provide your pet with a quiet, safe space so it will protect them and your visitors.
The dangers from Christmas food to pets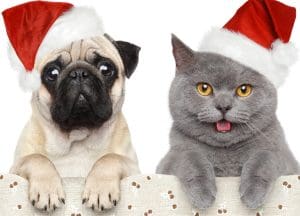 The festivities also mean there's lots more food around and dogs can be less discriminating than cats about their food choices.
This means that dogs are more likely to eat food they shouldn't do but you should also be wary of cats eating food they really should not.
Indeed, there is a particular problem with festive foods because what we will consider to be a tasty treat for us, could be fatal for a pet.
You should be wary if you are sharing a festive meal with a pet and some animals are sensitive to slight dietary changes so they may show signs of digestive discomfort or upset. These might include:
Pancreatitis: This is a distressing and painful condition that is often seen in dogs that have eaten fatty foods. Avoid this by not giving pets leftovers and be aware that cooked bones can cause a pet significant injury – make sure they cannot get into a bin and steal food scraps.
Raisins: While we are enjoying Christmas cake, mince pies and puddings be aware that these are packed with raisins – and raisins are toxic to dogs. Also, sultanas, currants and grapes are also dangerous for dogs, and you need to check festive recipes carefully for those that use them. Other seeds and nuts can pose a risk of choking, and macadamia nuts are a serious health hazard if consumed by a pet dog.
Alcohol: This should only be consumed by humans and never by animals.
Rotting food: Keep food waste and any leftovers out of reach of a pet. Be aware that blue cheese, raw bread dough and salt dough ornaments contain compounds that may cause a pet significant illness.
Toxic foods: Along with rotting food, be aware that chives, garlic and onions contain chemicals that are toxic to dogs and cats – and cooking these food items does not make them safer. For example, offering a single spoon of sage and onion stuffing could lead to serious illness in a pet.
Sweet treats: Most pet owners will be aware that chocolate can be dangerous for a pet but so can artificial sweeteners, including xylitol, which is found in chewing gum.
Wrappers: The wrapping from chocolates and sweets can pose a serious risk and may lead to emergency surgery if eaten. You should also prevent pets from eating decorations, gifts and toys which may cause intestinal damage and blockage.
Plants: While you may be enjoying your real Christmas tree, be aware that the needles can penetrate a pet's paw and cause infection or pain. Holly berries, mistletoe and poinsettia are also toxic to pets. Lilies are also dangerous for cats.
If you believe that your pet has been exposed to something that is nasty or they have eaten something that could cause them serious health issues, you must seek veterinary advice quickly.
And while the festivities are a great time to relax and enjoy the company of friends and family, you need to ensure that it's a restful and safe time for pets.
ooooooooooooooooo
Don't buy reindeer food
The RSPCA is also warning people not to buy reindeer food from websites and shops because they tend to contain ingredients that can be dangerous for pets, particularly edible glitter, and are not environmentally friendly.
Instead, the organisation has developed a wildlife-friendly reindeer food recipe so pet owners can safely embrace a fun event for the festivities and ensure that all animals are safe.
This is their video on how to make delicious treats as part of a family fun day for Rudolph and his friends.
oooooooooooooooo
Unexpected Christmas dangers for pets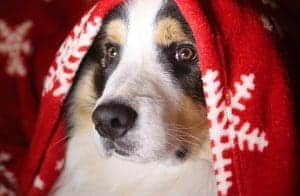 The RSPCA has issued a warning about the unexpected Christmas dangers that pets are facing.
They have highlighted the additional hazards that pets face with hidden dangers in our homes.
A charity spokesperson said: "It's best to know what to look for and how to keep your pet safe and there are lots of things around the home that could be dangerous to a pet at Christmas."
They have listed seven dangers that pet owners need to be aware of at Christmas time. They are:
Tree decorations: Pet owners should avoid hanging chocolate tree decorations and you should keep sweet treats safe and out of a pet's reach. The RSPCA says that chocolate tree decorations are not only toxic, but they are something that can sometimes be overlooked by pet owners.
Wrapping paper and tinsel: While wrapping paper and tinsel may be tempting for pets to play with, you need to check they don't eat it. Cardboard boxes don't present a danger – and can make a great castle for a cat!
Leftovers and cooked bones: The RSPCA say you should never feed dogs cooked bones which can splinter and then cause a serious internal injury. Also, any leftover food such as stuffing, gravy and pigs in blankets should not be given to pets because they are high in salt content. Instead, the RSPCA says that if you want to offer Christmas dinner leftovers to your dog, then you could use small amounts of carrots and cooked turkey.
oooooooooooooo
What you can do with Christmas dinner leftovers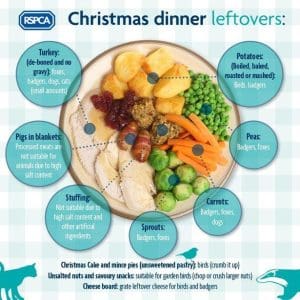 This infographic from the RSPCA highlights what you can do with Christmas dinner leftovers including feeding your pet dog as well as foxes, badgers and birds.
The RSPCA says that you still need to be careful when dishing up leftovers. Here is their advice:
Turkey: Should be deboned and given without gravy and in small amounts. Suitable for: foxes, badgers, dogs and cats
Peas and sprouts: Suitable for: badgers and foxes
Carrots: Suitable for: badgers, foxes and dogs
Potatoes: Can be boiled, baked, roasted or mashed. Suitable for: birds and badgers
Unsalted nuts and savoury snacks: Suitable for: garden birds but need to be chopped or crushed
Christmas cake and mince pies: Suitable for: crumbled for birds NEVER given to dogs or cats
Cheese: Grated. Suitable for: birds and badgers
Processed meat: These products, such as pigs in blankets and stuffing, are not suitable for any animals because of the high salt content.
ooooooooooooooooo
How to keep a pet safe at Christmas
The RSPCA's pet welfare expert, Dr Samantha Gaines, says: "No one wants an expensive visit to the vet in the festive season so keep your pets safe by understanding what can be dangerous.
"Other tips include making sure that your pet does not feel stressed during the Christmas holidays by keeping to their routine and having somewhere cosy and quiet for them to retreat to."
She added: "You should also ensure they have plenty of medication and food when shops may be closed and note the contact details of your nearest vet in case you need help."
The RSPCA also reminds people that they are open 365 days a year and are available to deal with emergencies over Christmas.
The RSPCA offers a page of help and advice for Christmas food for pets along with Christmas trees and other festive decoration dangers.
How to keep your pets safe at Christmas
The information given here on how to keep your pet safe at Christmas is also useful around the year and not just for the festive period when tasty treats, edible decorations and mince pies are available.
Pet owners need to be alert at any time of the year whenever family and friends come to visit, or when they decide to offer treats for their pet without realising just how toxic that food could be.
The big issue is that pet owners need to be careful where they store festive foods including fairy lights and wrapping paper to keep their pet safe.
The other potential problem, which is detailed in the Blue Cross YouTube video, is that some snow globes contain de-icer which can be fatal for pets.
In addition to the festive plants that can be mildly toxic, these top tips to keep cats and dogs safe from stomach upsets is a great reminder for pet owners everywhere to be alert and be the loving and attentive owner they are.