Coming up with great Christmas dinner ideas means sharing exquisite food and drink with your family and friends as part of the festivities.
For many of us, sitting around a decorated table with loved ones is the glorious pinnacle of the season.
Whether you are looking for ideas to deliver an easy Christmas dinner, or for fresh ideas for roast turkey and roast potatoes, there are lots of great ideas available.
This may extend to you offering something completely original, for example, turkey breast with sweet potatoes, but whatever your needs for Christmas Day dinner, these ideas will help.
We've loved working on this article for our lovely readers. It's been a journey through all kinds of cuisines to find the best recipes for you all to enjoy.
Bon appetite!
Vegan Christmas dinner ideas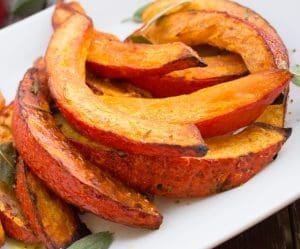 A vegan lifestyle is a real commitment that makes an individual look at food in a completely new way. Who knew that it's possible to bake with chickpea water, or that crisp brands and flavours would need to be scrutinised with such thoroughness!?
Christmas is a time for feast-worthy food and vegans shouldn't be excluded from that joy. The dedicated team of researchers at Christmas.co.uk has found researching a vegan Christmas an education and these are our favourite recipes.
Vegan Wensleydale and Cranberry Filo Parcel
Cheese and pastry. Job done! Add tart cranberries too and we're in a state of bliss. These decadent filo pastries would make a brilliant starter.
Mushroom Wellington
Cooking a wellington is a faff for even the most accomplished chef. However, the deeply savoury flavours of this extravagant dish are worship-worthy. This mushroom wellington is seriously good!!
Vegan Christmas Pie
A pie is an unusual choice for a Christmas lunch, it's a heavy offering that could lead to guests napping the afternoon away. Serve a light starter, delay pudding and take a risk with this divine mix of nuts, beans and vegetables that make up this vegan Christmas pie. We promise you won't be disappointed!
Gluten-Free Christmas dinner ideas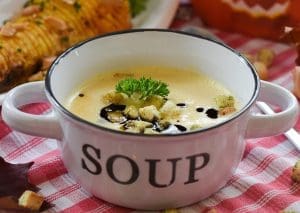 Food allergies are an onerous burden for sufferers all year round. Constantly wondering what you can and can't eat is draining and at Christmas it's maddening not to be able to enjoy food in the same gleeful way as everyone else.
For the coeliac, homemade is always best as each ingredient can be controlled. So, take a look at these amazing recipes and get ready to cook your way to a festive feast everyone will adore.
Butternut Squash Soup with Crispy Sage and Apple Croutons
This silky butternut squash soup feels like a real treat and the clever use of sage and apple as croutons gives a satisfying crunchy element.
Turkey Crown with Mustard and Honey Glaze
It's not Christmas without turkey and this is a delightful way to serve the nation's favourite. A juicy turkey crown is enrobed in a sweet yet punchy glaze. It's the type of flavour combination normally served with ham, but it works just as well here producing sticky, crispy skin and soft flesh.
Caramel Chocolate Log
For those who aren't fond of Christmas pudding, this caramel chocolate log is a show-stopping alternative. It takes lots of prep but, my goodness, the Dulce De Leche filling and white chocolate drizzle are worth it!
Healthy Christmas dinner ideas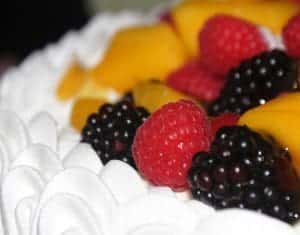 Sharing food with family and friends is a wonderful way to spend the festive season. Indulgence in decadent puddings, creamy cocktails and buttery roast potatoes is lovely, but not every day!
Remember, there are lots of ways to cut back on fat, sugar and salt without sacrificing the delicious tastes we love.
Fill up on side dishes of tasty roasted and herb-rich veg.
Exotic fruit and coconut yoghurt taste yummy so you won't feel like you're missing out on puddings.
Keep your intake of lean protein such as turkey, salmon and prawns high. They are nutritious and will make you feel fuller for longer.
If you're in charge of Christmas Dinner, research healthier versions of the classics. We're pretty sure that your friends and family won't notice the difference.
Crème Fraiche Mash
Swap half of the butter and cream you would normally use with low fat Crème Fraiche. Your Crème Fraiche mash will still wow the crowd around the table and their cholesterol levels will thank you.
Chicks in Blankets
Pigs in Blankets are my favourite part of the feast, so I was suspicious of this chicks in blankets recipe. I'm glad to report I was wrong to doubt. Use excellent quality chicken sausages and lean back bacon to make a magical combination that may even be better than the original.
Fresh Fruit Pavlova
These individual meringue pavlovas are under 100 calories! Incredible!
Sweet and crumbly meringue, creamy Greek yoghurt and bold fruit flavours are combined to create a refreshing fresh fruit Pavlova dessert that the whole family will love.
Budget Christmas dinner ideas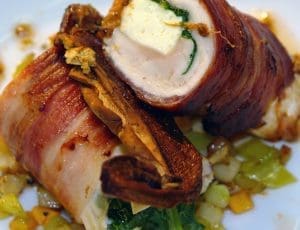 It's perfectly possible to make a sumptuous Christmas dinner that will serve four at £2 per person. Judicious shopping and a little culinary flair are all it takes!
Buy four chicken breasts and wrap each one with a slice of streaky bacon. Wrap in foil to ensure the chicken is moist and then finish off without the foil to crisp up the bacon.
Cook frozen brussels sprouts and then roast them in the oven with red onion.
The secret to delicious roast potatoes isn't expensive tubs of duck fat, it's roughening the edges by shaking vigorously in a colander. This makes them soft inside and crispy at the edge. Add a knob of butter for a dreamy taste and texture.
Carrots, parsnips and sweet potato are all great value vegetables. Roast them with oil and then drizzle with a little honey.
For lots of extra flavour save the unctuous juices from the bottom of the pan you roasted the chicken in and add it to gravy granules.
Indulgent Christmas dinner ideas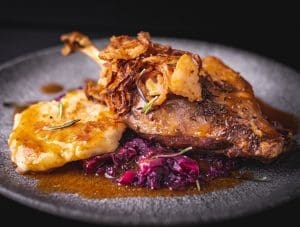 Indulgence is more than eating a million calories a day. It's about sophisticated flavours, expert cooking techniques and excellent quality ingredients.
Challenge yourself as a chef and serve your food with a sense of extreme pride. You'll deserve that third glass of champagne as you snooze contentedly on the sofa.
Parmesan and Truffle Double Baked Souffle
Truffles are rare and expensive so only a small amount is needed. When I tasted my first mouthful of this blissful parmesan and truffle double baked souffle, I cried a little bit. Life changing!
Festive Roast Goose with Panettone Stuffing
Goose feels like an elegant alternative to turkey. It's a rich and fatty meat that is similar to duck but is easier to cook and the buttery, milky version of bread sauce is the ideal companion
Use the delectable juices from the bird to crisp up your roast potatoes for a magical roast goose with panettone stuffing meal.
Saffron Poached Pear, Madeira and Ginger Trifle
Pears are a wonderful ingredient for a winter trifle, and they soak up the other powerful flavours beautifully. This saffron poached pear, madeira and ginger trifle is a real treat!
Buffet style Christmas dinner ideas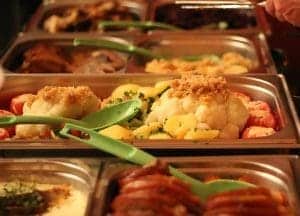 Not all households enjoy the heaviness and formality of a sit-down dinner. The chilled vibe of a relaxed buffet might be just what you need.
At a buffet, everyone is free to pick and choose their own meal, though with these tempting tit bits you'll want to try it all!
Shot Glass Prawn Cocktails
Cute and kitsch with a 1970's vibe, these prawn-avocado cocktails are irresistible.
Served in a shot glass for bite-size portions, or an espresso cup for a more substantial snack, your guests will love them.
Turkey and Rosemary Skewers
If we were in Australia, we'd be throwing these low fat, high protein kebabs on the beach barbie. Sadly, it's the oven grill for us but they will be no less mouth-watering.
Generous portions of turkey breast and a whole sprig of fragrant rosemary, a quirky but heavenly way to serve your Christmas turkey.
Christmas Pudding Cookies
Baking cookies is an awesome way to encourage the kids to get involved with Christmas Day preparations.
Packed with lots of seasonal flavours these Christmas pudding cookies are spicy, gooey and gorgeously sweet. Make a couple of batches as we guarantee they'll be a hit!
Indian dinner ideas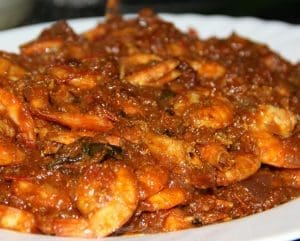 2020 has been an unusual year, so why not do something completely different for Christmas lunch?! Indian cuisine is a team favourite at Christmas.co.uk and these recipes come highly recommended by us all.
Malai Prawn
Serve this incredible prawn curry as a starter as an alternative to prawn cocktail. The heat of whole spices cuts through a creamy coconut sauce, a groan-inducing accompaniment to the sweet and meaty prawns.
Lamb Raan
A dish worthy of an epic feast! The magic needs to begin on Christmas Eve but there is minimal effort needed on the big day itself.
The lamb raan spice mix is genius, and the meat falls off the bone upon carving. This recipe will become a family favourite.
Indian Spiced Roast Potatoes
Roast Potatoes are a much-loved part of most Sunday dinners, so it's alarming to 'mess' with perfection.
Honestly?! We demand that you take the risk. Don't be alarmed by the amount and variety of spices you're required to chuck into the dish for Indian spiced roast potatoes. Trust the process and you'll be happily amazed by the result.