Make this year a 'green' Christmas, by thinking about the environment.
That, and the threat of a climate crisis, has been on our minds more than ever before with activists such as Greta Thunberg are urging us all to look at what we can do to protect the planet from disaster.
Christmas is the time of year when thoughts naturally turn to family, love and how we can make other people happy. It seems appropriate to extend that kindness and thoughtfulness to the planet we live on.
Here's a guide to how we can all have a 'green' Christmas.
Gifts
Are you a good cook or talented baker? A collection of the recipes that family and friends have always loved is a fantastic gift for a young couple who have just moved in together.
Gifts of cakes, preserves or biscuits will be welcomed by anyone who loves to eat. That's most of us then! Think luxurious and personalise your delicious offerings with their favourite flavours.
My most treasured gift last year were beautiful dried flowers presented in a handmade frame made from the twigs and branches from the wood I take my dog for a walk in. It was thoughtful and heartfelt and makes me smile every time I pass it.
Cards
To have a truly 'green' Christmas you should cut down the giving of cards to the barest minimum. For the special people in your life and the loved ones who you know enjoy receiving a card then get creative and make them a festive work of art!
Crisply folded recycled card in red and green decorated with a sprig of holly from the bush in the neighbour's garden (just don't make eye contact with all the other holly thieves!) would be perfect.
Cut up any cards you receive this year and you'll have a stash of Christmas images to use next year.
Treats
Don't buy boxed mince pies, bake them! MUCH yummier!
Need a show-stopping dessert? Avoid the £25 cost for a chocolate yule log and ALL the packaging from Waitrose, politely ask the mother-in-law to bring one to dinner. She'll be flattered and your home's festive carbon footprint will be lowered.
Alcohol
This is tricky! I don't think I've ever drunk a homemade wine that didn't taste and act like paint stripper. I have, however, had a fair few bottles of homemade beer that I have LOVED! Tread carefully but at least try to attempt some sort of drinkable hooch. You might not care about the taste by 8.30pm on Boxing Day after 48 hours with your 'delightful' sister-in-law.
Decorations
Popcorn threaded on a string and draped around a 'shaker style' Christmas tree. So far, so American and VERY 'Insta' friendly.
Anything that the children have made. I don't care if Santa has his head on backwards and the papier-mâché reindeer head looks like a donkey with antennas. That piece of art has been made with love by your pride and joy, it has had zero impact on the environment and if that isn't the spirit of Christmas I don't know what is.
Pinterest is your friend! Last year I found a blog which showed me how to make reindeers out of wine bottle corks. I had quite the herd by Christmas Day.
Wrapping
Newspapers, comic books, magazines and decorated handmade paper – all make gorgeous and unusual wrapping papers. If you have the time and energy (lucky you!) the efforts made to select the person-appropriate pages from your recycled media coverage will be noticed and appreciated.
Gifting
Re-gift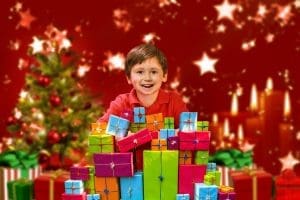 It is NOT selfish or unkind. If the gift you received wasn't quite 'your thing' then quietly giving it to someone you know WILL appreciate it is a good deed.
Just don't throw it out! The charity shop is where it should go. There's someone out there who would donate a kidney in return for a bright cushion with a pug wearing a tiara on the front. Please don't deprive them.
Plants and trees
Planting trees and growing plants is one of the best things you can do for the environment.  They absorb carbon dioxide and store carbon in their wood which helps to slow the rate of global warming.
Buy a friend a fruit tree and you're playing a tiny (but still important!) role in saving the world and every year when they pick the apples and make a crumble they will think of you … and hopefully, make you one too!
Don't overspend
Don't buy more than you can afford and more than is needed. Children do not need 2,000 presents and they won't need therapy just because they didn't receive everything on their Christmas list.
The production and packaging of each 'must-have' piece of plastic has had an impact on the environment. If the toy they want will be played with and adored then go ahead but if it's yet another 'stocking filler' from the pound shop, don't do it!
Buy 'experiences' not things
My Dad has a real issue with gifting people experience vouchers. He thinks it's lazy. I love a voucher. It's like two presents in one. The anticipation of the meal, massage or trip to the theatre and then the experience itself.
For obvious reasons, pick days out at National Trust properties or a cream tea at your local organic farm over a flight in a microlight or a trip on a steam train.
The gift of knowledge, expertise or time
This. I LOVE! My friend works at the National Railway Museum and gifted his train-mad nephew with a private behind-the-scenes-tour and a chat with the engineers. It cost him nothing other than time and expertise. Apparently little Ben is still talking about it.
Pay attention to packaging
If choosing between two gifts, pick the one with the least amount of packaging. A gift box of smellies does not need to be doubled-boxed and covered in cellophane. I don't care how pretty it makes it and no, they won't use the box for 'useful things' afterwards.
Recycle wrapping paper and gift tags
Unwrapping birthday presents was a stressful business when I was little. Mum would hyperventilate over whether we ripped the pretty paper and made it impossible to re-use.
Weirdly, at Christmas she was the opposite. All the wrapping got scrunched up and launched into a bin bag never to be seen again. The difference was that she had a Christmas dinner to prepare and a hell of a lot more paper to deal with.
Fewer gifts, a paper monitor that isn't the most stressed person in the room, minimal wrapping and recycled and recyclable paper will make the process much easier.
Don't use foil or metallic paper as it is hard to recycle
Yes, it looks awesome under the tree with fairy lights reflecting off it. I KNOW you can get a really good crease with it so it looks smashing wrapped around a box. But really, there's only a few of us in the world that care about that stuff and it's difficult to recycle so if you care about the environment (and I'm assuming you do because you're reading this) avoid the shiny paper, please.
Buy local
Don't travel for miles for a 'green' Christmas shop in a super busy, stuffy, noisy and soul-less shopping centre. Look for the cute little gift shops in your local area and buy your presents there.
You'll save petrol, avoid stress, find a unique gift or three and line the pockets of a local entrepreneur instead of the offshore account of someone who spends Christmas polluting the oceans on their private yacht.
Go battery-free
Where possible, buy toys that don't need batteries. It's long term consumer power. If we all stop buying the plastic tat that needs batteries, fewer of them will be made.
Dispose of the batteries you did need carefully. Too many people just chuck them in the bin without a thought! That's disastrous for the environment and there's no excuse when many shops have collection points for them to be recycled.
Energy
Buy fairy lights with LED bulbs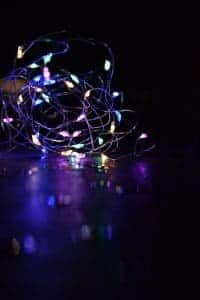 I LOVE a fairy light! To be honest, as soon as it gets dark, out they come. The light from them is muted, pretty and it makes me feel all warm and toasty.
Think on though. Buy LED lights so there's no electricity costs to your pocket or the environment, no batteries are needed and the bulbs last forever.
Keep outside lighting to a minimum and switch off at night-time
The trend to competitively light your house up so it can be enjoyed by the astronauts in the International Space Station has arrived. I'm not sure that it's something that can ever be reversed and to be honest I do kind of enjoy the streets of my city looking like a micro-cosmic cross between Santa's grotto and Blackpool Illuminations.
Remember though that all the energy needed to light your home will be reflected in your electricity bill and carbon footprint. So, if you are a lover of lights, try not to go crazy with them and turn them off when we're all in bed because that really is inexcusably wasteful.
Light your home with festive candles
Switch off the big light and dim your table lamps during the festive season. Pair your eco-friendly LED fairy lights with some ethically made candles and your home will be beautiful!
Food
Shop carefully – don't waste food
Plan your meals and only buy what you need. The shops are only closed for a day. You don't have to stockpile! Will you really need all that buffet food on a 'green' Christmas day? You'll have had a posh breakfast, a massive lunch, several hundred handfuls of chocolates and crisps and a belly-full of food.
Shop local and at farmers markets
Visit local butchers, greengrocers, bakers and farmer's markets before following the herd to the supermarket. Eat delicious locally grown fruit and veg, tuck into free-range and kindly reared meat whose provenance is clear and indulge in hand-made cakes.
Consider going meat-free
Yes, even if you're not veggie or vegan. I'm not suggesting giving up your precious pigs in blankets but think about forgoing meat for one week, one day or even just one meal a day over the festive season.
Just one big meal then leftovers and cold buffet for tea
Your oven and hob used A LOT of energy to provide you with a Christmas feast of dreams. Don't spark it up again a couple of hours later to warm up the sausage rolls and pizza that you're too full to eat.
Have a turkey sandwich, some cold roast potatoes with extra salt and vinegar (trust me on this!) and the rest of the tinned chocolates. Your kitchen, gut, waistline and the planet will thank you.
Buy free-range and organic where your budget allows it
We know, organic fare is significantly more expensive and free-range is now more or less equal in price to standard (cruel!) eggs. No-one has money to throw away at this time of year but if you factor in the money you're saving by not buying the buffet food that won't be eaten, you might just have enough to afford an organic, free-range turkey that is packed with flavour and lived a full and happy life.
Nature
Decorate a Christmas tree for the birds
Make some 'green' Christmas themed treats for the birds and gain some feathered friends. It's a lovely idea for a rainy-day craft activity. Who knows … the birds might remember your kindness and see your garden as a cool place to hang out.
Buy a natural 'green' Christmas tree, re-plant it and then plant another for good measure
Despite the fact they get cut down in their prime, natural Christmas trees are, in fact, better for the environment in the long term. Plastic trees cause pollution through their manufacture, the toxins they emit and the difficulty of disposing of them in an ecological manner.
A thriving natural 'green' Christmas tree market means that trees get planted every year that wouldn't exist if there wasn't the need for them in December. So, stop feeling guilty about your gorgeous, lush smelling, needle-dropping work of art in the corner.
In January re-plant your tree in your garden. The more trees the better so, while you're digging, plant a fruit tree that will produce blossom in a few years.
As you can see, when it comes to enjoying a 'green' Christmas this year, with a little effort you can make big strides in helping our planet!