Knowing which are the best Christmas crackers to choose in 2020 is a crucial part of enjoying a Christmas dinner for many people.
The Christmas crackers this year include the usual selection of luxury Christmas crackers, fill your own crackers, with premium Christmas crackers offering a stylish option to compliment a well laid out Christmas table.
The gifts in Crackers this year include the usual paper hats, various stocking fillers and many are now plastic-free.
Others offer wildflower seeds, a bottle opener and the premium crackers, from the likes of John Lewis really are impressive.
Indeed, the team at Christmas.co.uk struggle to imagine a Christmas lunch without a decent cracker to pull first.
Making the awkward teenager reluctantly don their paper hat and groaning at the horrendous jokes are all part of the family fun.
Sadly, cheap crackers often come with bits of nasty plastic 'treasure' and enough packaging to fill a bin bag.
So, this year we are determined to bring you luxurious, Greta Thunberg-approved Christmas crackers that will impress your guests and make them smile.
Drinks By Post Personalised Christmas Crackers – £18 per cracker or 6 for £100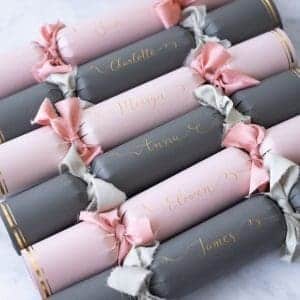 Now, these aren't cheap at £18 per cracker but, my goodness they are gorgeous!
Drinks By Post have created an eco-friendly cracker that is recyclable, has minimal packaging and is totally plastic-free.
They can be completely personalised with the elegantly written names of your loved ones. You can also choose the colour of both the cracker and the organic ribbon. We adored the pretty pastel colours as a lovely change from standard red and gold (though those are ace too!).
We know you're wondering about the treats inside. Prepare to be delighted! These sophisticated crackers contain a happy mix of the quirky and traditional.
When your cracker goes 'Bang!' a cute bottle of your favourite cocktail will be yours for the enjoying. Don't fret, the daft hat and random trivia is still a part of this festive custom.
For the teetotal there is, of course, a non-alcoholic option and the little ones will love their delicious hot chocolate stirrer.
Our favourite part of these beautiful crackers? The teeny tiny acorn. What? Why? It's genius! Plant your acorn in your empty cocktail bottle and next Christmas you'll have grown your very own tree!
Crackertoa Luxury Party Pack – £25 for 6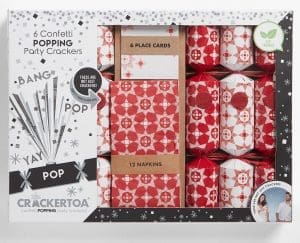 The 'Snap!' on these crackers makes us laugh but make sure you don't pull them over your Christmas dinner, or you'll have confetti in your gravy!
Kids love the drama of these explosive crackers and everyone will enjoy the fabulous animal Origami kits, folding your paper elephant or T-Rex is a great way to pass the time between the turkey and Christmas pudding.
There's the usual too-small (just me?!) paper hat and bad joke in each cracker but you also get twelve nicely designed napkins and six (Why six? There are twelve crackers?!)
The lovely people at Crackertoa are determined to produce a planet-friendly product and, happily, their luxurious crackers contain biodegradable confetti, zero plastic and they are handmade in Africa by people working for a World Fair Trade Organisation.
Cox and Cox Luxury Handmade Black and White Crackers – £50 for 6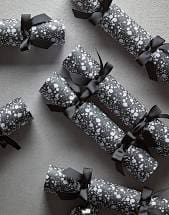 The contemporary colour and pattern of these chic crackers is unusual and would look stunning against a crisp white tablecloth. The ink splodge design, complete with glossy black ribbons, matches a range of Cox and Cox wrapping paper so your Christmas can look like an influencer's flat lay.
We were thrilled with the gifts. They aren't as decadent as they could be for the price but if you're a lover of miniature things then the cheese grater and strawberry jam will have you squealing!
Each of the crackers has a hat, a joke and a thoroughly satisfying 'Bang!'. Your prize may not be to your liking, wildflower seeds would be wasted on me as I kill all plant life, but someone at the table will take it home with pleasure.
Selfridges Bow Trimmed Christmas Crackers – £80 for 6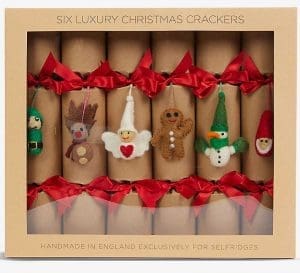 Truly adorable! The knitted Christmas decorations that adorn this set of Selfridge's crackers are keepsakes that you will cherish for years. I'd fight you for the snowman with his teeny tiny carrot nose!
The crackers themselves are crafted from rustic brown paper and scarlet ribbon so they would look fabulous on most dinner tables.
Selfridges are a premium brand so the price is to be expected, but we felt that slightly more desirable gifts could have been chosen. That said, the delicatessen theme will provide your guests with useful kitchen minis, and that is infinitely better than plastic tat.
Our favourite prize was the garlic grater. It's ridiculously useful! The tea strainer and baby whisk for frothy coffee were also lovely.
John Lewis Fill-Your-Own Crackers – £8 for 6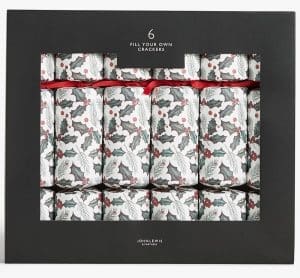 There are few people who have the time and inclination to make their own crackers. It's December! We're either frantically shopping, drinking mulled wine at ANOTHER party or providing transport to your small child's fifth carol concert,
Fill-Your-Own crackers are the perfect solution! Each recipient will be treated to a thoughtful individual present. Kids will love a Lego Mini Figure and your Mum will be delighted with a sparkly nail polish.
These crackers are minimalist, but the holly pattern is a seasonal classic and you could add your own bows once they have been filled.
There are no hats or jokes which you might need to source if you're a stickler for tradition but at £8 for six they are still fantastic value.
John Lewis are really focusing on sustainable products this Christmas and these are fully recyclable, glitter and plastic-free and the packaging is PET-free.
Hotel Chocolat Table Crackers – £24 for 6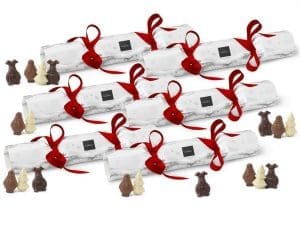 Hotel Chocolat make delicious chocolates with cool and quirky designs and flavours. Their distinctive burnt cocoa taste means you know exactly whose chocolate you are tucking into.
Their crackers are snowy white with a metallic wintry landscape embossed on them. The generous lengths of bright red ribbon can be re-used in children's hair or on next year's Christmas presents.
The 'Bang!' is loud and satisfying but if you have small children of nervous dogs you could just open them delicately by untying the ribbon.
Wear your golden crown proudly as you munch on a pre-dessert trio of chocs. The texture is chunky but smooth and comes in the shape of a milky reindeer, a creamy white tree and a caramel penguin.
All packaging is made from sustainable sources and can be recycled.
Meri Meri Angel Christmas Crackers – £21 for 6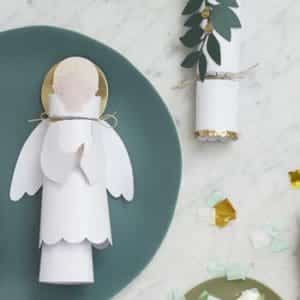 Have you ever seen a more beautiful Christmas cracker? These angels, with their floaty wings, hands in a prayer position and a golden halo are divine!
If you are a family that is smaller than six then I'd be tempted to keep one of these little darlings for the Christmas tree, they would look pretty when perched on top.
The puzzle gifts are interesting and will hold the attention for a good while, ideal for bottom shuffling children.
Musical Concerto Crackers – £10.94 for 8
If you're looking for a cracker that won't cost the earth, then this music-themed bumper pack of eight (not the standard six!) would be a wonderful choice.
The musical note design is unusual but festive, it would fit in nicely with most family's Christmas decorations.
Nestled inside, ready to make blissful music, is a whistle and instructions for how to play a selection of Christmas carols.
No-one at Christmas.co.uk managed to make anything other than an awful noise but spending half an hour trying did make us laugh a lot and that's what Christmas should be about isn't it?!
So, that's our roundup of the best Christmas crackers in 2020 and all of our selections deliver an impressive and stylish Christmas cracker addition to a dinner table when guests come to enjoy novelty presents, badly fitting paper hats and other goodies. And let's not forget the truly awful Christmas cracker jokes that many will contain!