Whether you are newly vegan, or are entertaining a vegan on Christmas Day, it's likely you'll be puzzling over the menu choices for your festive lunch.
Veganism, along with vegetarianism, is growing in popularity so there will be many families who hosting a vegan for the first time.
Our key message? Don't fear it! There are some great tasting festive vegan recipes around and there are some that are the perfect plant-based alternative to a traditional turkey dinner.
We deal with vegan side dishes in another Christmas.co.uk article, so we also wanted to look possibilities for a vegan star of the show.
Let's begin with the maestro of creative Christmas cooking, Jamie Oliver.
Jamie Oliver's baked squash recipe
We love this flavoursome and nutritious dish from Jamie Oliver. It takes a while to cook but the method is relatively simple.
And, as Jamie highlights, it also makes for a great Christmas dinner dish for vegans and non-vegans alike!
Baked squash with nutty cranberry-spiked rice stuffing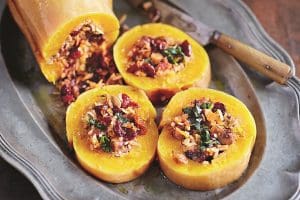 Serves: 6
Cooking time: 2 hours 30 minutes
"Based on a beloved old recipe of mine, this method really takes advantage of stuffing and slow roasting the sweet, versatile squash. You get wonderful flavours exchanging in the centre, great textures, and the slices look amazing."
Ingredients
1 butternut squash (1.2kg)
olive oil
1 red onion
1 clove of garlic
1 bunch of fresh sage (30g)
10 sun-dried tomatoes
75g vac-packed chestnuts
75g basmati rice
75g dried cranberries
1 pinch of ground allspice
red wine
Method
Preheat the oven to 180°C/350°F/gas 4.
Wash the squash, carefully cut it in half lengthways, then remove and reserve the seeds. Use a spoon to score and scoop some flesh out, making a gully for the stuffing all along the length of the squash.
Finely chop the scooped-out flesh with the seeds and put into a frying pan on a medium heat with 2 tablespoons of oil.
Peel, finely chop and add the onion and garlic, stirring regularly while you pick the sage leaves and finely chop them with the sun-dried tomatoes and chestnuts.
Stir into the pan with the rice, cranberries and allspice, add a good pinch of sea salt and black pepper and a swig of red wine, and mix well. Fry for 10 minutes, or until softened, stirring occasionally.
Pack the mixture tightly into the gully in the two squash halves, then press the halves firmly back together. Rub the skin of the squash with a little oil, salt and pepper, and if you've got them, pat on any extra herb leaves you have to hand.
Place the squash in the centre of a double layer of tin foil, then tightly wrap it up. Bake for around 2 hours, or until soft and cooked through.
Once ready, take the squash to the table and open up the steaming foil parcel in front of everyone, then carve into nice thick slices and serve with all the usual trimmings.
TIPS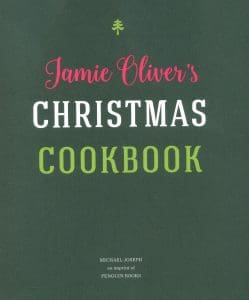 This tasty squash also makes a delicious veggie side dish, in which case you should be able to feed about 10 to 12 people with this recipe.
Nutrition
Vegan, vegetarian, gluten-free, dairy-free.
ENERGY                FAT        SAT FAT                PROTEIN              CARBS   SUGARS               SALT      FIBRE
300kcal                 8.9g       1.3g                       5.1g                       51.1g     22.2g                     1.2g       6.5g
Jamie Oliver's Christmas Cookbook by Jamie Oliver is published by Penguin Random House
ⓒ Jamie Oliver Enterprises Limited (2016 Jamie Oliver's Christmas Cookbook)
Photographer: David Loftus.
oooOooo
What is vegan food?
Vegan food refers to any food that is free from animal products and by-products, such as meat, eggs, dairy, and honey.
A vegan diet is a plant-based and includes fruits, vegetables, whole grains, legumes, nuts, and seeds. It has gained popularity in recent years due to health and environmental concerns.
Vegan food is rich in nutrients, fibre, and the antioxidants that help to prevent chronic diseases such as heart diseases, cancer, and diabetes. Some popular vegan food options include salads, smoothie bowls, veggie burgers, vegan pizza, tofu stir-fries, and plant-based milk alternatives.
Veganism is not just a diet, but also a lifestyle choice that aims to reduce animal cruelty and promote ethical treatment of all living beings.
oooOooo
Seitan turkey roast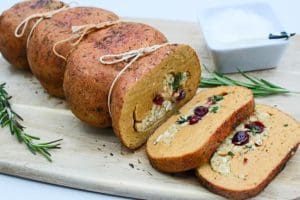 Another great choice for a vegan main course, is this delicious seitan turkey roast from Yumveganlunchideas.com.
Seitan is a popular high protein replacement for vegans and vegetarians. It is made from wheat gluten and has a mild flavour that is receptive to herbs and spices so you can create wonderful flavour combinations.
Herby seitan 'turkey' roast with stuffing
This complex recipe takes time and effort. However, we think it is the perfect dish for special meals such as Christmas lunch. In addition, your vegan guests will appreciate the work that has gone into the dish.
Dry ingredients:
5 cups of wheat gluten
1/4 a cup of nutritional yeast
1 tbsp of onion powder
1 tbsp of garlic powder
1 tbsp of dried rosemary
One tbsp of dried thyme
1 tsp of dried tarragon
2 -3 sprigs of fresh sage
Rub:
The seitan will need to be rolled in a rub made with spices and herbs to prevent the dish from sticking when cooking.
1 tbsp of cayenne pepper
One tsp of paprika
1 tbsp of salt
One tbsp of dried rosemary
1 tbsp of dried thyme
Wet ingredients:
1 cup of plant milk of choice
2 cups of white wine – including non-alcoholic
3 cloves of garlic
1/4 a cup of canned chickpeas
1/3 a block of firm tofu (approx 2/3 a cup or 110g)
3 tbsp of Marmite
The recipe also calls for stuffing. You can use shop-bought stuffing for this purpose or make it yourself. The key to success is to make sure your stuffing is full of moisture and contains sweet and fruity ingredients such as cranberries or apricots.
This roast needs to be cook it in a broth (the ingredients are listed on the website along with the method) and you will need a clean muslin cloth to wrap the roll in, so it stays together as it cooks.
oooOooo
5 Vegan Christmas Dinner Recipes!
The guys at Bosh! really do know how to create awesome vegan food and with these five vegan Christmas dinner recipes are testament to their skills!
Why do we love these tasty and nutritious dishes? Meat eaters and vegans will both find them filling and delicious.
Ultimate Christmas Wellington
Individual Mushroom Wellingtons
Mushroom Wellington (Our favourite! It's excellent!)
Ultimate Nut Roast
One-Tray Jackfruit
Check out the bonus recipe at the end! It is easy to make, and non-vegans will find it tempting too!
As with a traditional roast turkey dinner, these dishes take time to prepare and cook but they are truly amazing and well worth the effort.
oooOooo
Sage and onion homemade seitan roast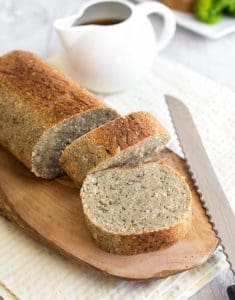 At Christmas, when everyone else is tucking into a roast dinner, a meat replacement may appeal to your vegan guests more than a plate of vegetables. This fragrant and mouth-watering sage and onion seitan roast from Becca at the Easy Cheesy Vegetarian.
Homemade sage and onion seitan roast
This protein rich roast is made from wheat gluten and makes a filling dish for five people. It goes perfectly with classic Christmas dinner trimmings such as roast potatoes (without the goose fat!) and green vegetables.
We found Becca's recipe easier and quicker to prepare and cook than our other seitan dish, it needs just 20 minutes work before you bang it in the oven.
Becca's website includes detailed instructions and serving ideas and the roast cooks in under 90 minutes. Do keep in mind that seitan is not yet widely available, and Becca had to source hers online. Also, the shelf life of seitan is 10 days but it can be frozen for up to six months.
Ingredients:
400 g tin cannellini beans, drained (240g, or ~ 1 ¼ cups, when drained)
3 cloves garlic, peeled
Small bunch fresh sage
1 medium onion, peeled and cut into a few chunks
½ teaspoon dried oregano
215 g vital wheat gluten (~ 1 ½ cups)
250 ml vegetable stock (~ 1 cup) – not low-sodium
Salt
Black pepper
Oil for greasing.
oooOooo
The best home-made vegetarian gravy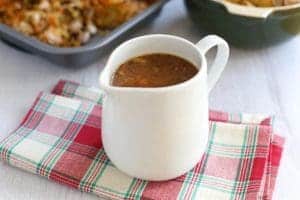 Vegetarian meat replacements can be dry, and, in all honesty, it doesn't feel like Christmas without a glug or two of steaming hot gravy on your lunch.
Once again, it's Becca from the Easy Cheesy Vegetarian to the rescue. Her best home-made vegetarian gravy is a triumph!
It's a simple recipe that delivers a flavoursome punch and will unite the rest of the tastes and textures in a Christmas dinner.
The base of this excellent vegan gravy is garlicky sautéed onions. Becca then adds a roux of vegan or dairy-free butter and flour and mushrooms. The secret ingredients? The umami richness of marmite and sweetness of honey.
With this recipe, you can create the texture you prefer; thick and textured the way Becca prefers or smooth and silky after being blended.
We were deeply impressed with this delicious vegan gravy and believe that the meat eaters will be clamouring to try it too, so make extra!
This gravy can be made suitable for vegans by using vegan butter and replacing honey with agave nectar.
Ingredients:
1 tablespoon oil
1 red onion, finely diced
~ 6 mushrooms, finely diced
1 clove garlic, minced
1 tablespoon butter or dairy-free spread
1 tablespoon plain flour
⅓ tablespoon Marmite or Vegemite – both products are suitable for vegans
750 ml hot water (~ 3 cups) – or veggie cooking water
1 teaspoon honey or agave nectar
¼ teaspoon dried sage
Black pepper
oooOooo
Why do people choose to become vegan?
People choose to become vegan for a variety of reasons including health, environmental or ethical reasons.
A vegan diet is relatively low in saturated and trans fats, high in fibre and full of nutrients. A plant-based diet has been connected to lower rates of diabetes, cancer and heart disease. That said, there are plenty of processed vegan foods appearing in supermarkets which should be avoided for optimum health.
Farming animals contributes to the creation of greenhouse gases, deforestation, and pollution. Vegans believe that their lifestyle reduces their carbon footprint and encourages food producers to adopt more sustainable practices.
Veganism is an important part of some religions and cultures as it respects and honours all life forms.
Some people are allergic or intolerant to animal products and feel better when they are on an exclusively plant-based diet.
oooOooo
Vegan lentil loaf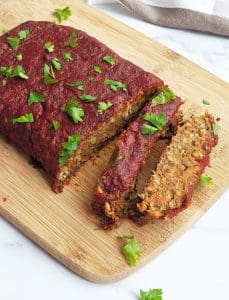 Lentils are a rich source of protein, because of this they appear in many vegan and vegetarian recipes. This nutritious and tasty dish from Rachel at healthmylifestyle.com is an excellent example and is sure to be well-received at Christmas Day lunch.
This herby loaf is moist and full of flavour. It is easy to produce and can be made ahead of time and stored in a fridge until needed.
Rachel says that this is recipe that many non-vegans love and is ideal for people trying out the vegan lifestyle to see if it suits them.
Ingredients:
½ cup yellow onion
1 ¼ cup mushrooms , roughly chopped
1 cup red pepper , roughly chopped
1 large carrot , roughly chopped
3 cloves garlic , minced
½ teaspoon salt
½ teaspoon pepper
2 cups brown lentils , cooked
½ cup rolled oats, or quick oats
2 tbsps flax meal
½ cup whole grain bread crumbs, *
2 tbsps tomato paste
1 tbsps pure maple syrup
1 tbsps yellow mustard
1 tablespoon fresh parsley, chopped
Basting sauce:
1 tablespoon tomato paste
1 tablespoon pure maple syrup
Additional water to thin the sauce to a basting consistency
oooOooo
How to make the ultimate vegan Christmas dinner
Are you planning on serving your guests fully vegan Christmas dinner? No problem! Madeline Olivia has the answer.
This is a fantastic video which will teach you how to create these tasty dishes:
Easy vegan nut roast
Braised red cabbage
Ultimate roast potatoes
Brussel sprouts
Maple roasted carrots
Easy roasted parsnips
Each dishes prove that plant-based meals can be nutritious, flavoursome, and easy to prepare, and we think non vegans will love these recipes too.
oooOooo
Vegan lentil, mushroom and quinoa roast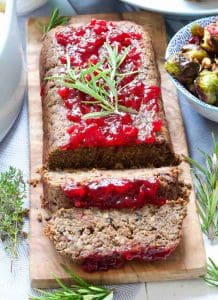 This delightful recipe from Jo at Jo's Kitchen Larder is made from wholesome, flavourful ingredients and packs a protein punch without pretending to be meat.
Lentils will be familiar to vegans who regularly eat at the table of meat eaters. There's nothing wrong with pulses, they are tasty and full of protein. However, sometimes an inventive twist on a classic is welcome!
Jo's recipe contains the umami kick of porcini mushrooms, creamy chestnuts and a kind of nutritional yeast which adds a lovely cheesy flavour.
This roast is moist, unlike many nut roast offerings, and is a wonderful alternative to meat on a traditional Christmas dinner. It is also inexpensive, and any leftovers would make yummy Boxing Day sandwiches.
Ingredients:
200-235g Cooked green lentils
Cooked chestnuts
Cooked millet or quinoa
Mushrooms
Dried porcini mushrooms
Nutritional yeast (Nooch)
Onions and garlic
Bay leaves
Juniper and allspice berries
Soy sauce or tamari (if gluten-free)
Dried thyme
Mixed herbs
Mustard
Jo's recipe has easy-to-follow step-by-step instructions, useful cooking advice and suggestions for well-matched vegan side dishes. Check out her spectacular vegan onion gravy.
We loved the festive look of this dish, and we think it would make an attractive addition to a table of party food.
oooOooo
Tips and advice for entertaining a vegan at Christmas dinner
If you're worrying about keeping the vegans in your life fed and happy, here are some tips and advice for entertaining a vegan for Christmas dinner. After all, Christmas is about making sure everyone feels welcome and included.
A healthy and satisfying vegan diet includes vegetables, pulses such as lentils, nuts and beans. Your plant-based guests will appreciate not being treated as an afterthought on Christmas day, so look for an impressive recipe like a vegan wellington or multi-ingredient nut roast.
Don't assume all vegans enjoy the taste and texture of meat, so check before serving 'pretend meat'.
Check labels – some products have hidden non-vegan ingredients and remember than vegans don't eat eggs, dairy or honey.
Prevent cross-contamination with the meat and non-vegan ingredients you're cooking for your other guests. Use separate pots, pans and utensils and clean surfaces and equipment frequently.
Offer a variety of vegan side dishes as they will be enjoyed by everyone. Roasted root veg, braised cabbage, different styles of potatoes flavoured with vegan butter and vegan gravy.
Create exciting vegan desserts such as mince pies made with coconut oil and cakes made with aquafaba (chickpea juice) instead of eggs.
If vegan cooking stresses you out, and you have the budget, source food from a specialist plant-based caterer.
oooOooo
Vegan food recipes: Meat-free meatloaf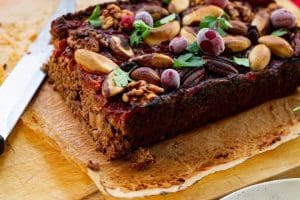 A meat-free meatloaf sounds a little weird, but this delicious creation by Freya at Sweeter Than Oats is well worth a try!
This satisfying 'meat' loaf is packed full of herbs, mushrooms, vegetables and walnuts. It takes around an hour to make and bake, so is perfect for last minute dinner parties.
Freya's recipe works beautifully with roast potatoes and traditional Christmas veg such as brussels sprouts and red cabbage.
The meaty texture of this dish is lovely and, when cooled, the leftovers would make excellent Booking Day sandwiches.
We loved that this versatile recipe can be changed to suit the wants and needs of your guests. There's an optional enchilada sauce, nut substitutes (hazelnuts, almonds or none at all) and a variety of extra flavours such as soy or BBQ sauce.
Ingredients:
2 cups TVP (textured vegetable protein) soaked in 1 cup of water/vegan mince
1 tablespoon Oregano
4 tablespoon Nutritional Yeast
¼ teaspoon Chilli Flakes optional
2 teaspoon Salt
1 teaspoon Ground Black Pepper
1 cup Walnuts toasted
½ cup Olives your favourite type
2 Cloves Garlic peeled
7 oz Mushrooms
2 tablespoon Tomato Puree
3 teaspoon Olive Oil
1 Onion peeled
1 tablespoon Parsley
¼ cup Cornmeal or flour for binding
oooOooo
Vegan food recipes: Vegan cannelloni with spinach and ricotta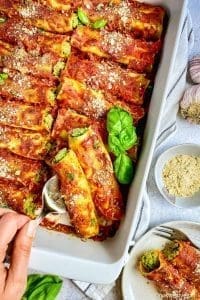 A gorgeous pasta dish will be a hit with most dinner party guests and this recipe will be adored by both vegan and non-vegan diners.
Vegan spinach and ricotta cannelloni
Julianne at the No Sweat Vegan has developed a plant-based Italian classic that will make a welcome change from nut roasts and lentil bakes.
The tender pasta tubes are filled with creamy vegan ricotta and nutrient packed spinach to deliver a family-friendly, healthy meal that is packed full of Mediterranean flavours.
Food blogger Julianne provides step by step instructions with illustrative photographs so that even those new to cooking will find the process quick and stress-free.
At a chaotic time, it's great that this straightforward dish can be assembled ahead of time and stored in the fridge for up to two days. It only takes 40-minutes to cook too!
Ingredients:
2 cups vegan ricotta
2 Vidalia onions, diced
6 to 8 cloves garlic, roughly chopped
4 teaspoons Italian seasoning
2 teaspoons salt
8 cups loosely packed spinach
2 cups loosely packed basil
1 cup breadcrumbs
3 cups marinara sauce
18 to 22 pre-cooked cannelloni
If you're looking for more festive vegan dishes, Julianne has lots of interesting ideas on her website.
oooOooo
Can vegans drink alcohol?
It's one thing dishing up magnificent vegan dishes to the Christmas dinner table, but what will they enjoy drinking?
Yes, vegans can drink alcohol but it is important for vegans to research and check the ingredients of any alcoholic beverages before consuming them. There are many vegan-friendly alcoholic options available, including beer, wine, and spirits made without animal products.
Beers brewed following the German Purity Laws such as Pilsner, Helles and some Weissbiers are a safe bet, as are wines fermented without fining agents.
It's always worth checking the label to see if a spirit is vegan – many distilleries and brewers are moving into vegan-friendly production, including Guinness! Absolut Vodka, Aviator Gin, Pimms and Beefeater Gin are vegan. So are Heineken, Asahi and Amstel beers.
Many bars and restaurants now also offer a range of vegan-friendly alcoholic and non-alcoholic options to cater to all tastes and preferences.
oooOoo
Vegan food recipes: Mushroom Wellington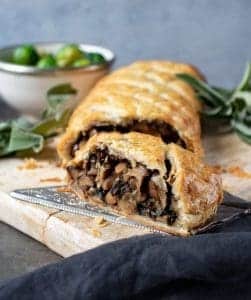 Beef Wellington is a popular Christmas Day alternative to turkey, so why not serve a beautifully savoury mushroom wellington to the vegans at the table?
This is a showstopping dish for vegans and vegetarians alike and is the creation of award-winning food blogger Kate at Veggie Desserts.
Again, this is a dish that can be made ahead of time and is packed with rich flavours and succulent mushrooms.
It's also likely to be popular with meat eaters and is a perfect choice for Christmas dinner, other big occasions or an indulgent Sunday lunch.
Kate provides excellent images to show how the dish is put together. Most steps are easy but, be warned, rolling the mushroom filling before placing it in the pastry takes practice.
Ingredients
1 tablespoon olive oil
4 cups (17 oz / 500g) mushrooms sliced
1 onion sliced
3 garlic cloves chopped
1 cup (150g) cooked chestnuts chopped (optional)
4 oz (115g) spinach chopped
2 tablespoon soy sauce
1 tablespoon chopped fresh sage
¼ teaspoon black pepper
13 oz (375g) puff pastry, check it's vegan
Dairy-free milk for brushing
If you are looking for other vegan menu ideas, Kate offers plenty for the Christmas dinner table!
oooOooo
How many people are vegans in the UK?
Veganism's popularity is growing rapidly in the UK. In recent years, there has been a significant increase in the number of people in the UK choosing to adopt a vegan lifestyle. Here are some key facts and figures that showcase this surge in popularity:
In 2019, it was reported that there were 600,000 vegans in the UK, which was an increase of 150% since 2014
A study by the Vegan Society revealed that there are 1.16 million vegetarians in the UK, which shows a rise of around 40% from 2012
According to a survey by IPSOS Mori, in 2020, around 12% of people in the UK follow a vegetarian or vegan diet, an increase from 1% in 1971.
Supermarkets and restaurants have acknowledged this growing trend and are expanding their vegan options. Many pubs, coffee shops, and fast-food chains now offer vegan meals and snacks, making plant-based eating more accessible than ever before.
A report by The Economist highlighted that the sale of meat-free food in the UK has risen by 40% in the past five years, with the market worth almost £800m in 2019.
The rise in popularity of veganism has led to a greater focus on ethical and environmentally sustainable living, with many people actively seeking out vegan, cruelty-free, and eco-friendly products.
These facts and figures demonstrate that veganism is not just a passing fad; it's a significant lifestyle change that is here to stay. The growth of veganism in the UK is influenced by conscious consumers seeking to make ethical, compassionate, and sustainable choices.
oooOooo
Vegan food recipes: Mushroom and chestnut wellington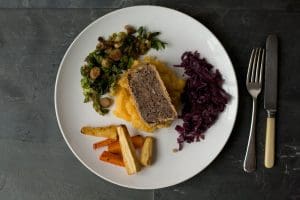 Here's another cracking wellington offering for the Christmas dinner table from the friendly folks at Veganuary.
Mushroom and chestnut wellington
This, mushroom and chestnut wellington is an impressive dish that is loaded with flavour and takes about one hour to prepare with 40 minutes of cooking time.
The dish involves roasting chestnuts, cutting, chopping and frying onions, mincing garlic and then slicing mushrooms to create a gorgeous filling.
This is a very simple dish to prepare with impressive results and it should easily serve six people.
Ingredients:
200g Chestnut mushrooms
100g Shiitake mushrooms
300g Chestnuts, roasted and peeled
125g Cooked black-eyed beans
1 red onion
2 cloves garlic
1 tsp dried sage
1 tbsp mushroom ketchup (optional)
1 tbsp olive oil
Salt and pepper
Shortcrust spelt pastry:
175g spelt flour
75g vegan margarine
3-4 tbsp water
2 tbsp non-dairy milk for brushing
The Veganuary website has lots of other great ideas for vegan and vegetarian dishes.
oooOooo
Derek Sarno's Vegan Christmas Dinner
You don't have to trail around the shops in the desperate hunt for vegan ingredients. Here, Derek Sarno offers a show-stopping vegan creation that is simplicity itself!
There's crisp puff pastry, fluffy potato mash, a Wellington that goes perfectly with moreish king oyster mushroom 'turkey'. All together, they definitely have the wow-factor!
Even better, everything comes Tesco!
We highly recommended this video as it offers a fail-safe way to delight vegans at your Christmas table.
oooOoo
Vegetarian haggis and mushroom wellington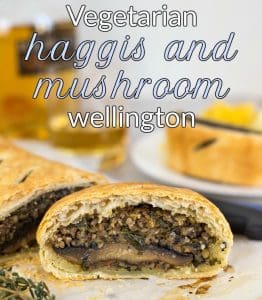 Here's another great creation from Becca at Easy Cheesy Vegetarian, an unusual vegetarian haggis and mushroom wellington.
This tasty dish will feed six people and will take an hour to prepare then 40 minutes of cooking. It's worth noting that the time and effort needed for preparation will pay off!
While the recipe calls for a shop-bought vegetarian haggis, there is a tasty recipe to create your own – and other impressive vegan side dishes.
The step-by-step instructions for these vegetarian haggis and mushroom Wellington are easy to follow and the end result is very impressive.
Ingredients
4 portobello mushrooms
1 tablespoon oil
500 g vegetarian haggis, roughly crumbled (~ 2 ½ cups when crumbled)
~ 3 sprigs fresh thyme, leaves only
2 large handfuls kale, finely chopped
375 g ready-rolled puff pastry (enough for a rectangle measuring ~ 16 x 11 inches)
1 tablespoon milk for glazing (use vegan milk if necessary)