If you're a vegan hosting December 25 this year, we've got some top tips to dazzle your meat-eating guests… so say no to boring brussels and let's whip up a culinary feast.
If you're a carnivore and have never had the pleasure of cooking dinner for a vegan before – let alone presenting them with the meal of the year – then don't panic. Grab your pots and pans and join us as we show you how to switch your usual festive feast to a delicious vegan-friendly alternative.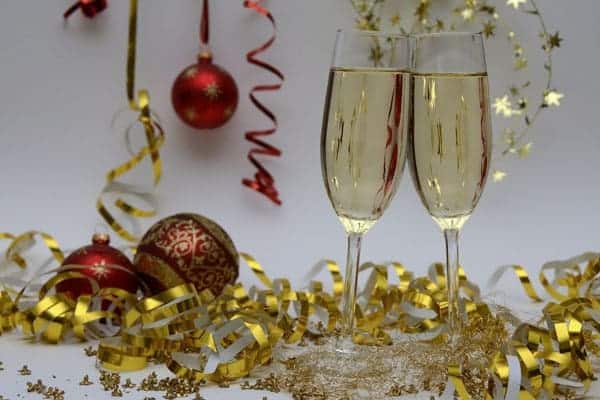 If you need a little help to avoid a festive flop, we explore all about veganism and how to prepare stand-out vegan Christmas recipes. Maybe you're a seasoned vegan who just needs some new ideas to add a bit of pizzazz to your Christmas Day? Or you have no idea what gift to  buy a vegan?
Before you hit the panic button and start trawling the web for recipes, sit tight. We've got you covered…
What is veganism?
All vegans have one thing in common – they eat a plant-based diet.
While there are many ways to embrace veganism, the main aim is to:
'exclude, as far as is possible and practicable, all forms of exploitation of, and cruelty to animals for food, clothing or any other purpose.'

The Vegan Society
According to The Vegan Society, there were 542,000 vegans in the UK in 2016 – that's a whopping 360% increase over the previous decade.
Types of vegans
So, before you scrap around for vegetarian Christmas recipes, it's probably a good idea to find out what kind of vegan you're catering for – as these days they come in all shapes and sizes, from the 'doing it because it's trendy' vegans through to the compassionate dairy industry-opposing campaigners.
Either way, it's a good idea to check which type of vegan your guest is by asking what they can and can't eat.
If you're a vegan, it's a good idea to tell your caterers what you can eat, to avoid a let-down on the big day. For example, if you're a raw vegan – for the meat eaters out there, that's someone who doesn't eat anything cooked or heated up for spiritual or health reasons – your host would need to know that before spending hours whipping up their debut mushroom wellington.
Vegans on trend
People have many reasons for turning to a vegan lifestyle but whatever they cite, it's clear from the hundreds of new business startups, cookbooks and YouTubers channels out there that demand is ever-increasing for this dieting trend.
According to The Grocer's article, it took new UK burger company Vurger, just 30 hours to reach its crowdfunding target of £150,000. It eventually made £300,000.
And with a growing host of celebrity faces, including Mena Suvari, Rooney Mara, Jay-Z and Jared Leto, joining the pact, it's certainly a food trend that's here to stay.
Festive fare
So, we've established that actually, with so many vegans around, it's not going to be a big deal to cater for a range of tastes this Christmas…. We're here to show you some great suggestions on how to make a vegan Christmas dinner along with some sensational snacks, with help from some vegan chefs, vloggers and bloggers.
Eating vegan this year doesn't need to mean that you're missing out on those festive favourites like mince pies, chocolate truffles, sticky toffee pudding and roast potatoes.
But, if when you hear the word 'vegan' you immediately think 'vegetables' you wouldn't be alone. Imagine if you could serve your guest up something out of the ordinary – something that'll have them pleading to come again next year?
Sensational starters
Don't think that every course has to involve a meat substitute as quite often the best starters will include vegetables or fruit which taste delicious in their own right!
Figs in blankets
A twist on a festive classic, these figs in blankets, infused with a warm, comforting spice and wrapped in a Christmassy chestnut crust, were created by Kevin Rivers, the head chef at Manchester's 1847 restaurant.
Here, soy butter is used to fry them off.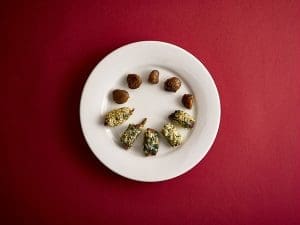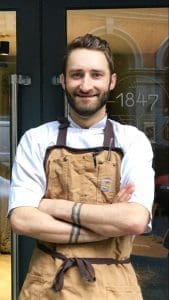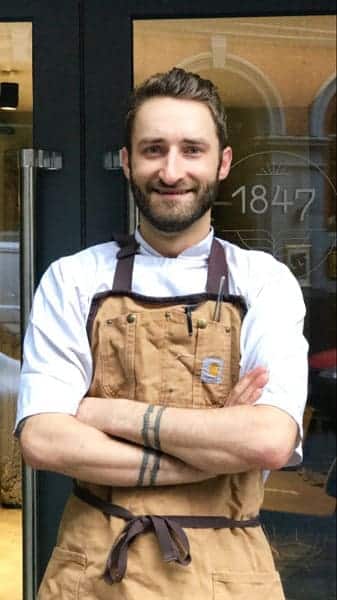 Sweet potato, carrot and lentil soup
This fabulous recipe for sweet potato, carrot and lentil soup from blogger Victoria Sully, (Lylia Rose) is so easy to make – and quick too.
So, if you don't want to spend all over Christmas Day slaving over a hot stove then get the slow cooker out and enjoy your day after a few quick peelings.
Plus, there's no need for far-fetched ingredients that you'd never have in your kitchen – or use again –  so you can spend your cash on some fancy trimmings instead.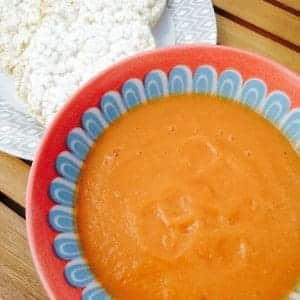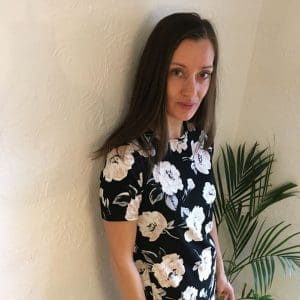 "I made the stock using a shop-bought vegetable stock cube and vegetable gravy granules.  I'm currently saving peelings in my freezer to make my first homemade stock which I'll use next time.

When it's time for the blender, make sure you use a thermal jug so that you can pour the hot mixture straight in. For a thinner soup, blend for longer. I like a thicker consistency so I do it for less at Christmas for a more wintery feel."
Cheesy Christmas pull-apart bread
Blogger, The Vintage Vegan, says her recipe is a great side dish and so simple to make, so roll up those sleeves and get the flour out.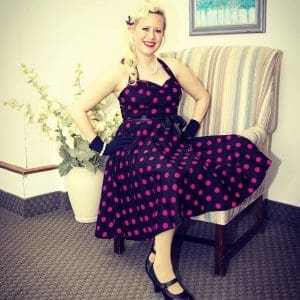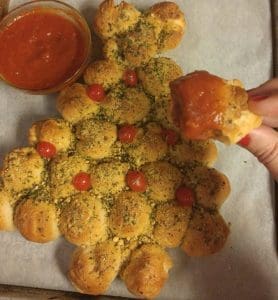 https://www.instagram.com/eyelove808/
"Being vegan for the holidays is a gift for all beings. My vegan cheesy Christmas tree pull-apart bread is a simple way to have fun festive food at the table. Serve it up with your favourite marinara sauce."
Vegan cheeses can be made from a range of ingredients. Most are coconut oil- or soy milk-based, while others are made from the likes of rice germ or tofu. There are now lots of great vegan cheeses available in supermarkets but obviously, it's up for debate how 'cheese-like' the products actually taste.
Supermarket specials
If creating a vegan Christmas dinner sounds like something you could only do in your dreams, then fear not. If you've only managed to peel a few spuds this year and you don't want to spend umpteen hours faffing about in the kitchen, how about this sumptuous snack while you wait for the main event?
Tesco is offering its delightful Vegan Roll Selection, which includes three Moroccan Spiced Cauliflower Rolls with roasted cauliflower, sultanas and harissa, wrapped in puff pastry with a turmeric and fennel seed crumb; plus three Roasted Butternut Rolls containing roasted butternut squash, spiced pearl barley and herbs with a mixed seed crumb; and three Katsu Rolls – katsu curry vegetables, wrapped in puff pastry.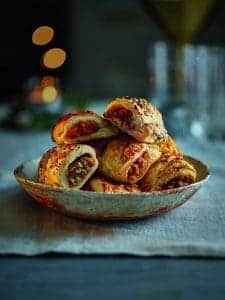 Bacon v Facon – What are the perfect alternatives to turkey?
Strong flavours are the order of the day, so opting for a standard nut roast may not be the best idea if it tastes like something you'd put in a rabbit's hutch.
If you're toppling the turkey this December 25, check out these mouthwatering alternatives, as we've got the lo-down about what works well:
Seitan
Pronounced as the devil but much nicer, this is a great meat substitute for making things like burgers.
Made from wheat gluten, it's got a stringy, kind of chewy texture which makes it taste just like meat. Incredibly high in protein, it's very adaptable to lots of seasonal recipes.
It's so easy to make yourself, here's a seitan recipe courtesy of vegan chef, Nick Bean.
He set up LoveSeitan, which only uses natural ingredients and is homemade, as well as free from oil or other fats, added salt, sugar and any other undesirables you often find in mass-produced Seitan.
"The beauty of our Seitan is that it doesn't fall apart when cooked like tofu can and retains its lovely texture, which adds a delicious bite to any dish it's cooked with.  It can take on the flavour of any sauce it's cooked in making it an ideal base for a Christmas curry.

Cook your curry as you usually would, chop up some of our Curry & Coriander-flavoured Seitan and simply add it to your pot. Serve with wholegrain rice and a chapati."
If it's more traditional festive fare you're looking for, this Roast stuffed Seitan roulade from blogger Nico Rossetti of yumsome.com, has the perfect solution and some handy tips to make it too.
So if you're after something you could feed to vegans and meat eaters alike, this one is packed full of veggies and goodness – and it's economical too, not to mention speedy to make. You can even put it in the ubiquitous day-after-the-day-after-Christmas curry that many people seem so fond of!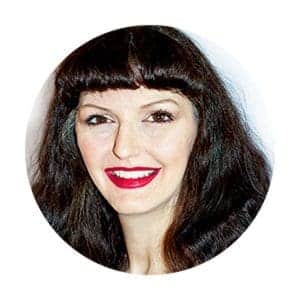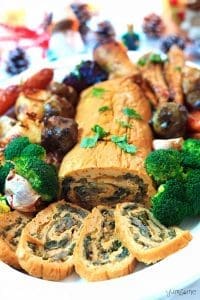 Yumsome.com
"The trick here is to use silicone parchment, not ordinary baking parchment – if you don't, the seitan dough will stick as you roll it out, and then when it shrinks back, it will take the parchment with it. Trying to wrestle it all back into shape is a pain in the neck!

Another tip is make sure your vital wheat gluten is cold before use – I keep mine in the fridge – and use cold water; warmth activates the gluten, and makes for a tougher roast.

Make sure you roll it as tight as you can, or else the stuffing will settle, leaving a pocket of nothingness at the top of the roulade!"
Tofu
Who needs turkey when there's tofu? Tofu is derived from soy beans,which have a buttery taste and texture.
It's created by coagulation of soya milk (from the beans) and then pressing into resulting curds into soft white blocks.
For the ultimate Christmas showstopper you'd be hard pressed to find something more outstanding than this vegan Christmas Tofu Wreath from demuths.com, filled with savoury tofu and brandied chestnuts.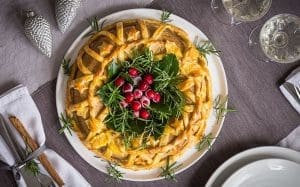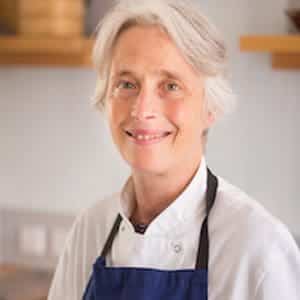 Eat Pictures
Rachel Demuth has these top tips for a successful wreath:
"The wreath can be made a day or two in advance and baked off directly from the fridge. It can be made without the pastry decoration for a gluten free variation, just use tamari instead of shoyu.

And the best bit – it keeps four days in the fridge once baked, is fantastic thinly sliced in a sandwich or as part of a cold buffet."
Portobello mushrooms
When it's a meaty taste you're trying to achieve – perhaps to please the meat-eating guests round your table, mushrooms are the way forward.
With their earthy, rich flavour, they are filling and can easily replace meat in an festive recipe. Sauted in vegan butter with a splash of balsamic vinegar – heaven. Try this awesome portobello wellington recipe served with traditional seasonal veg.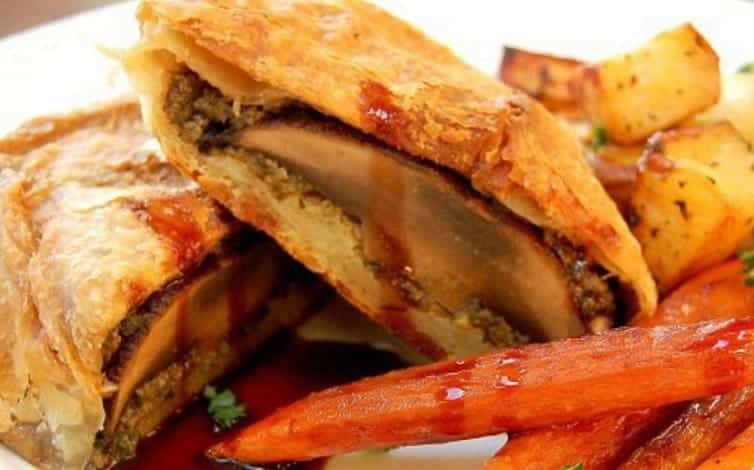 OneGreenPlanet
Facon
Vegetarian bacon, also referred to as facon or veggie bacon, is a product marketed as a bacon alternative that is available in supermarkets. It's high in protein and fibre, yet low in fat, and has no cholesterol.  You can attempt to make it yourself by marinating strips of tempeh or tofu, then baking or frying for around 20 minutes.
Lentils
Never underestimate the power of the little legumes which can be found in red, green, brown or black. These bad boys can pack a power punch when it comes to festive fare, especially in curries, stews or soup starters, and easily replacing hearty beef in a main meal. The best thing of all, is how cram-packed with nutrients like protein, vitamin b1 and iron, they are.
Beans
Beans, beans, good for your heart….they're cheap, healthy and filling – what's not to love? And there are so many varieties, that there are no limits. Whether it's black, kidney, pinto, they're perfect for soups and chilli dishes.
Speedy supermarket alternatives
For those with little time on their hands, Tesco's Finest Cauliflower Wellington is a British-grown whole cauliflower, generously coated in turmeric oil, followed by a mushroom and butternut squash Duxelles sauce, rich in red wine and warming Christmas spices of cloves, nutmeg and cinnamon. It's carefully hand-wrapped in golden, flaky puff pastry, and decorated with hand-placed pastry leaves and sprinkled with onion seeds to finish.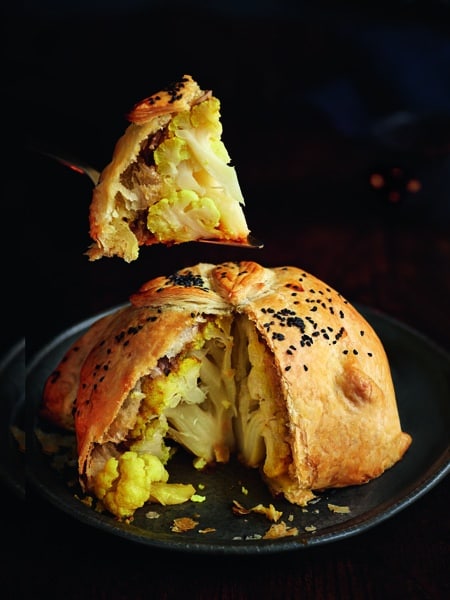 And from Asda, this Extra Special Mushroom and Chestnut Nut Roast with Cranberry Star Butter  – a truly delectable vegan feast, made with a mixture of earthy chestnuts and wholesome mushrooms. Topped with a festive cranberry dairy-free butter star to ensure a perfect moistness and an added richness to your plate.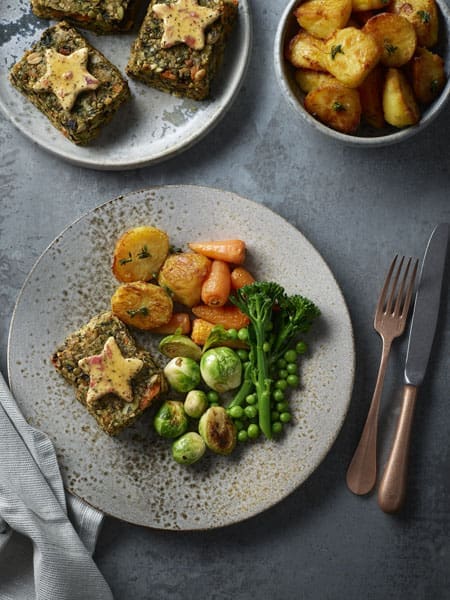 Sensational sides
Something would be missing if there were no pigs in blankets at the Christmas table so it makes sense to have a meat-free version for your new guests.
This recipe, from blogger Natalie Tamara of The Tofu Diaries, helps you create vegan pigs in blankets using homemade chickpea sausages but could just as easily be made with shop-bought vegan sausages if time is of the essence!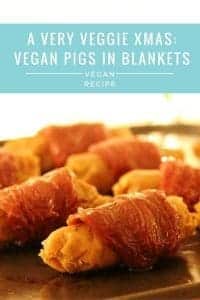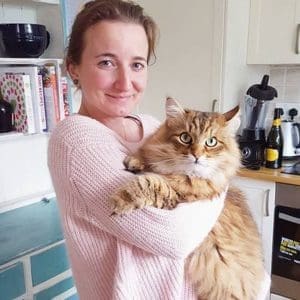 The Tofu Diaries
"Once the vegan sausages are cooked, the outside does become a little cracked but fear not, as the inside is still moist – this can be overcome by brushing a little oil on the sausages before baking but of course they will be healthier without!"
When it comes to veggies, you expect carrots, roast potatoes… but could you be overlooking something? We asked more bloggers for their top tips.
Cauliflowers
Here, Kate from The Veg Space unleashes this unexpected treat using cauliflowers.
"Vegan cauliflower mash was a bit of a revelation to me when I first tried it – puréed cauliflower actually tastes surprisingly un-cauliflowery. It's smooth if you mash it with enough dairy-free milk and takes on any flavours you choose to pair it with, in this case, wholegrain mustard and 'cheesy' nutritional yeast."

The Veg Space
Veganuary whole-heartedly recommend carrots, broccoli and green beans to go alongside your festive fare.
"For superb crunch, colour and texture, you can these any way you want really, but I like to flash boil so they remain full of bite – none of those soggy veggies that your Nan serves!

Kale is great with a touch of oil in a pan, lots of pepper and sometimes a little garlic. As a side, it's delicious topped with toasted sunflower seeds or pine nuts sprinkled on top."
Brussel sprouts
You'd be surprised how amazing you can make Brussel Sprouts taste with a little help from a pomegranate and some spices.
Vaishali Sharda's recipe for easy oven roasted brussel sprouts with pomegranate glaze is so simple yet effective.
The Indian-born mum-of-two Kitchendocs blogger, says it's so simple to remove pomegranate seeds.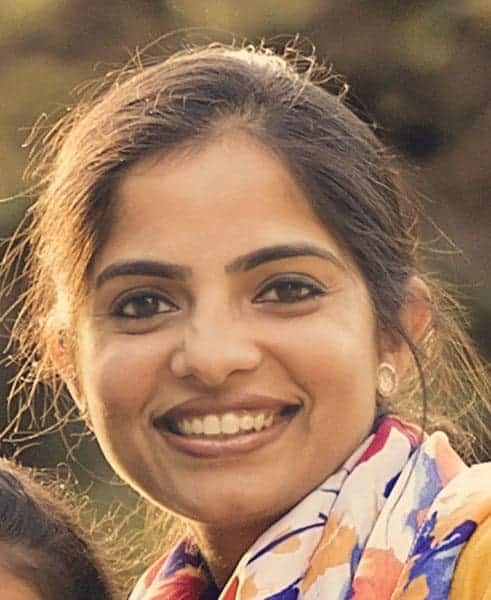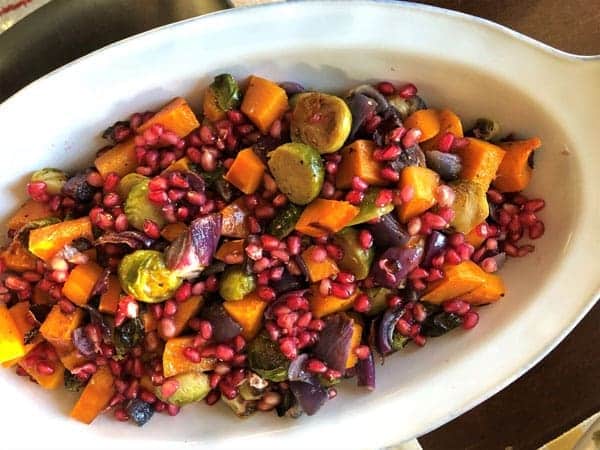 "While the vegetables are roasting, take the pomegranate seeds out of the Pomegranate. It's super easy – just wash the pomegranate, and cut it in half. Take a deep bowl and hold the pomegranate half over the bowl with the seed side facing towards the bowl.

Now with a wooden spatula or rolling pin, beat the life out of it. The seeds will start to pop out and fall into the bowl.

When those roasted veggies are out, drizzle with pomegranate molasses and go to town with those seeds."
Saffron parsnips
To brighten up the Christmas table, these sensational saffron parsnips should be pride of place at any table on December 25. Not usually considered colourful but honey and saffron bring this humble root veg out of itself as a pleasant side.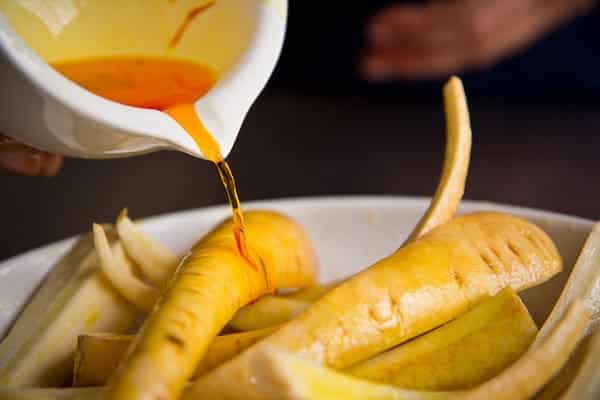 Eat Pictures
Christmas kale quinoa salad
If you'd rather go for salad than vegetables for a change, this yuletide then @simplyQuinoa has this delightful Christmas kale quinoa salad recipe for you.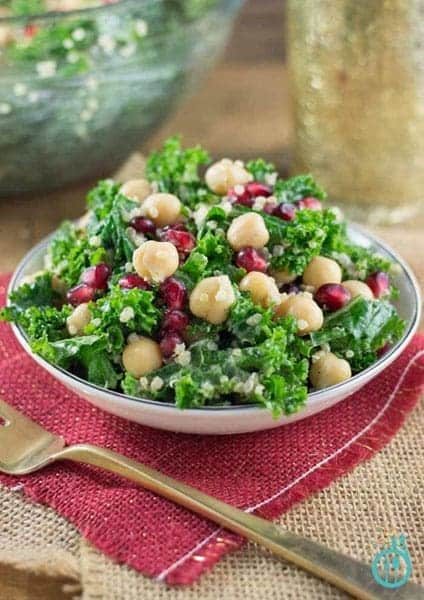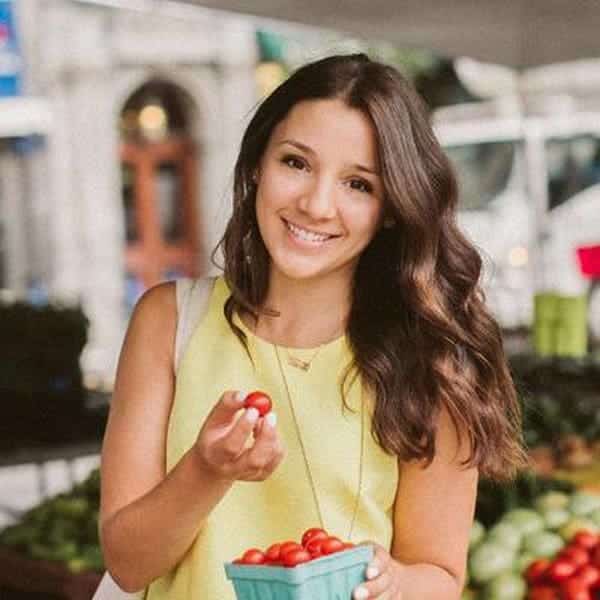 Simply Quinoa
Alyssa, founder of Simply Quinoa.com, says:
"It starts with organic green kale, then I add in some olive oil, lemon juice, wheat-free tamari and raw tahini. Massage the heck out of it until the kale softens,  add some pomegranate seeds, chickpeas and quinoa and toss it all together.

It's delightful, fun, easy, healthy and perfect for Christmas – but most importantly, it's GREEN."
Perfect puddings
Who says Christmas desserts have to be cram-packed with raisins? Beka Smith, aka blogger @thejugglingchef has this fabulous recipe for a her easy vegan Christmas cheesecake, which serves six.
If you're a vegan or you're feeding one, don't forget to check the biscuits you'll use in the base, as many contain milk byproducts – but she does recommend ginger nuts which are often a safe bet.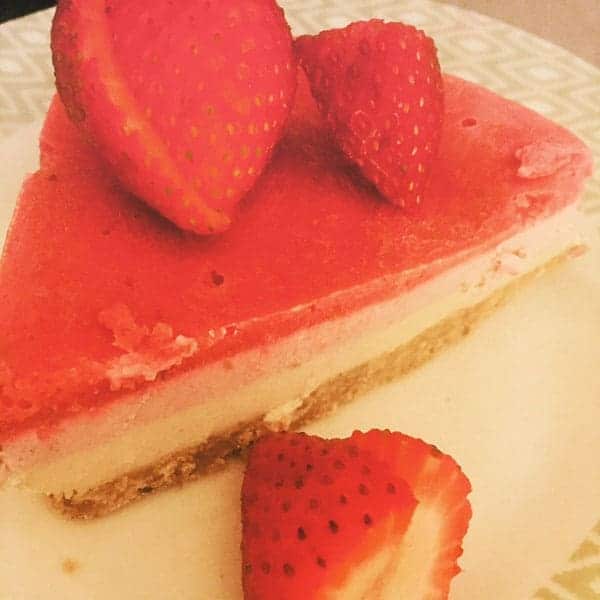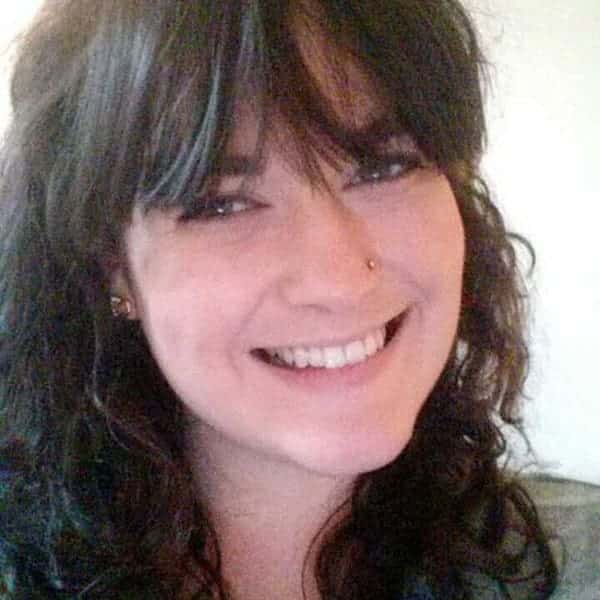 "It's important that you give yourself enough time to make this – at least 2.5 hours, but overnight is ideal. Ginger nuts can be a bit hard, so it's best if you leave them out overnight before starting so they soften up a bit. Soaking the cashews for at least an hour is important to ensure the mixture is creamy."

"To achieve the layers which I have here, I split the plain filling into three bowls or jugs. One I leave plain/ vanilla. To the second I add a little of the cranberry coulis until the mixture is bright pink, and for the third mixture I throw in loads of berries, to make it a succulent, vivid red."

"In the picture I've used strawberries on top but at Christmas I garnish it with clementine slices and a sprig of holly."
Vegan Popcorn Pannacotta
Kevin Rivers, head chef at Manchester's award-winning vegetarian restaurant 1847 has conjured up a magnificent way to end any feast – and it's so easy for you to try at home.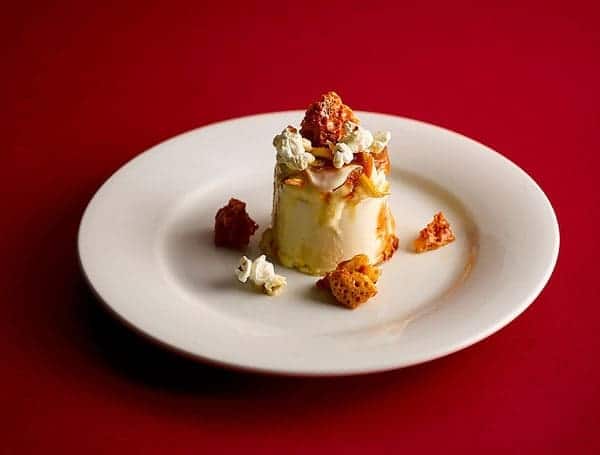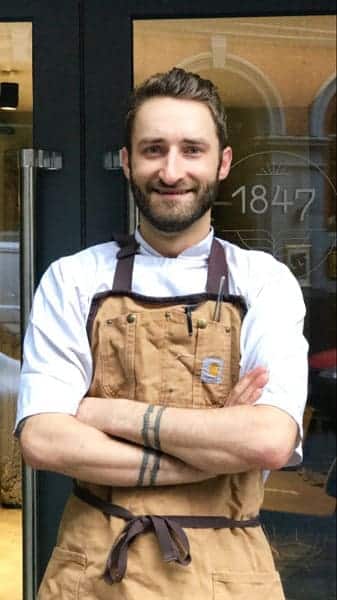 If even Pannacotta can be made vegan, there's hope for us all! This fab recipe uses a double cream alternative along with rice milk and vegan agar gelatin to create the perfect consistency.
His scrumptious recipe has four different elements to it – each one is quick and very easy – not that your guests need to know!
Festive berry brownies
The Vegan Guys aka Jason and Paul from Oldham, run their own entertaining cookery youtube channel, and have this recipe for festive brownies.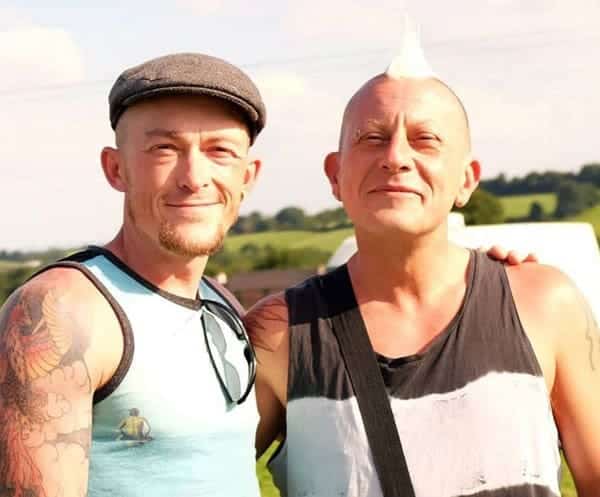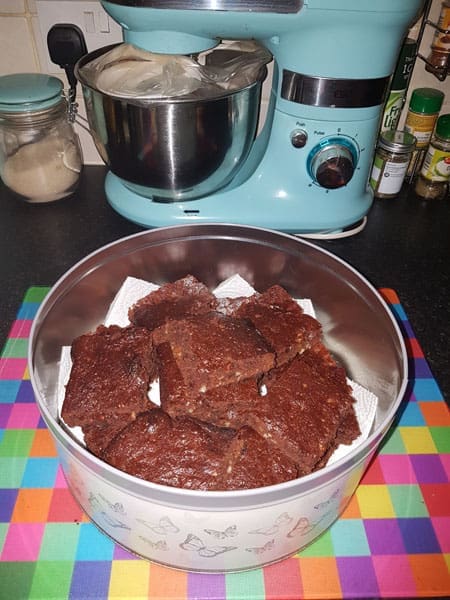 Jason (left), says:
"The best thing about our recipe is how highly adaptable it is.  This one has melted dark chocolate and redcurrants in it for a festive feel but you can add any fruits or berries, fudge pieces or chocolate chips.

"With brownie if you touch it and it feels done but it seems doughy on the inside don't put it back in the oven – that's when it's done. You want it to be squidgy in there."
Vegan cookie dough truffles
If you've made countless batches of cookie dough that's ended up in your belly rather than the baking tray, these little tempting treats could be right down your street – and the best thing is  they're fun and quick to make.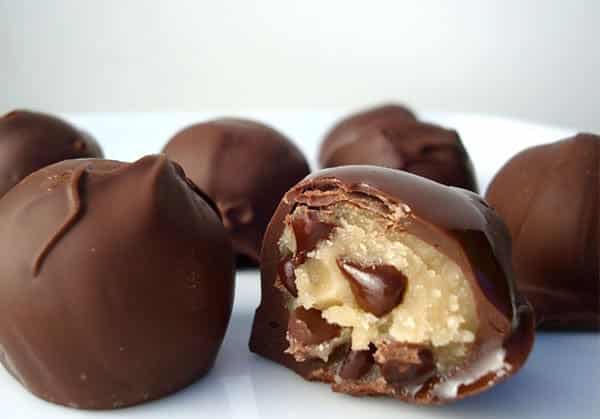 Chef Chloe
Miami chef Chloe Coscarelli, who concocted up this delicious recipe, says,
"I simply recommend taking truffle-sized mounds of cookie dough and dipping them into warm chocolate before sticking them in the fridge for a cool-down."
Trolley treats
If you haven't got steady hands for rolling out that Christmas cake icing and you're looking for the perfect premade pud, Waitrose and Asda are the places to head. Waitrose has once again teamed up with Fiona Cairns, to offer this beautiful fully vegan Christmas cake.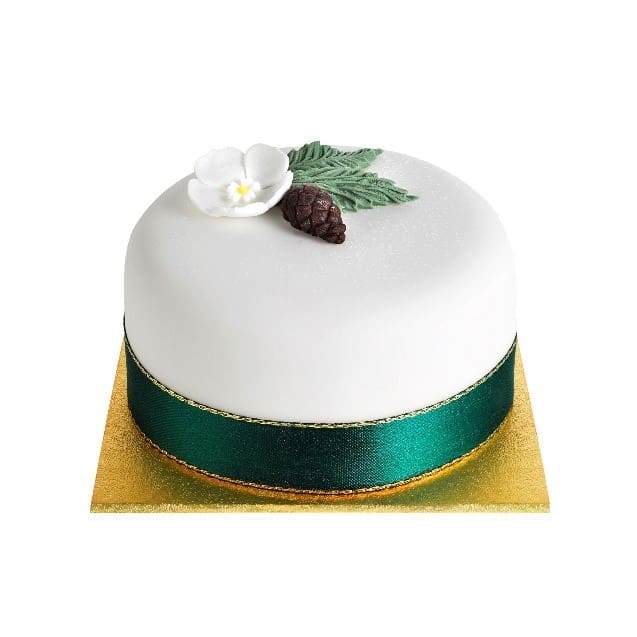 For those leading a vegan lifestyle with a sweet tooth – look no further than Asda's Extra Special Belgian Dark Chocolate & Salted Caramel Pots of Gold. These decadent pots are generously filled with a smooth chocolate ganache and salted caramel sauce. Perfectly topped with gold iridescent glitter for that extra special festive feel.
Drinks
When it comes to alcohol, you still need to check labels to see if they are suitable for vegans. A www.barnivore.com is a great site which allows you to check if a wine or beer is suitable for your Christmas guest – and there are over 36,000 products on there, so you're sure to find your favourite.
One thing to be aware of when choosing booze for your festive feast, is that during the brewing process, companies sometimes use an ingredient called insinglass. It's pretty smelly and well, basically, it's derived from dried swim fish bladders. Pretty grim, huh? It's used to clarify the beer and as a result, tiny particles are left over in the finished product, meaning it's not suitable for your vegan company.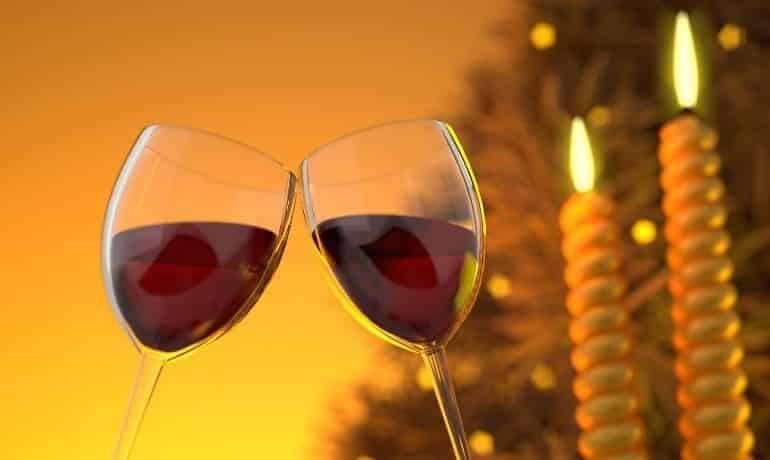 If you're in any doubt, here are just a few of the alcoholic tipples we recommend this yuletide:
Smirnoff vodka (Blue, black and red)
Coors and Coors Light
Miller lite
Baileys Almande Dairy Free Almond Drink
Kahlua salted caramel coffee liquer
Samuel Smith's brewery stouts
Vegan Christmas gifts
And when all the Christmas dinner shopping list has been done, there's a small but essential question of presents. Just what do you buy a vegan?
For a vegan, avoiding animal products becomes almost second nature; they know what to look for and where to look. But for non-vegans it's not always so simple, which can make gift giving a little more complicated.
Vegans are obviously restricted by many things because they are either made from or produced by animals.
Here are a few pointers as to what to buy a vegan for Christmas this year:
Opt for cotton, man made, synthetic or vegan leather. Not only do vegans not consume meat or products from animals, they don't wear their skin either, so say no to cashmere, leather, wool and silk.
Alcohol – Just be careful to read the labels, as many wines and beers use animal bladders in the refining process. We have provided above, a list of how to choose vegan-friendly products.
How about a good old-fashioned gift card for a restaurant? Many chains now offer vegan options including Wagamama, Zizzi and Pizza Express.
Set up a donation on their behalf to PETA. Your gift would help prevent animals from suffering and dying in laboratories, on factory farms, in the fur industry and in circuses.
It may be useful to know that if you're looking for clothing as a gift, that Asos have updated their animal welfare policy and added silk, mohair, cashmere, shells, teeth, animal bones and horns, and feathers and down to their new policy, which comes into effect in full from January 2019. These products will no longer be sold on the site.
However, there are lots of other things to consider including workers' rights and organic cotton.
More perfect presents
Etsy is a great place for vegan-friendly finds. Check out this colourful handmade purse (below), created by YakFaino. With three compartments for loose cash or a smartphone, six for cards and two for notes, your friend will never forget a thing again!
We also love this vegan bag from VeganIllustrated, made with 100% cotton.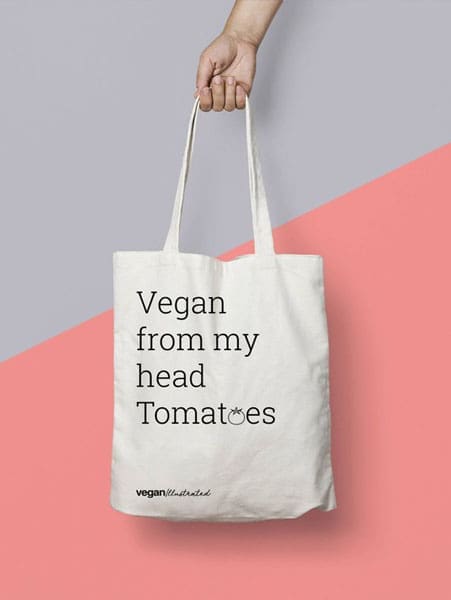 If your guest loves pick'n'mix but always stumbles at the gelatine hurdle, Harrods have the perfect solution – vegan Strawberries! Reminiscent of traditional British confectioneries, they would be a lovely gift for a special someone with a sweet tooth.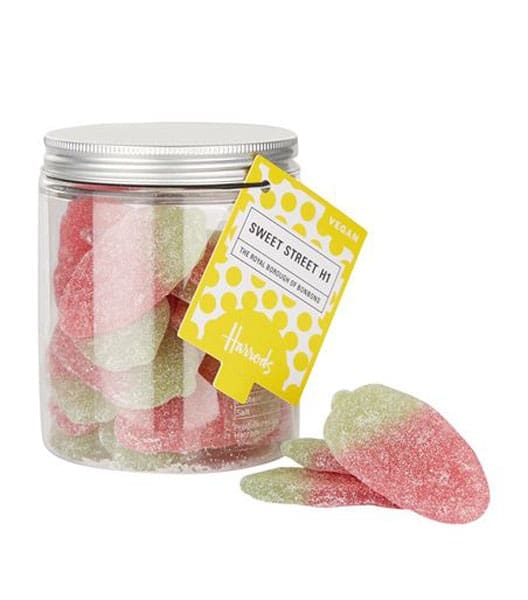 If you've got some extra cash to fritter and your guest vegan loves fitness but craves chocky, we have the perfect solution in this stocking filler from Harvey Nichols. This vegan kale dark chocolate bar is a powerful injection of vitamins and antioxidants, uniting dark chocolate with a crunchy combo of pumpkin and sesame seeds with salty homemade kale crisps.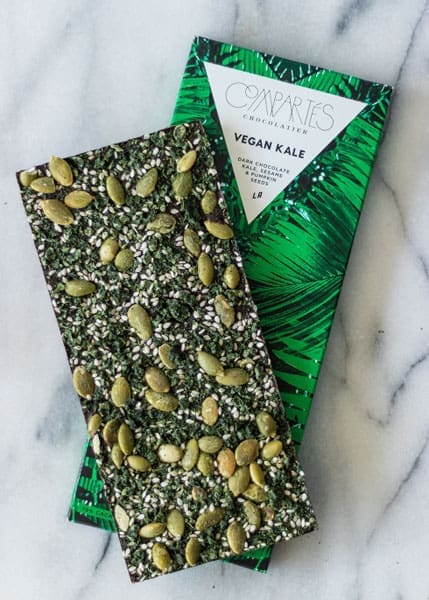 Hopefully we've solved some of your woes about creating the perfect vegan festive feast. If you want more top tips including how to buy the best Christmas tree, or decorate one, then scoot back over to Santa's blog.