While Christmas comes but once a year, there's no doubt that knowing how to choose the best Christmas tree will help what can be a festive highlight for many families.
But how do you go about choosing the best tree for your home and family and keep it looking good throughout the festivities?
Here, the Christmas.co.uk team explain more.
Choosing the best Christmas tree variety
Norway Spruce
For many families, the Norway spruce will be their traditional Christmas tree of choice since it has a lovely shape with lots of branches so you can have plenty of decorations hanging from them.
There's also a pleasant Christmassy scent from the spruce which brings festive cheer to any room.
However, its needles are sharp to the touch, and you also need to understand:
The best time to buy a Norway spruce is close to Christmas
Once brought indoors, the spruce can quickly lose its needles
You will need to water your Norway spruce Christmas tree every day.
And, as with all real Christmas trees, you will need to keep it away from heat sources such as fires and radiators.
Nordmann fir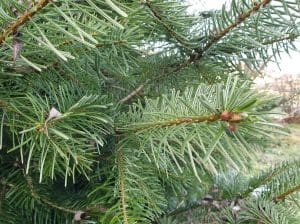 Also growing in popularity, is the Nordmann fir which is Europe's most popular Christmas tree.
The reasons for choosing this particular tree include:
It has an even shape with a soft needles so it's easy and joyful to decorate
The dark, glossy green needles have a light blue and whitish underside
The tree offers strong branches so will easily carry large glass decorations.
It's also worth noting that the Nordmann fir is ideal for those with allergies since the needles have a thick waxy coating.
Lodgepole pine
If you have a large home with high ceilings, then the Lodgepole pine is certainly worth considering. That's because:
It has a lovely pine scent
The tree has a bushy appearance with long, luscious green needles
The branches point upwards to give a lovely display
The lodgepole is popular because it hangs onto its needles for longer.
And, when you buy the lodgepole pine, you may find some pinecones remain on the tree – which means they make for excellent, natural Christmas tree decorations!
—oooOooo—
Here is a great piece from ITV's 'This Morning' about how to find the perfect Christmas tree. Celebrity gardener David Domoney, who is an English Chartered Horticulturist, gives lots of detail about buying a real tree. If you have a question about the tree you would like for your home, David probably answers it here.
—oooOooo—
'More people looking for a traditional Christmas experience'
Traditional trees are still popular, according to the team at Waterperry Gardens which was once a popular horticultural school and attracts lots of visitors today with ornamental gardens, orchards, nurseries, a tearoom and a plant sales centre.
Mandy from Waterperry Gardens near Oxford told Christmas.co.uk: "The most popular trees are still the non-drop Nordmann Fir, however, more and more people looking for a traditional Christmas experience are opting for the classic Norway spruce with its fabulous festive fragrance!
"When choosing a Christmas tree, look for a fresh tree with a nice dark green leaf, freshly cut and ideally locally-grown that has a low carbon footprint."
She adds that the price of Christmas trees, as with everything else, has increased in line with the cost of living.
Which tree is best?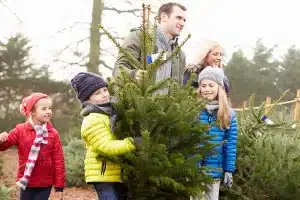 There's no simple answer as to which Christmas tree will be best for you and your family because they each differ in scent, shape and size.
For those who prefer the traditional smell and look of a Christmas tree, then the Norway spruce will be the best choice.
If you would prefer your tree to retain its needles for as long as possible, then the Nordmann fir is the one to go for.
Along with keeping needles off your carpet, the soft foliage, strong branches and even shape make it the ideal choice for decorating.
For those families with young children, then the lodgepole pine offers the best choice since the big needles are soft. It also delivers a lovely pine scent and the tree itself is less popular than other varieties, so will become a topic of conversation with friends and visitors.
—oooOooo—
Tips before buying your Christmas tree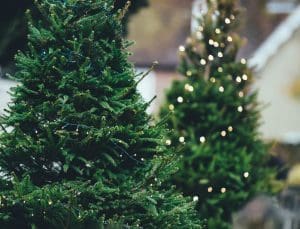 The Christmas.co.uk team has bought lots of Christmas trees over the years and here are some tips to help you before you spend your hard-earned cash. We suggest that you:
Before leaving home to choose the tree, check that you have everything you need, particularly a tree stand. Don't bother with improvisations or losing your temper because you have to go back out to buy a stand – check first before leaving home.
Also, before leaving home remember to measure the height of the room where the tree will be placed – you don't want to buy a tree that is too tall to fit into it.
Here's a Christmas.co.uk top tip: When measuring the height of the ceiling for your tree, don't forget to factor in the height of the tree stand and the tree topper or fairy.
Do not choose a ready-wrapped tree because you need to know how wide it is, along with its shape.
Choose a base for your tree that is easy to fill with water, so your tree does not dry out.
Be aware that real trees do not like the room temperature to fluctuate and they don't like to be too hot. That means not placing your tree near an open fire or radiator.
Don't forget to check your tree's water supply daily and ensure that its trunk is submerged.
If you get to choose your tree when it is still in the ground, then head to the heart of the forest because there's something magical when choosing a tree with children.
And if you get to choose your tree that has already been cut down, then it isn't growing and you will need to check its freshness so it will live for the festivities in your home – especially for those trees being imported from the EU.
Be wary of buying a tree that is already wrapped in netting because you won't know what shape it is until you remove the netting.
Try to buy a grown tree with the 'Grown in Britain' logo since the grower will need to meet strict standards.
Remember that the 12th day of Advent, is when traditionally you need to take down your decorations down – including the tree – so pencil January 6 in your diary.
To underline the importance of measuring your room before buying a tree, we asked Elvis Elf, Elf-in-Chief at goodelf.co.uk, what he thought, and he told us:
"The thing to think about when buying a Christmas tree is the space you are going to put it.
"It is all very well having an enormous beast of a Christmas tree, but you don't want to have to cut the top off. There will be nowhere for the fairy to live!"
Elvis added: "The old adage of measure twice, cut once counts double here.
"At the Good Elf we make sure all our trees are the height we say they are.
"Even though we have been delivering trees for over 10 years, we still have a measuring stick.
"And we still use it on every tree! Measure your space and order the right size tree."
—oooOooo—
What to know when choosing a real Christmas tree
Once you have decided on the type of tree you want for Christmas, and where you want to buy it from, do you know what you are looking for?
If this is your first time buying a Christmas tree, you will probably need these tips:
Choose a healthy tree because it will last longer and look better over the festive season. This means checking the colour so be aware of any brown or green colouring. Also, some sellers may paint their trees, so you need to be vigilant about how fresh it really is.
Don't be shy about conducting the 'drop test'. This is a simple test to find out the condition of the tree, so you hold the tree a few inches from the ground and then drop it – keep hold of it though! You don't want the tree to fall over! You then need to check if a lot of needles have fallen to the ground because this is an indication that your tree is not fresh. However, not all trees are the same, for example, the Norway spruce will drop more in the drop test so it may not be an indication of how fresh that particular variety is. Alternatively, run your hands through the tree's branches to find how many needles will fall off.
Choose a tree in the shade – whether that is at a farm or in a garden centre. By choosing the tree that is partly shaded it won't struggle when you take it indoors because it has already been kept from sunlight.
—oooOooo—
We also liked another David Domoney video – How to choose the perfect Christmas Tree. Here he explains how sellers prepare trees and how they understand that buying a Christmas tree should be a magical and enjoyable experience for families. Buying a tree should also be, he stresses, a convenient and easy process!
—oooOooo—
What to do once you get your Christmas tree home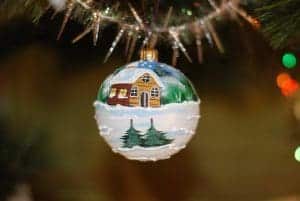 After selecting a tree and checking that it's a fresh one, you'll need to get your Christmas tree home – unless you choose a supplier that supplies them to your door. This is what you'll need to do:
The first step is to remove the netting which will allow the tree's branches to settle.
Then, if you haven't bought your tree from a farm or garden centre or other outlet offering a high level of customer service, you will need to saw about 2.5 cm from the base – much like you would with fresh flowers. You should ask the seller to do this for you before leaving for home.
You then need to place the tree in a bucket of water and leave it outside in a sheltered and shady spot until you are ready to bring it indoors. Most sellers we have spoken to recommend this practise to help prepare the tree and help ensure it will be in good health for the festivities. Elvis the Elf says: "Allow the Christmas tree to acclimatise for at least one day in a cool place in the house. For example, a shed, garage, hall way or storage room. The Christmas trees are often lifted under cold conditions and the step to a warm living room is then too big."
Before taking your tree inside, just give it another gentle tap to help shed any needles that may be loose.
Place your tree in a stand or container and remember to top up with water regularly – be surprised at how much water your tree will drink!
Elvis Elf, the Elf-in-Chief at goodelf.co.uk says: "Treat your tree like you would a bunch of flowers and you can't go far wrong.
"Water it regularly and keep it away from heat sources and it will last a good 4 to 6 weeks in good condition.
"Most of all enjoy your tree, don't fret about it. "
Elvis added: "We see lots of customers stressing about Christmas, it's a busy time.
"Once the tree is up, take a minute to breath it in. If you love your Christmas tree, it will love you right back!"
How to care for a real Christmas tree
Once your tree has been placed in the stand and you are watering it regularly, you will still need to care for it.
Be aware that a fresh tree will last around four weeks, but you'll need the tree to look its best on Christmas Day.
Usually, that means finding your tree in the first week of December.
If you follow the tips in this article, including giving it enough water and keeping it away from heat sources, there's no reason why your tree will not remain looking fresh.
Also, when it comes to decorating your tree, you really should use LED lights because the heat from these will not dry out the branches as traditional Christmas tree lights will.
And don't forget to turn these lights off before going to bed.