If you're looking for easy mince pies recipes, you've come to the right place. These mince pies are so simple to make, that even the most inexperienced baker will be able to whip them up with ease.
And what's great about these recipes is that it only requires a few ingredients, so you can make them without having to go shopping to buy things you won't use again.
The best thing about these mince pies, though, is that they're absolutely delicious.
The flaky pastry and sweet filling are the perfect combination, and they're sure to be a hit with your friends and family.
What are mince pies?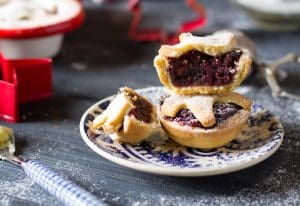 Mince pies are a traditional British Christmas treat that is now enjoyed around the world.
The pies are typically made with a sweet pastry crust and filled with a mix of dried fruits and spices.
While there are many variations of this classic creation, our easy mince pies recipes are sure to please everyone at your festive gatherings!
Here, the Christmas.co.uk team offers a few mince pie recipes – one (or all!) of them will catch your eye.
Be aware though that when we mention 'mincemeat' we don't actually mean minced meat – we mean the sweet mincemeat that comes in jars.
So, what are you waiting for? Get baking!
oooo+++oooo
Since there are so many ways and methods to make Christmas mince pies, it's worth checking out some videos for inspiration.
First up is this great video from Waitrose. If you like the video, the full mince pie recipe is also worth checking out.
The Christmas.co.uk team also like this slightly different offering for a mince pie from Jamie Oliver. He uses two types of (shop bought!) pastry for his creation. It's really simple to do – you simply roll up the pastry square with the mincemeat in it.
oooo+++oooo
Easy mince pies recipe: Shortcrust pastry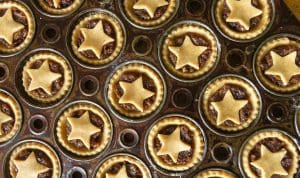 This is a great recipe to try your hand at making mince pies.
This recipe uses shortcrust pastry rather than flaky puff pastry.
What is the difference between puff and shortcrust pastry?
Shortcrust pastry tends to be best for sweet dishes and is made with flour, fat, water and sugar. Puff pastry is a lighter, flakier offering made from flour, fat and water.
Most recipes for mince pies will use shortcrust pastry but your preference – and a reason to dish up a different mince pie – might be for puff pastry.
Ingredients:
1 batch of shortcrust pastry
1 egg, beaten
5 tablespoons mincemeat
icing sugar, for dusting
Method:
Preheat the oven to 200C/400F/Gas 6.
Roll out the pastry on a floured surface and use a 7.5cm/3in cutter to cut out 12 circles.
Line a bun tin with the pastry circles, then spoon the mincemeat into the centre of each one.
Brush the edges of the pastry with beaten egg and bake in the oven for 15 minutes, until golden brown.
Remove from the oven and dust with icing sugar. Serve warm or cold.
Traditional British mince pie recipe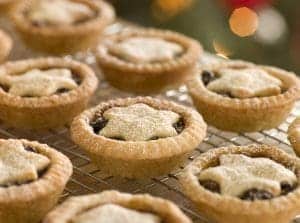 This traditional British mince pie recipe is so easy to follow and results in delicious, perfect mince pies every time!
Ingredients:
1 ready-rolled puff pastry sheet
150g mincemeat
1 egg, beaten
Icing sugar, for dusting
Method:
Preheat the oven to 200C/180C Fan/Gas 6.
On a lightly floured surface, roll the pastry out to a 3mm-thick sheet. Use a 6cm cutter to cut 12 rounds from the pastry.
Line a 12-hole bun tin with the pastry rounds. Fill each one with 1 heaped teaspoon of mincemeat.
Trim the pastry edges, then cut out 12 small stars or circles from the remaining pastry.
Place the stars or circles on top of the pies, then brush with beaten egg.
Bake in the oven for 15 minutes, or until the pastry is golden brown and cooked through.
Remove from the oven and dust with icing sugar. Serve warm or cold.
oooo+++oooo
Did you know? Some facts about mince pies in the UK
Mince pies are traditionally eaten on Christmas Eve in the UK.
It is said that eating mince pies on Christmas Eve will bring good luck in the coming year.
The first recorded recipe for mince pies dates back to the 13th century.
In the 17th century, Oliver Cromwell banned mince pies as he believed they were a symbol of paganism.
Mince pies used to be much larger than they are now and were often baked in pie dishes that could serve multiple people.
The largest mince pie ever made weighed in at over 13 kg (28 lb)!
There is an annual World Championship Mince Pie Making competition held in the UK.
Mince pies are sometimes called "ministry pies" or "mutton pies".
In Scotland, mince pies are sometimes called "mincemeat pies".
In some parts of the UK, mince pies are traditionally served with a glass of brandy or whisky.
oooo+++oooo
How to make homemade mincemeat for a mince pie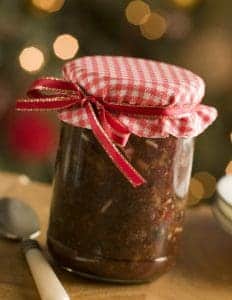 Having mentioned that mincemeat isn't minced meat – how about using this recipe that includes making your own mincemeat?
Recipe for making the mincemeat
1 Bramley apple – peel and grate it but discard the core
1 lemon, juice and zest
1 orange, juice and zest
150g currants
150g raisins
75g mixed chopped peel
150g grated, cold butter
3 tbsp of brandy
1 vanilla pod – scrape the seeds out
125g muscovado or soft dark brown sugar
1 tsp mixed ground spice.
Ingredients for the pastry:
150g softened unsalted butter – cut this into cubes
2 egg yolks
1 orange – you only need the zest
50g sifted icing sugar
350g plain flour, plus extra for dusting.
For the glaze, you will also need 50g of demerara sugar and 2 beaten eggs.
Method:
Mix the mincemeat ingredients in a bowl, use cling film to cover and then leave in a fridge for up to 24 hours.
To make the pastry, take a bowl and add butter and sifted flour, orange zest and icing sugar.
Use your hands to combine gently until the mixture looks like breadcrumbs.
Add 3 tablespoons of water along with the egg yolks to bind it, and gently mould the pastry into a ball.
Flatten into a round shape before wrapping in cling film to place in the fridge for 30 minutes.
The oven must be preheated to 180C/160C Fan/Gas 4.
Grease a muffin or bun tin
Roll out the pastry on a work surface that has been lightly floured – the pastry needs to be as thick as a £1 coin.
Use a cutter to cut 12 pastry discs that are slightly larger than your muffin or bun holes.
Press each of these pastry circles into each one.
Fill each one with your mincemeat before cutting another 12 circles of pastry – slightly smaller to be the lids.
Brush each rim with a beaten egg before pressing the lid on – seal shut by using a fork to press the edges.
Brush the tops with egg and use a knife for cutting a slit into each pie top.
Dust the pies with demerara sugar before refrigerate for 30 minutes.
The pies will need to bake for 20 minutes until they are golden brown.
Place on a wire rack and leave to cool before turning them out and serving.
Any mincemeat left can be placed into a sterilised jar for future use.
Everything you need to know about mince pies and mince pie recipes
·         What are mince pies?
Mince pies are small pastries traditionally made with a mixture of dried fruits and spices, called "mincemeat", and encased in shortcrust pastry.
·        How did mince pies get their name?
Mince pies got their name from the traditional filling of minced meat. However, over time the recipe for mincemeat has changed and now most mince pies contain a mixture of dried fruits, spices and sometimes even alcohol!
·         What is the difference between a mince pie and a Christmas pudding?
A Christmas pudding is a steamed or boiled dessert made with a mixture of dried fruits, spices and sometimes alcohol. Mince pies are small pastries made with a similar mixture of ingredients, but they are not cooked in the same way.
·         How do you make mince pies?
There are many different recipes for mince pies, but the basic method is to mix the mincemeat ingredients together, roll out some shortcrust pastry and use it to line small pie tins. The pies are then filled with the mincemeat mixture and baked in the oven.
·         Can you freeze mince pies?
Yes, you can freeze mince pies. Once they are baked and cooled, wrap them individually in cling film and store in a freezer-safe container. Defrost at room temperature for several hours before eating.
·         How long do mince pies last?
Freshly cooked mince pies will last for several days if stored in an airtight container at cool room temperature. If you freeze them, they will keep for several months.
·         What is the best way to reheat mince pies?
The best way to reheat mince pies is in the oven. Preheat the oven to 175 degrees C and place the pies on a baking sheet. Heat for 10-15 minutes until warmed through.
·         What are some alternative fillings for mince pies?
If you don't like the traditional mincemeat filling, there are many other options you can try. Some people like to add a layer of jam or marmalade to their pies, while others prefer a mixture of chopped nuts and dried fruits. You can also use chocolate, cheese or even savoury fillings such as sausage meat or vegetables. Be creative and experiment until you find a filling that you like!
Why easy mince pies recipes are the best!
These recipes from Christmas.co.uk are quick and easy to follow, and result in delicious, perfect mince pies every time.
There's nothing quite like homemade mince pies, and with these easy recipes, anyone can make them.
Whether you're a beginner baker or an experienced cook, our recipes will help you create perfect mince pies that are sure to impress.
What's more, easy mince pie recipes mean less time in the kitchen and more time enjoying the festive season with family and friends – but still impressing with your baking skills!