For many of us, it's an increasingly contentious question to ask, and that is, 'Why buy a real Christmas tree?'
On the one hand, buying a fresh, traditional real Christmas tree carries many benefits, but then so does buying an artificial Christmas tree.
Here, we look at the pros and cons of each to help you come to a conclusion.
oooooooooooooo
This video from Waitrose and Partners, presented by the ever-popular Alan Titchmarsh, explains more about what to look for when buying a real Christmas tree – and its benefits. He also takes a look at potted Christmas trees.
ooooooooooooooooooooooooooooo
Benefits of buying a real Christmas tree
Among the benefits that will come when you buy a real Christmas tree for the festivities, include:
A real tree is better for the environment – it helps a complex ecosystem
After Christmas, the tree is fully biodegradable
A Christmas tree will also absorb around 1 tonne of carbon dioxide when it's growing
1 acre of grown trees will provide enough oxygen every day for 18 people
Growing Christmas trees helps to prevent the greenhouse effect and earth warming
Christmas tree growers will replace the trees they cut with a sapling every year.
TOP CHRISTMAS TREE BUYING TIP: Peter Hyde, the founder of Trinity Street Christmas Trees in Bridport, told us: "Buy local. Buy from a specialist grower to ensure that the tree was cut as late as is possible, avoid DIY chains and the like who cut trees too early. Buy premium grade Nordmann fir, Noble fir and Fraser fir. Water the tree in the stand and place away from the radiator. Only buy trees that are netted in biodegradable netting."
Benefits of buying an artificial Christmas tree
The benefits of buying an artificial Christmas tree include the range of sizes they come in.
For example, you can buy an artificial Christmas tree that is 18 feet high – though these are mainly for commercial purposes – they can also be bought as small tabletop trees. Other benefits include:
Artificial Christmas tree technology has improved hugely in recent years and some manufacturers have moved away from creating traditional green cone shapes to something that more resembles a tree you would find in a real forest
Many manufacturers have now switched to PE or polyethylene branches, which are modelled on real tree branches to create the impression that you likely have a real tree in your home
You can buy a pre-lit artificial Christmas tree that is packed with LED bulbs that will run for around 50,000 hours – and these bulbs can be replaced should they fail so you can extend the artificial LED Christmas tree's life
Should you be short of space in your home, then you can buy slim and ultra-slim artificial Christmas trees
Growing numbers of us are buying frosting and flocked artificial Christmas trees to create a more seasonal impression.
However, artificial Christmas trees are made with plastic and metal so are non-biodegradable.
The big bonus for buying a pre-lit artificial Christmas tree is that while the LED bulbs will run for around 50,000 hours – these bulbs can be replaced should they fail so you can extend the artificial LED Christmas tree's life.
Also, the other big benefit of buying a pre-lit tree is that the lights are perfectly spaced so you won't need to get dizzy trying to whirl them around the tree!
A pre-lit Christmas tree also has cabling that is neatly integrated within the tree so it isn't unsightly.
Consider the fragrance and appearance of your tree
Another big plus when debating whether to buy a real Christmas tree or an artificial one, is the fragrance of having a real tree in a room.
Artificial trees don't have this smell – though you can buy scents for them – and cheaper trees can look too synthetic. The pricier versions undoubtedly look realistic and last for years.
If you do want your artificial Christmas tree to smell, well, Christmassy, then products such as Scentsicles scented ornaments should be considered.
They come in a range of fragrances including cinnamon, spiced pinecones and white winter fur. This means you can bring the fresh scent of an outdoor tree inside!
Though the Christmas.co.uk team really do like the 'O Christmas Tree' scent from Scentsicles. That's because the stick smells just like a fresh cut tree.
Each stick lasts for around 30 days and look like a delicate Christmas ornament and come with hanging hooks.
Also, by choosing a real tree you will be continuing a festive tradition that has been running for hundreds of years.
However, you will need to be a real tree every year by either going online to find a reputable online seller or visiting a garden centre or a Christmas tree specialist seller which could be a fun and enjoyable family day out.
When you inspect real trees, each has unique features and finding the one that is most suitable for you is part of the joy of selecting a real tree.
Top Christmas tree buying tip: When you inspect a real Christmas tree check out one that has not been bundled up so you know what it will look like when standing upright. Lots of tree suppliers will put the netting on your tree after you have selected it – otherwise, you may be taking a chance on buying a tree that you will not like – and have to look at it for the festivities!
When thinking about the appearance of the tree, it's important that you get a freshly cut tree and source it from a quality supplier.
That's because you want the Christmas tree to last for the length of the festivities and you want to minimise the number of needles that will fall.
Clive Collins who runs catsfieldchristmastreefarm.com in Battle, East Sussex, said: "Buy from a reputable supplier. Make sure you trim one inch off the butt and put it in a water holding stand away from a source of heat. Keep the tree in its net until it is in position."
Nordmann firs tend to have a low needle drop which means you won't need to vacuum up lots of needles from your tree every day.
It's a good idea not to install a tree before the first weekend of December so it is fresh and to keep away from fires and radiators, so the tree doesn't dehydrate.
Owners also need to appreciate that they should water their tree every day to help reduce needle drop.
TOP CHRISTMAS TREE BUYING TIP: Alastair Lucking of Love A Christmas Tree, says: "Visit a local Christmas tree farm and discuss your requirements with their staff. If unsure where your local Christmas tree farm is, go to the British Christmas Tree Growers Association website for assistance."
Artificial Christmas tree considerations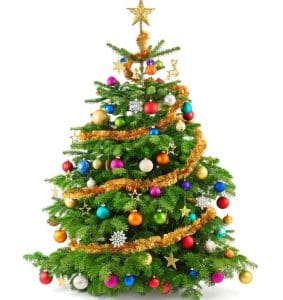 The benefits of choosing artificial Christmas trees include:
Many artificial Christmas trees now look realistic and use technology to resemble real branches
There's no risk of fire because artificial Christmas trees are flame retardant
There's no hassle to pick out a new tree every year
You don't have to water an artificial tree
There's no need to pick up needles that have fallen off
Artificial trees are easy to assemble and disassemble and then store away for use until next Christmas
You can buy special scents for an artificial Christmas tree so the realistic trees will look and smell like an authentic tree.
Also, an artificial tree will not go brown or rot like a real tree will so you will spend the entire festive period with a tree that looks great rather than running the risk of either a dead tree, or one that looks past its best, come Christmas Day. When buying a real Christmas tree, you need to consider when to buy it because it will look great for three or four weeks so buying it as close to Christmas Day means your tree will still look good for the festivities.
However, some experts calculate that you'll need to keep hold of your artificial Christmas tree for at least 10 years to help balance the environmental impact that comes with making it from metal and plastic, and shipping from the Far East.
How to recycle a real Christmas tree
The other big issue people may have when debating whether to buy a real Christmas tree or an artificial one, is what to do with it after Christmas.
Since nearly 8 million trees are bought in the UK every year which means most of them will need to be recycled.
Most councils have a garden waste facility and some also have Christmas tree collection schemes to help prevent trees from being dumped by the roadside.
00000000000000000
Watch Nick from UKGardening explain how to shred and recycle a 'live' Christmas tree – and where to use the tree's shreddings.
ooooooooooooooooooooo
It's also possible if you have bought a potted Christmas tree that you can plant it in your garden afterwards.
Otherwise, you can leave a Christmas tree in your garden until the spring and then it can be chipped and used as garden mulch.
TOP CHRISTMAS TREE BUYING TIP: Mark Rofe, the owner of christmastrees.co.uk, said: "When it comes to the end of Christmas you should check with your council about whether they will collect your tree after use, or whether you will need to visit a local household waste recycling centre. There are also some local charities that will often collect your Christmas tree for you, for a small donation."
To recycle an artificial Christmas tree, you simply take it to your local tip for disposal – after many years of good service.