Everyone knows that you need a good supply of food and drink to deliver an enjoyable Christmas and here we reveal 14 great Christmas hampers to impress in 2021.
It helps too that for many people, there's no better way to enjoy the festivities than with a luxury Christmas hamper that is overflowing with treats.
And while most of these creations are delivered in a wicker basket, they make an ideal Christmas gift for just about everyone.
And should you be feeling indulgent, or simply tempted by some of the hampers we highlight here, you can always buy one for yourself!
Choosing Christmas hampers to impress
The main aim when choosing Christmas hampers to impress is that you need to appreciate how and when the hamper will be enjoyed.
That's because there's a wide range of choices available, from afternoon tea selections, Christmas Eve hampers and food hampers for connoisseurs.
There are also tea and chocolate hampers, as well as cheese hampers and unusual wine hampers.
Essentially, if you want to deliver a festive treat in a wicker basket, whether it's packed with bottles of wine, mince pies, or even hot chocolate or olive oil, they make a great Christmas gift.
Most of the traditional Christmas hampers for 2021 will include Christmas cake and Christmas pudding with traditional favourites from John Lewis impressing, and there are also unusual offerings – such as those from the likes of Hotel Chocolat.
There's no doubt that great Christmas hampers to impress will deliver a festive treat that the recipient will enjoy – and they can use the wicker basket in future months.
Daylesford Organic Notting Hill hamper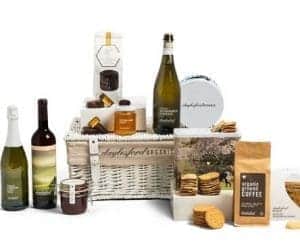 Every year, we enjoy the tasty festive offerings from Daylesford Organic, a popular farm with a great range to offer. Along with the artisan ham and cheese hamper at £135, and a 'Night Before Christmas' hamper at £125, we were taken by the Notting Hill hamper at £150. It has been named after their organic farm shop in Westbourne Grove and is filled with some of Daylesford's most popular sweet treats, biscuits and popular wines. The lucky recipient gets to enjoy wines, organic ground coffee, as well as organic plum chutney. There's also an organic Christmas cake that comes in a tin and there's dark chocolate with golden honeycomb to enjoy too. We also like the Oxfordshire honey and the sparkling organic apple juice. This is an indulgent way to spend a few hours over the festive period and it's something that will delight the recipient. The offering comes in a white wicker hamper that has been lined with linen. It's a very impressive creation and will certainly please the recipient.
Sir Ian Botham Twelve Days of Christmas Advent Box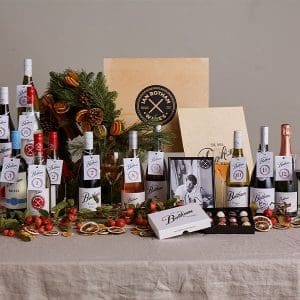 If there's a cricket lover in your life, then the Sir Ian Botham Twelve Days of Christmas Advent Box is certainly worth considering. Inside the bespoke wooden wine case, there's a collection of wines with individually numbered bottles. The hamper includes a signed iconic photo from the cricketer's 1981 famous game, plus truffle chocolates. The hamper costs £249 and it's an unusual and intriguing gift for those who like wine and admire Sir Ian Botham. It's a creation from Wine Delivered and they also offer Christmas gifts from Kylie Minogue wine offerings, plus Gary Barlow's venture into the world of wine.
Delicario Adventurous Vegan Hamper
For that someone in your life who likes traditional Italian cuisine and really wants to enjoy some artisanal offerings, the Delicario Adventurous Vegan Hamper is certainly worth considering. The niche online delicatessen has put together a lovely vegan Christmas hamper that costs £60 and has a range of very tasty plant-based treats, including a pure Mallorcan sea salt and organic spelt spaghetti. There's also unique Zibibbo grape jam and gluten-free hazelnut cookies from Veneto. Not to be outdone, this is a vegan hamper that also contains 'the world's best hazelnuts' that have been gently roasted. There's no doubt that this is a very tasty offering and for the vegan recipient, you can add a greeting card with a personal message too.
Melrose and Morgan Festive Gourmand Luxury Christmas Hamper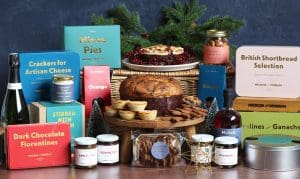 If you really want to push the boat out with a festive treat for someone who loves artisanal food, then the Melrose and Morgan Festive Gourmand Luxury Christmas hamper is worth considering. It costs £295, but this renowned North London kitchen and grocer has put together an impressive Christmas offering. They say that this is a festive hamper for the ultimate foodie and we can't disagree with an impressive contents list including champagne, artisan crackers, a sourdough panettone, marmalade and Boxing Day chutney. The hamper also includes a traditional Christmas pudding along with a Christmas marzipan cake, plus there's a mulled wine syrup, a luxury praline and ganache box, plus a jar of apple and fig chutney. For anyone who loves traditional, small batch impressive food, then this hamper from Melrose and Morgan is a winner.
Food Lover's Gift Box Hamper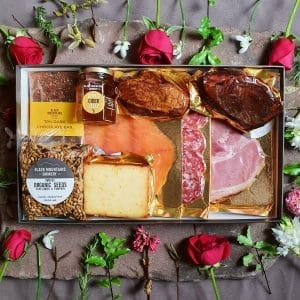 For something a little unusual for a foodie recipient, how about a smoked food hamper from the Black Mountains Smokery? The food lover's gift box hamper costs £75 and is packed with delicious meat, fish as well as Welsh artisan chocolate for tastebuds to enjoy. The hamper includes sliced smoked salmon, smoked duck and chicken breast, free range ham plus there is a smoked Welsh cheddar and smoked pumpkin and sunflower seeds. It's the ideal gift for a discerning food lover and Black Mountains Smokery also offers hampers that fall into three price categories. Along with the gift box hamper, they offer hamper boxes at £49 and gourmet hamper boxes for £95.
John Lewis and Partners the Chelsea hamper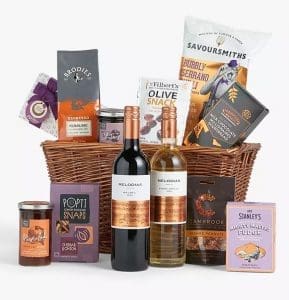 One of the most popular retailers at Christmas is John Lewis, and their Chelsea hamper at £100 is impressive. It's something of a bestseller and consists of English teatime favourites including wine, coffee and peanuts. There are also chocolate bars, olive snacks and crisps. Recipients also get to enjoy an excellent marmalade and there's some very tasty all-butter milk chocolate millionaire shortbread to enjoy too. Everything is delivered in a willow basket that can be used for future storage purposes – or outdoor eating adventures in the summer. John Lewis and Partners also offers a festive treat hamper for £60, an elegant afternoon tea treats hamper at £100 and a Christmas ladder box also at £100. John Lewis really does push the boat out at Christmas, and all of their Christmas hampers have excellent choices for recipients to enjoy.
Hotel Chocolat Absolute Classics hamper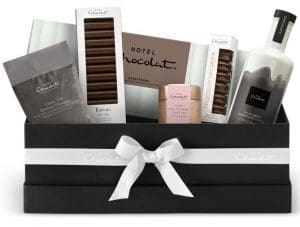 It's living up to a big claim to satisfy all of your festive chocolate desires, but the Hotel Chocolat Absolute Classics hamper is a real treat. It costs £80 and includes chocolate macarons, chocolate batons and a delicious hot chocolate powder. There's also a lovely selection box of chocolates and a pink champagne truffles tin. This is an indulgent offering, but for a chocolate-loving recipient, it will hit the target with a tasty selection – though we doubt they will last long! Hotel Chocolat also offers other excellent choccy hampers, plus classic Christmas chocolate boxes, a chocolate Christmas cracker and a winter puddings chocolate box.
Other great Christmas hampers to impress in 2021
Another restaurant offering a very tasty Christmas hamper is Jikoni and we like their 'Hug in a box' offering at £85. Along with three jars of chutney, their special block print napkins and a bottle of English sparkling wine, there's also a paan and cashew fudge and the addictive Jikoni mix.
For those who like great flavours for their cooking, then Yorkshire Rapeseed Oil offer various Christmas gifts, including a 'Yorkshire favourites collection'. There are six delicious products from the firm's range, plus a recipe sheet to enjoy the offering. It costs £25 and you also get the chance to send a handwritten message to the recipient.
If you run a business, or you've been handed the responsibility of sourcing corporate hampers, then Peach Hampers is for you. They have a wide range of hampers available at a range of prices, including the 'Fireside Feast' corporate hamper at £64.99. You can choose the drink you want, including an alcohol-free choice, with a collection of chocolates and Yorkshire crisps. There are also biscuits and mince pies and it's all wrapped in a luxury hamper that has double leather straps.
We also like the offering from Healthy Nibbles who have put together some Christmas hampers this year packed with healthy snacks that are free from sweeteners and preservatives, artificial colours and hydrated fats. Of the hampers, we like 'Everything but the Tipple' hamper at £20 which comes with Budweiser gourmet popcorn, crisps, olives, truffle nuts and crackling. Essentially, the hamper is a great way to enjoy a tipple with a friend while enjoying healthy and sustainable nibbles.
For many people, a festive hamper is a real treat and the offering from Honey & Co this year impresses. The restaurant chain dishes up Middle Eastern food, and their Christmas treats hamper at £75 will impress. Along with salt roasted corn nuts, various biscuits and a giant gingerbread cookie, there's also tasty fig, chocolate and hazelnut Christmas cake to enjoy.
For cheese lovers, Butlers Farmhouse Cheeses have a range of Christmas hampers this year including the 'Cheese Lovers Feast gift bag' at £60. They say this is the ultimate gift for a cheese lover with some great farmhouse cheeses including a Stratford blue cheese, a soft goat cheese and a Rothbury red Leicester. There's also a Lancashire cheese and a baby Bluestacks blue cheese included. The gift bag also includes chutney and sourdough flatbread.
The last Christmas hampers we should highlight come from Aldi and this popular supermarket really does impress with their offerings. Last year, the Aldi Christmas hamper range sold out quickly and this year is expected to be the same. There's the chocolate celebration hamper at £29.99, which is packed with various sweet treats including chocolate stirrers, and there's the vegan hamper, also priced at £29.99 with a bottle of vegan wine, salted caramel truffles and a vegan Christmas pudding. There's even the 'Ultimate Decadence' hamper that costs £149.99 and is new for this year with a range of Christmas puddings and savoury and saucy surprises, it's packed with 35 items to make Christmas extra special.